Do you think without this our dish would be completed?? I guess No!!.In india we people need onion in almost all the soups, sauce, salad, gravy and combination with all the vegetable.
But do you know onion is also very helpful for your health and hair?? Yes you heard me right…I personally recommend you that you should use onion in your daily diet and to put i to your hair.It is very effective, you can see the changes within 2 weeks if you use onion based products for hair.
Below I will share some products with you but let us discuss the benefits first.
Onions are members of the Allium genus of flowering plants that also includes garlic, shallots, leeks and chives.
What are the different types of onions?
Onion is so widely used that any culinary dish from almost any part of the earth has the Onions added to it. The most commonly used ones are:
1. Yellow onions – They have ivory white flesh that is surrounded by heavy brown skin. They have a strong and sulfur-like aroma.
2. Sweet onions – They have a lighter, less-opaque skin that surrounds a larger and slightly fatter body of the vegetable.
3. White onions – They have a papery white skin, and they are milder and sweeter than their yellow counterparts.
4. Red onions – They are mild and sweet enough to be eaten raw. The exterior skin and flesh are a deep magenta.
5. Shallots – They are smaller and brown-skinned and have purple flesh.
6. Green onions – They are the immature onions that haven't yet formed a bulb.
7. Leeks – They are shaped like overgrown scallions (the long-necked onion with a small bulb) and are usually used in sauces and soups.
Benefits of Onion:
1. Packed with nutrients:
As the onion has nutrient-dense property, which us low in calories but high in vitamins and minerals.
This vegetable is particularly high in vitamin C, a nutrient involved in regulating immune health, collagen production, tissue repair and iron absorption.
To improve your metabolism, red blood cell production and nerve function, this vegetable is the best source of it as it contain B vitamins, including folate (B9) and pyridoxine (B6).
Lastly, they're a good source of potassium, a mineral in which many people are lacking.
2. Control blood sugar
It is significant for Diabetes and prediabetes people as it helps to control blood sugar.
3. Contain Cancer fighting compounds
Eating vegetables of the Allium genus like garlic and onions has been linked to a lower risk of certain cancers, including stomach and colorectal.
4. Boost Bone Density
It's believed that onions help reduce oxidative stress, boost antioxidant levels and decrease bone loss, which may prevent osteoporosis and boost bone density
5. Helps in Heart health
Onions contain antioxidants and compounds that fight inflammation, decrease triglycerides and reduce cholesterol levels — all of which may lower heart disease risk.
6. Boost digestive health
Onions are particularly rich in the prebiotics inulin and fructooligosaccharides. These help increase the number of friendly bacteria in your gut and improve immune function.
7. Contains many antioxidants
Antioxidants are compounds that inhibit oxidation, a process that leads to cellular damage and contributes to diseases like cancer, diabetes and heart disease.
List of best products which contains Onion:
WOW Onion Black Seed Hair Oil is powered with Onion Black Seed Oil blended with Almond, Castor, Jojoba, Olive & Coconut Oils and formulated with 100% cold pressed and premium botanical oils.
Features:
Get strong and lustrous hair with wow skin science red onion black seed oil shampoo & conditioner
This shampoo & conditioner helps to revive your tired scalp and hair
Red onion extract, black seed oil aid in rejuvenating tired scalp and weak hair. Use this shampoo to help improve hair texture and strengthen the strands
This red onion extract and black seed oil infused shampoo & conditioner improves circulation to the scalp and roots
The shampoo & conditioner works on your hair to cleanse away build-up and improve quality of strands. Ideal For: Men & Women
It helps to give strong, lustrous hair and keep it healthy. It aids in moisturizing the scalp and helps nourish the roots
Contains no parabens, sulphates, colour or silicones and helps to deliver maximum benefit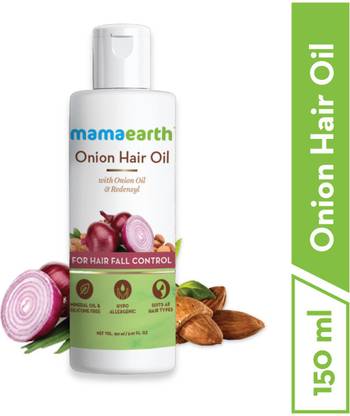 Features:
BOOSTS HAIR GROWTH : Onion Oil, in combination with Redensyl, reduces hair fall and promotes growth of lost hair.
ADDS STRENGTH & SHINE : Full of nature's goodness, a blend of nourishing oils such as Sunflower Oil, Amla Oil, Hibiscus Oil, etc. makes hair strong from the inside & shinier on the outside.
NOURISHES SCALP : Bhringraj Oil is known to nourish the scalp. Rich in Vitamin D, Almond Oil provides nutrition to scalp, making hair healthier and stronger.
SAFE FOR CHEMICALLY TREATED HAIR : Made from all natural ingredients, the Hair Oil does not do any harm & is suitable for all hair types. It is safe for colored or chemically treated hair.
NATURAL & TOXIN FREE : The Hair Oil is completely free of Sulfates, Paraben, SLS, Mineral Oil, Petroleum, Colors & Synthetic Fragrance.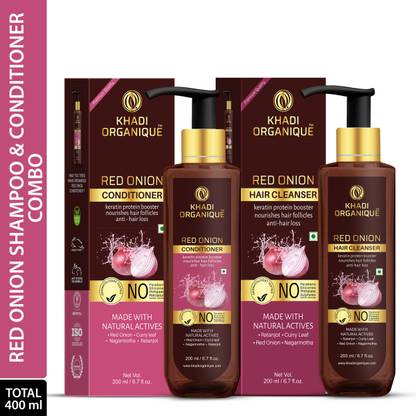 Wrapping Up:
Many studies have suggested that increasing the consumption of plant food like an onion that is anti-bacterial, antioxidant, promotes better digestive health and thereby improving the overall immune system and keeping us fit and healthy.
Incorporating this vegetable in your diet is the easiest and the simplest way to benefit overall health.
Just enjoy your roti sabji with fresh sliced crunchy onion with a dash of lemon juice.
For purchasing best and reviewed products, visit our website "RipplenFortunate".
Must Read: