Vitamin E, personally I use this capsule on a daily basis for my hair and eyelashes and eyebrows.It really helps.
Vitamin E is a potent fat-soluble antioxidant that offers significant health benefits to ensure an overall healthy body and prevention from various ailments. It includes a group of eight compounds, that comprises both tocotrienols and tocopherols.
What Does Vitamin E Oil Do For Your Face?
Vitamin E oil moisturizes and nourishes your skin. It adds to your glow and makes your skin smooth and healthy. The oil is also known to reduce hyperpigmentation and wrinkles, besides maintaining skin health.
Benefits for Skin
A. Reduces Hyperpigmentation
Studies suggest that combining Vitamin E with Vitamin C can work as a natural sun protector and can reduce hyperpigmentation. If you're adventurous and enjoy staying out in the sun for long hours, this can be your new best friend!
B. Prevents Skin Aging
The antioxidants present in Vitamin E improves blood circulation. Vitamin E oil and other topical forms of Vitamin E slow down your skin-aging process. The oil can make your skin look firm and youthful!
C. Improves Dry Skin Conditions
Vitamin E oil acts as a moisturizer to reduce and prevent dry skin. Studies suggest that oil can be helpful in treating mild psoriasis.
D. Removes Dirt
Vitamin E oil is a heavy emollient. It removes dirt from your pores to give you a refreshed and smooth appearance. A few drops of the oil should do the trick.
Follow these steps while applying it to your face:
Wash your face and gently pat dry. Cleansing is always the first and most vital step of your skincare regimen.
Take a hot/warm towel and wrap it around your face for 2-3 minutes. This will allow your pores to open up and soak-in the oil better.
Take a pea-sized amount of the oil. Gently rub the oil into your skin with your fingertips. Don't be too harsh on your skin.
If you have dry skin, you can leave the oil on overnight. If you're prone to breakouts or have sensitive skin, wash it off after 15 minutes.
In case you choose to apply the oil to the rest of your body, make sure it doesn't touch your clothes. You want your skin to reap the benefits of the oil, not stain your clothes!
What does Vitamin E Help Hair?
Vitamin E is a fat soluble nutrient that can be consumed from food sources or can be taken via supplements. There are several claims that vitamin E benefits the hair due to its antioxidant properties. But there isn't enough scientific evidence yet.
Benefits for Hair
1. Helps In Hair Health
The antioxidant property of the oil reduces this cell damage and improves hair growth. Let's go back to antioxidants for a bit. Antioxidants are compounds that protect your body from oxidative damage and neutralize free radicals.
Free radicals are atoms or molecules that are formed when your body is subjected to external aggressors like sunlight, pollution, smoking and aging. Free radicals are wild and are always on the lookout for free electrons. During this hunting process, they cause damage to your body.
It stimulates the capillaries, thereby increasing blood flow to the scalp and encouraging hair growth.
2. Prevents Hair Loss
One study found out that the oil prevents hair loss, hair breakage and split ends. However, this study involved a small group of participants. More research is needed to back up the claim that it can prevent hair loss.
3. Contributes To Hair Shine
Many people feel that their hair becomes shiny after the use of the oil capsules or hair products with vitamin E. "Pollution, heat and hair products cause damage to the hair, leaving it dry, frizzy and dull. It is believed to bring back the lost shine in the hair," says Dr. Kaustav.
4. Balances Oil On The Scalp
It forms a protective layer on the scalp to lock in the moisture. Dry and irritated scalp is home to many hair concerns.It balances the oil and moisturizes the scalp.
How to use the oils for hair:
Massage the oil onto your scalp.
Use a wide-tooth comb to comb gently.
Leave on the oil for 15 minutes.
Wash off with shampoo and air dry.
List of Vitamin E Capsule: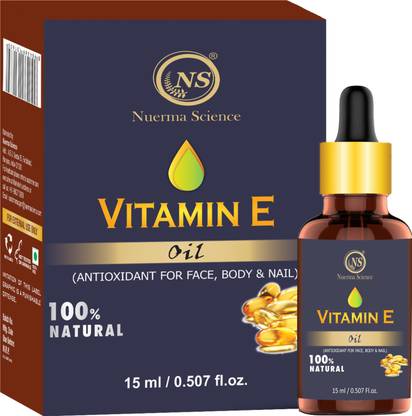 For Men & Women
Form: Oil
Paraben Free
For Softening & Smoothening, Skin Toning, Scar Removal, Anti-acne & Pimples, Anti-aging, Skin Brightening, Marks & Spots Removal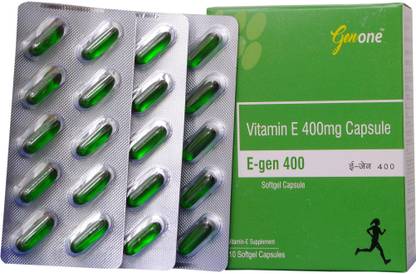 For Men & Women
Form: Capsules
Paraben Free
For Moisturization & Nourishment
Treatment Type: moisturizer, enrichment for hairs, nourishment of skin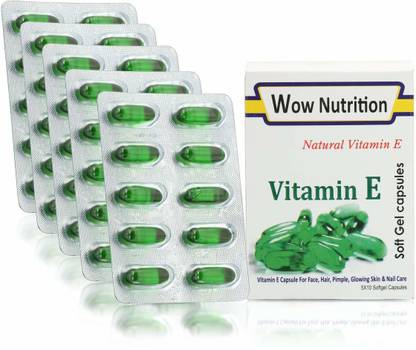 | | |
| --- | --- |
| Quantity | 50 No |
| Usage Timings | Post-workout, Pre-workout |
| Form | Softgel |
| Dietary Preference | Gluten Free, Sodium Free |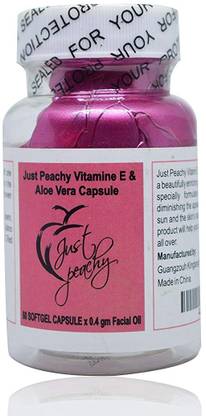 For Men & Women
Form: Capsules
Paraben Free
For Skin Brightening, Anti-acne & Pimples, Scar Removal, Moisturization & Nourishment, Tan Removal, Softening & Smoothening, Cleansing
| | |
| --- | --- |
| Pack of | 60 |
| Applied For | Damage Repair, Anti-hair Fall, Nourishment & Moisturization, Hair Volumizing, Hair Shine, Scalp Cleansing |
| Hair Condition | Permed Hair, Damaged Hair, Chemically Treated Hair |
Wrapping up:
Mix the oil capsule with your normal hair oil and home made face scrub, face mask, and face pack.Also make home made cream and serum for growing eyelashes and eyebrows.
I guarantee you that it will work and you will see the changes in your skin and hair.
For purchasing best and reviewed products, visit our website "RipplenFortunate".
Must Read: