Turmeric is the major ingredient in any recipe.But it is also a panacea for skin and health which you can intake like a turmeric tea and can be used in face mask, scrub and pack.
So, in this blog we will discuss some recipe and DIY face pack and scrub for your skin.Let's begin with it:
Benefits of turmeric for skin and health
1. Anti-Bacterial Agent:
Turmeric has been used for generations as an antibacterial agent. The paste is still used to heal small cuts and burns. It heals wounds and helps to keep bacterial infections at bay.
2. Anti-Aging:
Turmeric provides a great relief to aging skin. Haldi paste and haldi powder, for many years, have been a part of the beauty regimen. Even today brides and grooms celebrate haldi as a ceremony where the haldi paste is applied to their faces and body.
Haldi powder or paste if mixed with equal amounts of besan and raw milk makes a great exfoliate and makes skin glow. Use this pack before bathing.
Apply the pack generously over the face and body and then wait till it dries off. Then bathe without using any soap or body wash. For the face, you should scrub in circular motion.
3. Facial Hair Control:
In the case of thin hair for women, turmeric powder slows down the growth of facial hair and eventually stops it from re-growing. Using turmeric for efficient hair removal depends on the type of hair, and thickness. Therefore, it will not affect men's facial hair that is normally thick.
To use turmeric as a facial hair reducer you will need:
1/4 tablespoon of haldi (turmeric powder)
1 tablespoon of gram flour
Mix haldi with gram flour, and then add water to form a paste. Leave it on your face for 15 minutes, then remove using a circular motion. Scrubbing will pull off fine hairs on your face once the mask is dry, and that will help get rid of unwanted hair on your face.
Remember that excessive exfoliating will make your skin very sensitive, therefore, make sure you do not overdo it. If you have oily skin, you can exfoliate up to 3 times a week. On the other hand, normal to dry skin should only exfoliate 1-2 times per week.
Either way, make sure to moisturize your skin afterward. Moreover, when used regularly, you will start to see the difference in a month.
4. Improves Skin's Elasticity
Haldi helps to keep the skin looking young and fresh. As it contains many antioxidants, it is great for aging skin. It helps stimulate new cell growth and help keep the skin's elasticity intact.
5. Lighten Pigmentation:
If you have pigmentation and discoloration then using turmeric will surely help. Turmeric is said to lighten pigmentation and even out skin tone. This is the reason why many natural skin care brands use haldi as an active ingredient.
6. Control Dandruff & Hair Loss
Scalp infections and dandruff may cause hair loss, in such cases, curcumin (active component) present in turmeric helps to cure the infection, itching and soothes the scalp and removes flaking, thus curing hair loss.
7. Control Oily Skin
Women with oily skin will love turmeric. A mixture made with pure sandalwood paste (freshly prepared paste from pure sandalwood bar), turmeric and a bit of orange juice. Apply this paste on your face and leave it for 10 minutes. Once the pack dries off, use warm water to rinse the pack.
8. Lighten Stretch Marks:
Turmeric can help lighten stretch marks. Stretch marks often become a problem for ladies and a mixture of turmeric, besan, and raw milk/rose water/yogurt will help lighten the marks and even out the skin tone. The pack should be applied daily and kept until it dries completely.
9. Cures Acne:
Turmeric helps to keep acne away and also helps to heal acne. There are simple ways of using turmeric to cure pimples, one is by using turmeric powder mixed with sandalwood paste helps to heal acne and applying raw turmeric mixed with few drops of rosewater helps lighten the spots too.
10. Heal Cracked Heels:
Make a mixture of castor/coconut oil and add a bit of turmeric powder. Apply this on your cracked heels and areas where your skin has become excessively dry. Not only does this heal the cracked heels faster, but it also helps to make the heels softer.
Easy homemade turmeric face packs for glowing skin
#1 Honey and turmeric face pack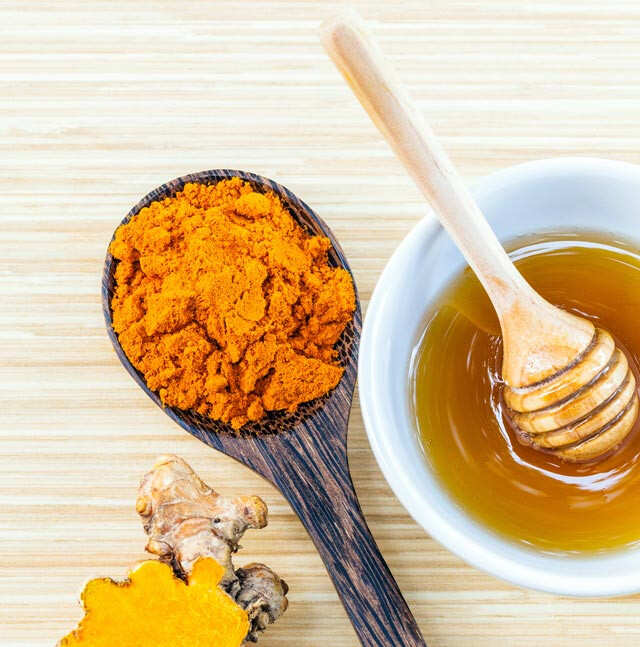 Honey is an excellent antibacterial ingredient. This property helps in keeping your skin clear.
You will need:
1 teaspoon of honey
2 teaspoons of corn starch
1/4 teaspoon of turmeric powder
How to make and use this turmeric face pack:
Mix cornstarch, turmeric and honey to make a smooth paste.
For dry skin, add oil to the mixture. For oily skin, add lemon juice and yogurt to create a creamy mixture. Apply the mask to your face and neck.
Leave it for 15-20 minutes. Use a warm wet cloth to remove the mask.
Repeat three times a week to get that extra glow.
#2 Sandalwood, tomato and turmeric face pack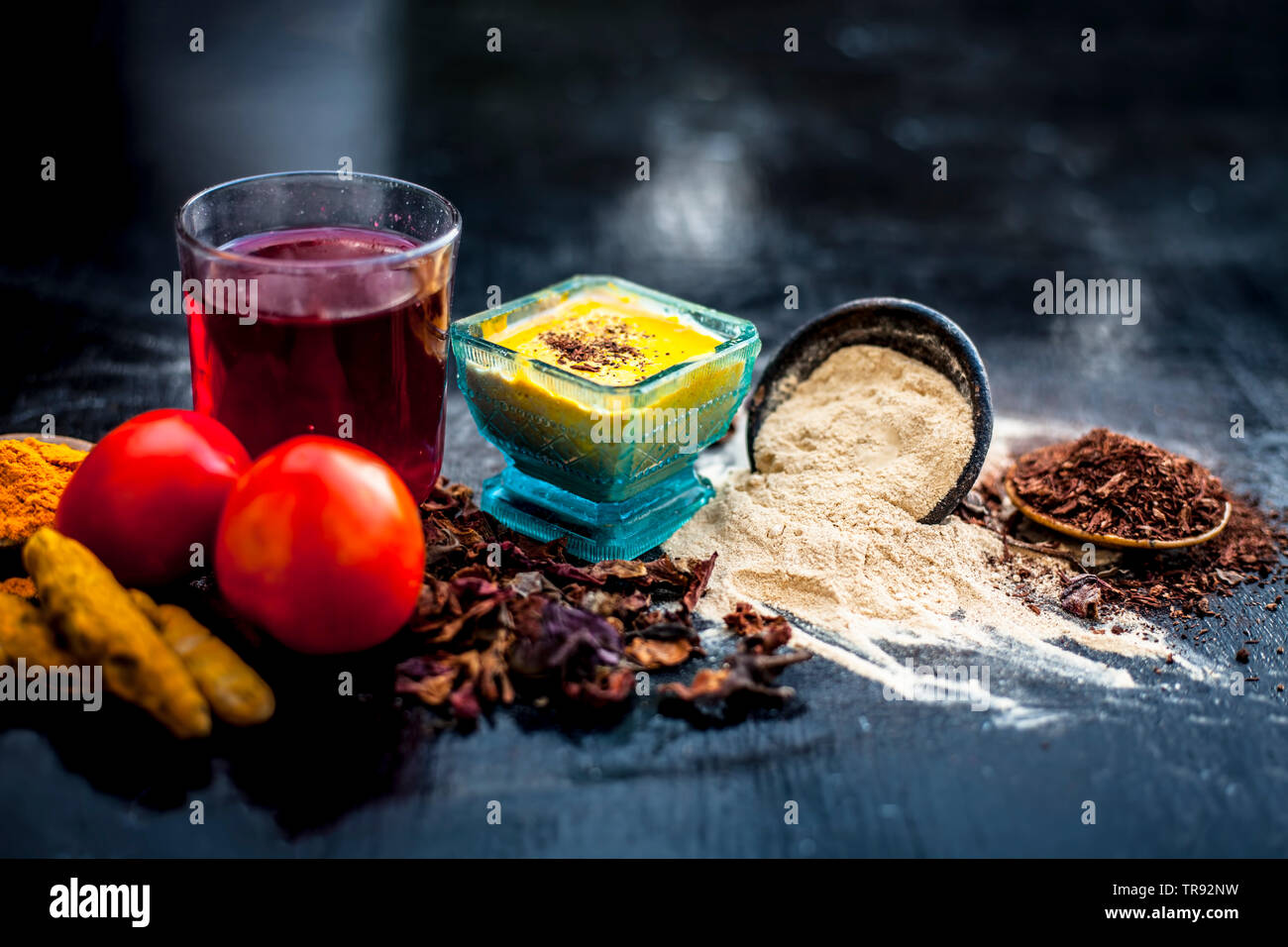 Sandalwood rejuvenates the skin and improves complexion. It also fights against skin-aging problems.
You will need:
1 tomato
1/4 teaspoon of turmeric powder
1 teaspoon of sandalwood powder
How to make and use this turmeric face pack:
Cut the tomato into half and segregate the seeds.
Add the turmeric powder and sandalwood powder to one-half of the tomato, and mix it well.Uniformly apply this paste on your face.
Leave it on for about 15 minutes and then rinse your face with warm water.
#3 Aloe vera gel, honey and turmeric face pack
The antibacterial properties of aloe vera gel help to get rid of skin-related problems like acne, pimples, dryness, blemishes, etc.
You will need:
1 teaspoon of aloe vera gel
1/4 teaspoon of turmeric powder
1 teaspoon of honey
How to make and use this turmeric face pack:
Mix all the ingredients to make it a paste.
Apply the mixture properly all over the face and then wait until it dries.
Use a warm wet cloth to remove the mask.
Repeat three to four times a week.
#4 Turmeric face mask for glowing skin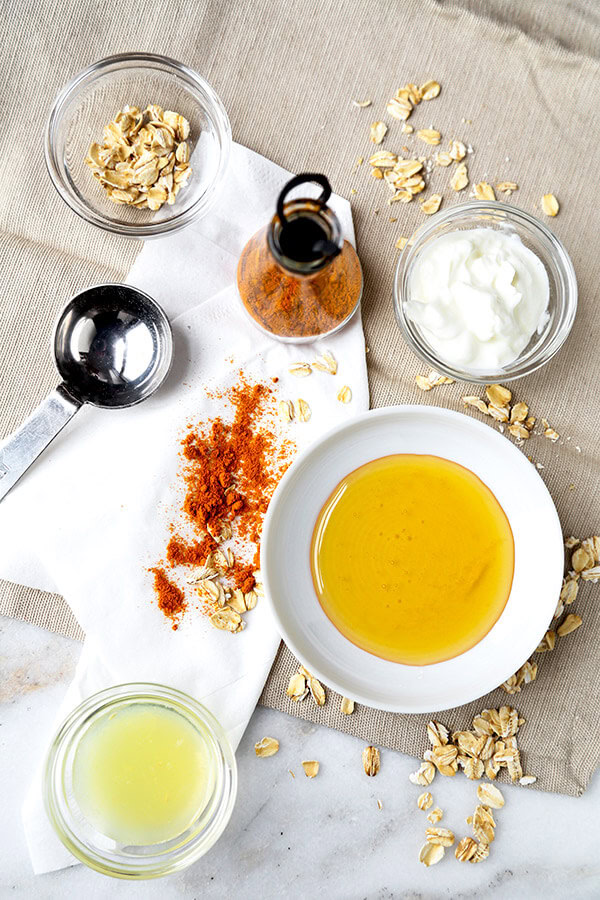 This multiple ingredient recipe for face mask can do wonders to dull skin. Lemon is an excellent source of vitamin C, which is known for making skin tones even. Carrot juice is known to fight sun damage, reduce blemishes, and treat uneven skin tones due to pigmentation.
You will need:
1/4 teaspoon of turmeric
Teaspoon of almond oil
1 teaspoon of lemon juice
Teaspoon of carrot juice
1 teaspoon of radish juice
Teaspoon of honey
1 teaspoon of aloe vera gel
Teaspoon of yogurt
A little bit of saffron
1 teaspoon of rose water
Teaspoon of gram flour
1 teaspoon of glycerin
How to make and use this turmeric face pack
Mix all the ingredients. Add some powdered oats or gram flour to make it thick.
Apply the mixture all over your face and neck.
Leave it on for 20 minutes.
Wash your face with cold water and wipe it with a warm cloth.
Repeat the process a few times a week.
#5 Haldi and fuller's earth (Multani mitti) face pack
Multani mitti adds natural oils to your skin, nourishing it from within and making it glow naturally.
You will need:
1/4 teaspoon of turmeric powder
1 teaspoon of yogurt
1 teaspoon of multani mitti
How to make and use this face mask:
To prepare this pack, mix yogurt, fuller's earth (multani mitti), rose water and a pinch of turmeric.
Haldi face pack can do wonders for various skin conditions.Mix it well to form a paste and apply all over your face.
Keep for 15 minutes and rinse it off with cold water.Apply the face mask once a week.
Turmeric Scrub
Features & Benefits:
REMOVES SUN TAN: Walnut and Turmeric come together to remove sun tan while restoring the skin's natural glow.
GENTLE EXFOLIATOR: Walnut gently exfoliates dead skin cells to remove impurities that routine cleansing cannot tackle. It scrubs away dirt and visible blackheads too.
PROMOTES EVEN SKIN TONE: Turmeric, rich in antioxidants, protects the skin cells from free radical damage and lightens the skin tone while improving complexion.
MADE WITH NATURAL INGREDIENTS: Dermatologically tested, the scrub is free from Sulfates, Parabens, SLS, Petroleum, and Artificial Colors.
SUITABLE FOR ALL SKIN TYPES: The face scrub is dermatologically tested & is suitable for all skin types.
| | |
| --- | --- |
| Applied For | Exfoliation, Deep Cleansing, Cleansing |
| Skin Type | All Skin Types |
| Application Area | Face |
| Composition | Turmeric Extract, Moringa Butter, Walnut scrubbing beads |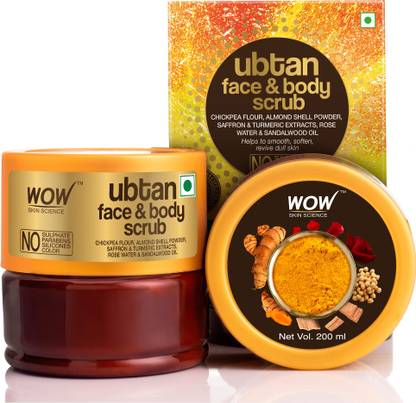 For Men & Women
Skin Type: All Skin Types
Applied For: Skin Polishing
Application Area: Face, Body
Conclusion:
Please add turmeric in your face pack, mask and scrub and you will find a natural glow on your skin.
For purchasing best and reviewed products, visit our website "RipplenFortunate".
Must Read: