Born on May 7, 1861 the Bard of Bengal, Rabindranath Tagore has inspired generations of people through his writings, poetry and thoughts. Rabindranath Tagore was much ahead of his time and his works were loved not only in India but across the world.
He pioneered education in the lap of nature. Even Indira Gandhi studied at Rabindranath Tagore's Santiniketan. Gurudev Rabindranath Tagore was immensely gifted in arts, language, and perspective to life.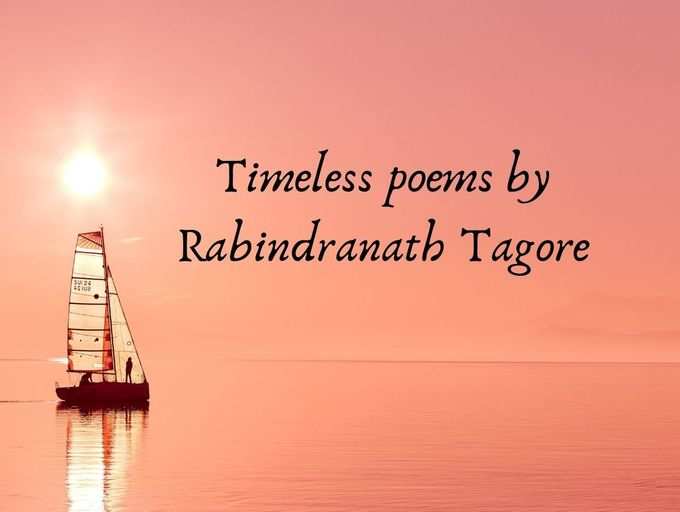 His much-acclaimed work 'Gitanjali', which was first published in 1910 and later translated and published into English in 1912, won him the prestigious Nobel Prize in Literature in 1913 for "his profoundly sensitive, fresh and beautiful verse, by which, with consummate skill, he has made his poetic thought, expressed in his own English words, a part of the literature of the West." Infact, Rabondranath Tagore was the first non-European to ever win a Nobel Prize!
Timeless poems by Rabindranath Tagore
Remembering Rabindranath Tagore on his 79th death anniversary today, here we list down some of his timeless poems that continue to resonate his creative charm and are still as relevant. These poems by Rabindranath Tagore reflect upon different moods and are a must read for all. Read on!
Waiting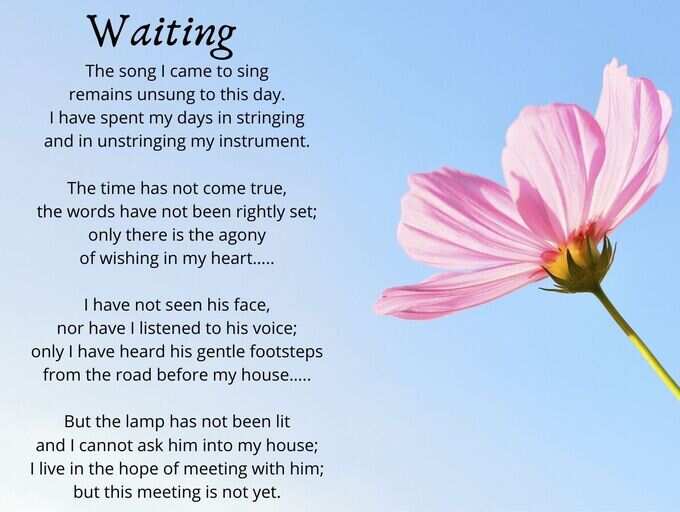 The song I came to sing
remains unsung to this day.
I have spent my days in stringing
and in unstringing my instrument.
The time has not come true,
the words have not been rightly set;
only there is the agony
of wishing in my heart…..
I have not seen his face,
nor have I listened to his voice;
only I have heard his gentle footsteps
from the road before my house…..
But the lamp has not been lit
and I cannot ask him into my house;
I live in the hope of meeting with him;
but this meeting is not yet.
Friend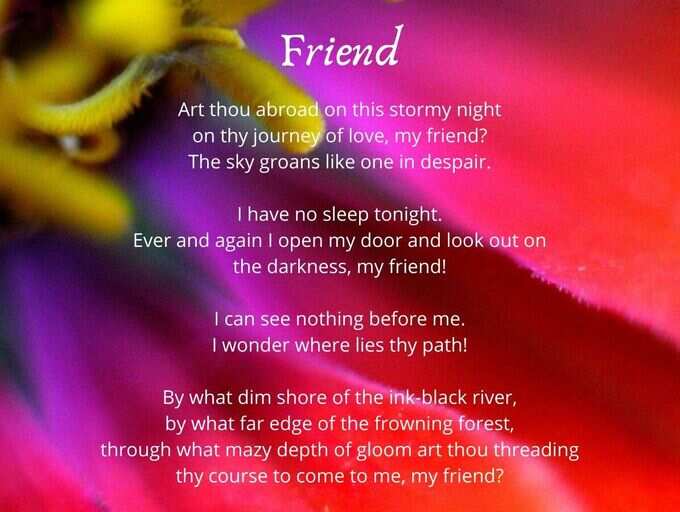 Art thou abroad on this stormy night
on thy journey of love, my friend?
The sky groans like one in despair.
I have no sleep tonight.
Ever and again I open my door and look out on
the darkness, my friend!
I can see nothing before me.
I wonder where lies thy path!
By what dim shore of the ink-black river,
by what far edge of the frowning forest,
through what mazy depth of gloom art thou threading
thy course to come to me, my friend?
Gitanjali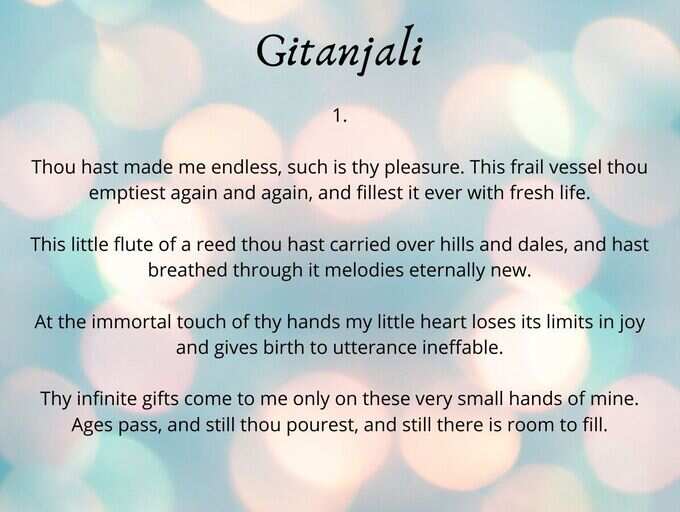 Thou hast made me endless, such is thy pleasure. This frail vessel thou emptiest again and again, and fillest it ever with fresh life.
This little flute of a reed thou hast carried over hills and dales, and hast breathed through it melodies eternally new.
At the immortal touch of thy hands my little heart loses its limits in joy and gives birth to utterance ineffable.
Thy infinite gifts come to me only on these very small hands of mine. Ages pass, and still thou pourest, and still there is room to fill.
On the nature of love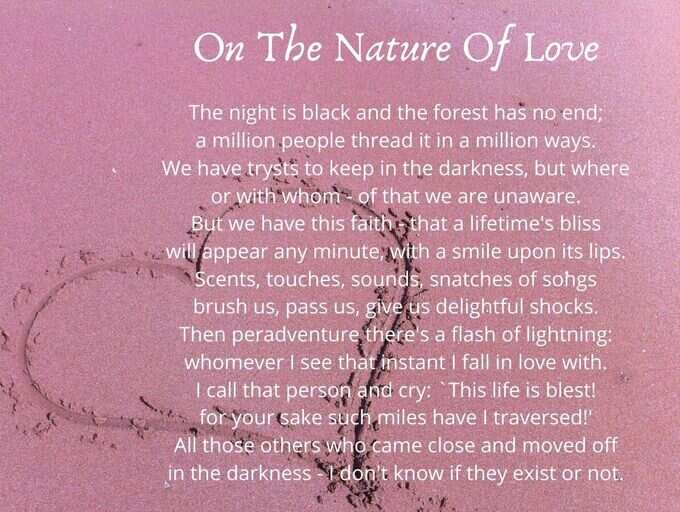 The night is black and the forest has no end;
a million people thread it in a million ways.
We have trysts to keep in the darkness, but where
or with whom – of that we are unaware.
But we have this faith – that a lifetime's bliss
will appear any minute, with a smile upon its lips.
Scents, touches, sounds, snatches of songs
brush us, pass us, give us delightful shocks.
Then peradventure there's a flash of lightning:
whomever I see that instant I fall in love with.
I call that person and cry: `This life is blest!
for your sake such miles have I traversed!'
All those others who came close and moved off
in the darkness – I don't know if they exist or not.
Paper Boats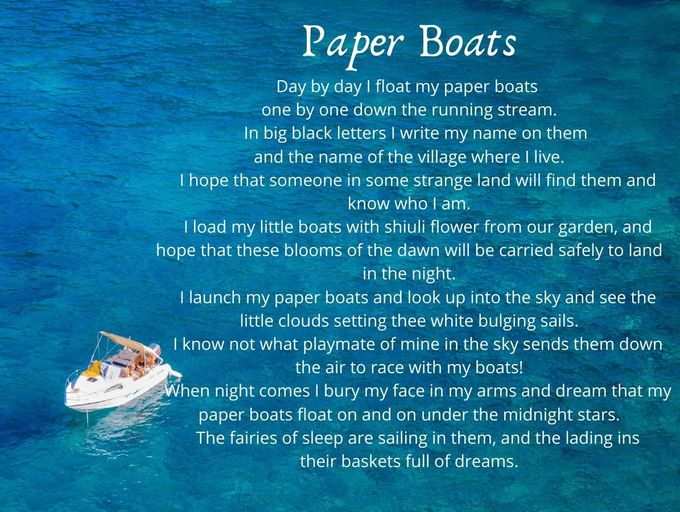 Day by day I float my paper boats one by one down the running
stream.
In big black letters I write my name on them and the name of
the village where I live.
I hope that someone in some strange land will find them and
know who I am.
I load my little boats with shiuli flower from our garden, and
hope that these blooms of the dawn will be carried safely to land
in the night.
I launch my paper boats and look up into the sky and see the
little clouds setting thee white bulging sails.
I know not what playmate of mine in the sky sends them down
the air to race with my boats!
When night comes I bury my face in my arms and dream that my
paper boats float on and on under the midnight stars.
The fairies of sleep are sailing in them, and the lading ins
their baskets full of dreams.
Where The Mind Is Without Fear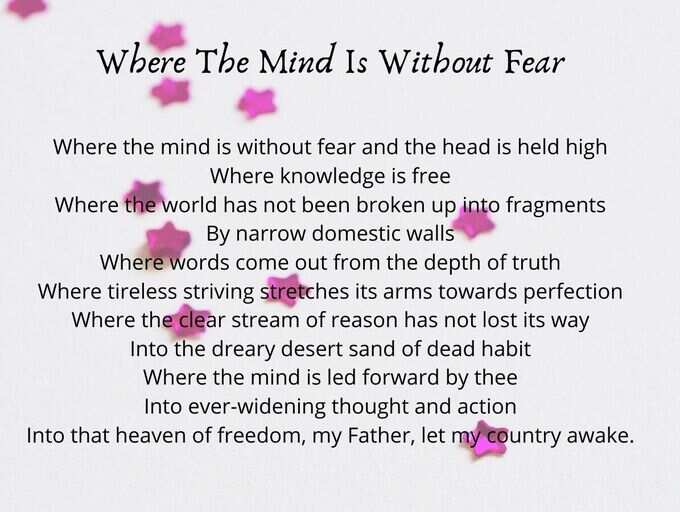 Where the mind is without fear and the head is held high
Where knowledge is free
Where the world has not been broken up into fragments
By narrow domestic walls
Where words come out from the depth of truth
Where tireless striving stretches its arms towards perfection
Where the clear stream of reason has not lost its way
Into the dreary desert sand of dead habit
Where the mind is led forward by thee
Into ever-widening thought and action
Into that heaven of freedom, my Father, let my country awake.
Endless Time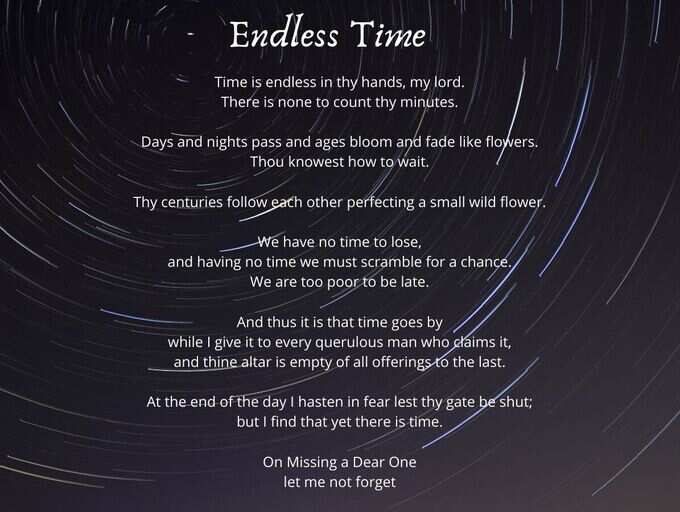 Time is endless in thy hands, my lord.
There is none to count thy minutes.
Days and nights pass and ages bloom and fade like flowers.
Thou knowest how to wait.
Thy centuries follow each other perfecting a small wild flower.
We have no time to lose,
and having no time we must scramble for a chance.
We are too poor to be late.
And thus it is that time goes by
while I give it to every querulous man who claims it,
and thine altar is empty of all offerings to the last.
At the end of the day I hasten in fear lest thy gate be shut;
but I find that yet there is time.
On Missing a Dear One
let me not forget
Freedom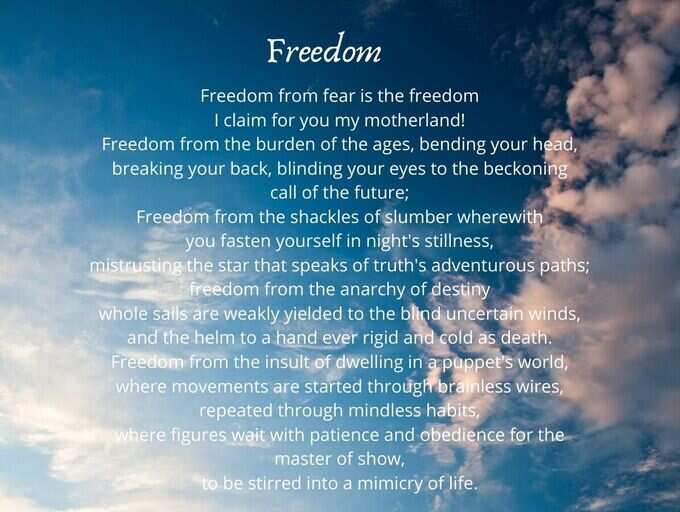 Freedom from fear is the freedom
I claim for you my motherland!
Freedom from the burden of the ages, bending your head,
breaking your back, blinding your eyes to the beckoning
call of the future;
Freedom from the shackles of slumber wherewith
you fasten yourself in night's stillness,
mistrusting the star that speaks of truth's adventurous paths;
freedom from the anarchy of destiny
whole sails are weakly yielded to the blind uncertain winds,
and the helm to a hand ever rigid and cold as death.
Freedom from the insult of dwelling in a puppet's world,
where movements are started through brainless wires,
repeated through mindless habits,
where figures wait with patience and obedience for the
master of show,
to be stirred into a mimicry of life.
Free Love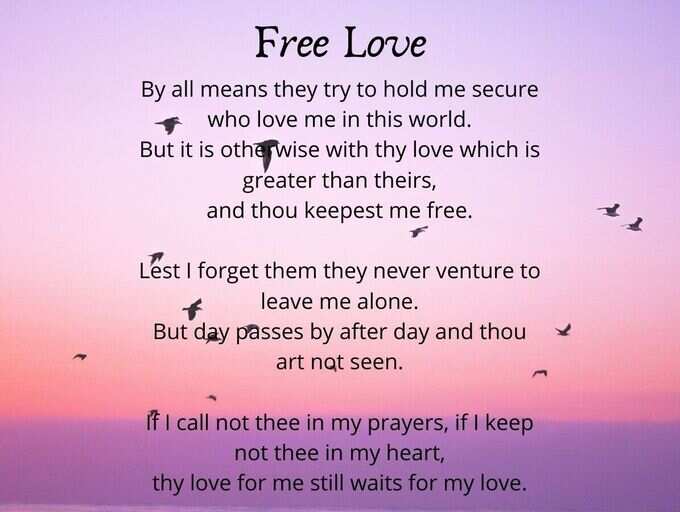 By all means they try to hold me secure who love me in this world.
But it is otherwise with thy love which is greater than theirs,
and thou keepest me free.
Lest I forget them they never venture to leave me alone.
But day passes by after day and thou art not seen.
If I call not thee in my prayers, if I keep not thee in my heart,
thy love for me still waits for my love.
The boat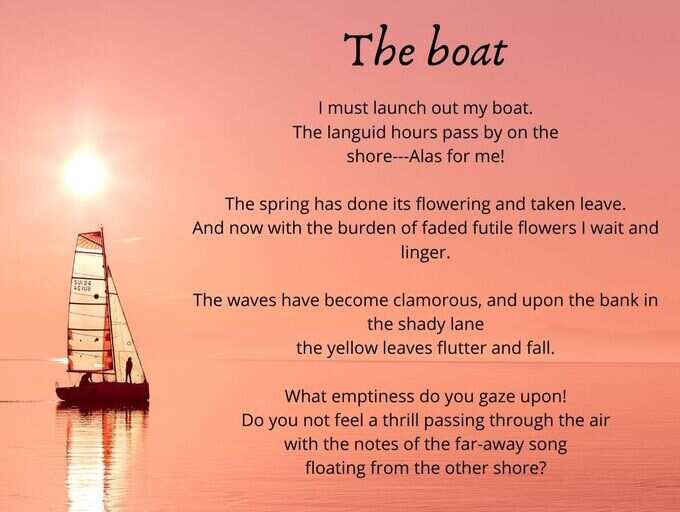 I must launch out my boat.
The languid hours pass by on the
shore—Alas for me!
The spring has done its flowering and taken leave.
And now with the burden of faded futile flowers I wait and linger.
The waves have become clamorous, and upon the bank in the shady lane
the yellow leaves flutter and fall.
What emptiness do you gaze upon!
Do you not feel a thrill passing through the air
with the notes of the far-away song
floating from the other shore?
Enjoyed reading this article? To receive more articles like this, Subscribe our newsletter.
For purchasing best and reviewed products please visit our website 'Ripplenfortunate' – "https://www.ripplenfortunate.com/blog/"