Almond Oil :MIX IT!!USE IT!!
We have been taught since childhood that we should eat almonds daily.From that your mind get sharp and you will become intelligent in your class.But almonds not only provide this benefit, Almond is comprises of many benefits.
In this blog we will get to know benefits, list of best Almond Oil and many information related to it.
What Is Almond Oil?
As its name suggests, almond oil is extracted from almond nuts. The characteristics of an almond oil vary depending on the way it is extracted, processed and the type of almonds used.
Almond Oil Extraction
There are two common methods used to make almond oil: chemical extraction or expeller pressed.
Though chemical extraction produces the highest oil yield, it does so at the sacrifice of the almond oil's taste, quality and nutrients.
Expeller-pressed methods produce higher quality products because they allow the oils to maintain their physical and chemical properties better.
Making an expeller-pressed almond oil involves the following steps:
In cast-iron kettles, almonds are thoroughly ground and roasted to the desired temperature.
Almonds are then fed through the expeller and lightly filtered, making a warm paste.
Paste is then placed in a press to extract the oil.The resulting oil is filtered and poured into containers.
The leftover nut cake is sold and used by bakers or turned into cattle feed, reducing waste.
Almond Oil Processing
After extraction, some almond oils undergo additional processing to make them "refined." These steps utilize high temperatures, high pressures, chemicals and deodorization measures to give the almond oil several advantages, including the following:
Oil is tasteless.
This oil has a higher smoke point than unrefined oils.
The oil maintains its nutrient content.
Unrefined oils, like a roasted almond oil, do not undergo these processing steps. As a result, they maintain lower smoke points and more full-bodied flavors.
Both refined and unrefined almond oil can be beneficial for health applications depending on the taste and smoke point you need.
Benefits of Almond Oil For Skin And Hair
1. Smoothens skin
Application of almond oil daily at night gives you smooth and soft skin. This oil is suitable for sensitive dry skin during all seasons. Take few drops of this oil in your palm and apply it on your face and neck. In addition, it also works to increase the clarity of the sun damaged skin.
2.Cures Dark Circles
Almond oil is miraculous in lightning the dark circles and minimizing eye bags. Apply some it under the eyes and over the lips every night. This must be done before going to bed. Within just few weeks, you will see satisfactory results in brightening under eye area. This is one of the best treatments for getting rid of the dark circles.
3.Relieves Eczema and psoriasis
If you are suffering from the skin issues, like Psoriasis and Eczema, almond oil has proven to be extremely beneficial for that. The oil is hypoallergenic and is safe for irritated skin as well. Apply it on the affected skin area at night .
4.Body Moisturizer It has been used as body moisturizer since ages. The vitamin E in this oil helps to smoothen and soften the dry skin. Apply almond oil after the shower to make the skin appear glowing and soft.
5.Anti-aging benefits
Regular application of almond oil on your skin, neck and other body parts makes the skin stay smooth and wrinkle-free. It increases the skin tightening and prevents the free radical damage on your skin.
Other than that sun damaged skin suffering from premature aging, is also treated by the use of almond oil. Take some oil on your palm and gently massage on the face using fingertips.
6.Skin whitening
Almond oil can also be used to lighten the skin complexion. Take few drops of it and mix few drops of lemon juice in that. Apply this mixture on your face and keep it for 10 to 15 minutes. This is the best product to cure dark spots and to increase skin whitening.
7.Almond Oil for Stretch Marks
As almond oil is rich in vitamin E and other substances, it really helps reduce the stretch marks. Take some it and massage it directly over the stretch marks. This has to be done twice a day to get maximum benefits in lightening the stretch marks. This process of fading the stretch marks with it can take around 1-2 months .
8.Hair Growth
It is wonderful for making hair grow faster and thicker. It is the best hair growth oil which is natural. Take some it and mix with onion juice. Apply this mixture on your hair roots and scalp. Keep it overnight, then wash hair in the morning.
This remedy has to be done thrice in a week for better results. This is the best way to use almond oil for hair. additionally, it reduces the hair loss and increases hair growth.
9.Lip Softness
Application of it over your lips every night gives you relief in dark lips and lip pigmentation. Apply almond oil mixed with some milk every night over your dark lips. This easy remedy will lighten the lip color and give you rosy pink lips.
10.Makeup Remover
When you run out of your makeup remover, it can definitely help. Take few drops of oil on cotton pad and wipe off your makeup using this. It will get rid of even the stubborn and waterproof makeup traces from your face and neck.
11.Almond Oil Hair Serum
If you hair is frizzy and rough, almond oil hair serum can give you soft and smooth manageable hair. Take few drops of it and mix with two to three drops of argan oil. Apply this mixture over the hair ends and semi dry hair. This works fabulously in making your hair shiny and manageable .
List of Best Almond Oil
Dabur Badam Oil is obtained from ripe kernels of Prunus Amygdalus. The 100% pure Dabur Badam Oil is extracted from best quality almonds. The oil sharpens brain & strengthens nerves besides improving body strength.
Features & Benefits:
100% Pure for trusted health benefits of entire family
Good for children in providing better immunity and strong bones
Helps keep brain healthy and providing sharper memory
Regular use on scalp helps in providing strong and healthy hair
Vitamin E of Pure Almond oil helps in providing soft and beautiful skin
Keeps the body warm in winter
Good for heart health
Helps relive constipation
Features & Benefits:
Quantity: 200ml; Item Form: Liquid
Hair Type: All
Great for the skin and hair
Rich in vitamins and fatty-acids
It helps in promoting better hair growth and helps nourish and hydrate the skin, 100 percent natural
Suitable for all hair and skin types
Made in India
Almond oil had been used extensively for its health benefits and as a beauty aid much before science caught up with its goodness. Its purity is something you can trust with your eyes closed.
Has all your health and beauty secrets packed in a bottle and comes exclusively from edible almonds is selectively cultivated for their sweet taste.
It is the oil popularly used for skin and hair care. It has many culinary uses too. Rogan badam shirin, it's perfect health, Goof For heart, Fight Dandruff, Nourishes Skin, prenatal / postnatal care.
WishCare Pure Cold Pressed Sweet Almond Oil is a versatile carrier oil. It is guaranteed to be authentic, pure, natural, and hexane free. It is undiluted and contains no added ingredients. Comes with an easy to use fliptop cap and comb applicator to make your life simpler.
Features & Benefits:
For: Body & Hair; Skin Type: For All Skin Types; Target Audience: Men & Women
It Divinely Pressed Out Of Sweet Almonds. this herbal massage oil increases the tonal value of your skin and improve blood circulation; Relaxes your tired muscles after a long and tiring day of work. Rich in glucosides minerals vitamins & protein.
A Khadi Product, Affiliated by Khadi and Village Industries Commission-Bhopal. Imparting Excellent Nutritive Soothing Anti-Inflammatory And Laxative Properties.
Massage the oil gently on your head and body. Leave it on for sometime and rinse while taking a shower.
It helps to eliminate dandruff, control the appearance of flakes, and relieve scalp irritation.
Features & Benefits:
This Amazing Oil Is Extracted From Raw Almonds. It Owes Its Benefits To The Generous Amounts Of Monounsaturated Fatty Acids, Vitamin E, Potassium, Proteins, Zinc, And A Number Of Other Vitamins And Minerals It Contains.
Pure Coldpress Sweet Almond Oil Of The With No Added Additives. No Mineral Oil Added
Contains Vitamin E, Which Is One Of The Most Potent Antioxidants Known.
It Is Light In Texture, And Can Easily Penetrate Deep Into The Skin, Softening And Dislodging The Dirt And Debris Accumulated In The Skin Pores And Hair Follicles.
Regular Use Of it On The Hair Improves Its Sheen And Texture.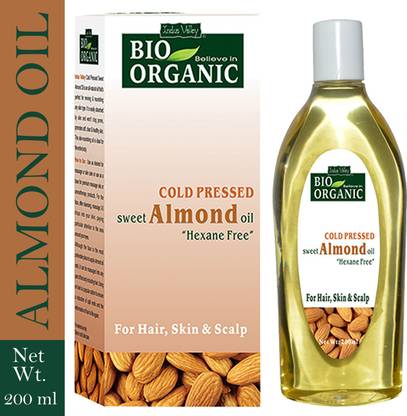 The Indus Valley Bio Organic Roghen Badam Oil is a cold pressed oil extracted from sweet almonds. No chemical additives are used during its extraction and hence sit is safe for all age groups. It is a light-weight and penetrates, hydrates and nourishes the skin.
Cold pressed Oil
Rich in Vitamin E
Light-weight
Deep conditioner
Intense Moisturizer
Safe for people of all age groups
Conclusion:
This almond oil is for all skin types and can be used as a skin serum for face for the dry skin types for beautiful skin. It is also applied on babies for their massage. Apply this on the face and leave for the entire night. It cures the dry patches an dry spots o the face.
What is your best choice for almond oil and how has it helped you keep your skin and hair healthy? Tell us in the comments below and we will be glad to hear you out!
For purchasing best and reviewed products, visit our website "RipplenFortunate".
Must Read: