We all apply cleanser, toner, moisturizer, scrub, face pack, face mask.But do we apply face serum to our face or we know that how important that is for our face??
Face serum is lighter than moisturizer and made with concentrated ingredients that's repair the skin and make it glow.It is a liquid which is easy to apply on face skin.
What Is Face Serum?
Face Serum is a skincare product that contains powerful ingredients and can be applied to your skin directly. They are applied after cleansing and before moisturizing. Face serums are used to target skin concerns such as:
Anti-aging
Dark spots and hyper pigmentation
Acne and clogged pores
Dehydration
Uneven skin tone, redness and sensitivity
Benefits of a face serum
While serums are no doubt nourishing and weed out many skin problems at the root, they also come with visible benefits and perks.
1) Your skin texture will improve drastically thanks to the collagen and Vitamin C content, becoming firmer and smoother, leading to visibly younger looking skin.
2) There will be lesser spots, scars, pimples and other marks, as they start lightening with regular use of a serum, particularly one with plant concentrates being used. This is done in a holistic manner, without the use of harmful peels and chemicals.
3) You'll see reduction in the size of open pores, which in turn give rise to lesser blackheads and whiteheads.
4) Under eye serums also have visible benefits, with the reduction of dryness, dark circles and fine lines. They are an instant pick-me-up for brighter eyes.
5) With the use of serums, there will be lesser inflammation, redness and dryness instead, the skin will look dewy fresh and moisturized.
What ingredients are typically used, and what are their benefits?
Ingredients in serums range from the ordinary to the exotic, depending on what you're going for. Here are a few common ones to watch out for.
1) Vitamin C
It is a common ingredient for anti-ageing, so if you're in your late 30s and 40s, use a serum with this. Not only does this potent component build collagen, it also boosts skin immunity and should be a part of your skincare regimen on a regular basis.
2) Hyaluronic acids
Are a great way to treat dehydrated skin, without the heaviness of creams and emollients. These trap in the skin's natural water levels, and make sure that it doesn't lose any of its natural moisture, remaining replenished. Ceramides and amino acids also achieve the same results and benefits.
3) Antioxidants
are essential to protect the skin from stress and environmental damage. So beta-carotene and green tea are extracts to watch out for, while berries, pomegranate and grape seed extract are other active ingredients.
4) Retinols
are serum ingredients ideal for skins that are prone to acne, while also addressing fine lines and wrinkles.
5) Plant-based active ingredients
like liquorice make for natural brightening ingredients and are just right to deal with those pesky sunspots and scars, as well as patchy skin.
6) Anti-inflammatory
If you have sensitive skin, use a serum with anti-inflammatory properties, preventing redness, breakouts and inflammation. The ingredients to read on the label you need to check out are zinc, arnica and aloe vera.
How should I choose a serum?
You'd be surprised at the number of options available on the serum market, and all of them promise wonderful, beautiful, skin. But the best way to pick out one that is right for you is to take two factors into consideration
– First, the skin problem you are trying to address. Do you want to get rid of fine lines around the mouth? Or banish those sun spots on the nose? Find a serum that claims to do just what you need it to.
– Secondly, consider your skin type. If you have oily and acne-prone skin, select a face serum with salicylic acid and retinols, as well as rosehip seed oil. For mature and dry skins, try something with hyaluronic acid and Vitamin C. Normal skin works well with glycolic acid, which traps the moisture and keeps skin refreshed and rejuvenated.
How Long Does It Take For Face Serum To Work?
Face serums contain active ingredients in concentrated amounts. The time to show desired results depends on the type of serum. Ideally, it takes 4-6 weeks to see visible results.
List of best Face Serum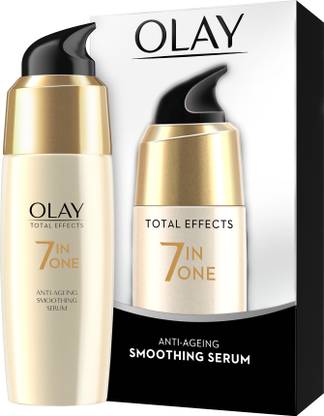 Olay Total Effects 7 in1 Serum Duo has the most concentrated moisturising formula. It fights the 7 signs of ageing for a radiant and fabulous skin. It's Olay's simple, smart approach for youthful, healthier looking skin that can better stand the test of time.
It Gives 7 Skin Benefits in One Product:
1. Reduces the appearance of wrinkles. 2. Moisturizes. 3. Evens the tone of the skin. 4. Refines look of pores. 5. Smooths the texture of the skin. 6. Brightens. 7. Helps to restores skin's firmness.
Features:
Serum fights early signs of aging with 7-in-1 benefits for a healthier & younger-looking skin
Total Effects' most concentrated moisturizing formula
Exfoliates to enhance skin's surface natural self-renewal process
With Niacinamide and Antioxidants
Non-greasy formula with SPF 20 delivers UVA/UVB protection
Fast-absorbing, non-greasy formula
Suitable for Normal to Combination Skin
This lightening serum is a rare combination of pure dandelion, rich in Vitamin E and minerals, blended with nutmeg oil. Used regularly, it helps brighten skin, fade dark spots and ease away wrinkles for a flawless complexion.
Features:
Quantity: 40ml; Item Form: Lotion
This lightening serum is a rare combination of pure dandelion; Rich in Vitamin E and minerals, blended with nutmeg oil
Regular Use helps in brighten skin, fade dark spots and ease away wrinkles for a flawless complexion
Skin Type: For All Skin Types
Usage: Massage a few drops into cleansed face and neck, before moisturizer, morning and evening.
Target Audience: Men & Women

Enriched with Argan Oil, combined with the power of serum, this lightweight formula nourishes your skin overnight. All you need is 1-2 drops at bedtime to improve the overall quality of your skin. A deeply nourished, radiant look is in store for you with the regular application of this almost magic-like potion.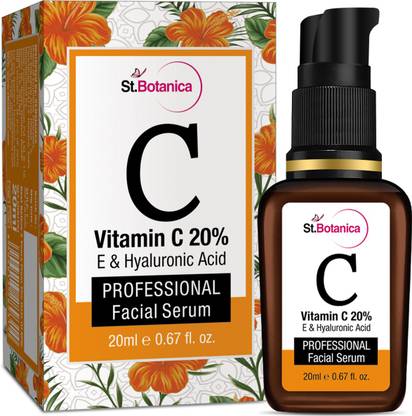 With a unique blend of plant extracts and vitamins, StBotanica Vitamin C 20% + Vitamin E & Hyaluronic Acid Facial Serum helps in hydrating and soothing the skin. The serum suits all skin types, including sensitive skin. Formulated With Powerful and Functional, Natural and Organic Bioactive Ingredients, All our Products are Toxins-free.
Benefits:
Protects and repairs the skin.
Reduces dark spots and facial marks.
Prevents the signs of Aging.
Good free-radical scavenger.

Hydrate your skin with this exclusive range of skin products and experience all things gloss within your skin. Just a few drops of this product are enough to do the magic. Accentuate your skin's natural shine to get a stunning glossy look and keeps the moisture intact, leaving your skin feeling radiant and nourished.
Benefits:
An aqueous veil with mineral laden glacial water.
It hydrates the skin, to make it look lustrous.
The moisture coats your skin with a shiny gloss.
For best results, use on dull and dry skin that lacks glow and hydration
Use the serum with the entire Lakme Absolute Skin Gloss range to get a complete glossy look
This serum is not just great for winters when your skin is dry and dull, but also for summers when want your skin to look hydrated without looking oily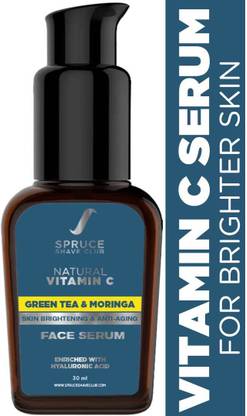 Made with natural vitamin C and loaded with a carefully chosen blend of natural extracts as well as hyaluronic acid, our vitman C face serum is a unique and natural formulation designed to help deliver you smoother, brighter and more youthful skin.
The natural anti oxidant properties of Vitamin C make it a powerful anti-ageing agent that helps boost collagen production and give your firmer and younger looking skin. It also fight free radicals and damage UV rays.
| | |
| --- | --- |
| Organic Type | Natural |
| Ideal Usage | All Day |
| Ideal For | Men, Women |
Vitamin C Serum helps diminish age spots and fine lines while offering true antioxidant support to your skin as you age. Well known to help skin feel softer, fresher, and to even help with the appearance of sun damaged skin over time, our Vitamin C Serum is an excellent pre-emptive anti aging serum which can help to ward off fine lines and wrinkles both before and after they begin.
With additional benefits of Aloe Vera and Grape Seeds extract.
Great for all skin types.
Ideal For: Men & Women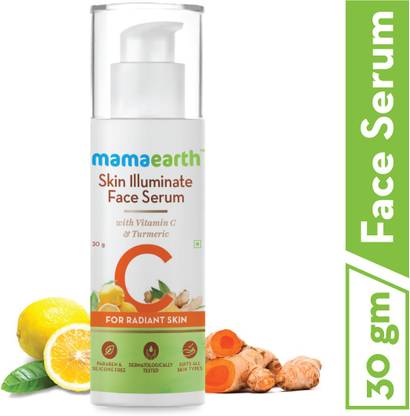 "Vitamin C – one of the most well-known & well-researched skincare ingredients, has been a preferred solution to many skincare problems for ages.
Mamaearth Skin Illuminate Face Serum, with the power of Vitamin C & Turmeric, helps you achieve a radiant glow, reduces hyper pigmentation & fine lines from your early wrinkle-prone areas such as crow's feet, smile lines, etc.
Mamaearth Skin Illuminate Face Serum is free of harmful toxins such as Parabens, Mineral Oil, Silicones, etc. "
| | |
| --- | --- |
| Organic Type | Organic |
| Ideal Usage | All Day |
| Ideal For | Women |
Get youthful, glowing skin in 7 days with Kaya Youth Oxy-Infusion range of products. Kaya Youth Oxy-Infusion Face Serum has a micro-circulation complex that gives you a youthful glow by enhancing oxygen supply to your skin cells.
Kaya Youth has been specially developed by dermatologists who are trusted International Skincare Experts. Oxygen is essential for your skin health and to keep skin cells energized.
With time, the supply of oxygen to your skin cells drops by almost 25%. Dullness, dark spots and dark patches are often the first few signs of this. Your skin needs a little more than your regular skincare and adding a boost of oxygen will make it stay youthful and glowing.
Kaya Youth Oxy-Infusion face serum is a fast absorbing light and non-sticky serum that is infused with micro-circulation complex that enhances oxygen supply to skin cells, giving your skin a healthy, radiant, youthful glow.
It provides intensive care and works hard to reduce dullness, uneven skin tone and dark patches from skin. It goes to deeper skin layers and is ideal for all skin types.
This face serum contains high active concentrate for intensive care to skin. Also, this can be used before applying cream, make – up or stand-alone – during day or night. Youthful, glowing and radiant skin is now yours…Try out the Kaya Youth Oxy-Infusion Face Serum now!
Last Few Words:
Face Serum tend to moisturize your skin and can be called as lightweight moisturizers. For maximum benefit of hydration, use a barrier repair moisturizer along with your face serum.
For purchasing best and reviewed products, visit our website "Ripplenfortunate".
Must Read: