WiFi Router: As we all know technology is growing day by day in today's modern World, internet is not luxury in the life of ordinary people but it became the necessity now a days.No one can survive without internet.From waking up in the morning to sleeping, we require internet without it we can't survive.
And due to increase use of internet we require WiFi in houses, offices, everywhere.
What is a Router?
A router is a networking device that takes an internet signal from a modem and transforms it into a WiFi signal. Then it broadcasts those signals to nearby devices, like your computers, phones, smart devices, and more.
What to look for when seeking out the best WiFi router
Some specifications and features are universal for all routers. But sometimes you want something special – depending on what you're doing online. Having said that, let's take a look at some of the common things to consider when seeking out the best WiFi router:
1. Maximum range
It's not always common that a router has the range listed in its specifications. You'll often see "extended" or "long-range" without any details. Your range truly depends on your house or office setup, and it might require some testing and returning. If you have a large or uniquely designed house, mesh routers often work best.
2. Pricing
The price of technology is always important to consumers, so I would recommend looking at routers with a smaller budget approach. If there's nothing extreme about your use or housing configuration, opt for the cheaper, quality routers we outline below.
3. Dual- or tri-band
All routers you buy should be at least dual-band. This means the wireless signal is broadcasted over two frequencies, one that's better for wider coverage, while the other is faster.
4. The router's lifespan
For some reason, it seems like the average router doesn't last that long. What stinks is that you're never going to see a manufacturer put a lifespan on the router's box. Your best bet is to look at user reviews to see if there are any people complaining about routers breaking early on.
5. Limitations
Wireless standards change on occasion, so it's important to have a router that supports your internet package speeds. New devices are set up to take advantage of top-notch speeds (like 100Mbps). An older Wireless N router doesn't have the capabilities to reach these speeds.
6. USB support
At some point in the future, you might want to connect a printer or an external hard drive to your router. Many modems also use USB ports. Having a USB port in your router can prove useful at some point. You goal should be to find a router with at least one or two USB ports – with USB 3.0 support.
7. Smartphone apps
This isn't an absolute necessity, but a smartphone app makes it so much easier to set up your network and manage the devices on it. The user interface on a smartphone app is far superior to the old method of downloading firmware through the browser. Mobile apps often include quick buttons for security, parental controls, and game boosting.
Best WiFi Router 
Single Band WiFi Router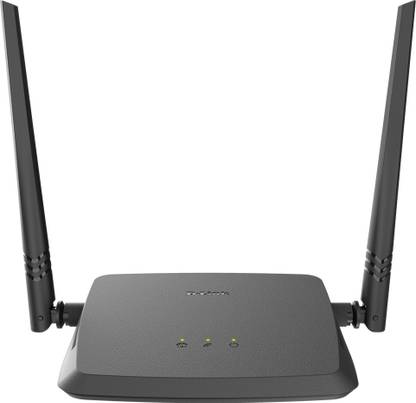 Features & Benefits:
Great Speed:  Share your Internet connection with your wired and wireless devices with fast wireless speeds and range to reach more places throughout your home
Maximum Coverage: Repeater Mode to extend the reach of your existing wireless network
Ease of use and set Up: Web browser-based setup and configuration. Setup wizard to guide you through the configuration process
Flexible connectivity for your devices
High Connectivity:  10/100 Internet port to connect to broadband Internet with high transfer speeds
Connectivity  for wired devices: Four 10/100 LAN ports to connect wired devices for high-speed online activities TRUE
Stay Secure:  Keep your Internet activities safe with WPA/WPA2 wireless encryption and a firewall, helping protect your network from local and remote intrusions
3-year warranty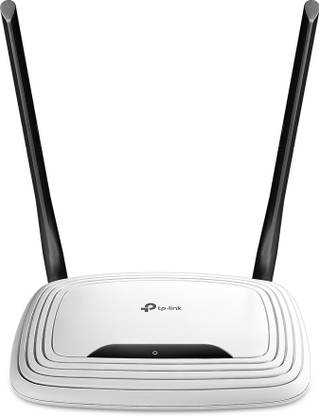 Features & Benefits:
Wide Compatibility—Input type RJ-45(Ethernet Cable) supported by ISP's all over India such as ACT Fibernet, Airtel Fibernet, Hathway, Tikona, Exitel, YOU Broadband, SITI, GTPL etc
Ideal Speed—300Mbps wireless ideal for interruption sensitive applications like HD video streaming
Stable Wifi—Two antennas ensure the wireless stability
Traffic Allocation—IP based bandwidth control allows administrators to determine how much bandwidth is allotted to each PC
App control—TP-LINK Tether App allows quick installation and easy management using any mobile device
WPS Security—Easy wireless security encryption at a push of WPS button
Support IPV6—Support the more recent Internet Protocol version
Whitelist/Blacklist Function—to allow or block certain devices from accessing the internet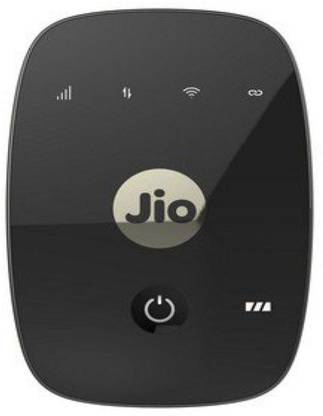 Features & Benefits:
Enjoy 4G features on 2G/3G smart phones ; Operating System Support: WInXP, Win10, Mac and Linux
True 4G speed – download speed up to 150 Mbps and upload speed up to 50 Mbps
Make video and HD voice calls, audio and video conference, send SMS with Jio 4G voice app
Recommended to connect up to 10 Wi-Fi enabled devices (smartphone, laptops, tablets and even smart TVs)
Best in class battery (2300mAh) supports up to 6 hours of surf time
Dual Band WiFi Router
Features & Benefits:
This router does not include modem and works well with cable broadbands
Input type RJ-45 (Ethernet Cable) supported by neighbourhood cable broadband ISPs such as Hathway, ACT, Tikona, Airtel Fibrenet, MyWorld, Nextra, Siti Cable, You Broadband, Spectranet etc
Wireless standards: IEEE 802.11ac/n/a 5GHz, IEEE 802.11b/g/n 2.4GHz
Supports 802.11AC standard, with simultaneous 2.4GHz 300mbps and 5GHz 433mbps connections for 733mbps of total available bandwidth
3 external antennas provide stable omnidirectional signal and superior wireless coverage
Signal rate: 5GHz: Up to 433mbps; 2.4GHz: Up to 300mbps
Wireless security: 64/128-bit WEP,WPA/WPA2,WPA-PSK/WPA2-PSK encryption
Interfaces: 4 x 10/100mbps LAN ports, 1 x 10/100mbps WAN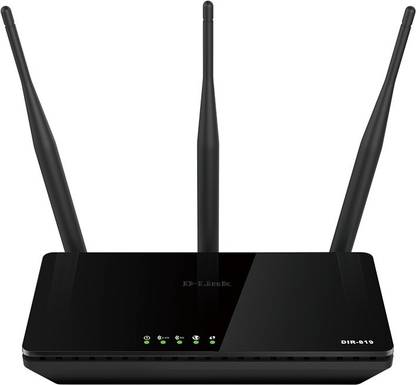 Features & Benefits:
Next Generation Wireless Technology – Wireless AC750 for optimized performance and reliable coverage
Dual Band Performance – Up to 300Mbps (2.4GHz) + 433Mbps (5GHz) to deliver fast wireless speeds
High-Gain Antennas – 3 high-gain antennas deliver maximum range around your home
Backward Compatibility – Compatible with a/g/n devices
Wired Connectivity – Four 10/100 Fast Ethernet ports for fast device connectivity
Easy to Set Up, Easy to Secure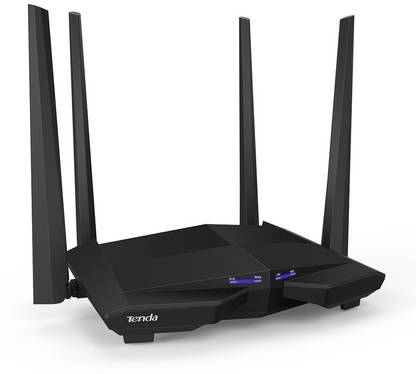 Features & Benefits:
AC10 AC1200 smart dual-band wireless router; If you cannot access the internet after configuration, ensure that the Ethernet cable connected to the WAN port of the router has connected to the internet
AC10 is a high-performance Wi-Fi router designed with full Gigabit WAN and LAN ports
Strong dual band Wi-Fi signal for multi-wall penetration
Innovative MU-MIMO technology
Four clean-cut antennas for stronger Wi-Fi signal and wider Wi-Fi coverage
4 x 5Dbi Omni directional antennas
1 x Wan + 3 x Lan full gigabit ports
Powerful 1Ghz CPU + 128Mb DDR3
Beamforming+ intelligent signal location technology
App remote management, WiZFi Schedual, Universal Repeater, Signal Power adjustment, Beamforming, WPS, Parental control, Black List, Firewall, Bandwidth Control, Smart LED Light
Tri Band WiFi Router

Features & Benefits:
AC4000 WIFI –Up to 750+1625+1625mbps wireless speed
Tri-Band Wi-Fi: Avoids interference and optimizes network performance
Multi-User MIMO (MU-MIMO): For simultaneous streaming to multiple devices
Powerful 64-bit dual cure 1.8GHz processor with 3 offload processors – next generation processor to handle data intensive applications and for better video streaming, lag-free gaming, surfing and more
Gigabit Internet Ready: Built to support gigabit WAN to LAN speeds
Fast Backups: Two Ethernet ports can be aggregated for > 1gbps wired speeds
Works with Amazon Echo/Alexa: Control your home network using voice commands
Works with all Internet Service Providers – Airtel Fibernet, BSNL, ACT, Vodafone, Tata Tele, Hathway, Beam Cables, Tikona, MyWorld, Nextra, Siti Cable, You Broadband, Spectranet and all other major service providers.
Wrapping Up:
We have discussed the routers and their functioning in detail. It should help you decide on the right type of router to buy for your home. We have also seen some of the top Wi-Fi routers available on the market. It makes your task easier than before.
For purchasing best and reviewed products, visit our website "RipplenFortunate".
ONLY $76.99 for 3PCS TENDA MW3 Mesh 2.4GHz + 5GHz WiFi Router
Start date: July 7, 2020
End date: July 31, 2020
Shop Sale
Geekbuying.com