Why are at-home rowing machine so popular right now? Because they offer a full-body workout in one compact piece of equipment.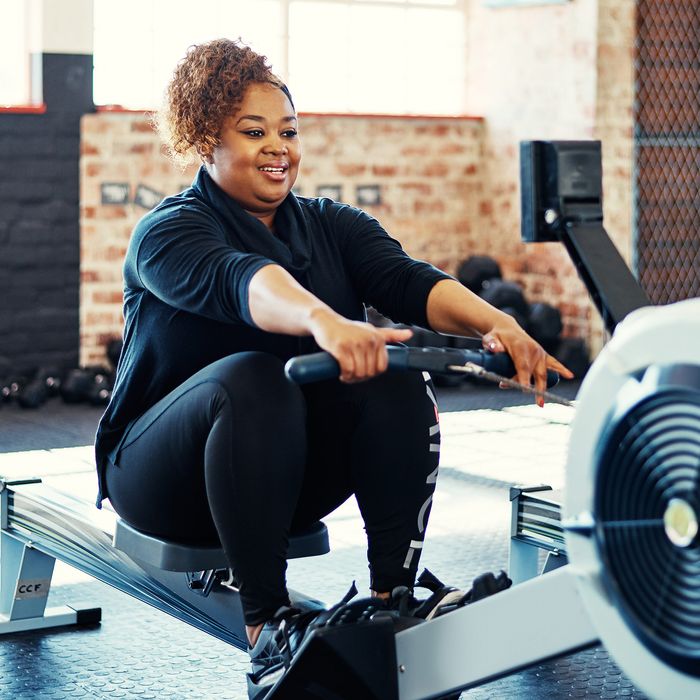 Regardless of your current athletic ability and fitness, a rowing machine is a great place to start and workouts . It can be tailored to suit a complete novice to a seasoned athlete.
What is the Best Rowing Machine?
A rowing machines mimics what it feels like to row a boat, so you get the same resistance of water on a machine, increasing your heart rate and building strength. What also makes rowing more appealing to those who dislike running and other high-impact exercises like HIIT, is that it's a low-impact workout that goes easy on your joints.
While rowing might appear to be mostly an upper-body workout, your legs and glutes are actually the main muscles driving your stroke.
Benefits of Rowing Machines
There are many benefits of rowing machines but it is important to consult with your doctor for sound medical advice specific to you and your body before starting any exercise regime.
The are many benefits to rowing such as increased cardiovascular fitness, muscle toning, and weight loss. In addition to this other benefits include (but are not limited to):
Low impact exercise

Rowing is great for anyone with joint pain and is highly recommended as an exercise for post knee surgery patients. There is very little pressure on the joints as the rowing is performed in one fluid motion. It means no jolting or sudden pressure on the joints. Don't confuse the word's low impact with low intensity. Rowing can be as intense or as easy as you make it!
Upper Body Workout

The upper body is thoroughly worked out when using the rowing machine. One can expect to work the rhomboids (shoulders), trapezii (upper back), and lats (lower back) muscles. So those are the directly targeted muscles but in addition, the hands, wrists, and arms get a workout too as well as the biceps and your core.
Lower Body Workout

Many rowers consider rowing to be a lower-body or leg workout which to the average person seems strange! The quadriceps (upper front thighs), calves, and buttocks get a strong workout! As the legs are the largest muscle group one working out these muscles provides a very strong workout to help you burn more calories.
Effective Cardio Workout

Working out on a rowing machine definitely gets the heart rate up. By tweaking the resistance you have the power to essentially control the heart rate zone and your workout. There are countless benefits to cardio workouts and one can expect to see a huge jump in your overall health by incorporating cardio.
Weight Loss

A rowing machine workout is said to burn 600 calories an hour on average. If we compare the calorie burn rate this is significantly higher than many other exercise equipment. One's weight loss goals can be assisted greatly with the use of a rowing machine.
The best rowing machines you can buy
The Concept2 Model D is a personal favorite. This machine, although once of the more expensive items on the list is well worth the price.
Arguably it is the most popular rowing machine on the market.
Key Features
Smooth to use
Quiet
Performance monitor
Comfortable seat, large footrests
Ergonomic handle
Separates into two for storage
Small footprint
Max user weight of 500 pound
5-year warranty
Pros
Available in light gray or black
A sturdy, well-built rowing machine
5-year warranty
Easy to store
Many features with the monitor.
Cons
The only negative thing we can say about the Concept2 Model D is the price and the fact that not everyone can afford to have this machine. It really is worth the money if your budget does allow!
It can handle a solid workout, the fact that it is used by athletes says it all.
The Stamina Body Trac Glider 1050 is a very simple design made for tight or limited spaces. Compact, this rower will fit into just about any space, schedule, and budget.
Key Features
Hydraulic resistance
Two handles/arms as opposed to one handle
Full range of motion
Electronic monitor included
Comfortable seat included
Adjustable hydraulic cylinder resistance
Textured footplates
Foam padded handlebars
Space-saving
Steel frame construction
Pros
Affordable
Computer included
Ideal for compact workout spaces
One year frame warranty
Cons
Parts are only guaranteed for 90 days
This rower comes with many great Amazon customer reviews and in this price range, the Stamina Body Trac Glider 1050 is a good buy.
The Horizon Oxford 2 is a good, basic rowing machine without much high price tag.
The Oxford 2 is a feature-loaded rowing machine that is ideal for a home gym. The foldable design address the problem of storage for it can be folded upwards to free the floor space.
Key Features
Adjustable resistance – 8 levels
Magnetic tension system
Comfortable seat
Non-slip, grip handlebars
Handle attached by webbing for smooth function
Large foot pedals
LCD console
Transportation wheels
Equipped with a wireless heart rate monitor to track your heartbeat
Quiet
Max user weight 250lbs
Pros
Very affordable
Small footprint
Easy and fast to assemble
Quiet
Cons
LCD screen doesn't display distance rowed.
The LCD console is adjustable and offers the user all the basic metrics of the workout.
This is a perfect machine for both novice and professional trainers. However, the machine does not come cheap, it retails for over INR 1 lakh on Amazon.
Another Sunny Health & Fitness Rowing Machine to make the list! The SF-RW5713 is the more upmarket rower that functions through water resistance.
Key Features
Water resistance
Lightweight yet sturdy design
3 hydro blades
Non-slip handlebar
Mesh belt
Comfortable seat
Large foot pedals with velcro straps
Monitor to display key information
Transportation wheels
3-year warranty
Max user weight 250lbs
Pros
Durable
Lightweight
Water resistance
Easy to transport
Good monitor
Smooth rowing
Cons
It is a new item that is yet to have consistent feedback
For those with a bit more of a budget, the Water Obsidian SF-RW5713 presents good value for money. In terms of water rowing and using water resistance to train this is one of the better cheaper options available.
The Velocity Exercise Magnetic Rower uses a Drum Magnetic Control system as well as electronic tension control to easily adjust the resistance level.
Key Features
Magnetic resistance
Electronic tension control
Comfortable seat
Foldable
Heart rate monitor chest strap included
Sturdy frame
Available in black or grey
Pros
Smooth and quiet to use
Folds up
Easy to assemble
Two colors to choose from
Comfortable seat
LCD display
Cons
Short time span for the warranty is a little concerning
Overall the Velocity Exercise Magnetic Rower uses Drum Magnetic Control for its operation which is smooth and very quiet. A great purchase is, electronic adjustability with this unit is great.
The Neptune Challenge from the Hyderabad based company is a fine rowing machine that is perfect for users of all skill levels.
The machine offers adjustable resistance using a fluid tank. This type of resistance is much smoother than the magnetic and air resistance and offers more intricate rowing experience.
Key Features
Rower can be used for upper body workouts
LCD display
Hand pulse sensor in the grips
Sturdy steel and aluminum construction
8 levels of magnetic resistance
Foldable design
Transport wheels for ease of storage
Frame is made of heavy-duty steel and is highly durable
Pros
Superior comfort even during long and intense workouts
Easy to assemble, transport and store
Magnetic resistance
Noise free movement
Cons
Does not offer a heart rate monitor
Also does not have option of wireless connectivity
Aerofit AF 802 D is available across the country at all major retailers. It is also available on Amazon for around INR 93,000.
When rowing, you need to take a comfortable position, so you have less impact on the body. A quality padded seat is an essential factor to consider. The Stamina 35-1402 ATS has a sliding seat with padding to ensure comfort and safety.
Key Features
Wide resistance
Multi-function monitor
Sliding seat
Large footplates
Adjustable nylon foot straps
Aluminum seat rails
Steel construction
Built-in wheels
Foldable design
Angles seat rail
Pros
Easy to use
Variety of resistance levels
Comfortable seat
Adjustable foot straps
High-resolution display
Oversized foot pedals
Cons
Requires regular tightening
This rowing machine is ideal for people looking for a tool that offers a variety of resistance levels for both simple and challenging workouts.
The First Degree utilizes patented adjustable fluid resistance technology which allows it to control and adjust from light to challenging. This gives you a wide range of applications for different workout needs.
Key Features
Multi-level computer
USB port
Height adjustable footplates
Padded seat
Improved pulley system
Flexible fluid resistance technology
Pros
Easy to install
Provides a wide range of resistance
High-quality construction
Lightweight to carry
Cons
Foot straps require regular tightening
The First Degree is ideal for regular users that need a simple yet consistent machine for full-body workouts.
Spirit CRW800 Rower is a perfect amalgamation of high-performance features combined with a sturdy design.
Spirit CRW800 uses a combination of air and magnetic systems to offer variable resistance during workouts. It offers 16 levels of resistance, which should be sufficient to cater to the needs of even the most demanding users.
Key Features
Adjustable tension controls
Thick-padded seat
5.5" adjustable LCD display
Pivoting footplates
Multi-function monitor
Smooth hydraulic cylinder resistance
Foldable steel frame is highly durable
Maximum weight: 450 lbs.
Pros
Easy to put together
Great value for money
Perfect for starters
High-quality construction
Comfortable seat
Cons
Spirit CRW800 rowing machine falls into the expensive category and costs almost INR 1 lakh on Amazon.
The maximum weight capacity of a rowing machine is an essential factor to keep in mind. The Sunny Health & Fitness rower has an extended weight capacity of 350lbs to suit heavy people without compromising on the quality.
Key Features
12 resistance levels
Hydraulic cylinder resistance
LCD digital display
Full-motion arms
Fully-padded seat
Non-grip handlebars
Large anti-slip foot pedals
Foot Straps
Pros
Easy to install
Comfortable to use for long hours
Sturdy construction
Comfortable seat
Variety of resistance levels
Cons
Cylinder gets hot after long workouts
The Sunny Health Rowing Machine is ideal for regular short exercises.
Bottom Line
There are many rowing machines on the market and they are a fantastic piece of equipment for getting fitter and stronger. There are many different features to consider before making your purchase so be sure to read through the detailed guide as well as rowing machine reviews and comparisons.
Investing in the right rowing machine for your needs will have your workout goals met in no time! Although everyone has different workout needs and styles. The overall top pick is the Concept2 Model D Indoor Rowing Machine or the Stamina ATS Air Power for the budget restricted. When it comes down to it the best rowing machine is the one that suits your needs and budget!
Enjoyed reading this article? To receive more articles like this, Subscribe our newsletter.
For purchasing best and reviewed products please visit our website 'Ripplenfortunate' – "https://www.ripplenfortunate.com/blog/"