Hair Spray : Make your Hair Style!!
I noticed that our hair style play a major role for first impression and it tell about your personality.If we want to go for a formal party, family function or casual hangout with our friends.First we think about, what hair style we should prefer.The main thing is we style our hair but how long it will last without a hair spray.As hair spray is the only thing which we require after setting the style of your hair.
Benefits of Hair Spray for Men/Women
Men & women have entirely different types of hairstyles, and what they expect from their hair spray varies too. Depending upon the kind of spray, the benefits they offer can differ also. Here is the detailed analysis of what a good hair spray brand can offer with their product.
1. Extreme Hold
Holding the hairs on their place after making hairstyle is the thing we all suffer. To cure this, hair sprays come to give long-lasting hold to the user's hair and make them feel confident about their hairs.
2. Anti-frizz
Frizziness is the situation where hair does not align with the surrounding hairs but stands up or curls independently. To avoid this, many of the best hair spray brands provides anti-frizz properties in the spray and ensures there are no frizz hairs anymore.
3. Heat defense
It's the type of hair spray that adds a heat protectant layer to the hairs to prevent hair damages due to heat. Additionally, they can also remove frizz, dullness, dryness, etc. to make them style easily.
4. Volume & Shine
If you have thin or dull hairs, you might prefer the ones that add extra volume & shine to the hairs. It will make your hairs look healthier and stronger with high volume.
Also Read:
List of best Hair Spray

The internationally acclaimed brand of Gatsby brings a hair spray that will bring an end to all your hair styling requirements. Say goodbye to the age old and redundant styles. Be a trendsetter in your group with this premium product from the house of Gatsby.
Superior long-lasting hold for your hair
Premium quality product does not harm your hair
Be fashion-forward and try out new styles every day
Usage:
1. Hold the spray nozzle at least 30 cms away from your hair. 2. Spray it all over your hair while spreading it vigorously using your fingers. 3. Allow the spray to dry. Avoid eye contact.
Features:
Ultra-hard hold hair styling spray that evenly coats each strand for long-lasting results
The non-sticky and non-greasy formula, does not leave behind any visible residue
This hair setting spray features a natural and refreshing citrus scent
Quantity: 250ml
No coarseness, maintains style even in humid weather
Gives natural shine to hair.
Hair Type: Suitable For All hair Types
Target Audience: Men & Women

It gives you the freedom of styling your hair without worrying about hair damage.
Enriched with natural moisturizing and nourishing ingredients, it is a unique formulation that supports style with nourishment.
The unmanageable and even hard to hold fine hair can be tamed and kept in place for hours with this non-greasy hair spray.
It gives your hair the extra strong hold it needs to preserve your hairstyle for hours without any stickiness.
Hair feels naturally soft and boasts a smooth, naturally shiny, flawless look throughout the day.
Ingredients:
Argan Oil
Bhringraj Oil
Vitamin E
| | |
| --- | --- |
| Brand | Man Arden |
| Model Name | Hair Spray – Strong Hold, Styling with Nourishment |
| Quantity | 180 ml |
| Sulfate Free | Yes |
| Ideal For | Men |
| Hair Styling Type | Hair Spray |
| Hair Type | All Hair Types |

| | |
| --- | --- |
| Brand | Nova |
| Model Name | Gold professional long lasting super hold hair spray |
| Quantity | 200 ml |
| Sulfate Free | Yes |
| Ideal For | Men and Women |
| Hair Type | All Hair Types |
It is for men whose hair don't just look good but feel good too.
Made using carefully curated ingredients, It doesn't just help you in styling your hair but also provides moisture and nourishment.
Using hairspray with chemicals often damages the hair and leads to several hair issues but not this one.
It is neither sticky nor does it leave any residue after application except a healthy sheen and great hold.
It has made styling the hair all the more effortless and fuss-free. All you have to do is, just spray some on your cleansed hair run them through comb or your fingers to give a desired style and you are ready to rock any look that you desire!
| | |
| --- | --- |
| Quantity | 135 g |
| Sulfate Free | No |
| Ideal For | Men |
| Hair Type | All Hair Types |

| | |
| --- | --- |
| Quantity | 60 ml |
| Sulfate Free | Yes |
| Ideal For | Men & Women |
| Hair Type | All Hair Types |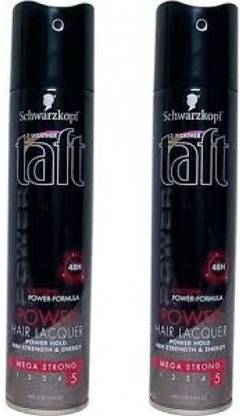 Style your hair as you want it to! With a caffeine strength formula that can hold your hair powerfully, this is the go-to product.
The Power Hair Lacquer with its Caffeine-Power-Formula provides Power Hold with 72 H strength and Energy
It is mega Strong and does not weigh down hair and protects it from dryness
The Special all weather Taft formula protects your hair against wind and humidity and helps to protect it against UV-rays
| | |
| --- | --- |
| Quantity | 500 ml |
| Sulfate Free | Yes |
| Ideal For | Men & Women |
| Hair Type | All Hair Types |
Dry, dull, and frizzy looking hair can instantly regain its hydration, smoothness, and luster with StBotanica Pro Keratin & Argan Oil Hair Nourishing Smooth Therapy Spray. By combining hair conditioning with hair care, this hair nourishing spray revitalizes your tresses. Vitamins and botanical extracts are known for their beneficial effect on the hair are infused in the product for superior nourishment.
Features & Benefits:
For instantly conditioning & nourishing the hair. Intensely hydrates dry hair and leaves it smooth and shiny. Ideal for controlling frizzes, taming flyaway hair and removing tangles.
Hydrolyzed keratin repairs and strengthens damaged hair, and helps minimize hair breakage, split ends and excess hair fall along with regular use of StBotanica Pro Keratin Shampoo & Conditioner
Lightweight Moroccan Argan Oil moisturizes and nourishes the hair. Forms a protective coating against harsh environmental elements on the hair shafts.
Contains premium natural hair strengthening botanical extracts. Strengthens hair roots and helps thicken hair.
Mineral oil and silicone free Hair Spray. Safe for daily use. You can also use as a Hair Serum
Features & Benefits:
Natural Hair Heat Protection :Formulated for hair protection from heat damage from heat styling tools, to make the everyday hair styling a hassel free process.Our Natural Heat Protection offers not just protection but also nourishment to the hair with everyday use.It is a 100ml product with 2 years of shelf life.
Packed with Essential Nutrients : Ktein's hair heat protectant is packed with vital ingredients like Rice Water, Flaxseeds, Grapeseeds,Aloe vera and Greentea. This powerful bond of natural ingredients helps maintaing the elasticity of hair and strengthens it, stimulates growth and adds shine to the hair. It is rich in vitamins necessary for getting healthy hair, helps in moisturizing and conditioning hair.
No Alcohol, Parabens, Silicones & Sulphates : Our product is safe to use as it does not have any harmful chemicals and is absolutely free of alcohol, parabens and sulphates.
Pre and Post Styler : The hair spray works best for daily use for pre styling protection and post styling setting.It can also be used as a daily leave in conditioner to get rid of rough and frizzy hair.
Sulfate Free
Yes
Ideal For
Men & Women
Hair Type
All Hair Types
Features & Benefits:
No Gas, Extra Stronghold without stiffness : Are you Looking for a hairspray that makes your hair feel as good as it looks? There will be no stiffness with UrbanGabru Frozt spray And it will give you the extra Hold you need
Safe hairstyling with Natural Aloe Vera extract, it gives a stronghold and makes your hair soft, smooth and will keep every hair in place with its stronghold.
Works in All-weather: If does not matter if the day is sunny, rainy or windy, the spray locks your hair with out being affected on any weather.
Long lasting Hold: This hairspray helps tame fly-aways, smooths strands and locks in style for 24 hours, flawless style that lasts all day.
Non sticky, Fast-drying, strong hold, anti frizz: With a fast-drying, non-sticky formula, UrbanGabru Frozt Hairspray gives strong but flexible hold, so your hairstyle stays put for longer but still feels touchably soft with natural movement all day long. With this, nothing will get in the way of your Awesome hair.
| | |
| --- | --- |
| Sulfate Free | Yes |
| Ideal For | Men & Women |
| Hair Type | All Hair Types |
| Professional Care | Yes |
Shield the hair during heat styling with Wella Professionals eimi thermal image. This professional hair spray with its two-phase formula is designed to protect the hair, while adding smoothness and natural hold. Phase 1 of eimi spray nourishes the hair and provides heat protection of up to 220°c, while phase 2 leaves hair smooth for a flawless shiny result.
| | |
| --- | --- |
| Ideal For | Men & Women |
| Hair Type | All Hair Types |

Sulfate Free
Yes
Ideal For
Men & Women
Hair Type
All Hair Types
Conclusion:
And there you have it….all the information and list of best hair spray.We all care for our skin add some more products for our hair too.It can make a big difference to your look and ensure your hair stays in place without giving it an overly 'fixed' appearance.
If there is any query or you wanna appreciate us.Please comment below.
For purchasing best and reviewed products, visit our website "Ripplenfortunate".