Green Tea benefits
Green Tea : Have it;Feel Healthy!!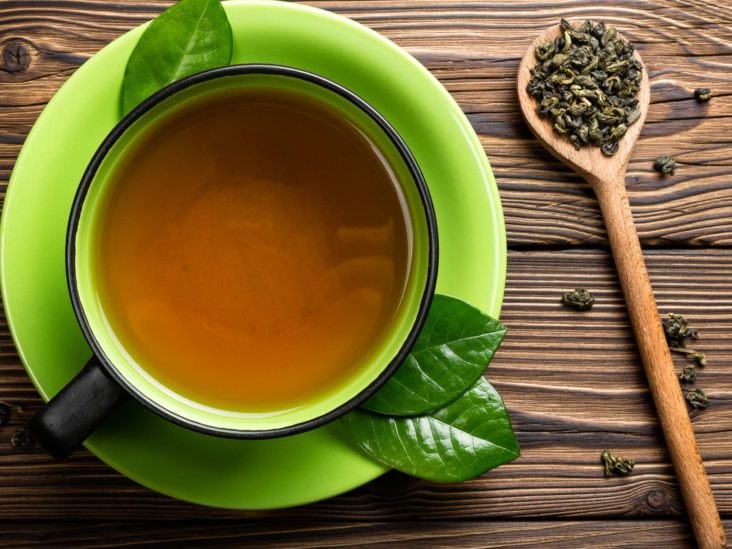 Do you drink green tea? if Not, probably you don't know how beneficial is green tea.Don't worry guys if you don't know how important green tea is for our health and skin you will know it by going through this blog.And I am sure you will definitely buy it.
Green tea is useful for both external and internal use.For internal we take as a tea by warming it in a water but do you know we can also use green tea in our face mask.Hence adding green tea in your daily routine can make extraordinary wonders.
I personally take green tea every day, sometimes with honey and lemon, sometimes raw without adding anything or sometimes with lemon.You can also try this, the tastes make difference and you won't always feel like you are drinking same thing everyday.
So, lets go further and discuss more about Green Tea.
What is Green Tea?
Green tea is a "true" tea, meaning it comes from the tea plant, Camellia sinensis. Along with the many different strains of the tea plant, varieties of green tea differ on the basis of growing conditions, cultivation methods, time of harvest, and processing.
The primary tasting notes of tea are savory, spicy, fruity, floral, and vegetal. Specific strains of tea can range from sweet, floral, and fruity, to vegetal and smoky, earthy or nutty.
In the tea-drinking tradition, smell, texture, and appearance are equally important to flavor, so be sure to engage all of your senses to enjoy your tea fully.
And when you drink tea, remember to also pay attention to how it makes you feel, both during and after the experience. Different varieties of tea leaves can vary greatly in their stimulating or relaxing qualities.
Fast facts on green tea
Here are some key points about green tea. More detail and supporting information is in the main article.
Green tea has been used in traditional Indian and Chinese medicine
There are many different types of green tea available
Green tea may help prevent a range of ailments including cancer
More research is needed to prove many of the health claims surrounding green tea
11 health Green Tea benefits (you didn't know about)
Here's a list of green tea's amazing benefits — benefits that you may not have been aware of. Some of these benefits are still being debated, so please do your own research if you want to use green tea for medicinal purposes.
1. Weight Loss: Green tea increases the metabolism. The polyphenol found in green tea works to intensify levels of fat oxidation and the rate at which your body turns food into calories. Check out this article if you want to find out more about this: Is Drinking Green Tea An Effective Way For Weight Loss?
2. Diabetes: Green tea apparently helps regulate glucose levels slowing the rise of blood sugar after eating. This can prevent high insulin spikes and resulting fat storage.
3. Heart Disease: Scientists think, green tea works on the lining of blood vessels, helping keep them stay relaxed and better able to withstand changes in blood pressure. It may also protect against the formation of clots, which are the primary cause of heart attacks.
4. Esophageal Cancer: It can reduce the risk of esophageal cancer, but it is also widely thought to kill cancer cells in general without damaging the healthy tissue around them.
5. Cholesterol: Green tea reduces bad cholesterol in the blood and improves the ratio of good cholesterol to bad cholesterol.
6. Alzheimer's and Parkinson's: It is said to delay the deterioration caused by Alzheimer's and Parkinson's. Studies carried out on mice showed that green tea protected brain cells from dying and restored damaged brain cells.
7. Tooth Decay: Studies suggests that the chemical antioxidant "catechin" in tea can destroy bacteria and viruses that cause throat infections, dental caries and other dental conditions
8. Blood Pressure: Regular consumption of green tea is thought to reduce the risk of high blood pressure.
9. Depression: Theanine is an amino acid naturally found in tea leaves. It is this substance that is thought to provide a relaxing and tranquilizing effect and be a great benefit to tea drinkers.
10. Anti-viral and Anti-bacterial: Tea catechins are strong antibacterial and antiviral agents which make them effective for treating everything from influenza to cancer. In some studies green tea has been shown to inhibit the spread of many diseases.
11. Skincare: Green tea can apparently also help with wrinkles and the signs of aging, This is because of their antioxidant and anti-inflammatory activities. Both animal and human studies have demonstrated that green tea applied topically can reduce sun damage.
How much green tea should you drink?
Daily dose of green tea should not exceed more than 3 cups a day.
How to make an effective cup of green tea?
Heat water to 160 – 170 degrees (Dont boil water as it will reduce the effectiveness of catechins in green tea) and pour in a cup.
Now add green tea leaves to the cup (Add around 1 teaspoon of leaves to 1 cup water) and let them steep for around 2 to 3 minutes (For a stronger taste, steep the leaves for a longer time).
Now strain the tea and it is ready to drink.
You can add a few drops of lemon to it, to enhance the taste and increase the absorption of catechins.
When you can have it?
So, when can you have it? Well, there are few important points here to be noted:
1. Two hours before or after a meal: You can have green tea between any two meals, preferably two hours before or after the food for getting the maximum green tea benefit. According to the National Cancer Institute, always try to avoid it having along with the meal, especially if you are anaemic. The reason behind this is that catechins in green tea inhibit the digestion and absorption of iron from your food. Having green tea between the meals helps the body to absorb iron from your food.
2. At least two hours before bedtime: Green tea contains caffeine which is a proven stimulant and highly disrupts the sleep. Also, the amino acid L-theanine present in the green tea which helps you to calm down but at the same time makes you more alert and focused. So, you should avoid it before the bedtime to get a sound sleep. Also, green tea is diuretic in nature which will urge you to go to the toilet frequently and disrupt your sleep. Hence, it is suggested to have your last cup of green tea at least 4 to 6 hours before your bedtime.
Green Tea Face Pack For Different Skin Types
For Normal And Combination Skin
Turmeric And Green Tea
Turmeric has therapeutic effects on the skin. It helps in keeping skin issues (like acne) at bay. Chickpea flour is a common ingredient in DIY face packs and is an excellent base for any face mask. It has an exfoliating effect because of its texture and can help remove excess dirt and sebum from your skin.
You Will Need:
1 teaspoon chickpea flour
¼ teaspoon turmeric
2 teaspoons freshly brewed green tea
Combine the ingredients until you get a smooth mixture.Apply this mixture to your face. Avoid getting too close to your eyes and mouth.Leave the mixture on for about 15-20 minutes.Rinse it off with cool water and pat your skin dry.
How Often?
1-2 times a week.
For Oily Skin
Rice Flour And Green Tea
Lemon is rich in vitamin C. Topical Vitamin C was found to reduce photoaging, inflammation, and hyperpigmentation. Rice flour has a coarse texture and may aid exfoliation.
You Will Need:
2 tablespoons rice flour
1 tablespoon green tea
1 tablespoon lemon juice
Method
Combine the ingredients until you get a smooth mixture.
Apply this mixture to your face. Avoid getting too close to your eyes and mouth.
Leave it on for about 15 minutes or until it is dry.
Rinse it off with cool water and pat your skin dry.
How Often?
1-2 times a week.
For Dry Skin
Honey And Green Tea
This is not exactly a face pack. However, it is an excellent remedy for dry skin. Honey is an emollient and helps to keep the skin hydrated and nourished. Green tea reduces inflammation and keeps your skin healthy.
You Will Need:
2 tablespoons raw honey
1 tablespoon green tea
Method
Combine the ingredients and apply the mixture to your face.
Leave it on for about 15-20 minutes.
Rinse it off with cool water and pat your skin dry.
How Often?
Once a week.
Cream And Green Tea
Milk cream contains lactic acid. This acid can help manage fine lines and wrinkles and improve skin firmness. The texture of the sugar may assist in exfoliating dead skin cells.
You Will Need:
2 teaspoons green tea
1 teaspoon milk cream
1 teaspoon fine sugar
Method
Combine the ingredients until you get a coarse mixture.
Apply this mixture to your face and gently scrub your face in circular motions.
Leave it on for about 15 minutes.
Rinse your face with warm water and pat dry.
How Often?
1-2 times a week.
Also Read:
List of best Green Tea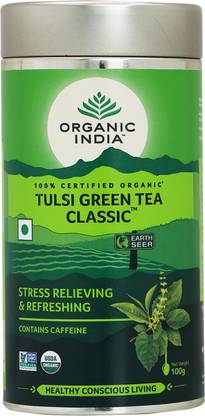 Organic India offers a unique range of organic Tulsi tea infusions and Tulsi green teas which come packed with taste and myriad health benefits that help in detoxification and weight loss. Fruits and flowers such as pomegranate, lemon, hibiscus, jasmine – combine with anti-stress Tulsi to make for refreshing drinks.
The anti-ageing organic tulsi green teas boost immunity against colds and flu and ups energy. Nutrient-rich and packed with antioxidants, these digestive blends are as flavorful as they are healthy.
Features & Benefits:
Reduces stress
Rich in antioxidants and other nutrients
Enhances stamina
Stimulates and revitalizes
Enhances respiratory functions
Pour boiling water directly on Tulsi Green Tea. Infuse for 3-5 minutes.
Double the strength when serving iced. Best when consumed without milk.
Lipton Green tea is an all-natural zero calorie* drink. Green tea has catechins, which help improve body metabolism & reduce waist circumference. Drinking green tea as part of a balanced diet & active lifestyle is a great way to stay fit & healthy!
Features & Benefits:
Zero Calories : Green Tea, when had without milk or sugar, not only tastes great but contains virtually zero calories
Next best to water : Brewed, unsweetened Green Tea being 99% water is a great way to meet your daily required fluid intake
Glowing skin : Give your skin a hydrated healthy glow with Green Tea
Heart health : Consumption of Green Tea as a part of a healthy lifestyle may help maintain a healthy heart as it is thought to have a protective effect against cardiovascular diseases
Simply Delicious flavor and great taste
Soothing aroma of a warm cup of green tea may help you relax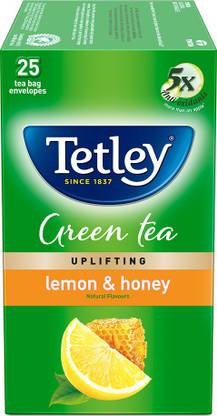 The delightful combination of lemon zing and honey with refreshing green tea come together in perfect harmony for a touch of magic to your daily cup of tea.
Features & Benefits:
Known to help with flus and colds, lemons also help with the regulation of metabolism and honey is an immunity booster
With this flavour, the age old combination of Lemon and Honey is perfectly blended to give you a refreshing start to your day and to help you keep those extra inches tucked away
Bring fresh water to boil. Green tea is best made with water at 85 degree. Pour water into cup.Place one teabag and allow it to brew for about 2 mins.Remove the teabag. Sweeten with honey or sugar as desired. Green Tea is best had without milk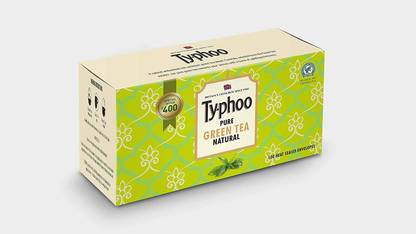 Enjoy the fine selection of pure green tea known for its rich contents of unique catechins. This Typhoo green tea delights the senses with its clean, calming aroma, and a beautiful pale green color.
A gentle touch of goodness, these antioxidant rich brews are free from sugar, preservatives and artificial flavorings.
Green Tea is rich in anti-oxidants and phytonutrients that helps maintain immunity
Maintains Metabolism
Burst of Uplifting Freshness
Handpicked from the tea gardens of assam and darjeeling
Twinings teas are skillfully blended to deliver an exquisite balance of taste, flavor, and aroma. Started by Mr Thomas Twining in London, Queen Victoria granted Twinings its first Royal Warrant and we have had the honor of making tea for every British Monarch ever since.
The Twinings family has passed on their tea expertise and passion from one generation to the next. Each tea is a blend of different origin teas that create a unique experience and we believe a small cup of tea can be a moment of reflection and relaxation.
Twinings teas are hand-selected from the world's finest gardens.
Our team of highly skilled master blenders taste over a thousand cups of tea to create the perfect balance of taste and aroma.
Your perfect tea-break, generations in the making.
Features & Benefits:
A SOOTHING BLEND: As dawn breaks and the dewy mist hangs in the air, the first buds and leaves are picked to lock in the fresh green flavor. Handpicked from selected gardens, our Pure Green Tea is a refreshing drink. Do take a moment to enjoy this soothing blend.
BENEFITS: Pure green tea has less than one calorie and is a good source of hydration. Green teas are generally lower in caffeine than black teas. The Chinese believe that Green Teas can aid digestion.
NATURAL & DISTINCTIVE: An earthy blend which retains its natural, distinctive flavor. Once given as a precious gift in China, let this gentle tasting blend be a gift from us to you.
HOW TO MAKE THE PERFECT PURE GREEN TEA: Boil some water, but let it cool slightly before pouring. Add a teabag to the cup of hot water and allow to brew for a maximum of 2 minutes, any longer and you may lose the delicate taste. Take the first sip and let the whole cup revitalize your spirits.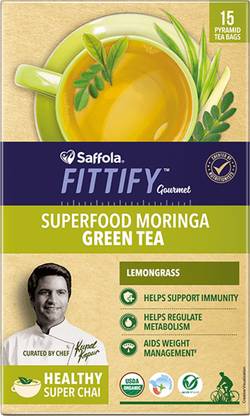 Saffola Fittify Gourmet Superfood Moringa Green Tea is scientifically formulated to give you the benefits of Green Tea combined with the power of Superfood Moringa, making it a healthier 'SUPERCHAI'.
Curated by chef Kunal Kapur
Infused with Superfood Moringa
Easy to Make
Easy to Carry
Backed by enormous industry experience, we are engaged in providing superior grade Society Premium Green Tea. The offered green tea is processed using quality proven tea leaves and the latest techniques at our ultra-modern production unit in compliance with industry standards.
Free support on your next online purchase​
Last Few Words:
I hope you got many information from this article and I am sure that you will definitely buy Green tea as it have many benefits.Choose one from the list and see the difference in your health.
I personally take "Organic India Tulsi Green Tea". I just love it because the leaves are mixture of green tea and tulsi and the leaves are very tiny that we can easily use it in face mask.
So, guys I will force you to buy this to make your health better in many ways.
If there is any query or you have to appreciate us
.Please free feel to comment below.
For purchasing best and reviewed products, visit our website "Ripplenfortunate".