Popcorn. Popcorns are the most commonly eaten and munched snack all over the world. Be it any cricket, football, or rugby match or at the multiplex for movies, popcorns are the first preference on the audience to enjoy the proceedings whilst keeping your taste buds and stomach satisfied.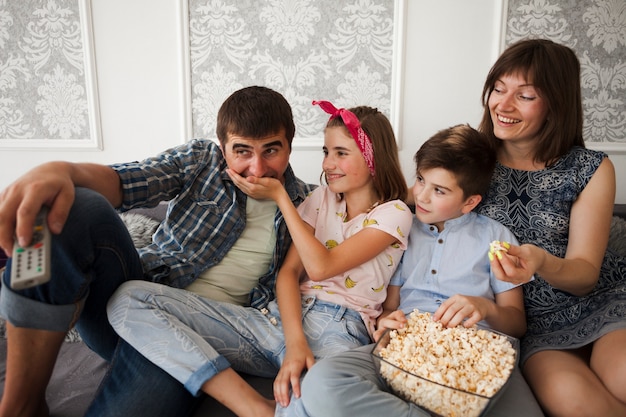 If i talk about Indians, then for most of the Indians, popcorn is a humble snack, readily available for as little as Rs 10. Roadside vendors sell small bags of salted or masala flavoured versions, while almost every grocery store stocks instant and microwave popcorn with Indianised flavours that feature lots of chilli and spices.
Must Read:-
10 Best Popcorn Machines
These machines will help you make sure that you do not make a mess as well while making your favorite snack.
All you need to do is thoroughly go through our instructions and study it well. Based on your needs, you will find something that will interest you and buy a product that meets your needs monetarily as well as based on functionality.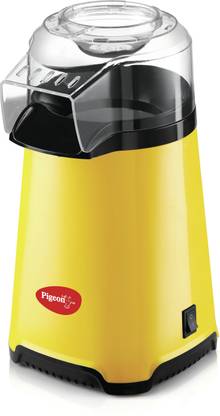 Specification
Simple one switch operation
Convenient and Easy to carry because of Light weight
Pops faster than a Microwave
Less Energy Consumption
Make homemade popcorn faster than in a microwave oven without worrying about the energy consumption as this appliance consumes just about 1200 W of power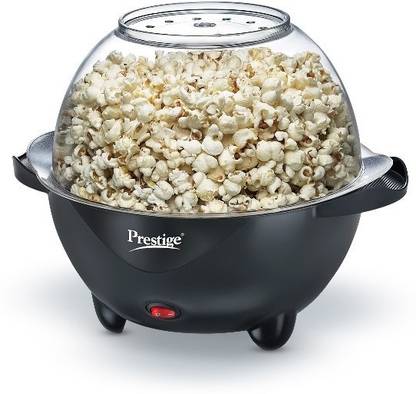 Specification
Content: Prestige Popcorn Maker Ppm 1.0
Voltage: 230V; Wattage: 800W
The product comes with 1 year Manufacturer Warranty
Prestige Customer care (Prefix area Capital STD code) 33441111 for any enquiries/assistance
Specification
Quick & easy operation
Pop-corn can be ready in 3 mins
Healthy snacks maker as work on hot air, no need to add oil
Measuring cup is available for ideal quantity
Non-slip rubber feet & removable cover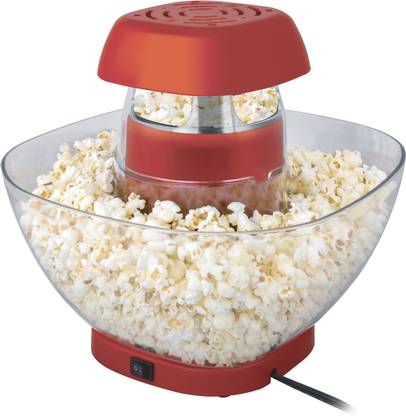 Specification
Wattage: 1200 Watts
Innovative design
Detachable large size serving bowl
Excellent for big parties
Must Read:-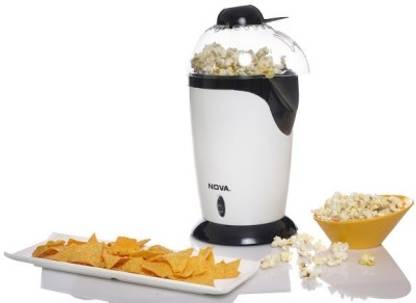 Specification
This snack maker requires no oil or butter.
This is a hot air popper and is a heavy-duty popcorn maker.
The wattage is 1200 watts.
The operating voltage is 210-250 volts.
This includes the instruction manual.
This product weighs 1.2 kgs.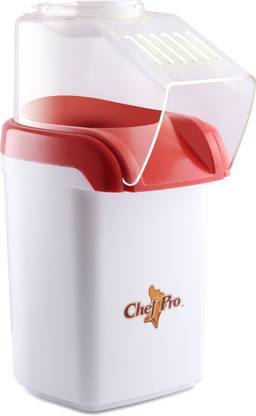 Specification
This pops without any oil.
It comes with a removable chute.
This also comes with a butter warming cup.
All the removable parts are dishwasher safe.
The wattage of this product is 1200 watts.
This item weighs 880 grams.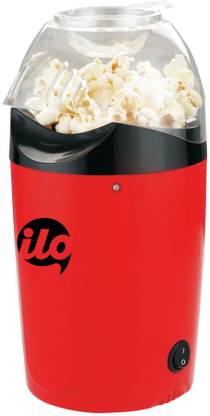 Specification
ILO Popcorn Maker works on hot air technology which doesn't use oil to prepare the popcorn.
This helps to make it healthy, fat free snacks for your family. Powerful 1200 Watt motor ensures fresh batch in 2~3 minutes with transparent Lid for easy monitoring.
It also has the compact and stylish design with less noise which makes it handy when one travels
Capacity: 50-60gm per shot
Specification
Pop fresh, crunchy and delicious popcorns with EUROLINE Popcorn Maker, and enjoy with your family and friends.
It makes the popcorns within 3 minutes with hot air, no need for oil and hence no fear of increasing calories.
It can also be used for making other light snacks like dry-fruits etc.
It is very easy to operate.
It comes with power 1200W, Measuring Cup to get ideal quantity of popcorn, and has auto overheat protection.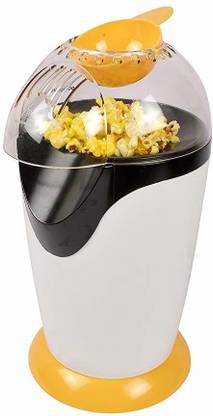 Specification
Multifunctional. Making ball-shaped, dish-shaped popcorn.
High efficiency.
Consumption 1200W power: Rapid manufacture of popcorn.
Non-sticking inner gallbladder.
Food-grade coating, no brush, healthier
Excellent material: Bakelite shell, stable, firm, environmentally friendly, can withstand high temperature of 200
Non-slip Rubber feet.
Great for movie time or party snacks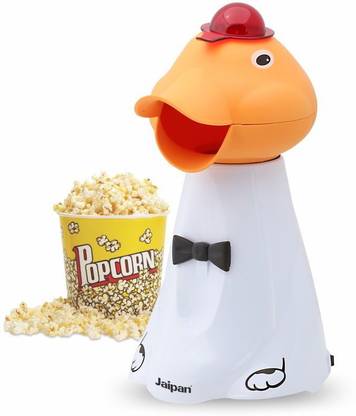 Specification
Jaipan Smart Snacks & Popcorn Maker is Oil free safe and healthy snacks in just a minutes.
Amazing speed with powerful 1000w motor.
Quick and Easy to use.
Popcorn can be ready in 3 minutes.
No oil and butter required.
It has Aluminium heating container.
Non slip rubber feet and removable cover
Must Read:-
Popcorn Machine Buyer's Guide
Easy to Clean and Set Up
The popcorn maker should be easy to set up so that you get delicious popcorn in no time. The maker should also be easy to clean.
It should be cleaned by wiping the machine and the bowl using just a cloth. This makes using the popcorn maker much more convenient and hassle-free.
Capacity
The capacity of the popcorn maker is also an important factor. It should be able to make at least 70-80 grams of popcorn in a batch.
You can also go for larger capacity in case of big parties and family gatherings.
Build Material
The popcorn maker should have a good quality build to ensure it lasts long. The build material of ABS Plastic is always preferred since it is non-toxic, BPA free, and food-grade safe.
This makes your popcorn completely safe to eat, and it also ensures the durability of the product.
Space
A small and compact size popcorn maker will take up less space in your kitchen or anywhere else at home. It also makes it portable to carry it around.
This makes it a good option for use at any place. Moreover, it is much easier to store.
Quality
Quality is the most important thing one has to make sure of before purchasing any product. Paying your hard-earned money for a product that does not promise durability is a waste of money.
Thus make sure you check all the necessary information with regard to the durability before purchasing the product.
Must Read:-
Price
The price of the product is another essential aspect while making any kind of purchase. If you purchase something which does not perform as promised, it is considered to be a compromise of your time, money as well as energy.
Thus make sure you check how much the product costs and if it is worth the money you are paying for it.
How to use, clean and care a pop corn maker?
To maintain the pop corn maker in perfect condition you need to follow few tips, below there are few tips.
Steps to use:
Using popcorn maker is very easy and tasty popcorn will be ready in few minutes.
Heat the kettle
Pour oil
After a minute try with couple of kernel
Once it's ready pour the kernel and close the lid
Once popping stops – your popcorn is ready to serve.
How to clean:
Let the kettle cool after usage. Remove all the connections and shutdown the unit.
Mix the cleaning solution in water and dilute
Add the solution mixed water into kettle and bring to boil state
Pour off the boiled water
Wipe the kettle with a clean cloth and let it dry
We advise to read the user manual that come with your popcorn maker and follow the steps mentioned under maintenance.
Conclusion
To conclude, we strongly recommend studying our detailed guide perfectly and carefully so that any kind of misjudgment or blunder is completely avoided while making the purchase. Each and every product has pros as well as cons, which must be known by the customer before making the purchase.
The best product to purchase is, however, first on our list and highly recommended, that is, Pigeon popcorn maker. This will make sure that you purchase the product after knowing exactly what it is capable of.
We hope that our little guide helps you make a smart and informed decision.
Enjoyed reading this article? To receive more articles like this, Subscribe our newsletter.
For purchasing best and reviewed products, visit our website "Ripplenfortunate"
Related Article