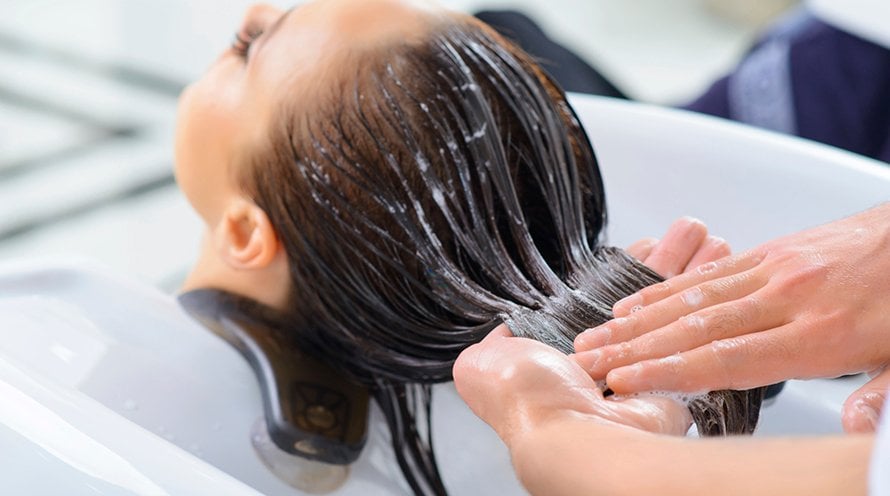 Hello Pretty Girls and handsome Boys,
Do you think only by applying shampoo, conditioner and serum you gave all the things which your hair wants? No, Right!! I also don't know about the importance of hair mask since I started using it.So, I thought why not this information be shared with all you guys as we know everyone loves there hair.
Everyone wants there hair to be perfect when they wanna go outside with someone special or with friends or getting ready for a function.But nothing happens immediately.We have to work on that before as same as study for the examination.
So for getting healthy, smooth, moisturised and lustrous hair.We are here you to tell about hair mask.Which one to buy? And how to use it?
What is a hair mask?
You've probably heard of, or perhaps tried, a face mask. Just as a face mask works to nourish and hydrate your skin, a hair mask works in a similar way to boost the condition and health of your hair.
Hair masks may also be referred to as deep conditioning treatments or intensive hair conditioners.
What makes them different to instant conditioners is that the ingredients are usually more concentrated, and the mask is left on your hair for longer — anywhere from 20 minutes to several hours.
What are the benefits of a hair mask?
There are many benefits to using a hair mask, and the advantages vary depending on the ingredients and your hair type. Generally speaking, the benefits of using a hair mask include:
shinier, softer hairadded moisturereduced hair breakage and damageless frizza healthier scalpstronger hairless environmental and product damage
How to Use a Hair Mask?
Hair masks are easy to work into your hair care routine, since they usually take the place of your conditioner. Here's how to use a hair mask:
Step 1: Shampoo your hair, then rinse. Step 2: Apply your hair mask. Step 3: Wait 15-20 minutes. (Pro tip: Use your extra time in the shower to wash your face, shave your legs or use a body scrub.) Step 4: Rinse. Step 5: Towel dry and style your refreshed hair as you normally would.
How Often Should You Use a Hair Mask?
You should use a hydrating hair treatment mask at least once a week. But if your hair feels or look drier or more damaged than usual, increase to twice or three times a week.
How Long Should You Leave a Hair Mask on Your Hair?
You should leave a hair mask on your hair for at least three to five minutes, but if you're working with rough or dehydrated hair and have the time, you can let it sink into damp hair for 15 to 20 minutes. If you're working with already dry hair, you can leave it on overnight. (Dry hair is less porous than wet hair, so there's less risk of it maxing out on moisture—which is possible if you leave it on too long).
Also Read:
List of best Hair Mask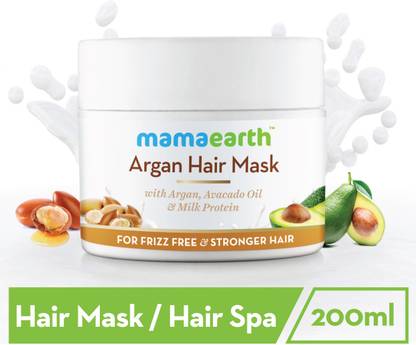 Our naturally formulated Hydrating Conditioner-Argan + Avocado oil that is proven to make hair softer; it reduces the damage done by hair products, even after the harmful effects have successfully damaged your hair. This is a magnificent product that carefully helps in dandruff reduction, split-end restoration, and moisturizing the hair. It creates a protective shield on hair as well as scalps.
Our product contains only the best ingredients which are regarded to be the best and safe for hair-care.
Reduces hairfall naturally
Collagen repairs damaged hair
Essential oil for dandruff free hair
Ingredients:
Purified Water, Milk Protein, Curd Extract, Argan Oil, Rosemary Oil, Cedarwood Oil, Tea Tree Oil, Sodium Citrate, Brassica Alcohol, Brassicamidopropyl Dimethylamine, Caprylic/Capric Triglyceride, Hydrolysed Collagen, Sodium Hyaluronate & Potassium Sorbate.
Features & Benefits:
ARGAN HAIR MASK TO REDUCE HAIRFALL- Argan oil is proven to make hair softer, silkier and shinier. It is the ideal hair conditioner, and it can even help to treat split ends and tame frizzy hair. It also prevents hair fall and promotes hair growth.
REPAIRS DAMAGED HAIR- Hair often breaks and becomes brittle before it thins and falls out. This weakening can be linked to lower collagen levels, too. Collagen supplementation will strengthen the hair, ensuring that it doesn't break and become brittle.
HEALTHY SCALP- Tea tree oil helps in unclogging hair follicles and nourishes your roots. This has been used as a great dandruff cure for ages. Tea tree oil is also very good for dry scalp. It moisturizes by nourishing your scalp and your hair really well.
DERMATOLOGICALLY TESTED – Clinically tested in Europe, Hypoallergenic and Fragrance-free (Natural flower extracts for fragrance)
CERTIFIED TOXIN FREE- Asia's First MadeSafe Certified Brand, No parabens, sulfates, mineral oil, synthetic fragrances etc.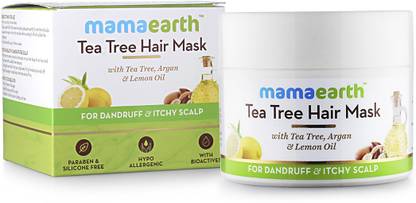 Mamaearth's Tea Tree Hair Mask helps you soothe the irritating oily scalp & control dandruff, thus giving you an itch-free healthy scalp. Coconut oil & Argan oil present in mask moisturize & nourish your hair while Lemon oil & Tea Tree oil make sure that the oil & dandruff are at bay. No matter what type of hair you have – dry hair, curly hair, colored hair, treated hair, oily hair – Mamaearth Tea Tree Mask suits them all!
Features & Benefits:
REDUCES DANDRUFF AND CONTROLS OIL The natural ingredients present in the hair mask ensure that the dandruff and excess oil is gently worked on & removed. It does not contain harsh chemicals, thus will not leave hair dry or dull after the wash.
REDUCES ITCHING AND MOISTURIZES SCALP Tea tree oil's anti-fungal & anti-bacterial properties help in reducing itch & irritation. Coconut oil moisturizes the scalp thus ensuring a healthy and nourished scalp.
NOURISHES HAIR & PREVENTS HAIRFALL The combination of nourishing ingredients such as rosemary oil and cedar wood oil increases blood circulation and stimulates the hair follicles, ensuring healthy, nourished hair & reduces hairfall.
SUITABLE FOR ALL HAIR TYPES Made from all natural ingredients, the hair mask does not do any harm & is suitable for all hair types. It suits Dry hair Straight hair Curly hair. Colored or Treated hair.
NATURAL & TOXIN FREE Dermatologically Tested Hypoallergenic Free from Sulfates, Paraben, SLS, Mineral Oil, Petroleum, Artificial Preservatives, Colors & Fragrances.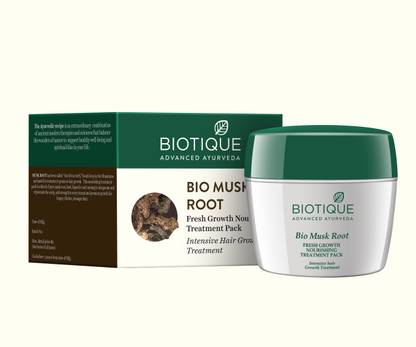 This nourishing treatment pack is a blend of pure musk root, bael, liquorice and nutmeg to invigorate and rejuvenate the scalp, add strength to every strand and promote growth for longer, thicker, stronger hair.
How to Use:
Mix with egg or yogurt before application. Apply liberally to dry scalp and hair. Leave on for 30 minutes. Shampoo. Rinse well with water. Apply once a week or as needed.
Ingredients:
Amla (Emblica officinalis),aheda (Terminalia belerica), Harrar (Terminalia chebula), Jaiphal (Myristica fragrans), Bael phal (Aegle marmelos), Jatamansi (Nardostachys jatamansi), Bhringraj (Eclipta erecta), Kikkar gaund (Acacia arabica), Mulethi (Glycyrriza glabra), Neem (Azadirchta indica), Himalayan water Q.S
Features:
Quantity: 230g; Ayurvedic hair and Scalp Rejuvenating Pack
Enriched with Musk Root and Basel extracts to reduce inflammation and restore rich natural color to the hair; Natural hair and scalp treatment, nourishes the scalp and hair follicles, encouraging healthy and abundant hair growth, and preventing hair loss and premature graying
Herbal formulation is safe and effective for all skin and hair types; Application Area: Hair, Scalp
Hair Type: All Hair Types
Target Audience: Men & Women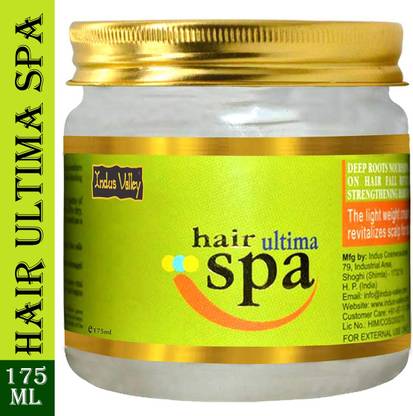 This light cream-based spa from the family of Indus Valley has been conceptualized to give your hair a healthy and seamless hair growth experience. With its revitalization and deep nourishing effects, and the presence of natural ingredients, it helps in attaining soft and bouncy hair.
Key ingredients
Lavender oil extracts
Extracts of neem and coconut oil
Methi
Basil oil
Almond Oil
Wheat germ extract
Hydrolyzed wheat Protein
Cetyl Alcohol(an effective moisturizing agent/no-drying fatty alcohol)
Features:
Eliminates Impurities Inside Pores And Repairs Damaged Hair
It Take Away The Knotted Harshness From The Hair
It Strengthen The Hair Follicles
It Is A Good Experience For Many Hair Problems Like Dandruff, Scalp Conditioning, Hair Loss And Many More
It Nourish The Roots & Revitalize The Scalp That Balances Natural Hair Growth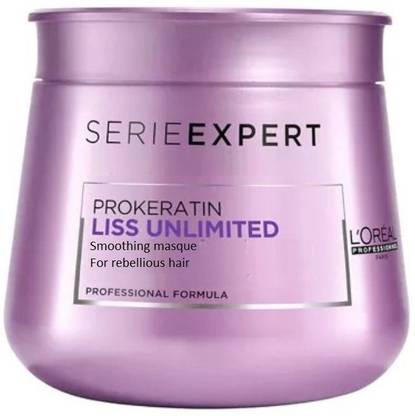 Bathe your hair in goodness of hydration with the L'Oreal professionel liss unlimited masque. It is enriched with keratinoil complex technology and pro-keratin complex of amino acids and wheat protein that mimics the hair's natural keratin structure to instantly strengthen and protect hair.
While, the kukui oil and evening primrose oil controls frizz and smoothens your tresses. Consists kukui oil and evening primrose oil controls frizz and smoothens your tresses nourishes, smoothes and protects your hair against humidity. Enhances shine and makes hair more manageable.
Features & Benefits:
Bathe your hair in goodness of hydration with the professional liss unlimited masque
It is enriched with keratin oil complex technology and pro-keratin complex of amino acids and wheat protein that mimics the hair's natural keratin structure to instantly strengthen and protect hair
While, the kukui oil and evening primrose oil controls frizz and smoothens your tresses
Consists kukui oil and evening primrose oil controls frizz and smoothens your tresses, nourishes, smooths and protects your hair against humidity., enhances shine and makes hair more manageable
Additional information : professional believes in the powerful combination of advanced research and professional expertise to create products that your hair always wanted. Innovative products, tested and approved by the biggest names in hairdressing,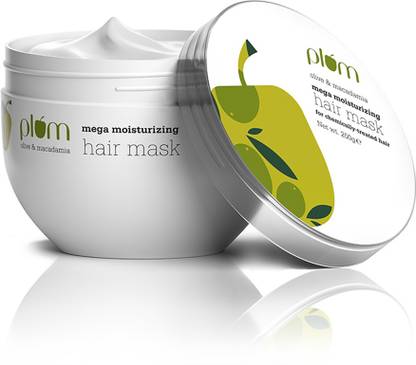 A deep conditioning treatment for chemically treated and dry hair that are more susceptible to damage and breakage. Deep moisturizing, nourishing hair mask made with love from olive oil, macadamia oil, shea butter keeps the hair soft, nourished and hydrated. Another important aspect of this mega moisturizing mask is that it protects the hair from pollution and UV damage.
Besides being *100% vegan, all Plum hair products are free from 7 harmful chemicals namely, sulphates, silicones, alcohol, parabens, phthalates, zinc and propylene glycol.
Features:
Deeply hydrating hair mask for dry, damaged and chemically treated hair
Rich in shea butter that provides lasting hydration for scalp and hair
Hair softening olive derivatives in place of silicones, for smoother, shinier hair without product buildup
Frizz-taming macadamia oil, Botanically derived (tung wood and rapeseed oil) film formers to protect hair from pollution
UV-shield to protect hair color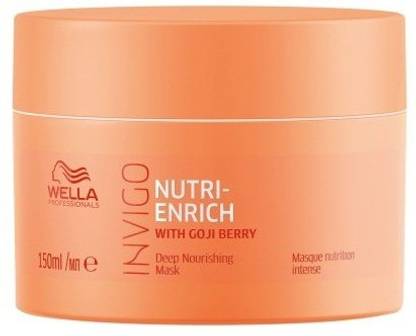 The Nutri-Enrich Deep Nourishing Mask with Goji Berry deeply replenishes and moisturizes dry and stressed hair.
HOW TO USE: Apply to clean, damp hair. Leave for 5 minutes. Rinse out thoroughly.
| | |
| --- | --- |
| Model Name | Nutri Enrich Deep Nourishing mask |
| Sales Package | Nutri Mask |
| Quantity | 150 ml |
| Formula | Oleic Acid and Panthenol provide ,vitamins, minerals and peptides. |
| Applied For | Nourishment & Moisturization |
| Hair Condition | Damaged Hair |
Our Shea Butter Richly Replenishing Hair Mask is enriched with Community Trade shea butter from Ghana, handcrafted by women who have used shea butter to intensely nourish dry hair for generations. Take care of breakage with this blend of the finest ingredients from across the globe. Use weekly on dry, prone to damage hair to reveal locks that feel healthier and softer.
For dry, prone to damage hair
Leaves hair feeling intensely nourished and richly replenished*
Hair looks healthier and less frizzy*
Reduces hair breakage**
Nutty scent and rich, creamy texture
Enriched with Community Trade shea butter and cocoa butter from Ghana, Community Trade organic virgin coconut oil from Samoa and Community Trade organic olive oil from Italy
100% vegan
*Based on user trial of 103 women with Shea Butter Richly Replenishing Shampoo, Conditioner and Hair Mask.
**Based on in-vitro testing with Shea Butter Richly Replenishing Shampoo, Conditioner and Hair Mask.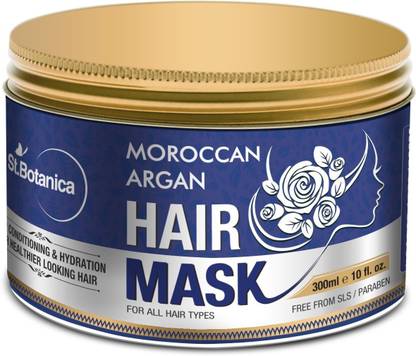 StBotancia Moroccan Hair mask Revives Dull and Dry Hair Improving its Manageability and Elasticity and gives it a Beautiful Shine. It Nourishes Your Hair with the Highest Quality Pure Organic Argan Oil Rich in Essential Vitamins and Nutrients.
It also Protects and Shields Hair from Damage Caused by the Heat from Styling Products. Our professional series premium quality formulation is considered as the best Argan oil hair mask treatment by salon stylists and customers around the world, so We Know You'll Love it Too!
No Parabens
No Sulfates or Silicones
No Mineral Oils
Features & Benefits:
AMPERE YOUR HAIR AND NURSE IT BACK TO HEALTH: With Argan Mask – hair repair treatment, moisturizer for natural hair, best hair deep conditioner that will leave your hair healthy, smooth, manageable, and moisturized. No more insanely dry hair, dead and frizzy ends, or hair breaking off when rinsing.
Deeply conditions, hydrates, and moisturizes hair giving it a soft silky texture and adding brilliant shine; an excellent natural hair care product; Argan hair mask helps restore and strengthen weak, damaged, and over-processed hair
Deeply moisturizes, protects and smooths hair with unique combination of natural oils, Vitamin B5 and Vitamin E.
USDA Organic Moroccan Argan Oil Hair Mask Stimulates, soothes, and heals scalp and hair follicles
Science + Nature. No SLS. No Parabens. No Sulfates, No Harmful Chemicals, No Colors. Recommended for Both Men and Women
Deeply nourishes and controls rebellious frizz into smooth, polished hair with long lasting frizz control. Intense treatment replenishes deeply so hair looks healthier, feels softer instantly. The hair smoothening masque disciplines rebellious hair with restorative conditioning care for smoothness & control. /p>
Contains deep smoothing properties that transforms damaged hair into a polished and smooth mane, with high levels of frizz control.
Offers supreme smoothness when used in combination with a serum.
Allows users to try different hair styles after the correction of frizzy and unruly hair.
Additional Information : A leading professional hair care and hair color company in the United States, Matrix is a part of L'Oreal USA's Professional Products Division.Matrix offers a diverse range of hair care, color, style, and texturing products as well as unique in-salon treatments and services that provide solutions for every hair type.
The brand is committed to serving each and every community salon and empowering stylists to create positive change for their clients and the world around them.
Ingredients:
Water (Aqua), Cetearyl Alcohol, Behentrimonium Chloride, Amodimethicone, Candelilla Cera (Candelilla Wax), PEG 180, Cetyl Esters, Fragrance, Methylparaben, Trideceth 6, Hydroxyethylcellulose, Camellia Kissi Seed Oil, Limonene, Cetrimonium Chloride, Chlorhexidine Dihydrochloride, Hexyl Cinnamal, Coumarin, Linalool, Butylphenyl Methlyproprional, Benzyl Alcohol.
How to use:
Apply to clean, damp hair. Distribute evenly section by section and massage into hair. Leave on hair for 15 minutes with or without heat. Rinse thoroughly. For intense frizz control, firstly apply one dose (10 ml) of Biolage SMOOTHPROOF Cera-vital Repair section by section & leave in for 5 minutes; do not rinse out. Follow with the application of Biolage SMOOTHPROOF BIO-SPA Masque. Rinse thoroughly.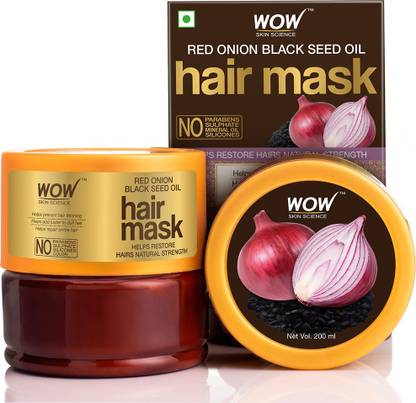 Help your hair transform from weak and lifeless to strong and lustrous with WOW Skin Science Red Onion Black Seed Oil Hair Mask. This hair mask has a blend of natural ingredients that aids in enhancing your hair texture and shine. It also helps to strengthen hair strands, reduce hair breakage, repair and protect damaged hair. Suitable for all hair types, this hair mask can be used to add deep hydration to your hair and scalp. It supports in improving hair texture, making it soft.
Formulated to help moisturize and protect weak, brittle hair.
Helps to add softness and shine to dull lifeless hair.
It helps to manage breakage-prone hair.
The hair mask is rich in antioxidants, nutrients and vitamin E that aid in promoting healthy hair.
For best results use this hair mask once a week after shampooing.
It is without mineral oil, silicones, parabens and color.
Features & Benefits:
Help revive your weak, limp strands with this hair mask. Red onion extract and black seed oil help to improve hair health
Use this mask once a week to deeply condition your strands, add volume and shine
This red onion extract, black seed oil and hydrolysed wheat protein infused hair mask helps to form a barrier that protects and softens the strands
Improves tensile strength of the strands to avoid breakage, makes hair lush and enhances shine
The hair mask is rich in antioxidants, nutrients and vitamin e that aid in promoting healthy hair
Contains no parabens, mineral oil, colour or silicones and helps to deliver maximum benefit
Wrapping up:
I hope the information which I shared with you will be helpful for you to choose the best hair mask.You can purchase the product from the given list.As they are reviewed by the customers.
Please share your opinion about the hair mask you use.If I forget something please let me know in the comment section.
For purchasing best and reviewed products, visit our website "Ripplenfortunate".