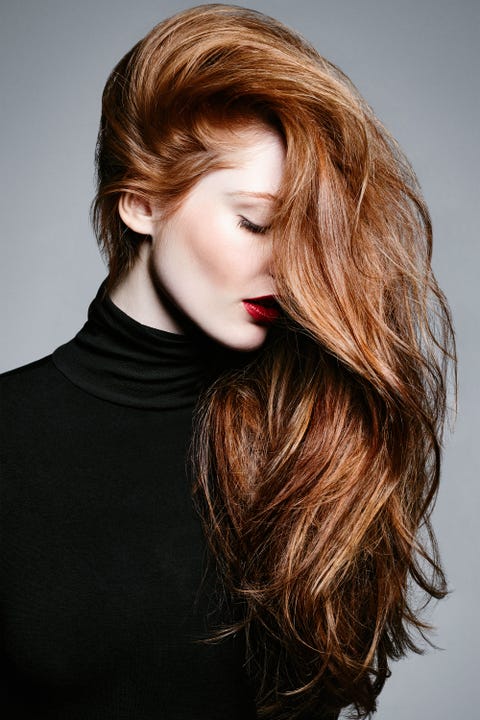 Hair conditioner:
You're Never Fully Dressed Without Great Hair 
This quote is true…Right!! For a human being, hair is the most important crown which you wear as a Queen and King. For maintaining this crown we require nutrients.
Do you thing after doing shampoo the job is done for maintaining your hair? I think the answer is No, We require best conditioner, serum and masque for best results.
We always been told by our friends, cousins, TV ads, etc to use conditioner after a hair wash.Most of us incorporated it in our hairwash routines.
But everyone is confused which hair conditioner to use, if you are using it or not.Why it is important? What does it do to your hair? Below you will find answer for your every questions.
What Is A Hair Conditioner & What Does It Do?
A conditioner is a mask-like creamy product, used to improve the texture of your hair. It is meant to hydrate and replenish your hair to make it appear softer. It also reduces friction between your strands of hair and makes it easier for you to brush it, post your hair wash.
Every time you condition your hair, a layer is formed along your hair shaft, making it easier for you to manage and style it. Your conditioner is what gives your hair its shine post a hair-wash.
Is Conditioning Necessary?
Look at it like this – your shampoo does for your scalp what your cleanser does for your face; while your conditioner is the moisturizer. Your conditioner is important to keep your hair hydrated and soft. It prevents dry, dull hair that is prone to breakage.
However, choosing the right conditioner for your hair type is equally important. Your products should suit your hair in order to strengthen it and improve its texture in the long-run.
The average pH levels are weakly acidic. Your conditioner's pH value should range between 4.5-7. This will prevent it from causing any long-term damage.
How To Apply Hair Conditioner: 6 Steps
1. Rinse out all your shampoo thoroughly in the shower.
2. Every brand recommends a specific amount to be used. Use the recommended amount that is given on the bottle.
3. Don't apply conditioner on your scalp. Start applying the product from the shaft all the way down to the edges.
4. Use a wide-tooth comb or your fingers and run them all the way down through your hair.
5. Leave the conditioner on for 1-2 minutes.
6. Rinse off completely. Don't leave any product on.
How Long Should You Leave Your Conditioner On For?
If you're using a rinse-off conditioner, it should typically be left on for 2-3 minutes while you're in the shower. However, read the instructions given on the bottle of your conditioner for a better idea. Some conditioners may take longer to get completely absorbed into your hair.
How Much Conditioner Should You Use?
Different brands recommend different quantities to be used, which is generally specified on the label. The amount of conditioner you use largely depends upon the thickness and length of your hair. Make sure that you don't miss out on any part of your hair, chin-down.
For short hair (above shoulder-length), use one dab of conditioner that typically is about the size of one blueberry.
If you have shoulder-length hair, use an amount that is equivalent to the size of two blueberries.
If you have long hair, depending on how long and thick your hair is, you should typically use an amount that is equivalent to the size of three blueberries.
Also Read:
List of best Hair Conditioner
Damaged hair can lack the natural cement which keeps the hair strong and resilient. To ensure cohesion and strength, the L'Oreal laboratories have created ceramide-cement technology, the hair's natural cement, targeting the 5 problems.
Combines argan oil and silk protein, which is naturally rich in essential fatty nutrients. Gives 48 hour protection: the creme formula nourishes and smooths your hair from root to tip making it look more smooth and manageable. Shields hair from the effect of humid or dry weather.
Densifying shampoo- formula enriched with vitamin pp, b6 and with omega 6 nutri-complex to help nourish the roots
Use with the aminexil advanced anti-thinning hair programme
| | |
| --- | --- |
| Applied For | Hair Volumizing, Deep Conditioning, Damage Repair, Daily Care |
| Hair Type | All Hair Types |
| Ideal For | Men & Women |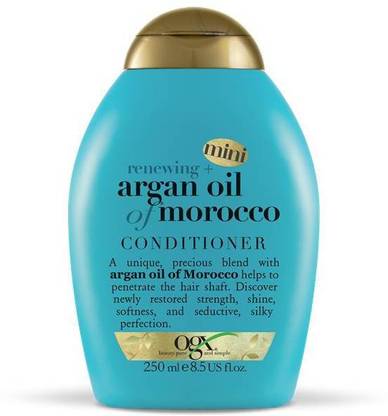 Indications:
Helps to restore and strengthen all hair types. Leaves hair strong, soft and shiny. Helps repair damaged strands. Sulfate free surfactant hair care system
Ingredients:
Water (Aqua), Cetearyl Alcohol, Cetyl Alcohol, Behentrimonium Chloride, Glycerin, Argania Spinosa (Argan) Kernel Oil, Hydrolyzed Keratin, Theobroma Cacao (Cocoa) Seed Butter, Persea Gratissima (Avocado) Oil, Aloe Barbadensis Leaf Juice, Glycol Stearate, Glycol Distearate, Ceteareth-20, Isopropyl Alcohol, Dimethicone, Cyclotetrasiloxane, Citric Acid, Cyclopentasiloxane, Panthenol, Cocos Nucifera (Coconut) Oil, Tetrasodium EDTA, DMDM Hydantoin, Methylchloroisothiazolinone, Methylisothiazolinone, Yellow 5 (Cl 19140), Red 40 (Cl 16035), Fragrance (Parfum).
Directions:
After shampooing, apply conditioner generously to hair, working through to ends. Wait 3-5 minutes. Rinse hair thoroughly. Warning: Avoid contact with eyes. If contact occurs rinse immediately. For best results use n conjunction with other OGX products.
| | |
| --- | --- |
| Ideal For | Men & Women |
| Hair Type | All Hair Types |
| Applied For | Nourishment & Moisturization |
| Hair Condition | Normal Hair |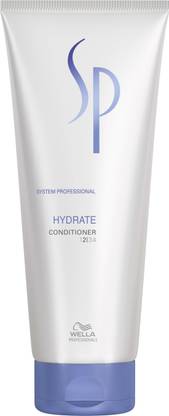 Moisturizing cleansing for normal to dry hair. Provides long-lasting moisture without overloading the hair, Improves compatibility.
Ingredients
Glycerine moisture regulation, moisture factor.
D-Panthenol adds moisture and protects hair against drying out.
Glucose and fructose helps to retain moisture smoothing.
Features:
A Nourishing Conditioner For Normal To Dry Hair Offers Re-Hydration & Long-Lasting Moisture Without Weighing Hair Down Contains.
An essential component of the SP Repair line, Wella SP Repair Conditioner is formulated with repairing, nourishing and protecting ingredients to intensively restore damaged hair and protect it from further damage.
In just 30 seconds, Wella SP Repair Conditioner effectively helps to repair and strengthen your hair. Imparting new powers of resistance, this structure improving haircare cream leaves your hair wonderfully supple to the touch.
Genuine Imported Products From Hong Kong. Prices Include Import Custom Duties And Taxes.
| | |
| --- | --- |
| Ideal For | Men & Women |
| Hair Type | Dry Hair |
| Applied For | Deep Conditioning |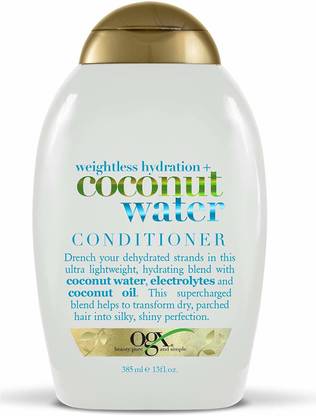 Features & Benefits:
SILKY SHINY PERFECTION: Drench your dehydrated strands in this ultra-light blend with weightless, hydrating coconut water, supercharged with nutrient rich electrolytes & combined with coconut oil to transform dry, parched hair into silky, shiny perfection
WEIGHTLESS HYDRATION: OGX Weightless Hydration Coconut Water products replenish and rejuvenate dehydrated strands with a residue free formula for weightless hydration and shine; an ultra-light splash of hydration infused with coconut water & electrolytes
BEAUTY PURE AND SIMPLE: OGX hair care products are inspired by nature. We don't try to make hair look "perfect" because we'd rather make hair look fuller, smoother, straighter, curlier, or bouncier & smell irresistible while we're at it.
ROCK WHAT YOU'VE GOT: OGX hair care products are designed to bring out the best in your hair, no matter what type or texture. Whether you need quenching moisture for curly hair, protection for colored hair, blowout cream, or matte pomade–we've got you.
| | |
| --- | --- |
| Ideal For | Men & Women |
| Hair Type | All Hair Types |
Conditions to help restore moisture and improve the hair's softness without weighing it down, for a smooth and shiny finish. • Contains pracaxi oil, manketti nut oil and Community Trade honey, babassu oil and coconut oil. • No silicones, no parabens and no colourants. • For dry and damaged hair.
Ideal For
Men & Women
Hair Type
Dry Hair
Applied For
Damage Repair
Hair Condition
Damaged Hair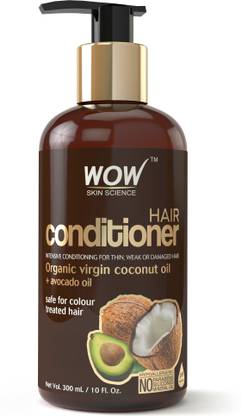 NOURISHING CONDITIONER FOR SOFT MANAGEABLE HAIR
Hair Conditioner formulated to repair & revive weak, thin & damaged hair, enriched with cold-pressed Virgin Coconut & Avocado Oils, Wheat Protein & Vitamins B5 & E.
Intensive conditioning for stronger, glossier hair
Totally free of harmful sulphates & parabens
Suits all hair types including color-treated hair
Adds a natural thickness & volume to your hair, provides antioxidant protection
Features & Benefits:
Wow Skin Science is synonymous with premium quality and holistically healthy personal care products
Concentrated all natural organic virgin coconut oil and avocado oil and wheat protein fresh chemical, paraben and sls free
Wow Skin Science Hair Conditioner does not contain any animal derived components
Wow Hair Conditioner incorporates certified bio actives wheat protein, virgin coconut oil, avocado oil, sweet almond oil, castor oil, jojoba oil and arga oil to ensure maximum performance. Ideal For Men & Women
Split ends, breakage, frizz, flyaway no more Wow skin science hair conditioner is your single stop solution to common hair issues like split ends, breakage, hair fall, frizz and flyaway
No sulphates and no parabens infused with organic virgin coconut oil, avocado oil and wheat protein
Ideal For
Men & Women
Hair Type
All Hair Types
Applied For
Color Protection, Damage Repair, Conditioning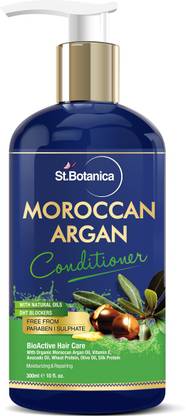 Stbotanica Moroccan Argan Hair Conditioner Is Made From Imported Moroccan Argan Oil, Which Deeply Nourishes The Hair, Making Them Strong, Silky, And Smooth. It Is A Powerful Combination Of All-natural Oils And Enriching Natural Compounds That Work Together To Create The Ideal Conditioning For Hair. Our Product Is Safe For Daily Use And For Color Treated Hair.
With Organic Argan Oil & Vitamin E
We Believe in Healing Through a Holistic Approach Using the Natural Resources That the Earth Provides Us With to Offer Effective Botanical Cosmetics and Hi-tech Cosmeceuticals. Formulated With Powerful and Functional Natural and Organic Bioactive Ingredients, All our Products are Toxins-free
Paraben-Free
No Sulfates or Silicones
Without Mineral Oils
No Animal Testing
| | |
| --- | --- |
| Ideal For | Men & Women |
| Hair Type | All Hair Types |
| Applied For | Nourishment & Moisturization, Hair Shine |
Bio Thyme -Volume Conditioner
This volumizing formula is blended with pure thyme, oils of peppermint, lavender and the natural sap of the berberris tree to condition and hydrate hair. Thickens follicles, balances pH level and leaves hair feeling lightweight and looking fuller with sparkling shine.
This volumizing formula is blended with pure thyme, oils of peppermint, lavender and the natural sap of the berberris tree to condition and hydrate hair. Thickens follicles, balances ph level and leaves hair feeling lightweight and looking fuller with sparkling shine.
| | |
| --- | --- |
| Ideal For | Men & Women |
| Hair Type | All Hair Types |
| Applied For | Deep Conditioning |
| Hair Texture | Fine |
| Organic | Yes |
| Organic Type | Herbal |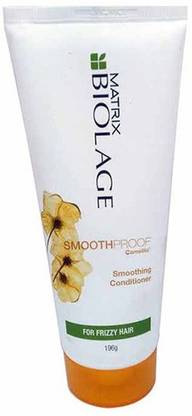 Tame unruly, frizzy hair easily. Frizzy hair is often difficult to manage in humid weather. Inspired by natures water-resistant camellia, Matrix Biolage Smoothproof Conditioner gets rid of frizz and excess volume with state-of-the-art formulas inspired by nature. Powered by Biomatch technology, that mimics the water-resistant properties of the Camellia Flower, for frizzy hair, the conditioner provides humidity control and anti-frizz smoothness even in 97% humidity.
Features
For Frizz Control
For Chemically Treated Hair, Permed Hair, Colored Hair
Suitable For All Hair Types
Men & Women Conditioner
Sulfate Free

Constant exposure can cause severe damage to your hair, including the formation of cracks. But, with the Schwarzkopf Gliss hair repair conditioner, your hair will receive the much needed gentle care, thereby reducing any chances for hair breakage.
Nourishing Care
This conditioner provides immediate care to your hair and refills all hair cracks thoroughly, thereby ensuring that your mane is back to being healthy and beautiful.
Less Hair Breakage
A hair here and a hair there! Your hair woes will finally come to an end, as this conditioner ensures up to 90% less hair breakage.
| | |
| --- | --- |
| Ideal For | Men & Women |
| Hair Type | All Hair Types |
| Applied For | Nourishment & Moisturization |
Khadi Natural Ayurvedic Greentea Aloevera Hair Conditioner, 210ml
Every time we step out into the sun, our hair is exposed to the sunlight. We use a sunscreen for our skin but the hair is left unprotected leading to hair damage due to sun exposure. Khadi Green Tea Aloe Vera Hair Conditioner helps to bring back the hair.
Instruction of use
After shampoo apply on entire hair length especially at the edges. Wait for a few minutes. Rinse thoroughly.
Ingredients
Purified Water, Green Tea Ext (Camellia Sinensis Ext), Wheat Germ Oil (Triticum Vulgare), Aloevera Ext (Aloe Barbadensis), Jojoba Oil (Simmondsia Chinensis), Mulethi (Glycyrrhiza Glabra), Ajwain (Trachyspermum Ammi), Almond Oil (Prunus Amygdalus Dulcis), Apple Ext (Pyrus Malus Ext), Madhu (Honey ), Nimbu (Citrus Limon Ext),Aloe vera (Ghrita-kumari), Bacopa monnieri (brahmi).
Ideal For
Men & Women
Hair Type
All Hair Types
Applied For
Anti-dandruff, Nourishment & Moisturization, Hair Shine, Dryness Care, Conditioning, Anti-hair Fall
Hair Condition
Damaged Hair, Normal Hair
Is Over-Conditioning Your Hair Bad?
When you condition your hair, a layer is formed along your hair shaft. This is what gives your hair its shine and makes it manageable and easy to brush through. However, over-conditioning your hair is as bad as not conditioning it at all.
This build-up may weaken the efficacy of other products. It happens because this layer blocks other products like essential oils and serums from penetrating through your hair shaft.
If you notice the following signs, you've probably over-conditioned your hair.
Less volume and heavy hair
Difficult to manage and style
Hair sliding off from under pins every time you tie it up
How To Get Rid Of Over-conditioned Hair?
Start by using less conditioner for the first few washes.
Rinse your hair with a diluted apple cider vinegar solution once a month. This should ideally be one part apple cider vinegar and two parts water.
Use a clarifying shampoo to get rid of the extra layers of conditioner.
Avoid using too much conditioner till you get rid of all the extra layers.
Last Few Words:
I hope you have gathered many information from this blog.And also shared the list of best hair conditioner for both men and women.
If you have any query please write in a comment section below.
For purchasing best and reviewed products, visit our website "RipplenFortunate".