Shop the best electric Egg boiler and make your breakfast easy!
Are you one of the millions of people who enjoy freshly cooked eggs in the morning? Sometimes, creating the perfect egg dishes can be a bit of a challenge, especially after a night out on the town. In this case, making eggs in the morning could be a step too far.
Boiling an egg is no rocket science, but in a real sense it's one of the most crucial tasks in the kitchen. Yes that's true. This must have happened to you too.
But these challenges should not keep you away from eggs since they are still one of the most nutritious food that is easy to eat, can be cooked in versatile ways, and is widely available. This is why we are going to introduce you to an egg-citing kitchen tool that will solve all kinds of problems related to the boiling of eggs and is called an egg-cooker.
You might be wondering why they are not called egg boilers instead egg cookers, and the answer to this mystery lies in the fact that these amazing tools are not only able to boil eggs, but they are also able to poach multiple eggs at a time, and also to make delicious omelets.
Another great advantage of having an egg cooker in your kitchen collection is that they are able to prepare several eggs at a time, which saves a great amount of time and allows you to prepare an egg-based dish for a large group of guest coming over, or prepare a healthy packed lunch for your whole family very quickly
Fortunately, a whole host of egg cookers have been created to make this task almost effortless. Egg cookers come in a wide range of different styles and sizes to meet the diverse needs of modern chefs. The following best egg cooker reviews will help make choosing the right product very easy.
So, let's find out which is the best egg cooker for you is…
Best Egg Boiler Reviews in India
If you are a hostler/bachelor/ or a working professional who has little to no time to cook eggs the traditional way, this is the best choice for you. You can cook about 7 eggs at once in this boiler in just 3 minutes.
By choosing on the available 3 boiling mode settings, you can cook your eggs either hard, medium or soft. No more watching the clock while you try and maintain the stove temperature. The heating lead makes it simpler and faster to boil them eggs. There is an automatic overheat protection system which prevents any overheating or overboiling of the eggs.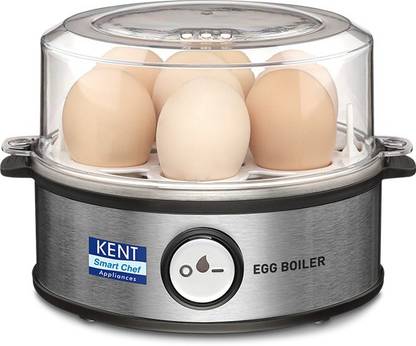 Features:-
The advanced appliance from Kent allows you to boil eggs in 3 different modes – hard, medium and soft
Kent Egg Boiler is easy to operate, all you need to do is put the eggs in the appliance, add appropriate quantity of water and select the desired mode, Non-stick Coating: No
Kent Egg boiler comes with a one-touch operation which makes it easy to operate the appliance without any hassles
The machine will turn off automatically when the eggs are boiled; Before switching on the appliance, make sure that your home's main voltage corresponds to the operating unit
The body of the boiler is made out of high quality stainless steel and works on about just 330 watts of power.
But there are instances where the bottom of the boiler becomes a little rusty over time.
Also, the cleaning of this boiler is a bit tricky. But as the device comes with 1 year warranty, all of these can be overlooked.
Power: 360 watts, Input Power Supply: Single phase 220 V AC, 50 H
How to use:- The operation of this device is as simple as the device itself. You would simply add the appropriate amount of water in the measuring jar. The amount of water required to be placed for each of the settings is mentioned on the jar. Place all of the eggs in their designated slots.
Now close the lid and switch on the boiler and it automatically turns off when the eggs are boiled. The transparent lid helps you look at the eggs as they get boiled. The small pin present at the measuring cup's bottom helps in breaking the egg after it is boiled. Poke a small hole on top of the egg before boiling for easy results.
Things we liked:
Easy to use with just a single switch
Requires less water for boiling
Cooks 7 eggs in just 3 minutes.
Automatic turn off
Overheat protection unit
1 Year warranty
Must Read:-
Ideal for kitchen enthusiasts and bachelors, this boiler makes it almost too easy to boil and cook eggs. The placeholder tray, which can hold up to 7 eggs, can be removed and a small bowl can be placed to poach eggs too.
Apart from simply cooking or steaming of eggs, you can even use this to make some great DIY egg recipes. Handy for bachelors or students who live in Hostels. You can even pick this awesome product as a gift for your friends or loved ones.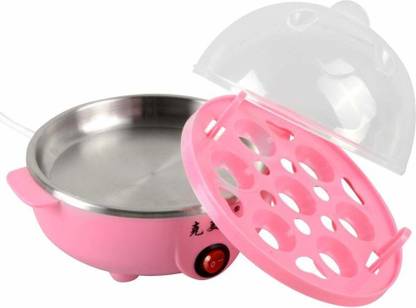 Features:-
egg boiler electric automatic shut off
This Egg Boiler takes only 10 minutes to cook the eggs
Colour : Multi(Colour Will Be Send As Per Available In Stock..)
Material : Plastic + Steel
You can consistently prepare eggs the way you like without fat or oil.
You can see as the eggs get boiled through the transparent yet strong lid.
best results on hard boiled, always try and poke the egg to make a minor hole on one end.
The measuring cup that comes with the boiler will help you do that.
This boiler operates at a 400 watt power capacity and comes with half a meter long wire.
A double thermal protection present in the device makes it more safer for operation.
How to use:- The boiling/ poaching process is simple just like all of its counterparts. You place the eggs in the egg holder, pour some water using the measuring cup and then close the lid to switch it on. The device automatically turns off when the eggs are ready. You can see as the eggs get boiled through the transparent yet strong lid. For best results on hard boiled, always try and poke the egg to make a minor hole on one end. The measuring cup that comes with the boiler will help you do that.
Things we liked:
Robust design
7 Eggs cooked in a single go
Takes about 10 minutes to cook
Automatic turn off when boiled
Prestige is a brand known to all in India. Their kitchen appliances are of superior built that stands the test of time. The egg boiler from Prestige exhibits the same quality, durability, and performance as shown by all other products of this brand.
It can boil up to 7 eggs at a time, which is a perfect quantity for a family consisting of 3 to 5 persons. Also, office goers, bachelors, and gym frequenters will find this egg cooker very useful as it can make hard-boiled eggs in less than 10 minutes.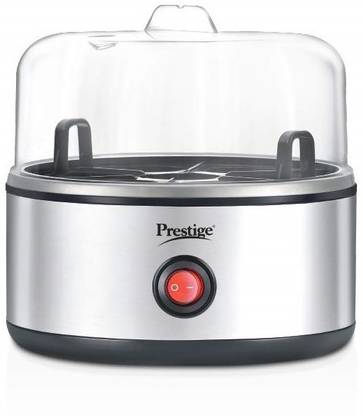 Features:-
The lid of this egg boiler is made of plastic that allows you to see the eggs while cooking.
Its stainless-steel body with assures durability.
The measuring cup of this cooker is indispensable to its functioning as it has the right markings for the quantity of water needed to cook the eggs to the right consistency.
It comes with three settings for consistency, i.e., hard, medium, and soft.
The prestige egg boiler has a one-touch operation and is super simple and easy to use. But you need to place it near a power socket as its cord is short.
The warranty on this egg cooker is 1 year. So, if anything goes wrong, you can easily get it fixed without having to spend extra money.
Warranty: 1 year warranty on product
Power: 360 watts
How to use:- To get the texture right, just measure out the required amount of water and pour it into the pan. Place the eggs in the slots, close the lid and plug it in. Wait for a few minutes till the machine automatically turns itself off after the eggs are cooked.
Do not forget to pierce the egg on the wide side before you place it the slot. This is an important step that ensures that the eggs do not crack while cooking. To know the exact quantity of water, do refer to the manual.
Things we liked:
Simple one-touch operation
Durable stainless steel body
1-year warranty
Automatic turn off
A simple and cute egg boiler which makes boiling an egg possible at any place and any time. With the goodway electric egg boiler, you can boil 5 eggs in a single go in 7-8 minutes of time.
This is an ideal pick for people who are always on the move, bachelors,and fitness enthusiast who need a quick nick of daily nutrition.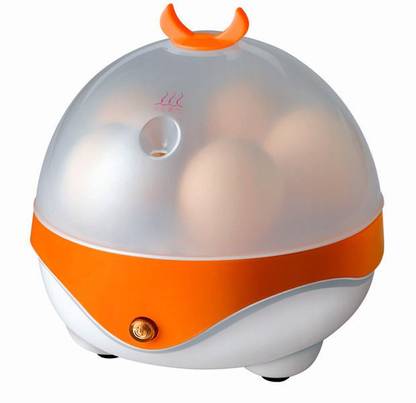 Features:-
Goodway egg boiler's compact size makes it easier to store it away when not in use and consumes so little space for operation too.
Furthermore, it utilizes very little water (25 ml approx) to cook eggs with the steam generated by that water.
The translucent top cover gives a smoggy look and feel to the overall boiler body.
The device consumes a power of about 200 watts and to cook 5 eggs, you would be spending at the least 10 paise.
This makes this egg boiler incredibly economic and simple to use.
Furthermore, the base of the body is made out of stainless steel. Hence it is durable too.
Over the course of time, there is a possibility that the boiler may leak from the bottom.
Make sure that you check the product by using once delivered. For any discrepancies, there exists a 6 month warranty period which you can avail.
How to use: All you need to do to use this simple device is take the measuring cup and fill about 25 ml of water. Pour the water into the boiler base and poke a small hole on the top of eggs (if you're looking for hard boiled). Now place the eggs in their place holders and close the lid. Switch on the device and it automatically turns off when the eggs are boiled. The measuring cup which comes with the boiler has a minute pin to its bottom and should be used to break the egg after it is boiled.
Things we liked:
Compact and cute design
Less water to cook
Light in weight
Consumes less power
I love this one. It is everything I ever needed if I were a college student. Enjoy a delicious poached egg or slice into a perfectly hard-boiled egg and smear it over your crisp toast for a quick yummy breakfast. Whether you're making a healthy egg salad or an egg sandwich..
This is an absolute delight and life saver for every bachelor, travellers and college students.
Features:-
A single device that will assure that you get all the nutrients and taste that you need and deserve.
Furthermore, it does not even consume a lot of energy to operate.
This unit has all the facilities that an egg poacher must provide to its owner.
It comprises of a transparent cover pan so that you can monitor the poaching process and also comes with the dry boil protection.
It has a nice 6 eggs cooking rack and 2 egg poaching pans are also provided with the unit.
With its body made out of plastic, the cooking base of this steamer is non stick.
Hence it is ideal for a small omelette when you are in the mood for.
How to use: Cooking of the eggs is same as all of the boilers mentioned in this list. Measure the water using the measuring cup, place the eggs on the placeholders, close the lid and switch it on. It automatically turns off when the eggs are boiled. You can watch as the eggs are boiled or poached through the transparent lid.
Things we liked:
Multi-purpose design
Can cook eggs, poach eggs too
Easy to use
Consumes less energy
Easy to clean
Now you can boil eggs in a jiffy, thanks to the newly launched Electric Egg Cooker, This innovative product made of high quality stainless steel heater boils eggs in just 7 mins, which in effect means that it costs less than 10 paisa for 7 eggs, It boils egg in steam generated by stainless steel heater in 220V/400W Power with 25 ML Water. you can totally go for this affordable and easy to use egg cooker.
Features:-
The outer body of this boiler is made of plastic, while the inner plate is stainless steel.
Its transparent lid allows you to look at the eggs while cooking. We would advise you to use potable water to increase the longevity of this egg cooker.
This cooker is very affordable and can cook eggs using juts 25 ml of water. But you must note that the colour of the cooker might differ from that shown in the picture. However, all other specifications will remain intact.
There are two major benefits of using this egg boiler. One, you can use it to steam other things too, for example, dumplings, veggies, etc.
And the second being, its double thermal protection mechanism, protects it from damage in case of over-heating.
It uses 350 watts to cook the tastiest and perfectly boiled eggs. However, one downside of this boiler is that it does not have any manufacturing warranty. If you are okay with its lack of warranty,
How to use: This small and compact egg cooker is simple with, an easy to use mechanism. It has the capacity of cooking 7 eggs at a single go and is perfect for a medium-sized family. Just add the required quantity of water using the measuring cup to get the texture of the egg that you like. Once the water in the pan dries up, this machine automatically stops working.
To get soft-boiled eggs, keep this unit working for 3 to 4 minutes. If you want medium consistency, a good 6 to 7 minutes will do. You can get hard-boiled eggs in around 10 minutes with this cooker.
To boil eggs in this egg cooker, carefully measure the water and pour it into the pan. Poke holes in the eggs using the egg pin that comes along with the main unit. Then set the eggs on the tray. Switch on the power button, and your eggs will be cooked to perfection within minutes.
Things we liked:
Affordable
Attractive design
Double thermal protection
Multi-functionality
One-touch mechanism
Must Read:-
Saysha is not a popular brand in India. The factors that make us place this egg cooker on this list are its appealing design, one-touch function, and economical pricing.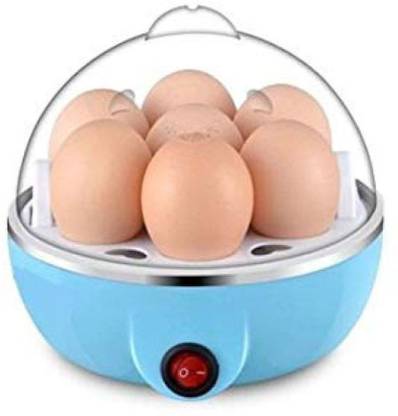 Features:-
If you are searching for an affordable and easy option for cooking eggs on busy mornings, it is perfect for you.
It can cook 7 eggs at a time. However, you can also cook any number of eggs lesser than 7 using this boiler.
This cooker is multifunctional, and apart from cooking eggs, you can also steam other food in it, or use it to re-heat other items.
Voltage: 220v
Size: ~24 x 16 x 15.5cm
Weight: 576g
This is a convenient electric egg boiler, mini and fashion design, can boil 7 eggs at one time…
CoEasy and quick toThis Egg Boiler takes only 11 minutes to cook the eggs ,Cook Your Eggs Right with the Egg Steaming Device Cook seven eggs at once with this automatic Egg Cooker/boiler.
Compatible Design With Nice Appearance Makes For a Great Gift For Your Family and Friends Unit Integrated Food Grade Material Unbreakable Crystal Clear Top Cover New and Improved High Capacity Design….
This Egg Boiler takes only 11 minutes to cook the eggs ,Cook Your Eggs Right with the Egg Steaming Device Cook seven eggs at once with this automatic Egg Cooker/boiler.
How to use: To boil eggs, put the eggs in the placeholder, pour water and switch on the appliance after closing the lid. Within 6 minutes, boiled eggs will be ready. This cooker ensures safety as it shuts down automatically if there is no water left in it.
To make sure that the eggs do not crack while being boiled, poke small holes on top of them before cooking them. This egg cooker comes in multiple colours and is primarily made of plastic.
Things we like:
Economic pricing
Appealing design
Multifunctional
Can cook 7 eggs at a time
Fast cooking in 6 minutes
The Arzet egg boiler fits the bill if you are looking for something economical and user-friendly. It has a capacity of cooking 7 eggs at a single go. This cooker is suitable for everyone who cannot afford the time to stand and monitor cooking breakfast owing to time crunch.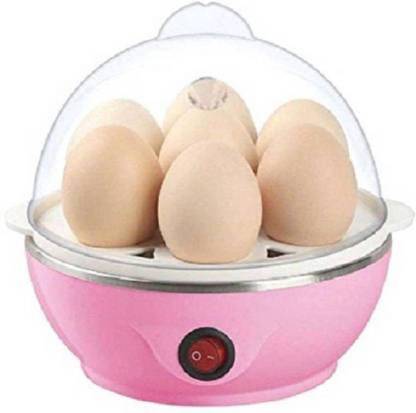 Features:-
It comes with an indicator that buzzes when the eggs are cooked.
But if you want half-boiled eggs, you will have to do some guesswork and turn the power off before the indicator buzzes.
Make a nice DIY breakfast, create delicious appetizers or a nutritious snack in no time.
Compact design with nice appearance. Can be used a gift to your friends or familiers.Unit integrated food-grade material.
Unbreakable crystal clear top cover.New Improved High Capacity Volume Design. Cook 7 eggs at a time.
This device uses 350 watts for boiling eggs. It is lightweight and portable so that you can have cooked eggs or boiled veggies on the go.
It does not have an auto-turn off feature, and so, you need to be careful. Always make sure to turn off the egg cooker as soon as the indicator beeps.
This egg boiler does not come with any warranty. But in case you do not like the product, you can return it within 15 days from the date of purchase if you buy online.
How to use: It has a simple mechanism with just one power button. For cooking boiled eggs in this cooker, you will have to pour a sufficient amount of drinking water into the pan first. Then place the eggs in the slots, put the lid and power it on. Do make a small hole on each of the eggs before you cook them.
Things we liked:
Lightweight
Economic price
Can cook 7 eggs at a time
Easy 15 days return on online purchase
Can boil veggies
Inalsa is an Indian company partnered with a swedish group called Taurus and is dedicated to creating quality home appliances since 1985. The Inalsa Oggi Egg Boiler looks like it's straight out of a science fiction movie and works miracles as well.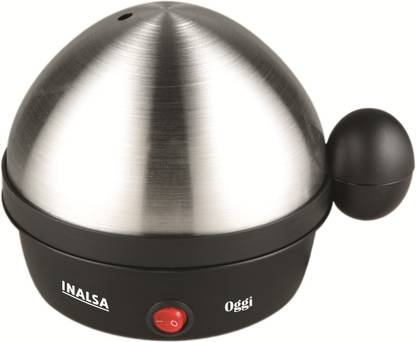 Features:-
Ideal for small families and bachelors alike, the Inalsa Oggi egg boiler can boil upto 7 eggs in just about 8 minutes.
And its stylish design will for sure add a great decor statement to your kitchen.
The egg tray and the aluminium & stainless steel lid are easy to remove and clean hence possess no hassles.
But be careful while handling the steel lid after the boiling of eggs. You may burn your fingers in the process.
The measuring cup even comes with a minute pin to its bottom which is helpful in breaking the egg after it is boiled.
If you want hard boiled eggs, poke a really small hole on top of the egg before boiling using the pin from the measuring cup.
Inalsa's Oggi egg boiler consumes about 360 watts of power in overall hence it does not consume much of your electricity bill.
There is however a small problem with this boiler. Sometimes, even after the boiler displays that the eggs are cooked, they come out semi boiled.
If you have any such defects, you can easily claim for a replacement as the product comes with 1 year warranty.
How to use: All you would be needing to do is use the measuring cup to measure the required water to be poured (The cup has a measuring scale within). Pour the water into the container. Place the eggs in their place holders, close the lid and turn it on. The device automatically shuts down when the eggs are cooked.
Things we liked:
Robust design
7 eggs in one go
Minimal power consumption
Easily cleanable tray
1 Year Warranty
This particular egg cooker stands out in our list because of its design, which resembles a frying pan. It is yet another economical appliance that gives good performs and has more than one functionality.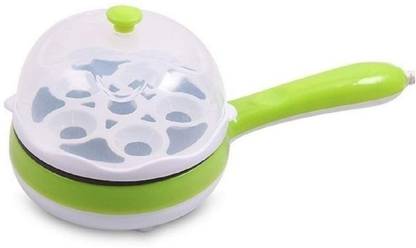 Features:-
It is made of plastic but has an inner tray has a non-stick coating which you can use to fry omelettes.
The build material is good and has the capacity to withstand high temperatures.
With this boiler, you do not need to worry about safety, as it comes with an auto-shutoff feature.
To boil eggs on this cooker, you will need about 7 minutes.
It has uniform heating, and the time that you need to fry an omelette is 4 to 5 minutes.
Handling this egg boiler is the easiest owing to its design that comes with a handle.
It also comes with a measuring cup which has a piercing pin at the bottom to punch a small hole in the shell.
You can easily use, clean, and store this egg cooker. However, the brand does not give any warranty on this product.
How to use: To boil eggs using this egg cooker, just add water to the pan, put the egg-tray on it, prick the eggs with the egg pin and place it. Just close the lid and wait for the machine to turn itself off to enjoy hot and delicious boiled eggs.
Things we liked:
Design
Easy to handle
Cooks 7 eggs at a time
Good quality plastic
Multifunctional
Must Read:-
Steps to Cook the Perfect Boiled Eggs in an Egg Boiler
The egg cooker of one brand might vary from another, but their basic working principle is the same. To give you a fair amount of idea beforehand on the simplicity of these appliances, I am going to enumerate the steps of boiling eggs in an egg cooker.
Step 1: Pierce the Eggs- This is the first thing for you to do if you plan to boil eggs in an egg boiler. Pricking the egg with a small pin on the wider end ensures that it does not crack during the cooking process.
Step 2: Set the Eggs on Tray- Now place the eggs carefully in the designated slots on the tray. Make sure that the pierced side is facing upwards.
Step 3: Add Water- Using the measuring cup that comes along with your boiler, pour a certain amount of water into the pan. As a matter of rule, you need to add more water if you want your eggs to be hard-boiled. In the case of soft-boiled eggs, adding lesser water will do.
Always refer to the user manual to know the exact quantity of water that you should add in each case. This step is important as each brand differs from the other in its requirement of water for boiling eggs.
Step 4: Place the Lid– Make sure that you do it carefully. Once you have covered the cooker, plug the device on, and leave it for the desired amount of time till the indicator/timer goes off.
Step 5: Immerse in Cold Bath- After you are done with cooking, open the lid, and place the tray inside a cold bath. This step will stop the cooking of the egg immediately and give you a brighter yolk along with the texture that you desired.
Wait for a little while for the hot steam to subside. Opening the lid of the cooker immediately after the indicator goes off can result in severe burn owing to the hot steam trapped inside.
Must Read:-
Benefits of Buying an Egg Cooker: Why Should you Buy an Egg Boiler?
There are several reasons why egg boilers are becoming increasingly popular in households in India today. Let us see what value it contributes to our lives and what are the benefits of egg boilers.
It cooks the eggs quickly and easily
You do not need to monitor the cooking, and it hence frees up your time
Every time you get boiled eggs done to perfection
With the 'timer' and 'auto turn-off' feature, cooking with an egg cooker is safer than the gas stove.
An egg cooker consumes lesser water to boil eggs as compared to the gas stove method.
Many cookers come with a 'keep warm' feature, using which you can cook the eggs beforehand and serve them hot even after a long time.
The Bottom Line
Now that you know what matters when choosing the best egg cooker, you should be able to find the perfect option to fit your needs. Think about how many eggs you need to make, the ways you want to make them, and any other features that are must-haves for your kitchen. You're sure to find a selection above that will fit right in with the rest of your kitchen appliances.
If I missed something or if you have to share feedback and suggestions feel free to write in the comment section.
Enjoyed reading this article? To receive more articles like this, Subscribe our newsletter.
For purchasing best and reviewed products, visit our website "Ripplenfortunate"
RELATED ARTICLES