Beard Oil Don't Make You Smarter, Smart Men Just Grow Beards
Beard and mustache hair are like accessories to Men.Today's generation is very fascinated towards the healthy beard growth.Long and stylish beard is a dream for may men who can't able to grow it.
Do you think you get healthy and thick beard overnight? I think the answer is No.It needs proper nutrients, regular nourishment and care.To fulfill that purpose, beard oils are invented to nourish facial hairs with ingredients that promote hair growth and make them more comfortable, healthy, & sweet-smelling.
When we say comfortable, what does that mean? Try rubbing your hand on your face. Feels uncomfortable? Cause nobody likes that spiky & hard hair feeling. That's why you need to treat your beard with proper care to make it soft & comfortable.
It will make the facial hair softer than ever and make it easier to style them. Not only beard it also nourishes the skin underneath to prevent itchiness & grow more hairs around that.
It's the first grooming product that a man needs in his daily routine; it doesn't matter whether he wants to keep the long beard or short.
Benefits
It is an essential grooming kit for anyone looking to manage their beard better. It is a cosmetic product that helps keep the facial skin in a better condition to facilitate growth and strengthens the hair. Here are some benefits of using it:
Keeping a thick beard often leads to the problem of itching. Using it can get rid of that problem. A few of the reasons for an itchy beard are dirt and grit, skin or hair dryness, and beard growth. it aims to alleviate these problems.
Having a thick beard is not easy to manage. Handling it might be rough and it is hard to style it the way you want. it's specially made for grooming your beard too. Thus, with its help, you can manage your bear better.
It helps keep the beard smooth, shiny, and lustrous. Keeping a rugged, unkempt, and rough beard is not desirable and this problem can be solved using them.
Most beard oils have a nice aromatic scent to them. This means you can style your beard with that oil and keep it on without any problem. It will even make you and your beard smell good.
Applying it can help you if you have a dandruff problem. Many beard oils come with various anti-dandruff ingredients.
Having a Beard is Natural.When You Think About it, Shaving it Off is Quite Weird
How to Apply?
Wash and dry your beard.
Take 2-3 drops of beard oil in the palm.
Massage it gently on the beard.
Make sure the oil is applied in roots and ends of the beard properly.
Once done, run a wide-tooth comb or your fingers through your beard.
Tips for Beard Growth
Oil it regularly: Our skin has natural oils that dry up with the pollution and bad lifestyle. Thus, the beard needs extra oil to tame it and provide all the goodness.
Keep your skin Clean: Wash and exfoliate your skin regularly to remove the dead cells.
Be gentle and patient: You will not get the desired beard look in just 1-2 days. You have to be patient and follow your beard care regimen regularly. Moreover, make sure you do not use apply harsh ingredients on your beard and apply the products gently.
Also Read:
A Beard is a Gift You Give Your Face
List of best Beard Oil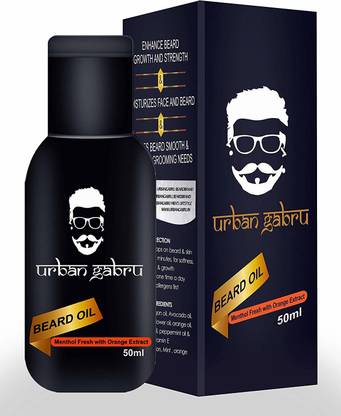 UrbanGabru beard oil, you want an awesome mess-free manly beard that would make any girl go crazy. You have made the right decision. All you would need for beard care:
This is a perfect mixture of natural ingredients that you would complete all the beard care needs. Makes your beard smooth, shiny, healthy and smells like heaven. Girls would go crazy to touch and smell your awesome beard. Awesome and healthy beard growth.
The blend of essential natural oil gives your beard the proper nutrition and conditions your beard and makes it healthy. For a smooth, itch free, manageable beard. The powerful, all-natural oils UrbanGabru beard oil are designed to smooth even the beastliest beards.
Mess-free, itch free and easy to use, our oil is ideal for mustache too. Packed with all-natural ingredients, at urban life style, we hate to see our customers put potent chemicals and mystery ingredients onto their beards.
That's why we make our beard oil with all-natural ingredients including argon oil, jojoba oil, sunflower oil, almond oil, orange oil and menthol. Easy-to-use; Gets the job done right, how to use, do not shave, grow beard and stay bearded. Apply a dime size (one or two drop) on beard and skin. Apply daily for best results.
Indications:
Makes your Beard smooth ,shine, and removes itchiness with Healthy beard growth on regular Use.
Ingredients:
All Natural oils: jojoba oil, argon oil, sweet almond oil, sunflower oil, orange and mint oil flavours
Directions:
Apply a dime size (one – two drops) with your palms on your mustache , beard and skin for best results
Features:
Healthy beard growth : The perfect blend of UrbanGabru beard Oil helps in nourishment and gives the beard strength and growth..
Keeps Your Beard & Skin Feeling Its Best: Our easy to use formula supports the overall health of your beard and helps keep your skin from itching too.
Soften Stiff, Brittle, & Unruly Beards: Growing out a beard is an ultra-manly thing to do, but spending hours on end grooming your beard isn't. UrbanGabru Beard Oil penetrates every single hair in your beard to provide for smoothness and manageability. Our lightweight formula is powerful enough to make your beard soft but never leaves a greasy residue behind.
Simply rub a small amount of it throughout your beard and mustache, and you'll enjoy a smoother, softer and healthier beard in no time at all. If you've been thinking about shaving off your beard, give our all-natural oil a try instead.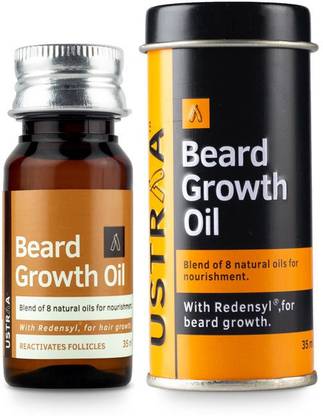 Beard deserves attention, not stress. We realized that a lot of our brothers are stressed with beard growth problems, and we took it as our own.We searched and found a breakthrough molecule that is natural and helps boost hair growth. Redensyl works on the hair follicle stem cells and promotes hair growth. We mixed it with 8 natural oils renowned for hair health and also empowered it with Vitamin-E.
Backed by the research team and not by the marketing team, this product is what you have always looked for.Redensyl, Argan Oil, Almond Oil, Avocado Oil, Castor Oil, Acai Berry Oil, Olive Oil, Watermelon Seed Oil, Gooseberry oil, Vitamin-E form a Beard Bro gang, that fights all your beard growth worries.
How To Use :
1. Take desired quantity on palm
2. Massage the oil on the skin underneath the beard
3. Finish off by applying all over the beard
4. This product needs time and should be left on the skin and hair, either for the night or the day
The combination of 8 natural oils provides your beard with vitamin A,B,C,E,K & essential fatty acids like omega 3 & 6. Together, all this helps in beard growth while making your facial hair healthy and nourished.
Features:
Specially formulated for Beard Growth
Our Beard Growth oil contains Redensyl, 8 natural oils and Vitamin- E for hair growth, nourishment and strength.
Redensyl – works on both hair roots and shaft, to re-balance hair's natural cycle for hair growth.
8 Natural Oils – Argan Oil, Almond Oil, Avocado Oil, Castor Oil, Acai Berry Oil, Olive Oil, Gooseberry Oil, Watermelon Seed Oil – strengthen and nourish hair, repair damaged hair and reduce breakage.Vitamin E – strengthens hair follicles.
Our Beard Growth Oil is Sulphate and Paraben free.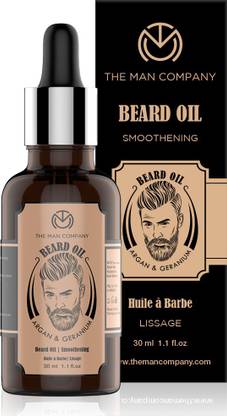 It is one of the most important products for any man who wants to flaunt a bearded look. In fact, they are good enough to promote beard growth further by supplying all the necessary nutrients.
Beard oil for men that has the properties and benefits of Almond, Argan Oil and Thyme is best known to promote growth besides making it more manageable and amazing. Hence, apart from just being a grooming requirement, It is also one of the most important beard growth products.
Our Mooch and Beard oil is specially designed to promote beard growth & health.
The Man Company Beard oil provides nutrition and thicken beard and mustache, boosts beard growth in regions with patchy beard.Our Beard Growth Oil easily penetrates deep into the skin, comprises ingredients known to provide robust beard growth. (Individual results may vary).100% natural beard oil for men that is SLS & paraben free
Bearded Men Are Stronger, Happier, Healthier, Manlier, And Better Looking Than Bald-Faced Men

Feel Like a New Man with Beardo!
Beardo Beard and Hair Growth Oil is formulated with love by keeping in mind the all round hair and beard maintenance. Beardo uses naturally occurring ingredients like Hibiscus Oil, Coconut Oil and Amla among others to ensure all round care for your precious mane.
Revitalize your facial hair and enhance scalp growth with Beardo Beard and Hair Growth Oil.
Major Ingredients:
1. Hibiscus
Keeps hair healthy
Smooths scalp skin
Fights dandruff
Soothes an itchy scalp
2. Amla
Nourishes from inside
Promotes hair growth
No premature graying
Rejuvenates roots
3. Coconut
Faster blood circulation
Faster growth
Prevents breakage
Rejuvenates follicles
4. Sesame
Combats hair fall
Prevents split ends
Adds a healthy luster
Softer, stronger hair
Features:
Condition, smooth, moisturize, make those beautiful beards and mustache soft, manageable and frizz free, while also conditioning the skin underneath and getting rid of itchiness
This blend hydrates skin, makes your beard manageable, improves growth, while providing subtle scents perfect for both days in the office and on the weekends
Natural powerhouses like sesame oil, rose, hibiscus, vitamin B6 and others form a potent combination to renew and re energies hair production
Massage deep into the facial region and scalp, twice daily in order to see the best results
Promotes Hair & Beard Growth, Makes beard smooth and Frizz free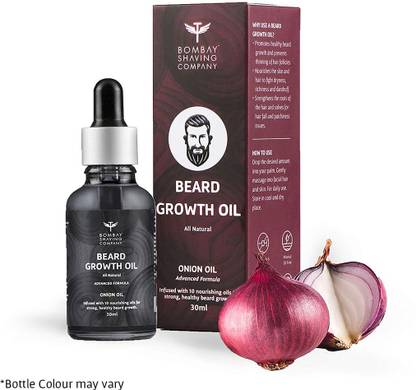 Our beard growing oil for men is specially designed to help fight skin and hair issues that hinder the ability to grow out a beard and moustache. The beard growth oil helps supplement natural oils produced by the skin and hair as it is the best product for growing beard faster. It is a suitable beard growth oil for men, and boys as it helps grow hair on your face faster than your typical hair oil or serum.
As a mooch and beard oil for men, it also makes sure to maintain consistent growth of your facial hair throughout your face. It is a natural blend of vetiver and four essential oils to help strengthen your facial hair, stimulated blood flow to the follicles, reduces the occurrence of rashes and acne, helps your beard retain moisture, and fights beard ruff. This beard hair growth oil coconut oil, sesame seed oil, vetiver oil, jojoba seed oil, brahmi oil and amla oil. And is suitable for all skin types. Perfect beard oil for smooth and shine.
Features & Benefits:
This Beard Growth Oil for men helps promote healthy beard and mustache growth. It also strengthens the beard and provides a deep nourishment to the hair follicles leading to healthy, stronger, fuzz free beards. Also ensure your beard looks even from all ends. It naturally moisturises your skin as well from underneath your beard
A rich fusion of five essential oils that solves patchy beard issues and makes it the best beard growing oil. Keeps your beard fuzz free and nourished at all times. Our beard oil hydrates the skin which means your skin is less prone to damage of any kind and ensures that all new hair follicles grow out smoothly. Light on the skin
Reduces occurrence of pimples and acne. Suitable for both boys and men. Softens stiff or too brittle a beard, and you don't even have to put in that much of an effort. All you have to do is take a bit of oil and evenly put it on and you are free to go on with the rest of your day, carefree. This Mooch and Beard oil is suitable for every skin type
Excellent for use as natural oils on the face that result in faster growth than regular hair oils. For strong, healthy beards, the key is consistency. Using your ideal beard oil for men, daily is one way you can achieve that flawless beard. Our formulation is lightweight and yet effective enough to get you the beard you've always wanted, without much effort
If you feel you're too busy to be maintaining that consistency, you can leave it on overnight and rinse off the following morning for quick results. All you need to do is take a small amount of our beard growing oil for men and rub evenly throughout your beard and moustache hair and you're good to go take on the world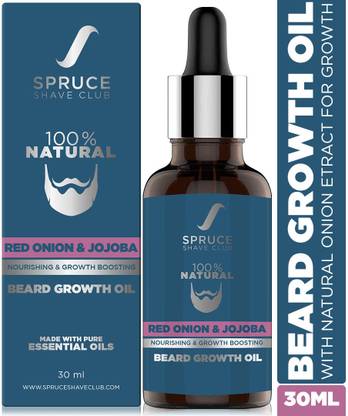 The Spruce Shave Club all New Advanced Beard Oil is a 100% Natural Beard Growth Oil that has been specially designed by experts using only the purest and most natural essential oils to help boost beard growth.
This Beard Growth Oil contains ingredients like Almond Oil, Coconut Oil, Argan Oil, Jojoba Oil, Onion Oil and many more to help nourish and strengthen the roots of the hair in your beard and promote denser and faster growth.
The red onion extract in our beard growth oil is a powerful anti oxidant and anti bacterial agent that is well known for its properties to nourish and strengthen your beard reduce hair fall and promote stronger and denser beard growth. Not only does it help with faster growth, it also helps tame your beard frizz and manager your beard.
Packed with vitamin E, this oil also works to nourish and soften your existing beard, enhancing manageability and shine. Moreover, our product has been designed to be a non greasy hair oil that is 100% natural and contains no sulfates, parabens or any other harmful chemicals that might cause any damage or irritation.
So, overall this beard growth is the perfect addition to your beard care regimen to help you achieve healthier, stronger and better beard growth density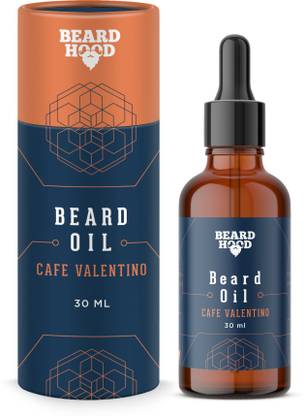 As the cliché goes, you can't build a great structure on a weak foundation. Just the same way, you can't grow a smart beard on damaged-by-chemicals skin. Our beard oils are perfect blend of carrier and essential oils, which mimic your natural skin oils and replenish them.
So you don't have to pay for a good looking beard with beardruff (the word they use for beard dandruff). While you are busy enhancing the shapeliness of your beard hair (an easier task now) it works its magic to gentrify your skin by promoting cell growth.
Major Ingredients:
Coffee Fragrance: Café Valentino is the oil for the coffee lovers. Its aromatic coffee fragrance will leave you revitalized and energized throughout the day.
Vetiver: Vetiver root oil is a big boost for aging hair. Its stimulates blood flow to the follicles.
Vitamin E & Essential Oils: Vitamin E help to strength your facial hair which give it the healthy look that you always wanted to get, and it prevent from your facial hair drop. Essential oils to keep the beard tamed, in place and nourished.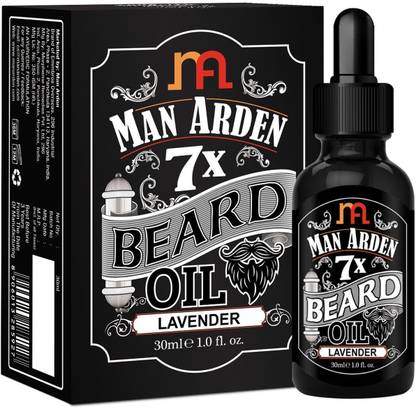 The Powerful, All-natural Oils in Man Arden Beard Oil Products Are Designed to Smooth Even the Beastliest Beards. Mess-free and Easy to Use, Our Oil Is Ideal for Mustaches Too. Our Easy to Use Formula Supports the Overall Health of Your Beard. Our Lightweight Formula Is Powerful Enough to Make Your Beard Soft but Never Leaves a Greasy Residue Behind. Also Shop for Other Range of Man Arden Shower Gels, Hair Cream, Face Wash, Hair Shampoo & Others.
BEARD GROWTH + NOURISHMENT + CONDITIONER
Man Arden Ultimate 7x Beard Oil Contains 100% Natural & Pure 7 Super-ingredients That Will Moisturize, Promote Faster Beard Growth, Soften and Condition Your Beard, Mustache or Goatee and Make Sure That It Looks and Feels Incredible.
Man Arden 7x Beard Oil Is a Seductive and Irresistible Musky Blend Fragrant Fused With the Care to Transform Wild Undernourished Beards Into Soft, Shiny and Tamable Beards. Our Product Promises to Moisturize, Treat Split Ends, Eliminate Nasty Flakes, De-tangles Hair, Promote Faster Beard Growth, Add Glorious Shine and So Much More! You Can Even Use It on Dry Scalp. Face or Hair!
The Best for Your Beard… Man Arden 7X Beard Oils Are Created From the Finest Organic Ingredients Available. We Start With an Amazing Blend of Hair Benefiting Cold Pressed Oils Such as Organic Moroccan Argan Oil, Organic Extra Virgin Olive Oil, Golden Jojoba Oil, Sweet Almond Oil, Grapeseed Oil, Rosemary Oil and Castor Oil. It Will Help Soften, Condition, Repair, Dry Splitting Hairs, and Nourish New Growth.
Features:
Keeps your beard and mooch skin feeling its best: our easy to use formula supports the overall health of your beard and helps keep your skin from itching too
Man Arden beard and mustache oil lightweight formula is powerful enough to make your beard soft but never leaves a greasy residue behind
Our oil not only conditions your beard, but also treats it from the inside out. Stimulating equals fast growth, strength, and a healthy beard
Lightly scented with man Arden's premium range, pick your delight!
100% Natural and pure 7 super-ingredients that will moisturize, promote faster beard growth, soften and condition your beard, mustache or goatee and make sure that it looks and feels incredible!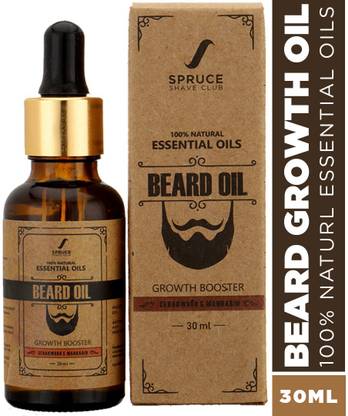 The Spruce Shave Club Beard Oil is a 100% Natural Beard Growth Oil that has been specially designed by experts using only the purest and most natural essential oils to help boost beard growth. This Beard Growth Oil contains ingredients like Almond Oil, Coconut Oil, Argan Oil, Jojoba Oil, Grapeseed Oil, Apricot Oil and many more to help nourish and strengthen the roots of the hair in your beard and promote denser and faster growth. Not only does it help with faster growth, it also helps tame your beard frizz and manager your beard. Packed with vitamin E, this oil also works to nourish and smoothen your existing beard, enhancing manageability and shine.
Features & Benefits:
100% NATURAL BEARD GROWTH – 100% Natural Beard Oil made with pure essential oils like Argan Oil, Almond Oil, Coconut, Jojoba Oil and many more to help you grow your beard longer, faster and stronger. This helps nourish the roots of your beard to strenghten them and promote stronger beard growth. The beard oil also helps increase blood circulation to the beard which promotes faster beard growth.
STRONGER & FASTER BEARD GROWTH – The beard oil with its unique blend of oils like helps hydrate and nourish your beard to strengthen your beard hairs so your beard can grow thicker, stronger & faster. Natural oils like Argan Oil, Coconut Oil and more that are used in our beard oil are well known for their hair growth boosting properties.
FILLS PATCHY BEARDS – Our unique and handcrafted blend of essential oils is rich in Vitamin A,B,E,K, Omega 9,6,3 & Linoleic Acid which help increase blood circulation to face and assist in stronger and faster beard growth. This helps in reducing hair fall and filling in patchy spots in the beard so your beard is thick, lush and soft.
SOFTER & SMOOTHER BEARD- It also helps in taming your beard frizz, reducing beardruff and providing an extra shine to your beard so you and your beard are always on top of your grooming game
SUBTLE WOODY SCENT – The Beard Oil for men contains Cedarwood Essential Oil & Mandirin Essential Oil that are natural deoderants and give the oils a rich woody scent that will knock you off your feet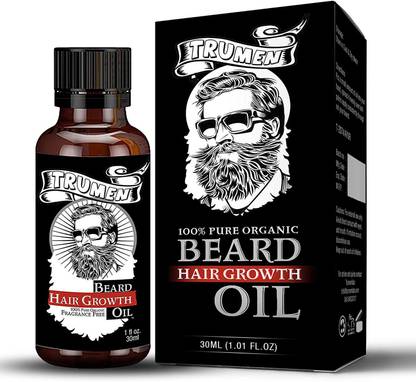 Beard & Mustache Oil by TruMen- Hair care for the true men
TruMen Beard & Mustache Oil helps your beard hair grow thick, soft and smooth. It is free from parabens and all harmful chemicals. Its a perfect blend of all natural oils.
Product Highlights
Perfect blend of oils and ingredients.
Thick,soft & healthy
Paraben free
Easy to use oil.
FAQ Section
Which Beard Oil is best?
According to our research and customer satisfaction/review, Urbangabru Beard Oil is still one of the best choices to get.
Do beard oils actually work?
Yes, It works if you're consistent enough to follow the procedure daily and apply it regularly in the right way.
Does Beard Oil have any negative impact?
Most of the beard oil brands use natural essential oil mixtures to make it work for you. However, it suits most of the skin types, but still, hypersensitive skin people should test it first by applying a small amount.
How many times can I apply in a day?
It is recommended by experts to use it twice a day (morning & evening) after face wash for best results.
Wrapping up:
I hope the above information and the list of best beard oil have helped you.You can one of the above product and purchase it.As they are of good brand and reviewed by many customers.
Use it and give your experience to us in the comment section below.
For purchasing best and reviewed products, visit our website "RipplenFortunate".