Are you sweltering in the heat and feel like your room feels a little stiff with saturated air? If yes, then you need a good wall mounted fans.
Fans seem like a mundane but, at the same time, equally important device to have in our homes and offices, especially for proper ventilation. A good and reliable fan is a must-have one's life, but selecting an effective fan is a very daunting task. The market is full of numerous options, and it can be confusing to make a choice.
Must Read:-
Why Buy a Wall Fan?
Wall fans are not for everyone. But, there are certain circumstances in which a wall can come in real handy. It goes without saying that wall fans are designed to mount directly on to the wall.
As a result, they are suited for places where you cannot set or keep a on your table or ceiling.
As you can install them on your wall, they don't take a lot of space in the room. Thus, this type of wall fans can be a great addition to shops, offices, and at your home where there is no way to install a ceiling fan or you don't have enough space on your table to keep a table fan.
So, we can say that a wall fan can be a great alternative to traditional ceiling or table fans.
How To Choose The Best Wall Mounted Fan
Choosing the best wall mounted fan is always the toughest decision to make. In order to make the right choice, there are a number of parameters, which need to be checked before the choice is made. The first step in choosing the best one is knowing the checklist of your requirements. Selecting the right fan will not happen until you know what your needs are and how to manage your needs. While making the checklist, do remember the following points which every potent wall mounted fan should have:
Size: The wall-mounted fan must of the appropriate size to produce enough efficiency and airflow. Ventilation is an important aspect while selecting the wall-mounted fan, hence an appropriately sized fan must be selected.
Durability: Have you ever wondered about the importance of durability in the fans? Yes, exactly! Durable fans are the ones that you need to have in your offices or homes. Sturdier, lighter and decorative wall mounted fans have proven to enhance the beauty of the homes.
Oscillation: Personally speaking, not everyone needs this feature. Supposing you sit in a fixed place in your room, but the fan oscillates across the entire room, the spreading of air and its distribution across the entire room doesn't help in making you feel better. Hence, look for fans who have an option to switch off the oscillations.
Must Read:-
Location: While buying a wall fan you should also consider the location where you want to place it for office or home so you can properly get the air flow in every part of the room and gallery.
Speed: Wondered how irritating it is when your official documents blow off without letting you even put the paper stopper over it? Exactly! Buying the wall mounted fans with controllable speeds is very much a requirement, thus making it more customizable and making the experience more worthy.
Remote control: If you not looking forward to operating the wall-mounted fan from the switchboard over and over again, it is high time to look for a wall-mounted fan that works with the button of the remote, thus making it highly easy to operate and customized.
Bestselling Wall Mount Fan in India
To make the task of selecting a fan easier for you, we bring a list of top 10 best wall mounted fans in India.
Sweep: 230 mm
Wattage: 40 Watt
Warranty: 2-Year-Warranty
The Havells Birdie Personal Fan is a great table fan to tackle the humidity and soaring temperatures of summer. It is lightweight and easy to handle. The aerodynamic design ensures that this product serves all its functions with full efficiency and ease.
Havells Birdie Personal Fan is made up of unique design to allow 360° rotation of fan head both in horizontal & vertical plane. It is a Multi-use fan which can be used on desk, wall or mounted on a wall.
Pros
Consumes less power
Product design is modern
Stable base
Varied speed options
Lightweight
Cons
Can be noisy in a small room
Sweep: 44 mm
Wattage: 53
Warranty: 2 Years
It will be safe to say that owning a good fan can make or break your summer experience, therefore picking a good fan is an important decision to make. One can trust the Orient to make many trustworthy and reliable fans.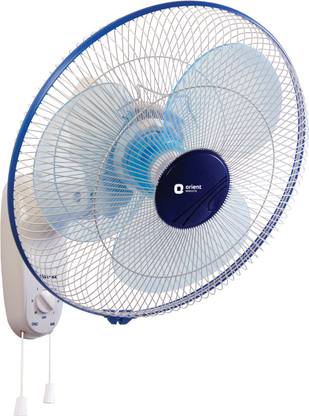 Pros
Easy to assemble
Easy to install
Lightweight
Great value for money
Has great airflow
Cons
Might cause noise sometimes
Might not be durable
Must Read:-
Sweep: 400 mm
Wattage: 55 Watts
Warranty: 1 Year Warranty
The dimensions of Usha Maxx Air Wall Fan is 30 cm x 15 cm x 10 cm. The net weight of this wall fan is merely 3.98 Kg. These compact dimensions make this product easy to carry around and travel-friendly.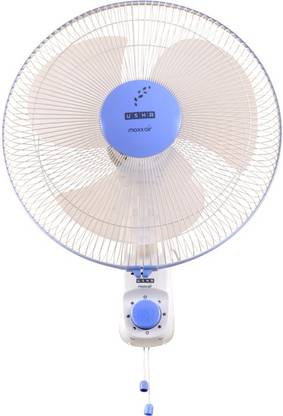 Pros
Stylish and modern looking
Easy to install and assemble
Lightweight and is suitable even for thin walla
Has great value for money
Energy-efficient and cost-effective
Cons
Might be noisy and hence might cause a disturbance
Might not be durable
Sweep: 300 mm
Wattage: 80 watt
Warranty: 2 Year Warranty
Havells is a highly popular brand, and it has been making world-class fans for decades. The Havells Ciera Cabin Fan has advanced gyroscopic movement, which sends air in all corners of the room. There is a two-year warranty available which comes with this product.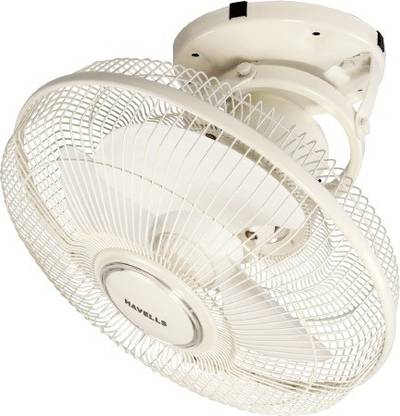 Pros
Well suited for low rise ceilings
Lightweight
Has low noise levels
Easy to install
Design is sophisticated and versatile
Cons
Not very power efficient
The adjustment of oscillation is hard
Must Read:-
Sweep: 400 mm
Wattage: 50 Watt
Warranty: 1-Year-Warranty
If you are looking for a reliable wall fan, then the Bajaj Esteem Wall Fan is the one for you. The dimensions of this product are 45 x 21 x 45.5 cm. With these dimensions, one can say that the fan has a compact size. The total weight of this product is 4.6 kilograms.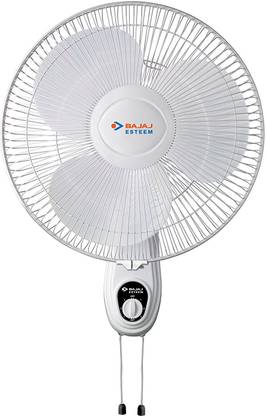 Pros
Has one year warranty
Decent amount of revolution per minute
Highly cost-efficient
Comes with a full copper motor
Great value for money and is affordable
Cons
Heavyweight and hard to install on thin walls
Hard to assemble
Sweep: 400 MM
Wattage: 50 Watt
Warranty: 2-Year-Warranty
Havells brand is a very popular and well-established brand around the world. Many people trust this brand with their electrical appliances. Havells Platina Remote Wall Fan is one of their prime wall fans launched in the market. This fan runs with 1360 revolutions per minute, which is a great number.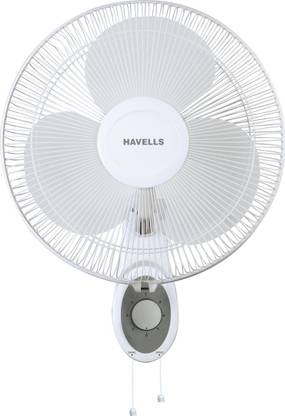 Pros
Highly cost-effective
Has a stylish look
Comes with a one year warranty
Has a decent amount of revolution per minute
This product has great speed
Cons
Might cause noise
The remote is not up to the mark
Sweep: 200 MM
Wattage: 36 Watt
Warranty: 1-Year-Warranty
This Bajaj Optima fan is one of the most energy-efficient models available in the market. With just 36 watts of electricity consumption, this fan turns out to be a lot cheaper than its maximum retail price over the years.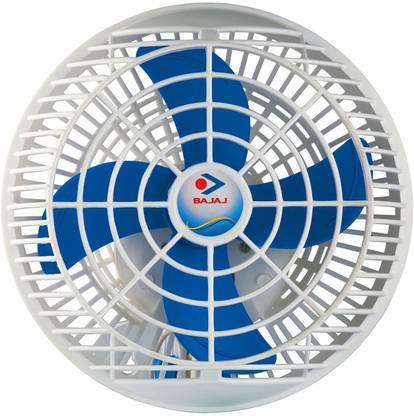 Pros
Has PP blades that are hard to clean
Has intense air thurst
The noise levels are not high
Easy to assemble
Design is modern and sleek
Cons
Lacks
Hard to adjust wind speed
Sweep: 400 MM
Wattage: 50 Watt
Warranty: 2-Year-Warranty
Compton, as a brand, is famous around the world for creating highly budget-friendly and, at the same time, efficient products. They have released many products in their affordable range, and one such product is Crompton HiFlo Wave Wall Mount Fan.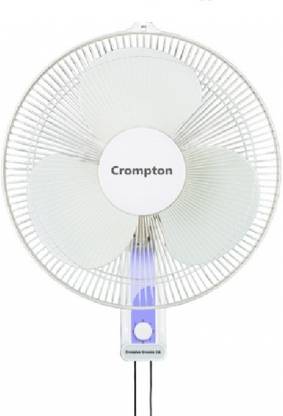 Pros
Lightweight
Travel-friendly
Easy to clean
Affordable
1300 RPM
Cons
Easily breakable
Hard to install
Sweep: 400 mm
Wattage: 55 Watt
Warranty: 2-Year-Warranty
Luminous fans are very popular in India because they provide breezy air to Indian masses in very cruel hot weather of the summer season. They also work very well in tune with the erratic and often unpredictable patterns of electricity availability.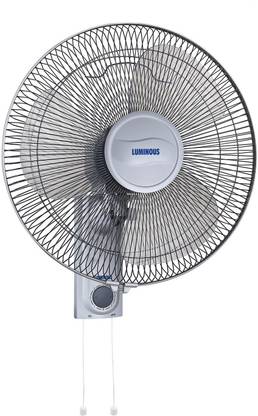 Pros
Comes with the swing option
Made up of durable material
Highly power efficient
Has a rich and sophisticated look
Has two motors for optimum results
Cons
Does not have a remote
It's heavyweight
Sweep: 300 Mm
Wattage: Not Available
Warranty: Not available
A fan is a commodity that can bring easy respite from the blazing heat and uncomfortable humidity, and Crompton fans are very power efficient products that can help one tackle the soaring temperatures. Subsequently, they become very cost-effective too over time. The major parts of this product are made of top-grade plastic that is highly durable.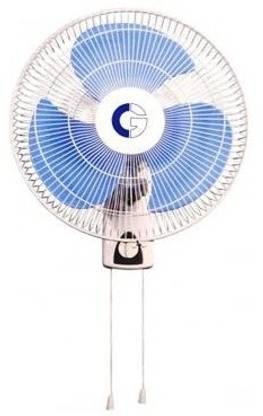 Pros
Made of high-grade plastic
Easy to install
Easy to carry around
Easy to clean and maintain
Highly energy efficient
Cons
Lacks a warranty card
Susceptible to breakage
Must Read:-
Advantages of Wall Mount Fans
Wall-mounted fans are undoubtedly one of the best options to beat the heat and maintain a comfortable temperature in the room.
Some of the advantages of using a wall-mounted fan in your house are as follows:
Must Read:-
They are cost-effective and deliver high performance.
These fans come with an option of varied RPMs. You can select as per your requirement.
The fans are easy to install.
They are energy-efficient and do not consume much power.
The fans are easy to maintain. You can simply wipe the blades and clean them.
Since they are small in size, you can mount them in any corner of the house.
It offers speed controls and thus you can adjust the temperature as per your convenience.
The oscillation feature of the fan helps in air circulation even in larger areas.
Final Words
As you can see, selecting the best wall mount fan that fits the requirements as well as the décor of your home is not an easy task. These were the Top Ten best wall mounted fans that you can buy today. All of them have different power and sizes and thus target different buyers. So, choose the one that suits your needs the best and buy it right through.
If I missed something or if you have to share feedback and suggestions feel free to write in the comment section.
Enjoyed reading this article? To receive more articles like this, Subscribe our newsletter.
For purchasing best and reviewed products, visit our website "Ripplenfortunate"
RELATED ARTICLES