Fall in love and be amazed with these Trendy Kurtis that you should have in your Wardrobe.
Your dressing sense can speak volumes about you. It is a showcase of your personality and lifestyle. There is no denying the fact that a Kurti is the most comfortable attire one can ever wear. They come in a lightweight and breathable fabric. It is clothing that can be maintained easily. A flowy kurta looks good on every woman.
Kurti is one attire that you could never get bored. You can wear it toned down or make a fashion statement; It always evolves every year and stays ahead of every new trend that hits the market.
The Must-Know Trendy Kurtis
Versatile and comfortable kurtis can be used as work wear, casual wear and also formal wear. Find here a curated list of trending kurti designs and stylish options for parties, religious events and social functions like weddings.
Who doesn't love slits? Slits have been introduced for a few decades now and it won't be going away anytime soon. Particularly the front slit which left an impression on everybody and seems like it is staying around for a long time as its quite popular. It is a very flattering trend on kurtis as well. It gives an elegant touch to the overall kurti design and is chic and contemporary. This trend suits every lady and is a must-have style!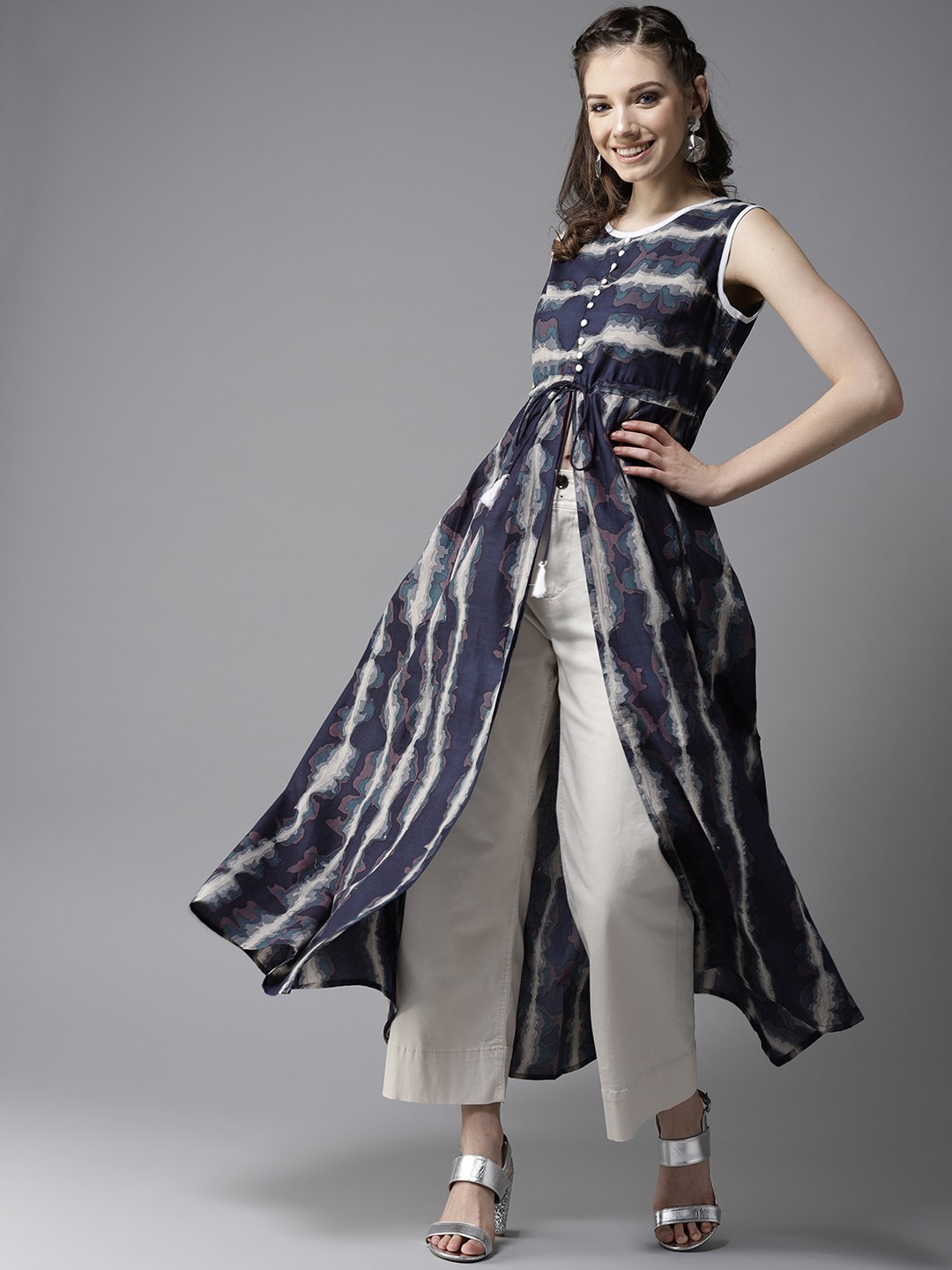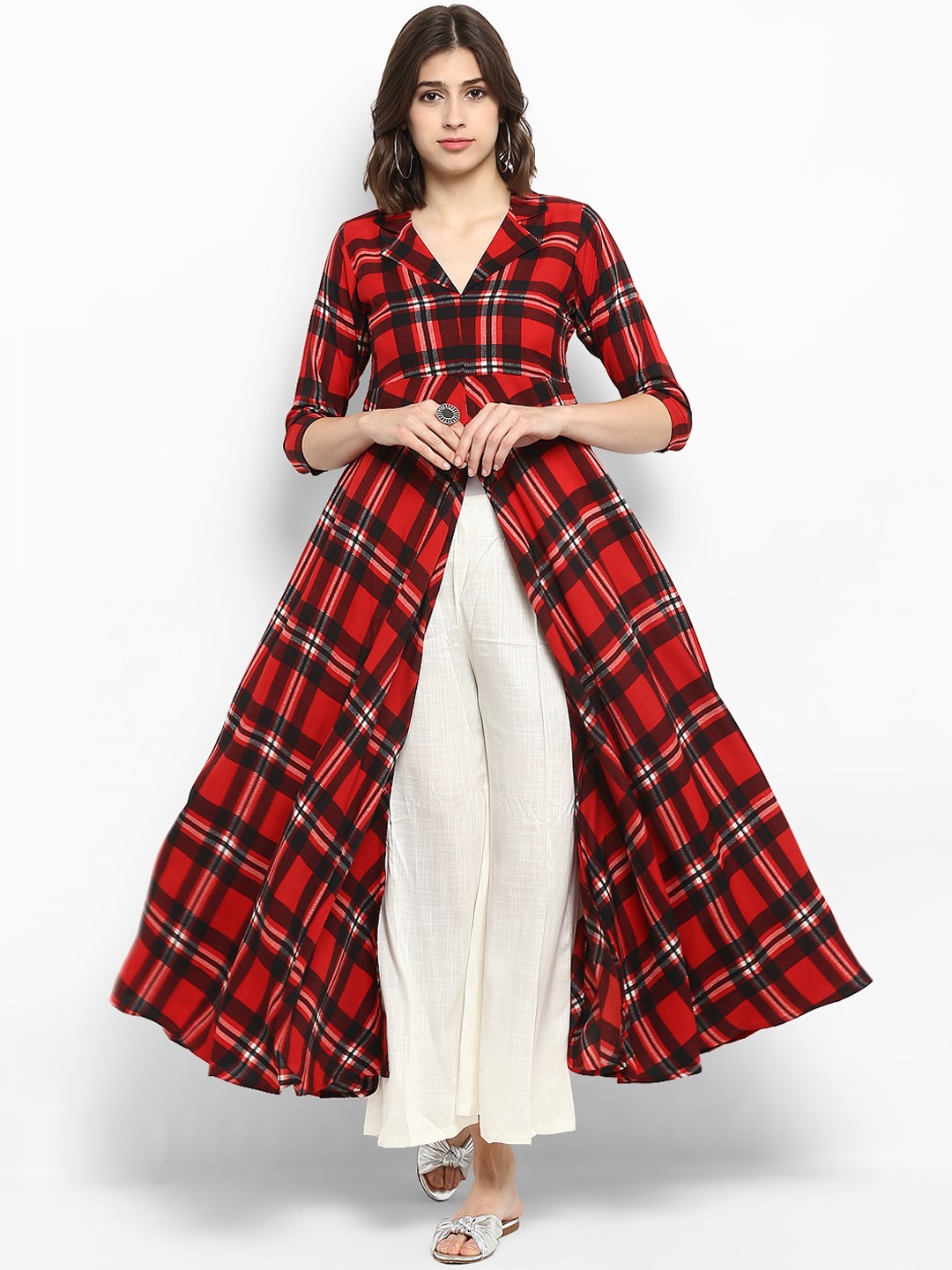 The A-line design of dresses have been around since the late 50s and has made its way back half a century later. This trend is one that never dies and a favourite for good reason. It is a flattering style on many forms as it is fitted on the top and gradually flares as it reaches the hem of the dress. It's modern, very edgy and not overly flowy. This style on kurtis is magnificent and it is a suitable design for many occasions. The added tie-up accentuates the waist giving a slimmer silhouette which is what most ladies always aim for. This style won't disappoint!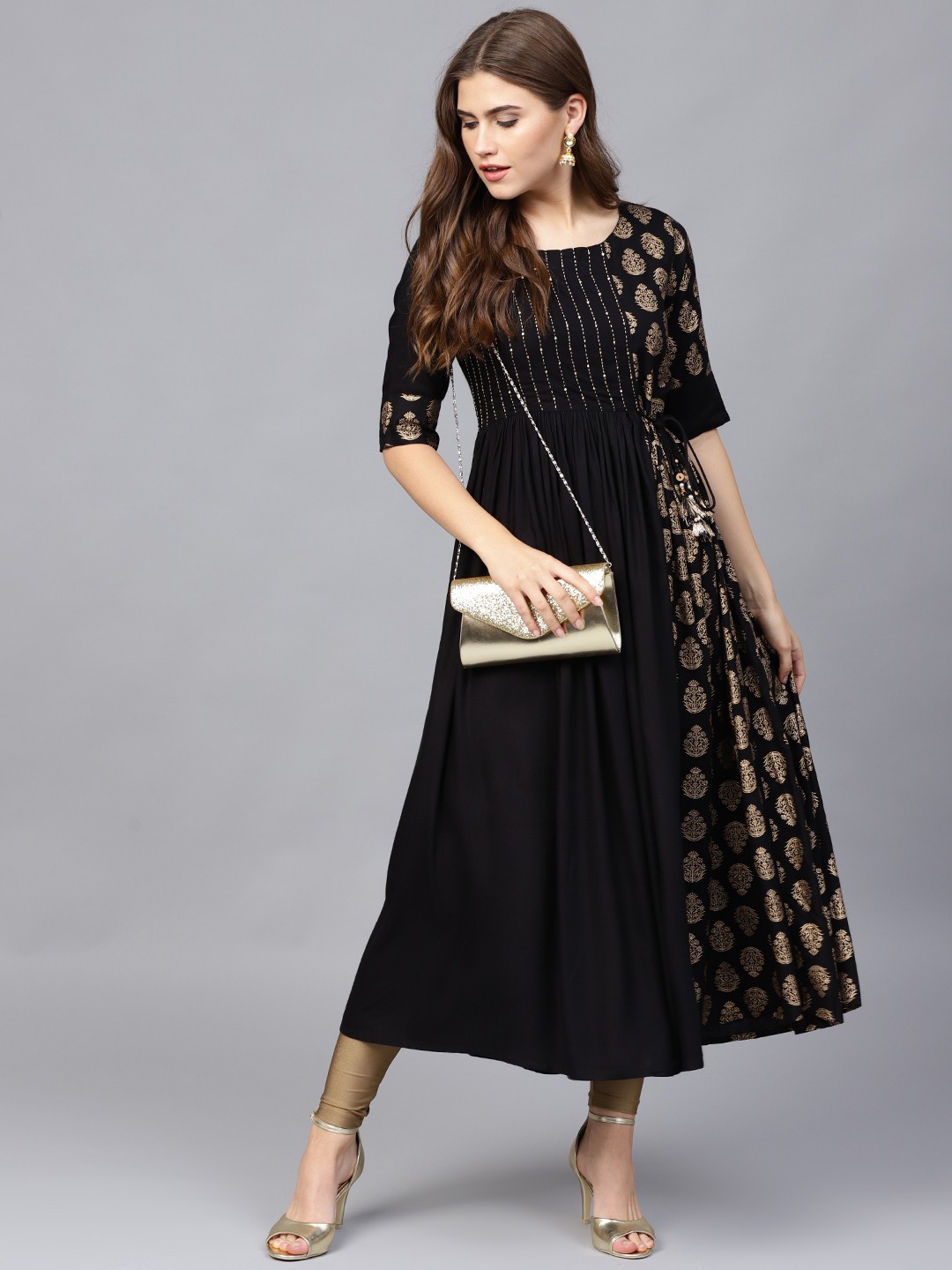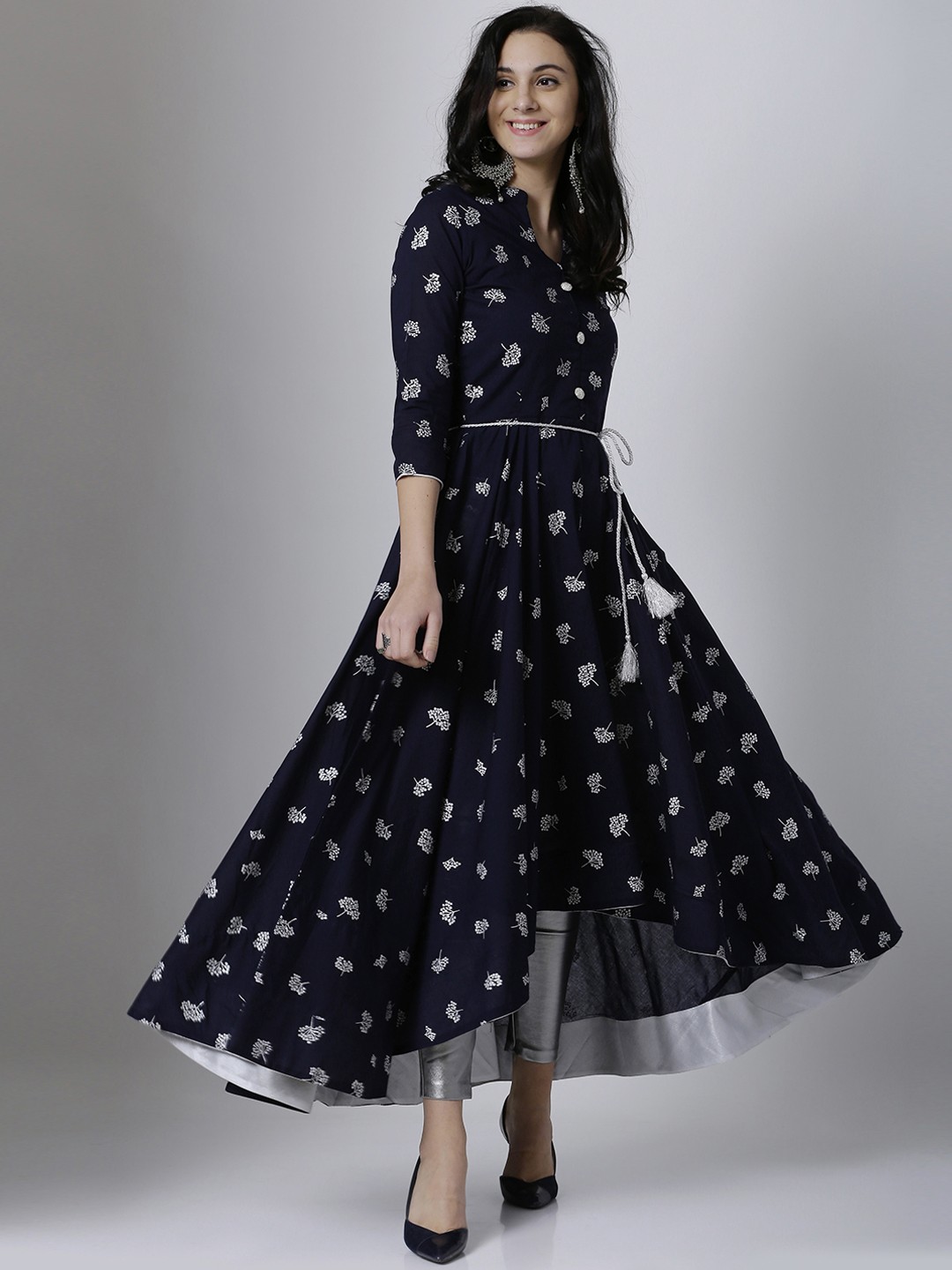 Must Read:-
What draws people to the kurti is the asymmetric hemline which extends from mid-thigh to mid-calf. This This gorgeous kurti is simple yet speaks volumes in terms of classic beauty and elegance. It is suitable for office wear or a casual outing with friends. Pair this kurti with palazzo pants for a more classy and formal look or jeans for a more laid back look.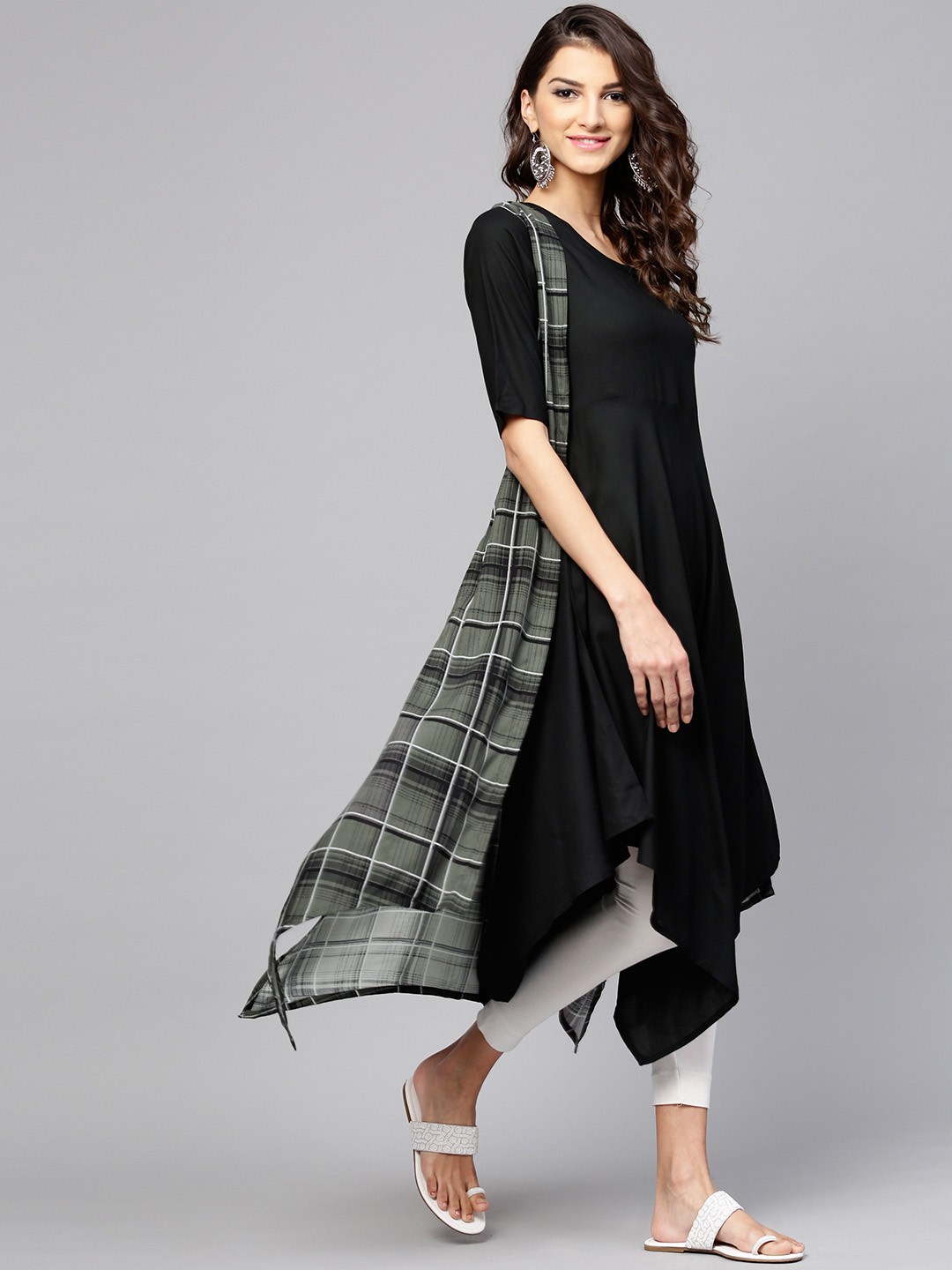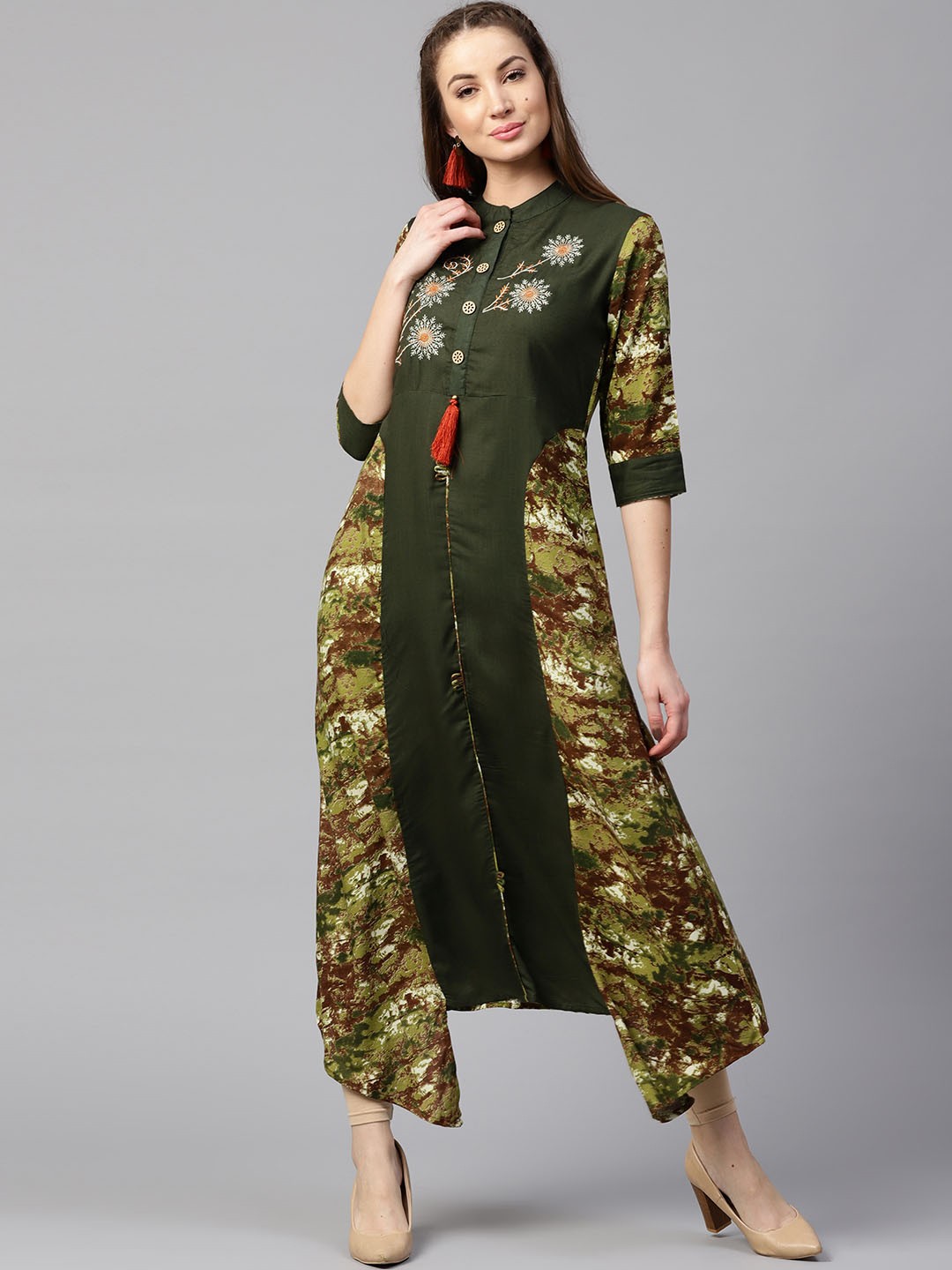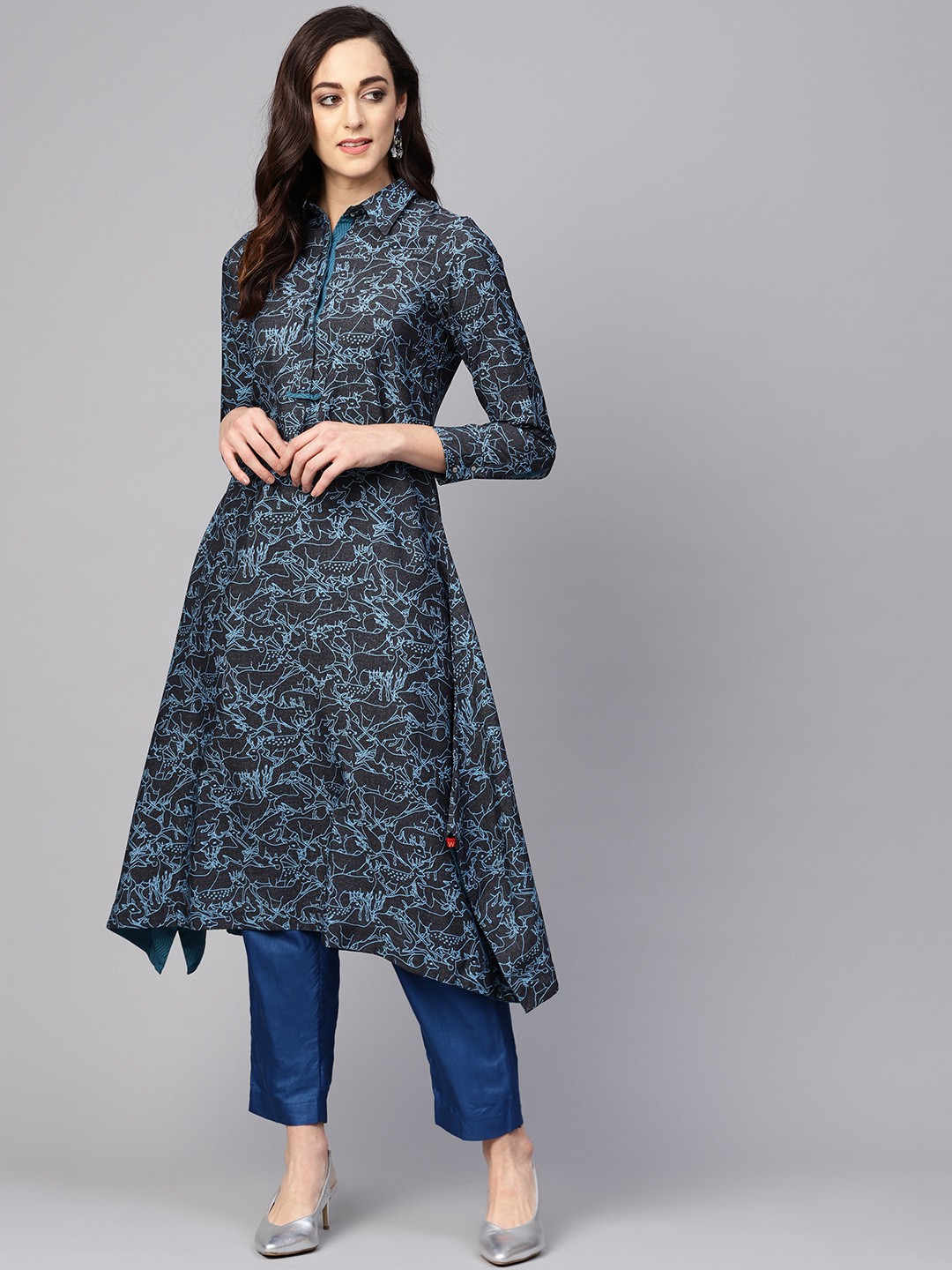 The style that is evergreen and has been around since the time of Mughal-e-Azam. Madhubala made this trend famous when she wore it while playing the character of Anarkali, which is how it got its name. The perfect combination of elegance, grace, and traditional quotient.
The best part about Anarkali Kurti is that it goes well on any body type and fits every occasion; formal parties, office wear, casual, college, etc. When it made a come back in the fashion industry, it was originally paired with Churidar or leggings, but later on, it was seen being paired with palazzos, pants, skirts, and jeggings. It was the most worn trend in weddings, festivals, and other such occasions.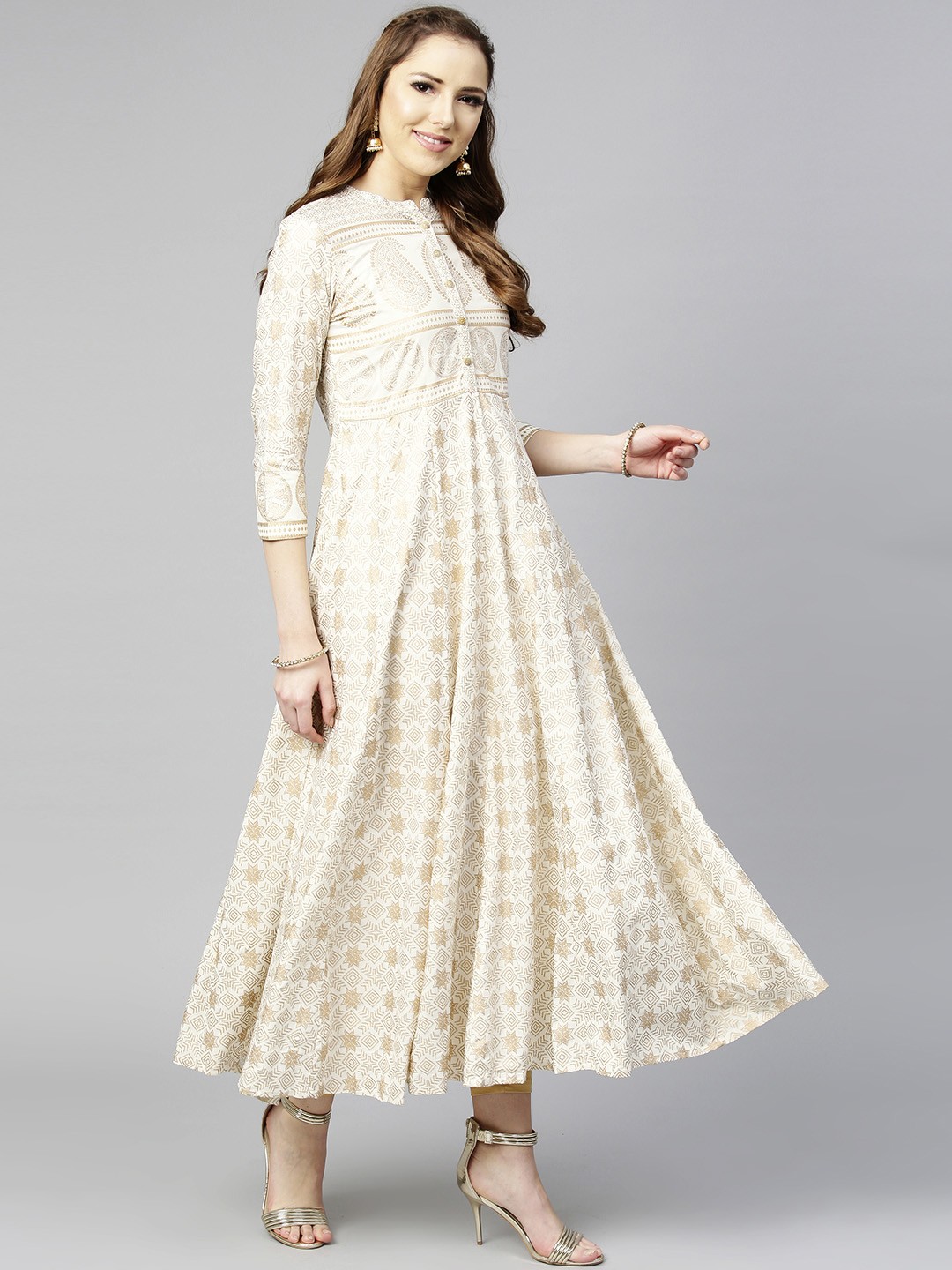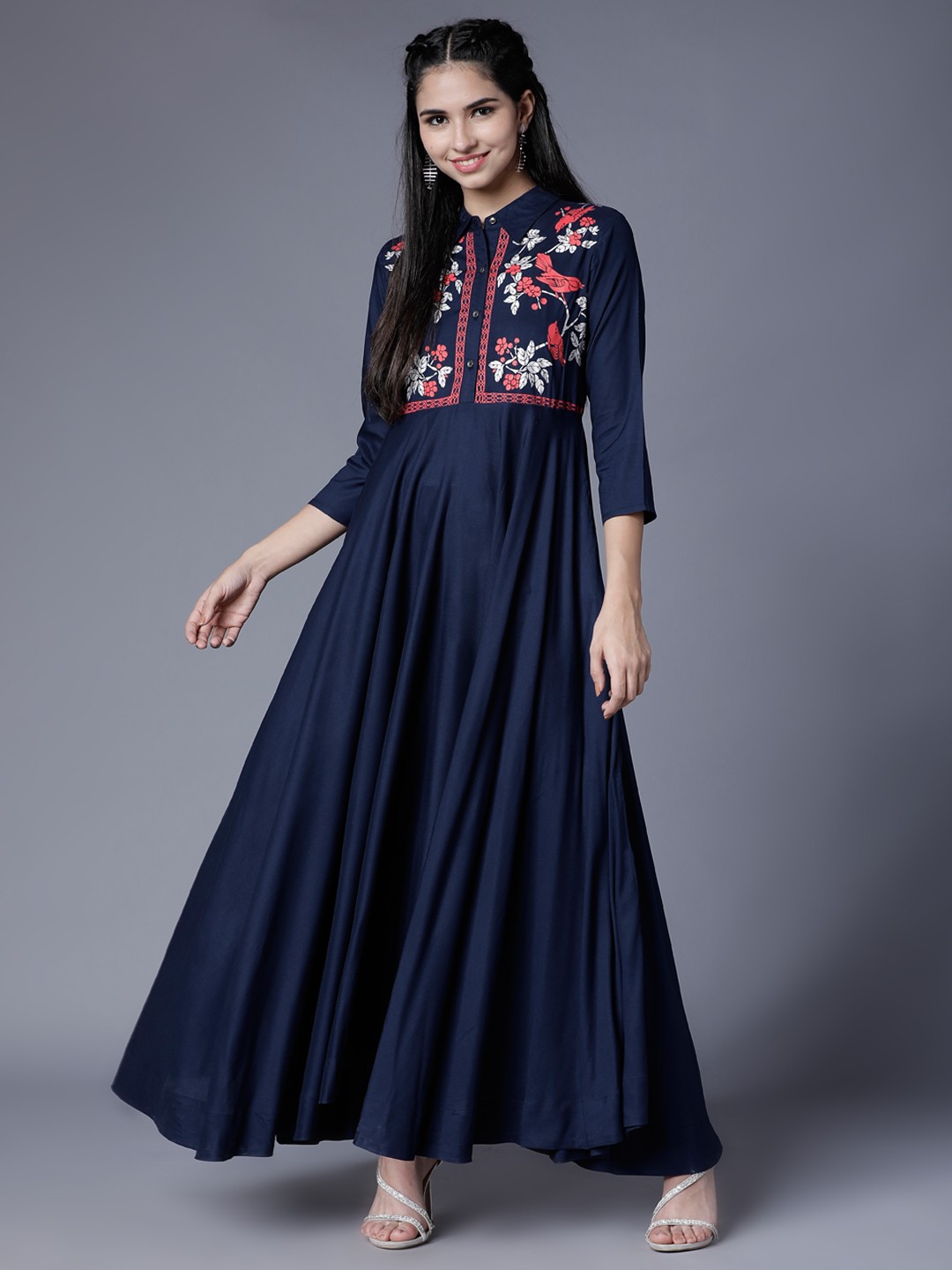 The demand for long Kurti has increased massively in today's date. The tall Kurtis go best with Skinny Jeans, Straight Pant, Palazzo, Tights, Dhoti Pants, to top it, one can wear ethnic jackets. When paired with skirts they make a great outfit and can be worn at parties, day-outings, and brunches. It is a perfect office wear outfit being funky and traditional at the same time.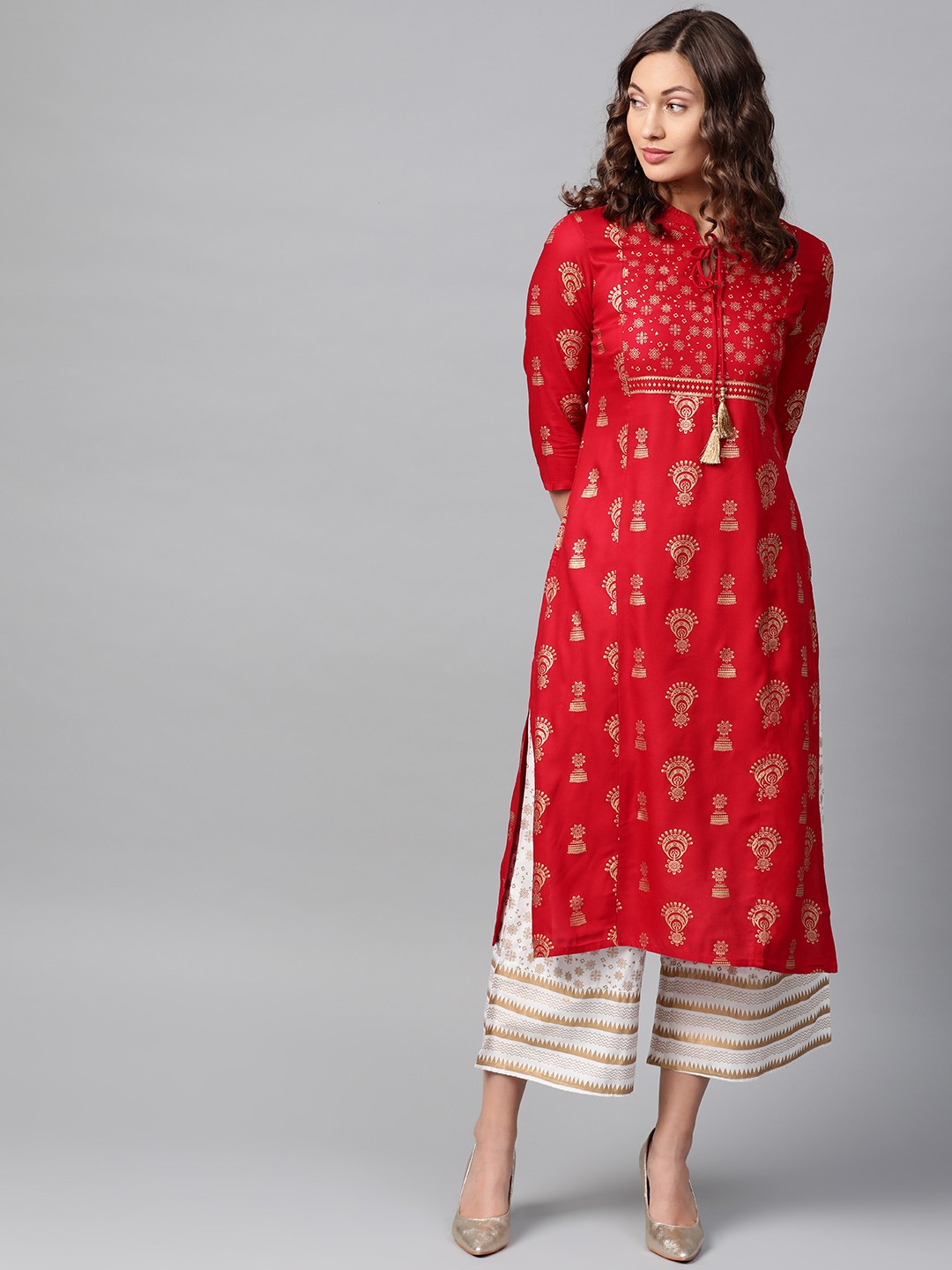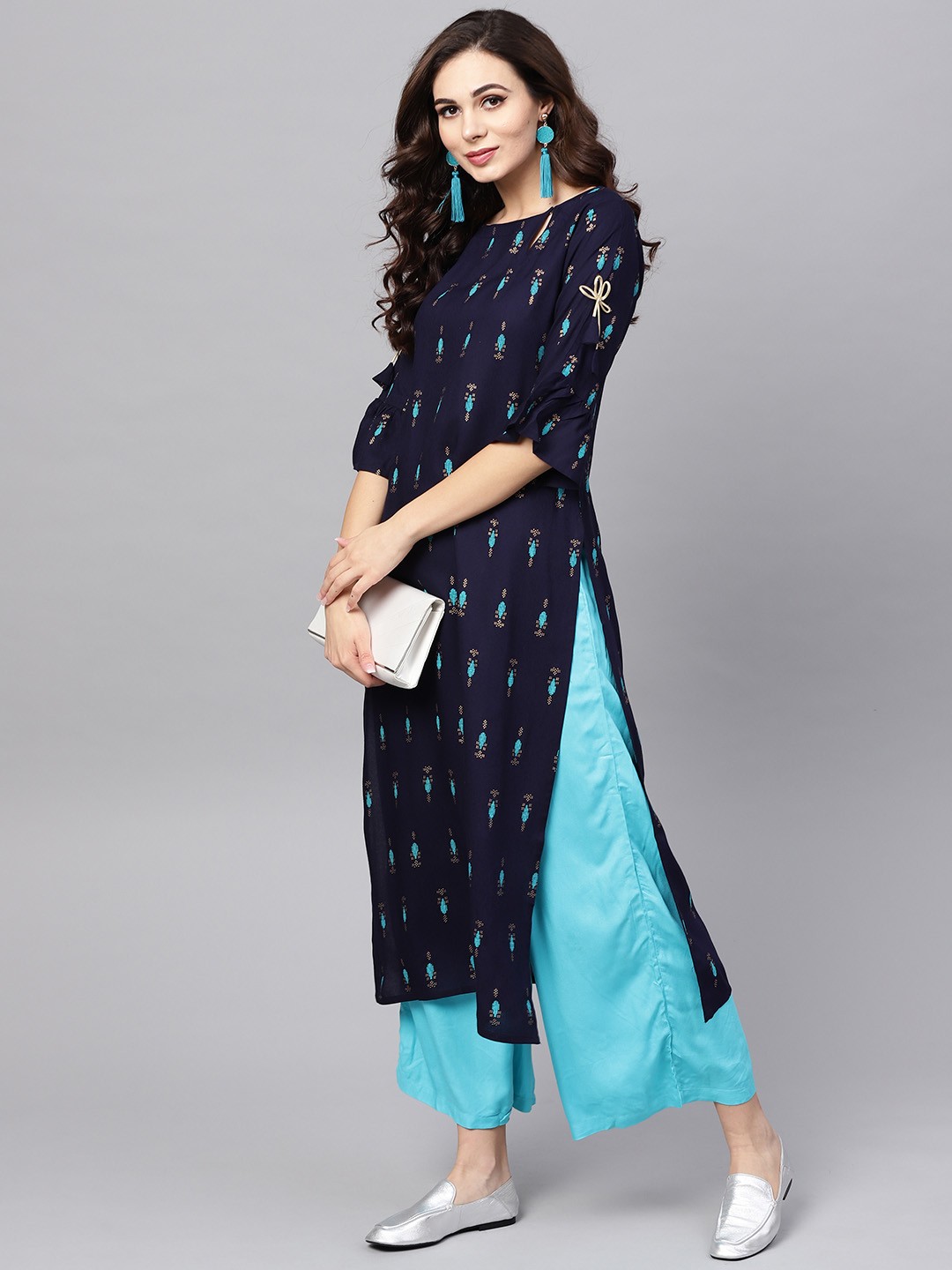 Cowl Kurti is somewhere between asymmetrical and dhoti drape of Kurti, which is a bold and bright outfit for festivals and weddings. The hemline and the falls of Cowl Kurti are unique and stylish, which stands out in parties. Most people wear the cowl Kurti bottomless but can be paired with stockings or leggings according to comfort. Studs Earrings or ear jackets make a classy statement with a clutch along with heels; Sandals, peep toes, stilettos, bellies take a pick.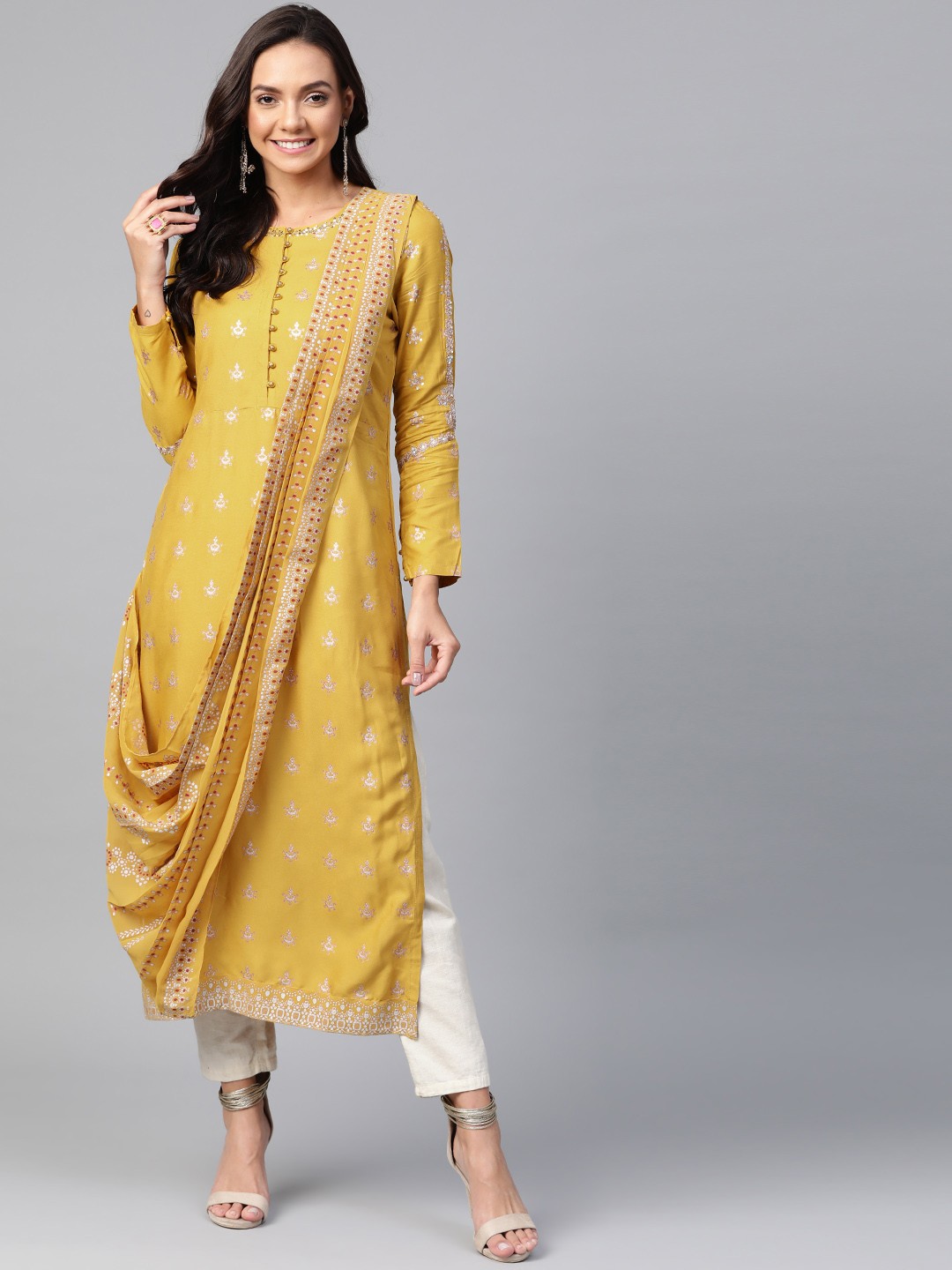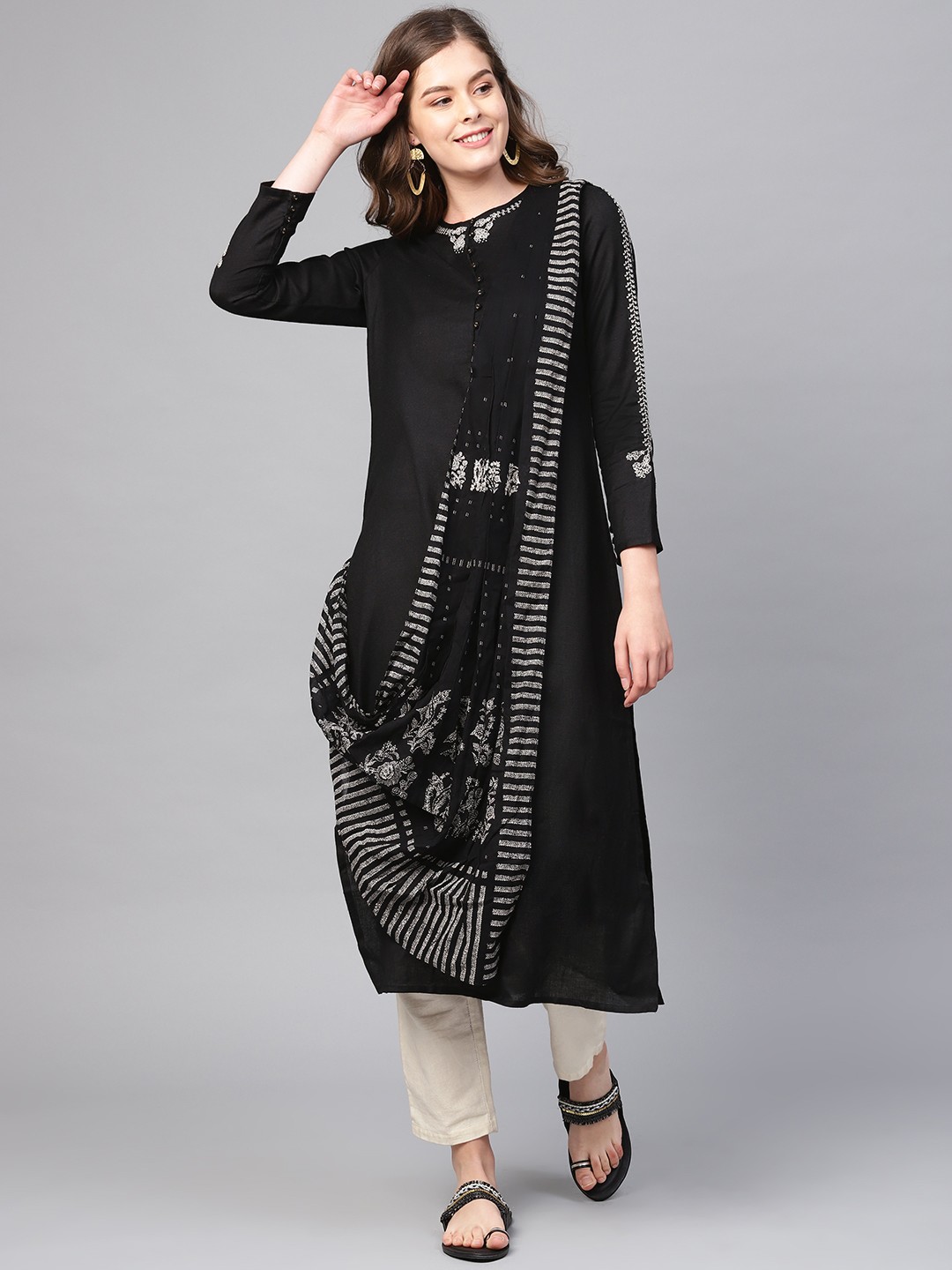 Interestingly, Angrakha in ancient times was worn by the musicians of the royal court. This Kurta was worn like a jacket and has two contrasting or similar flaps that lay on each other and are tied together at the side of the chest with the help of dori or straps. The dori of the Kurta has small Latkaan, tassels or pom-poms at the end to add more glamour to the attire.
Now, in the modern world, the trend is worn by women on an almost daily basis. The Kurti makes great casual wear or office wear and can be paired with leggings or churidars. The Kurtis come in various fabrics like Chiffon, Georgette, Net, cotton, Chanderi, and silk, making it wearable in all seasons.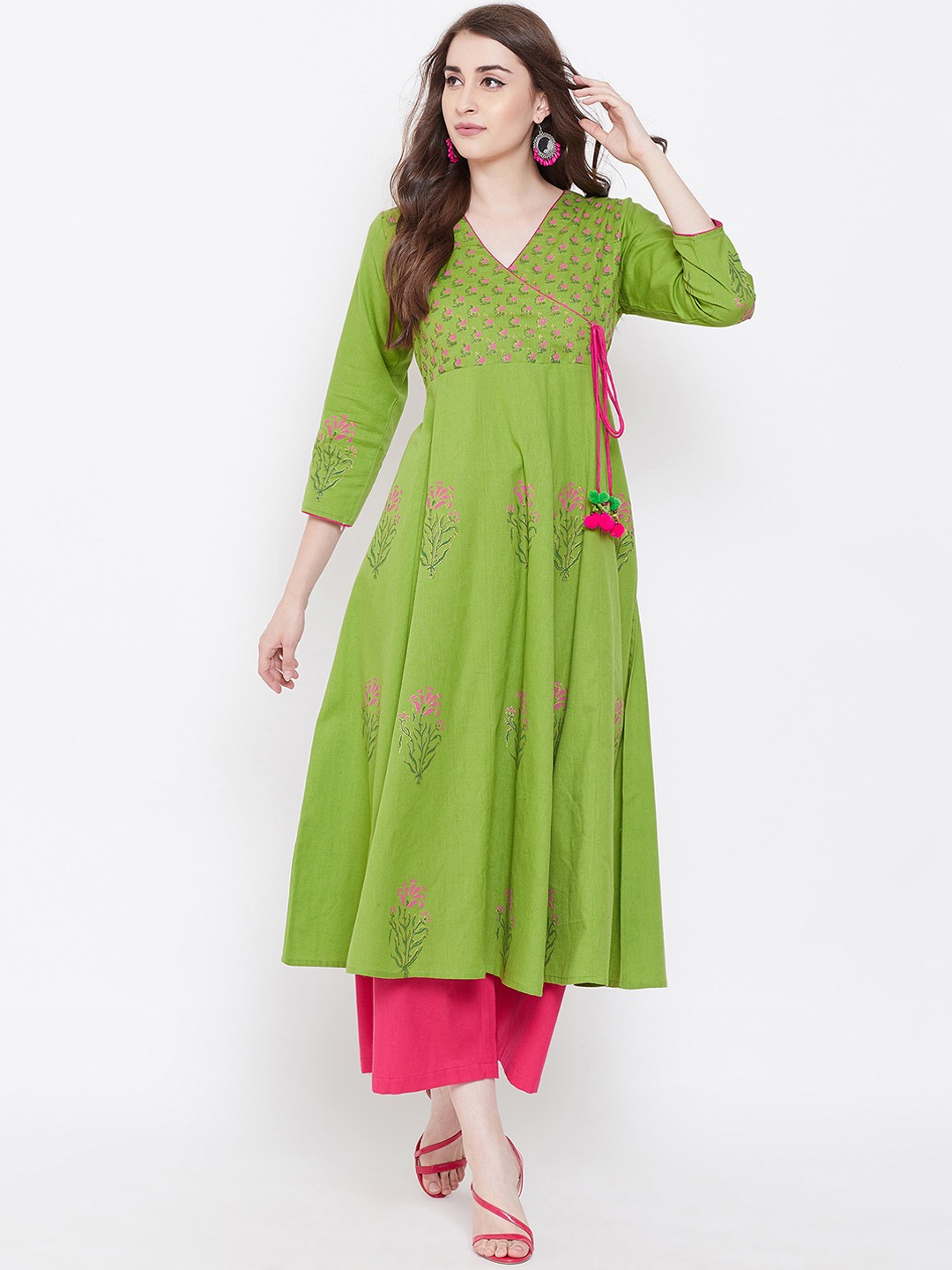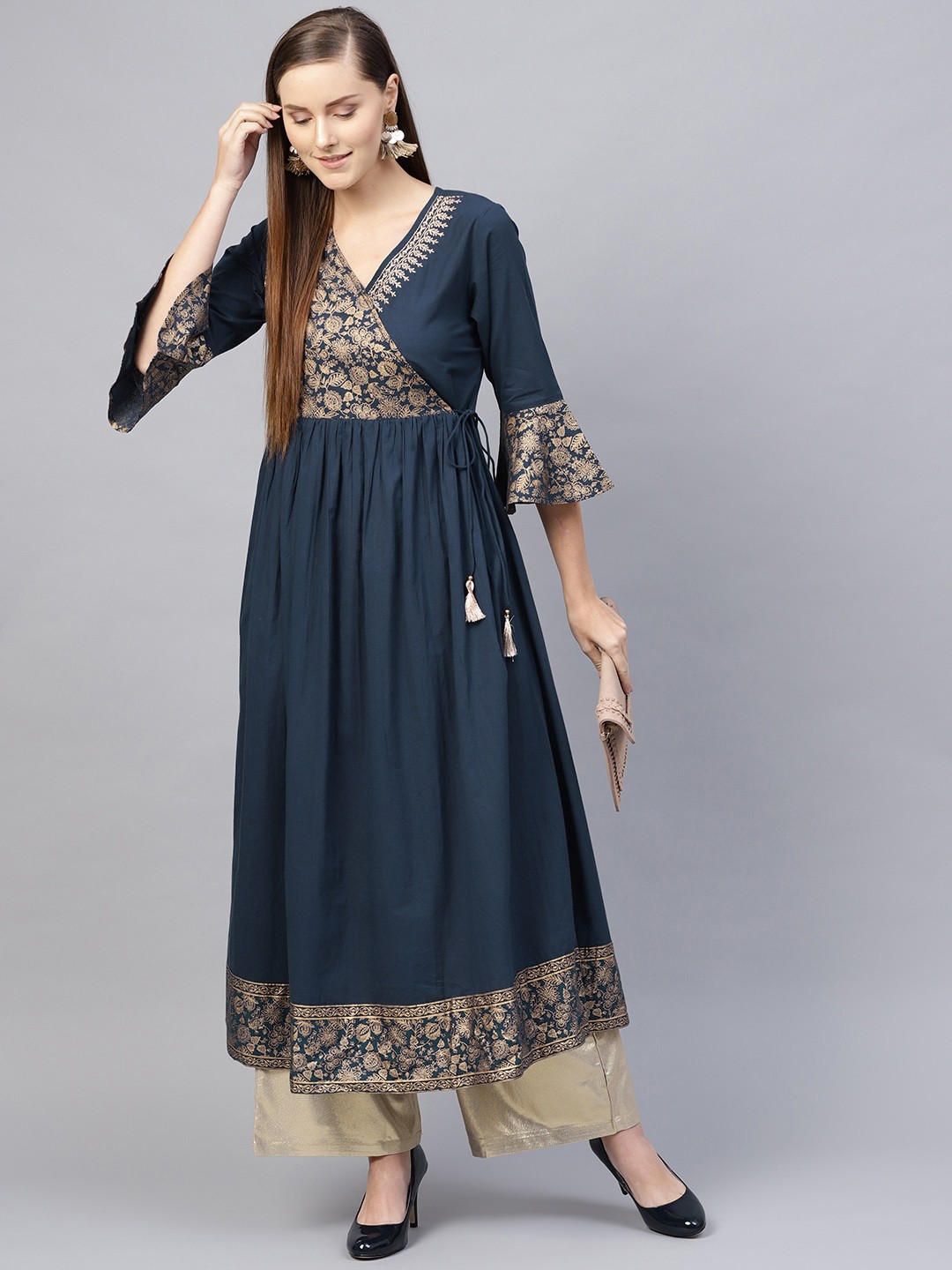 If you know anything about fashion trends, then you would know Cold Shoulder, which has basically taken over the industry, be it grand events like weddings, or as casual as a daytime outing with friends. Cold shoulder Kurtis are paired with pants, palazzos, jeggings, leggings, bottomless, or jeans depending on the length you opt for.
The cold shoulder can be pretty much considered as an accessory, which is why you can tone down on jewelry, a long pendant and stud earrings with cold shoulder would be sufficient and fantastic. Heels, chappals, flats anything works as footwear in the casual setting.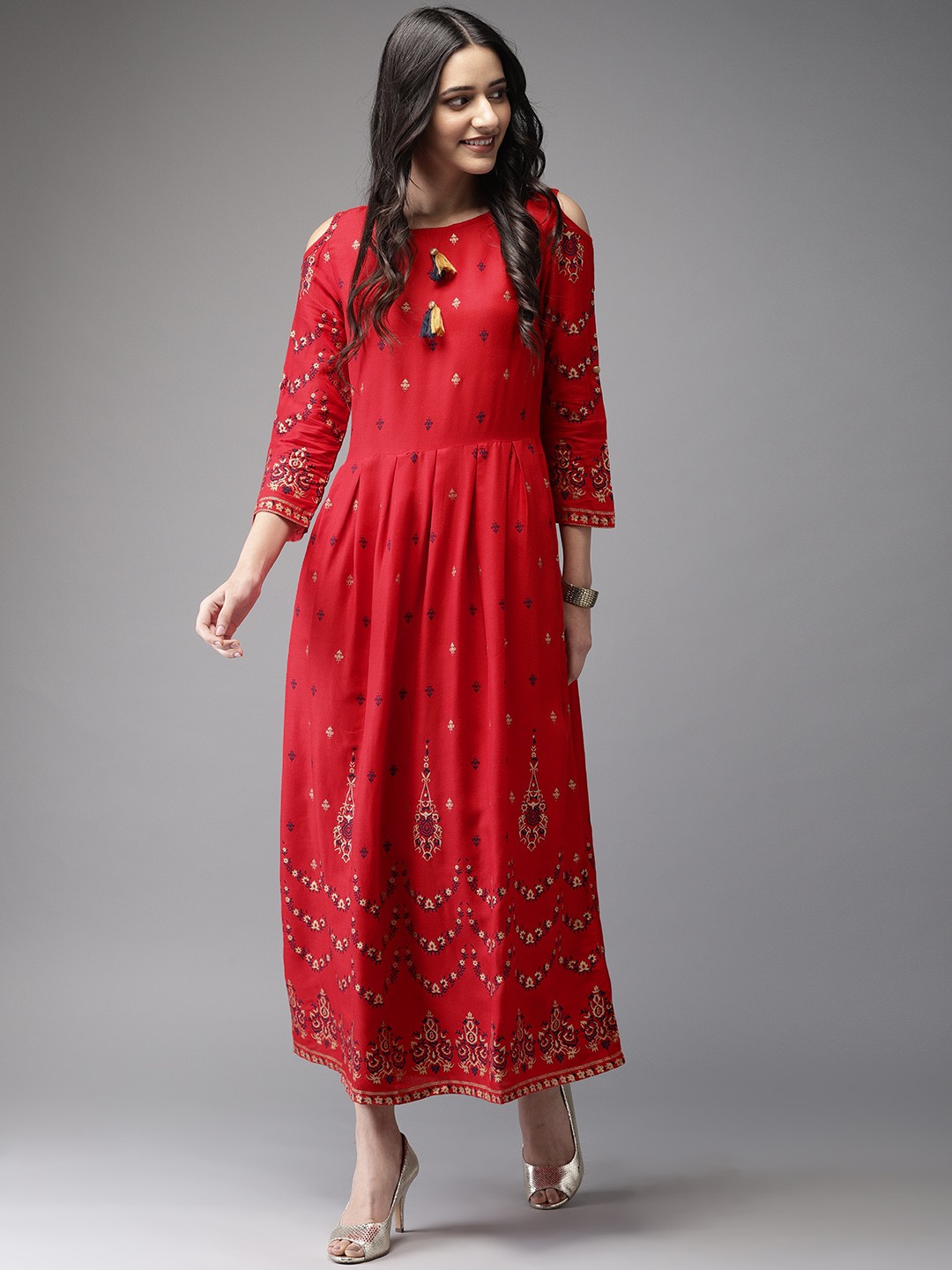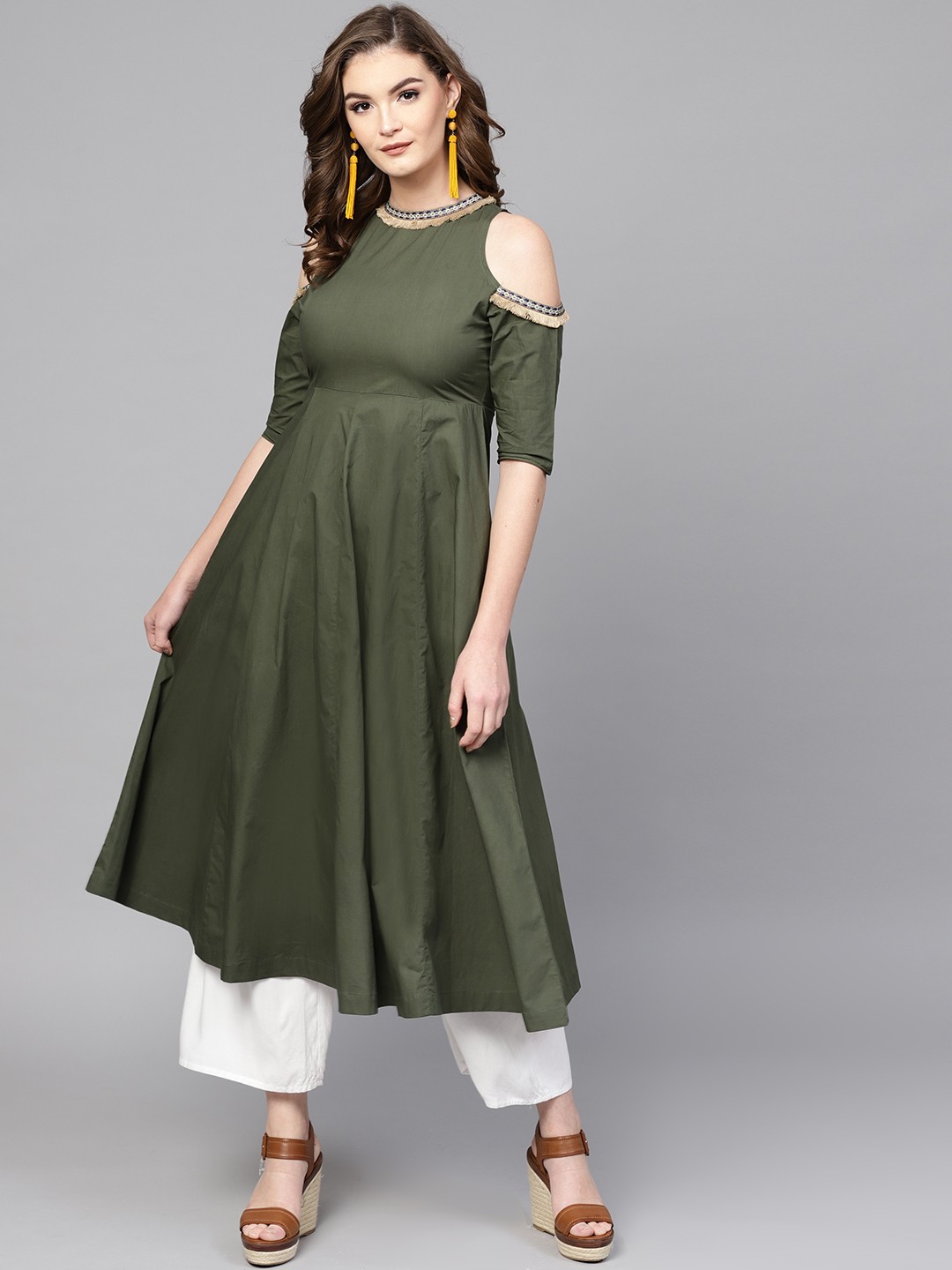 Must Read:-
This urban and contemporary kurti gives off a modern and stylish aura making you stand out from the crowd. If you like being the centre of attention then you would love this edgy kurti. You can pair this attire with leggings or jeans and heels, and go out and about with friends in style.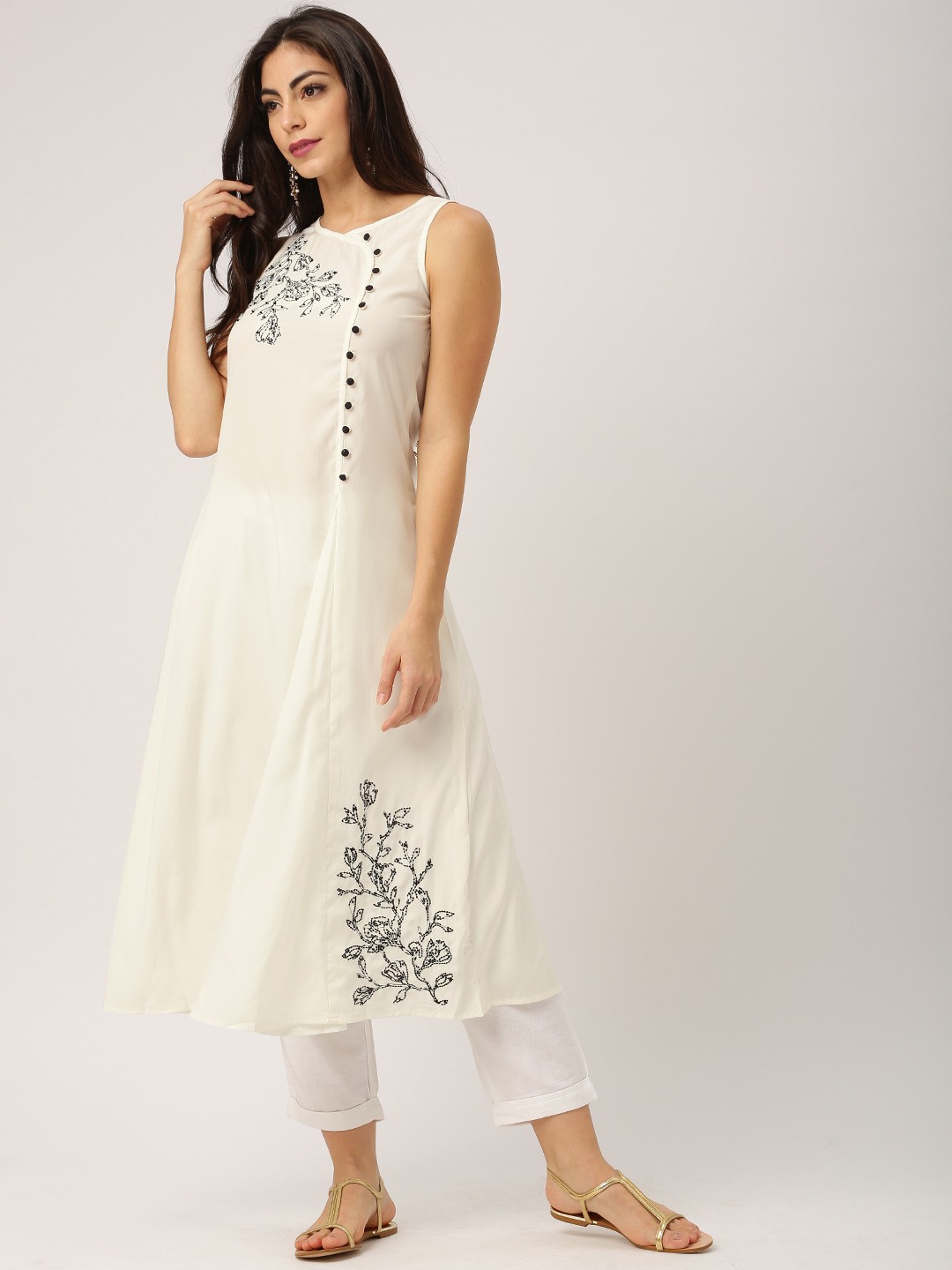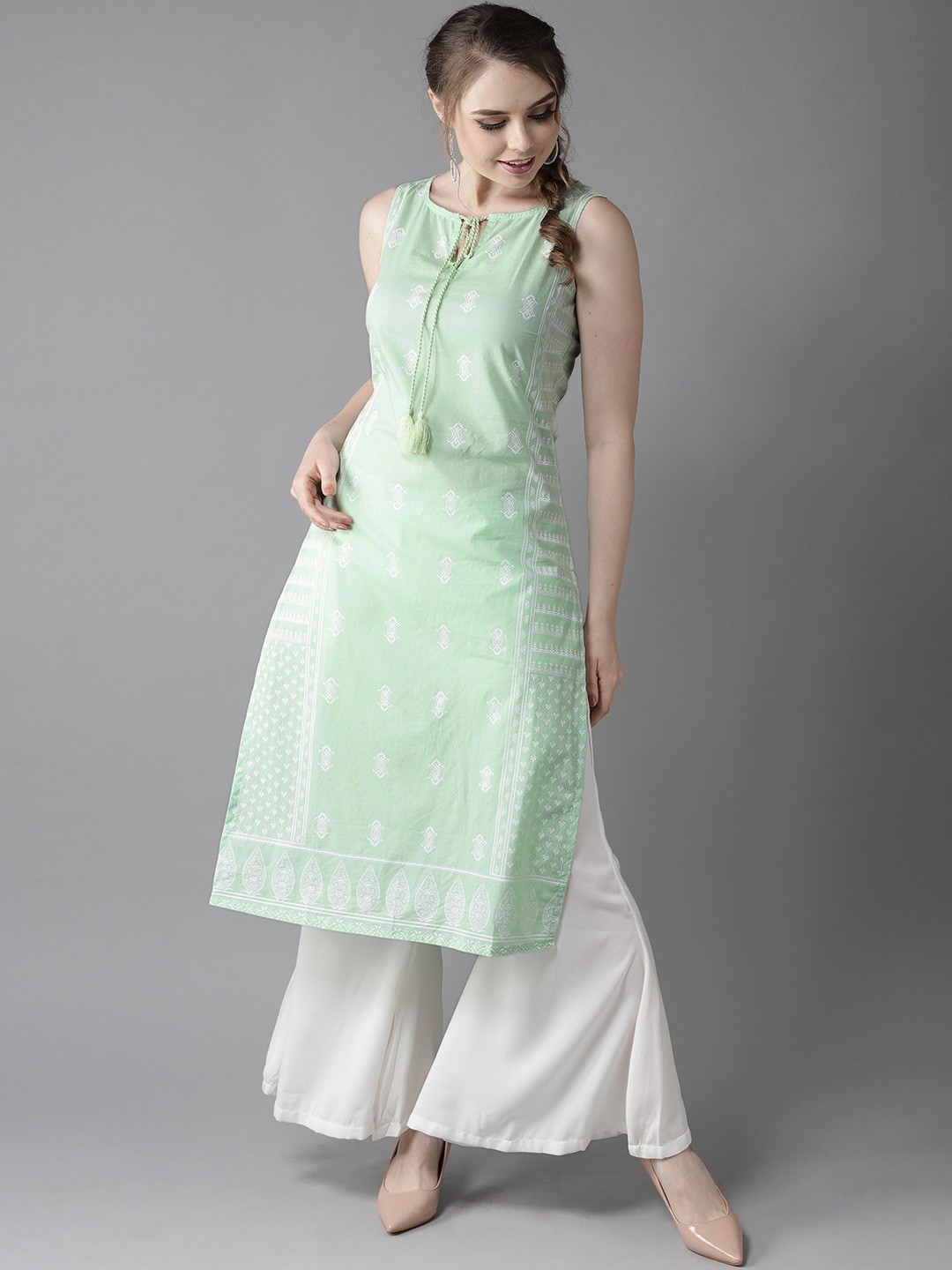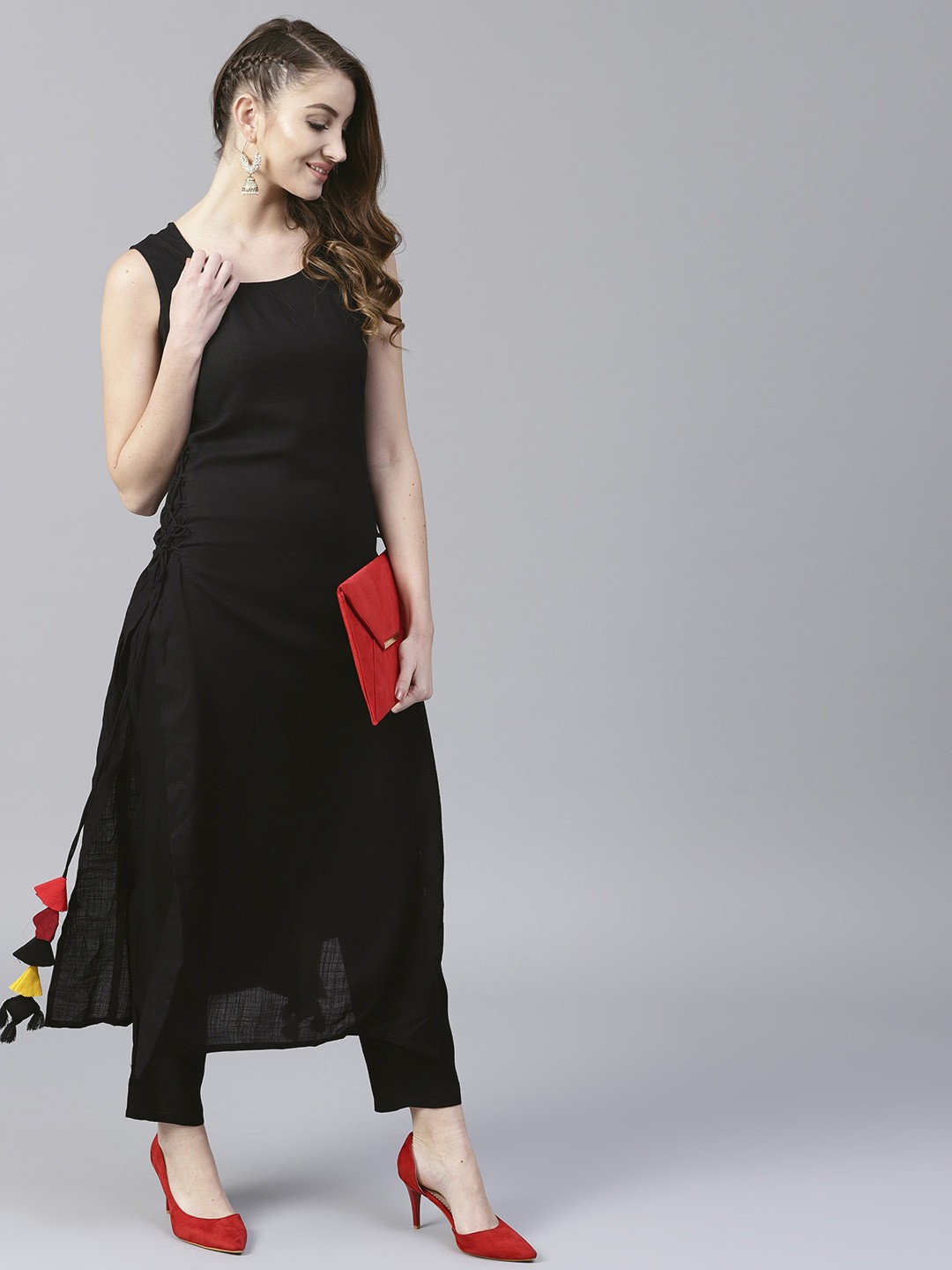 One of the most sport and trendy Kurti in the market which can be worn as a dress and with shoes is Tiers Kurti. The fashion industry is competitive and filled with creative geniuses. The Kurti can be worn in different lengths, long tiers Kurti might be straight or flared, which can be paired with churidar, leggings, and treggings.
The knee-length and calf-length can be paired with palazzos, salwar, or Patialas. They are an excellent choice of outfit for festivals, weddings, office wear. Both ethnic and modern jewelry goes with the Kurti, pick the accessories according to the look you're aiming for.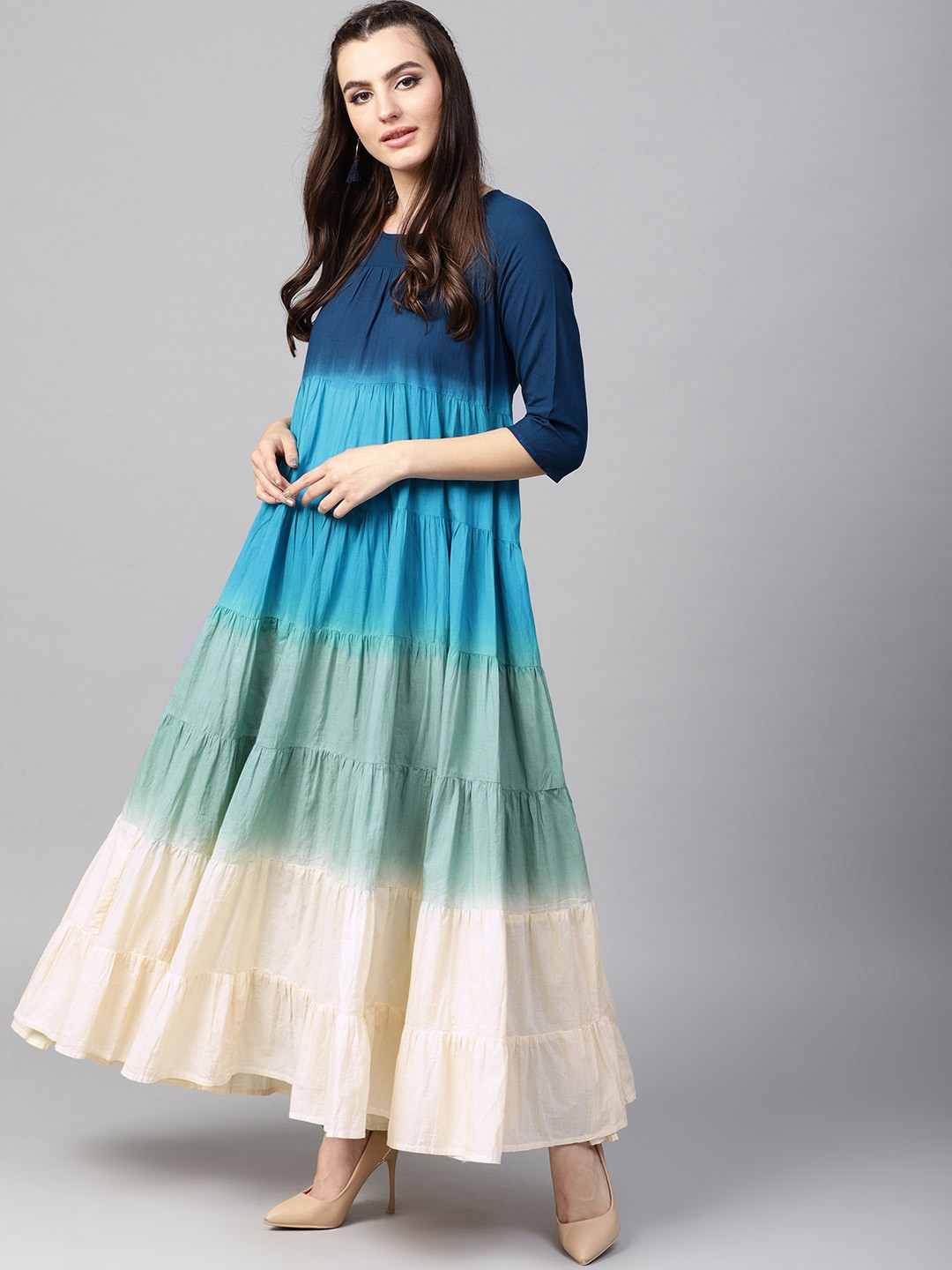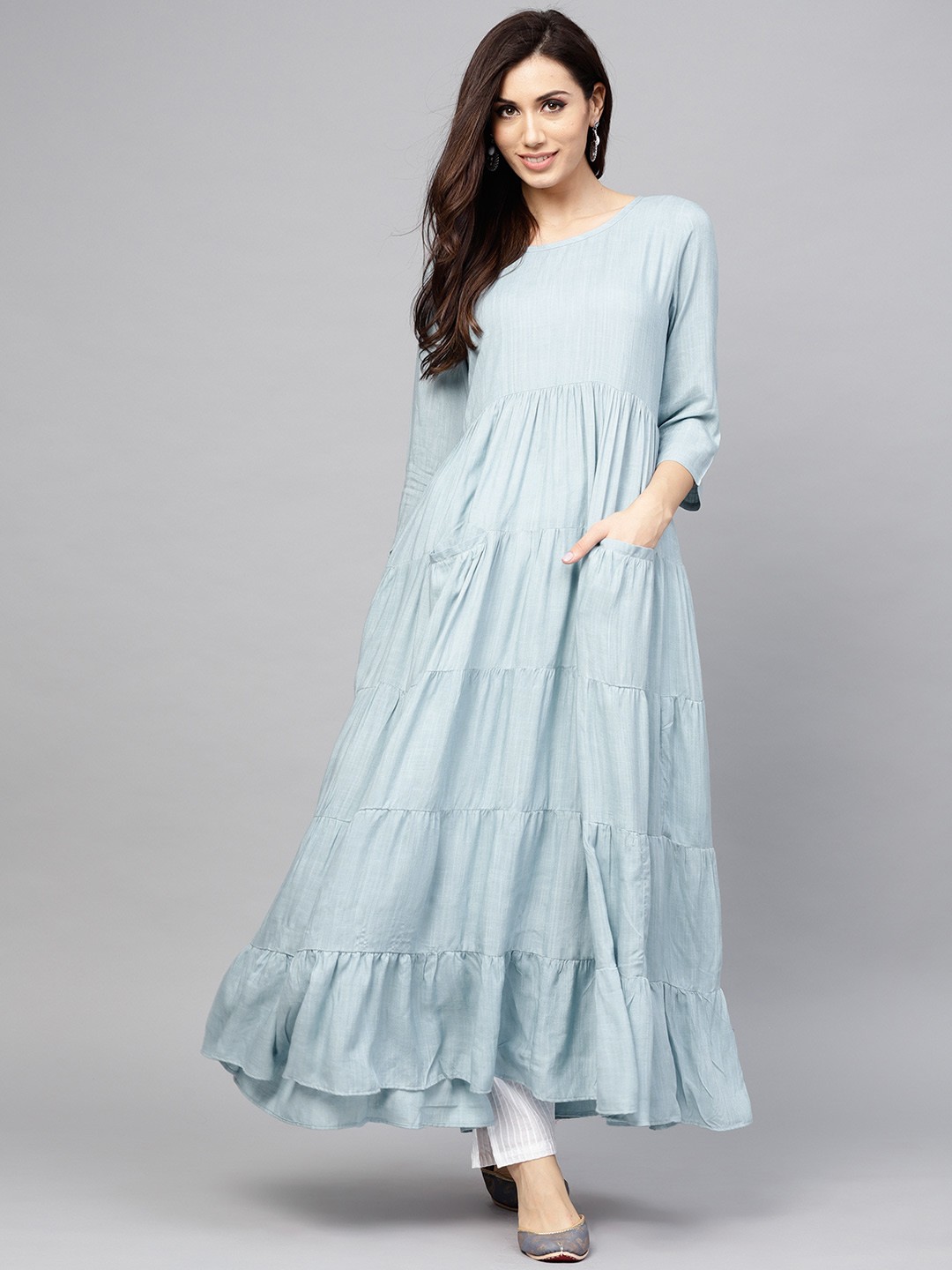 As the name suggests, double-layered Kurti is designed with two layers, giving more flare to the outfit. It shouldn't be confused with overlay Kurti, double-layered Kurti has a layer stitched and isn't a two-piece. The layers can be contrasting and entirely of different colors in combination or of the same color family the light and dark shade.
Currently, they are one of the most demanded garments in the market. They look brilliant when paired with jeans, leggings, churidars, palazzos, jeggings, and tights. Maintaining the ethnic look of the Kurti, it can be accessorised with traditional Indian jewelry made of gold, in artificial one can use spike or multilayered necklaces, along with beautiful drop earrings or ear jackets and a nice clutch or totes bag.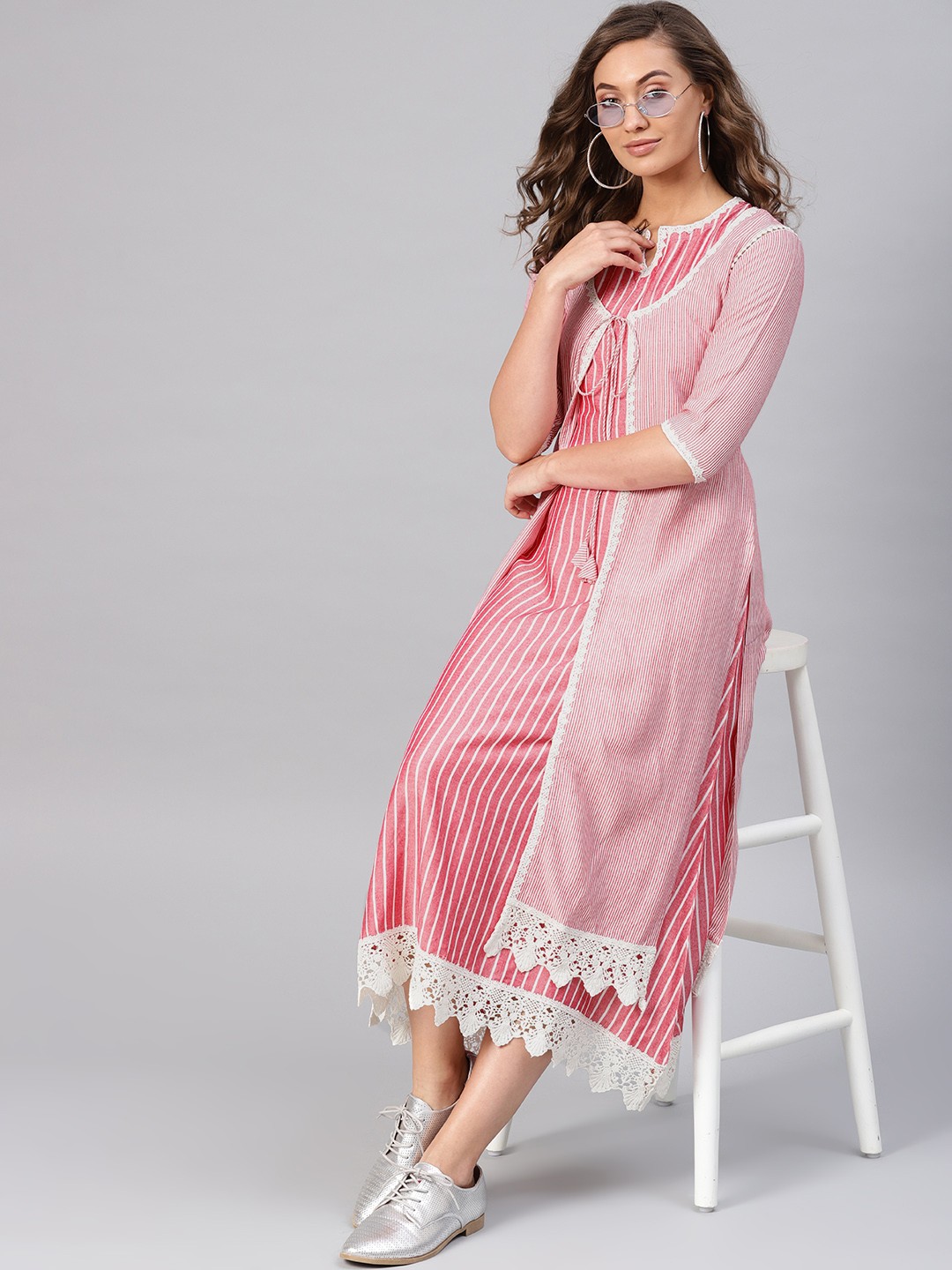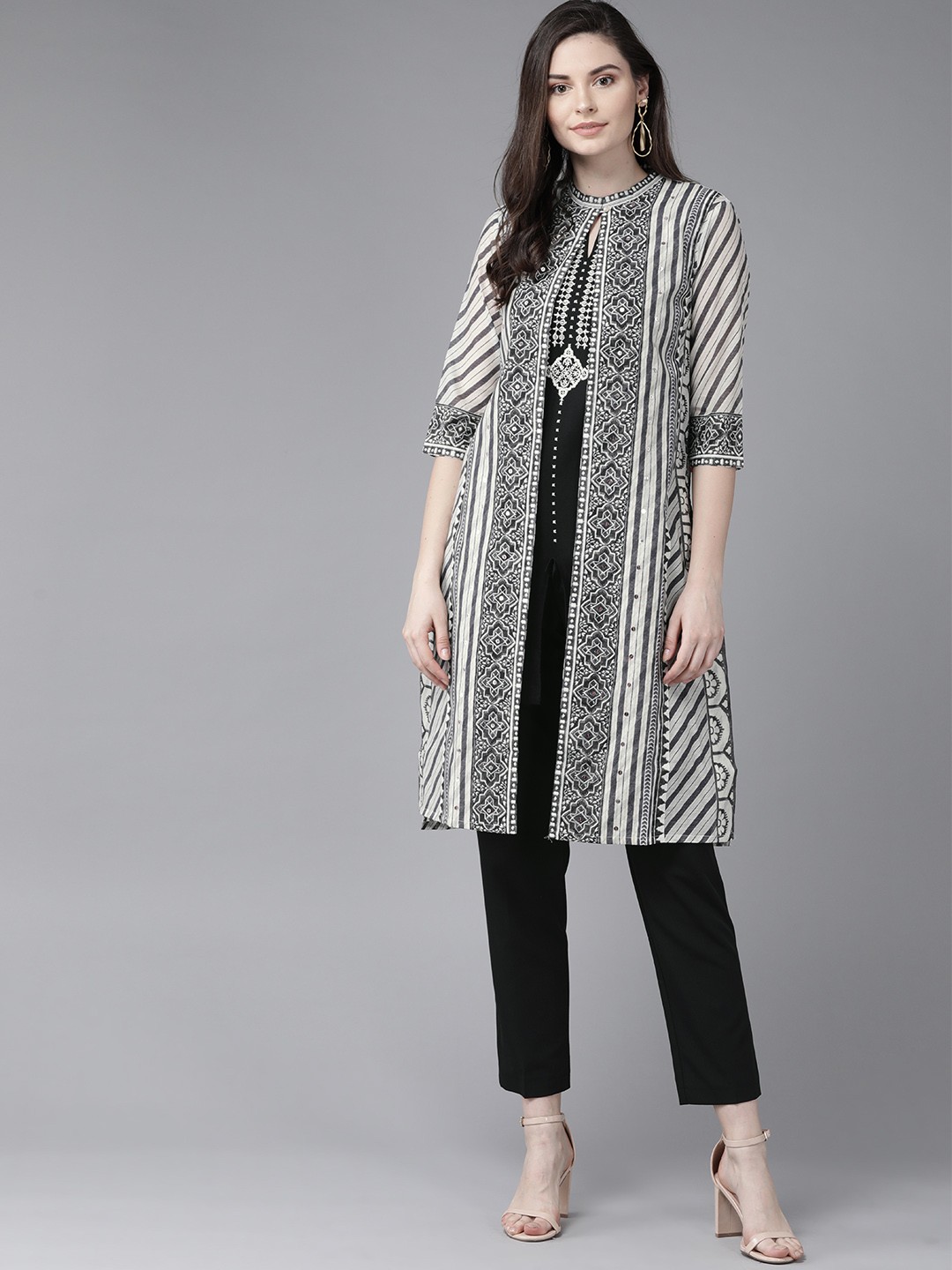 Deepika Padukone through her movie Love Aaj Kal brought back the printed Kurti trend or at least got everyone's attention. Printed Kurtis are simply digitally printed fabric made into Kurti, they can be of any style and still look brilliant though only for a casual setting, colleges or office wears. They can be floor-length, knee-length, calf-length, asymmetrical, A-line, or with slits, which would go beautifully with a skirt.
One can wear it with the same color or contrasting leggings or jeggings, palazzos, or jeans. But for an edgier look, one can wear it with Patiala or Dhoti pants. For a funky look add a scarf, hoops, and a sling. For office wear, one can wear accessories with handheld bags or laptop bags, a watch, sandals or bellies.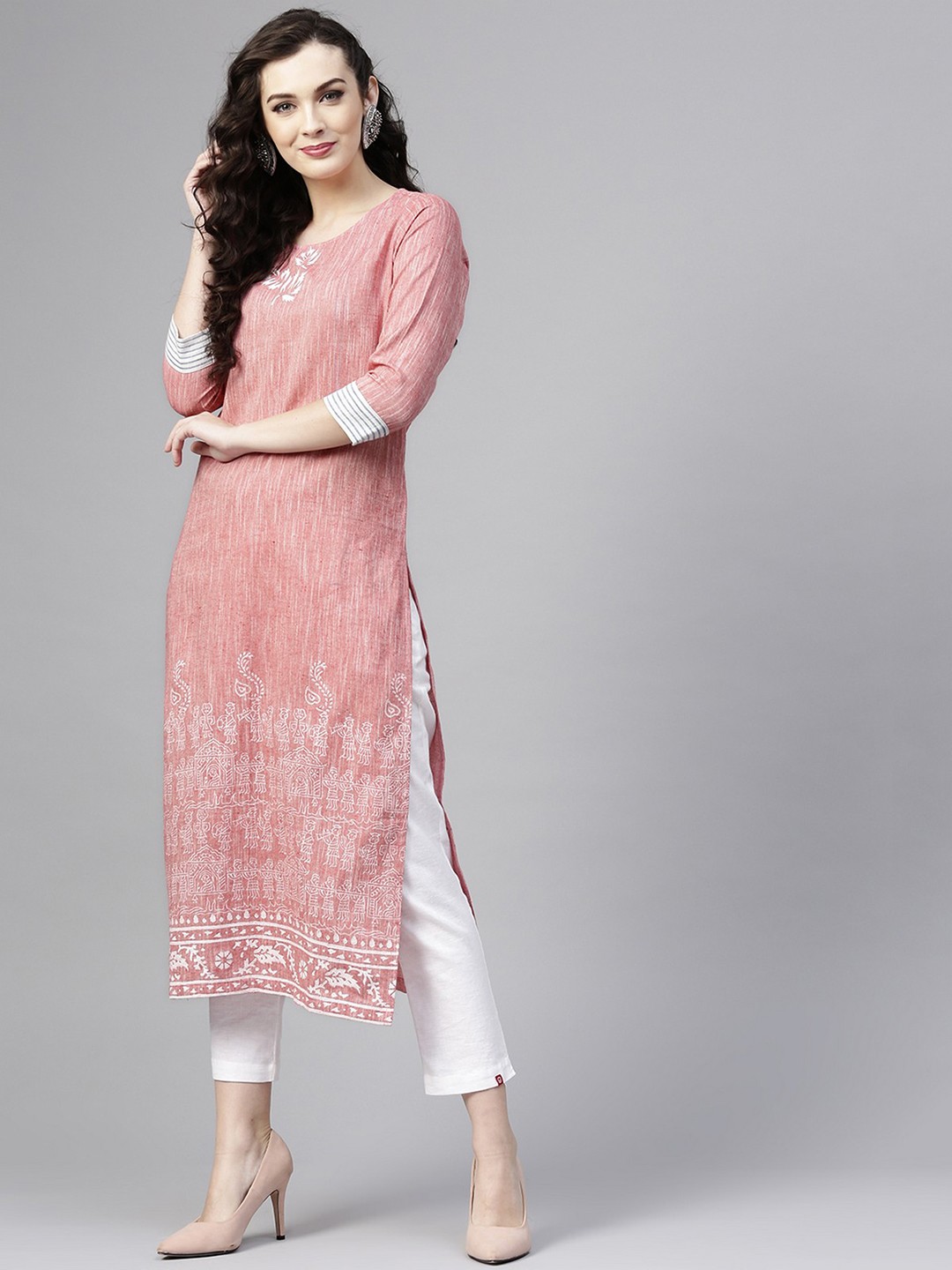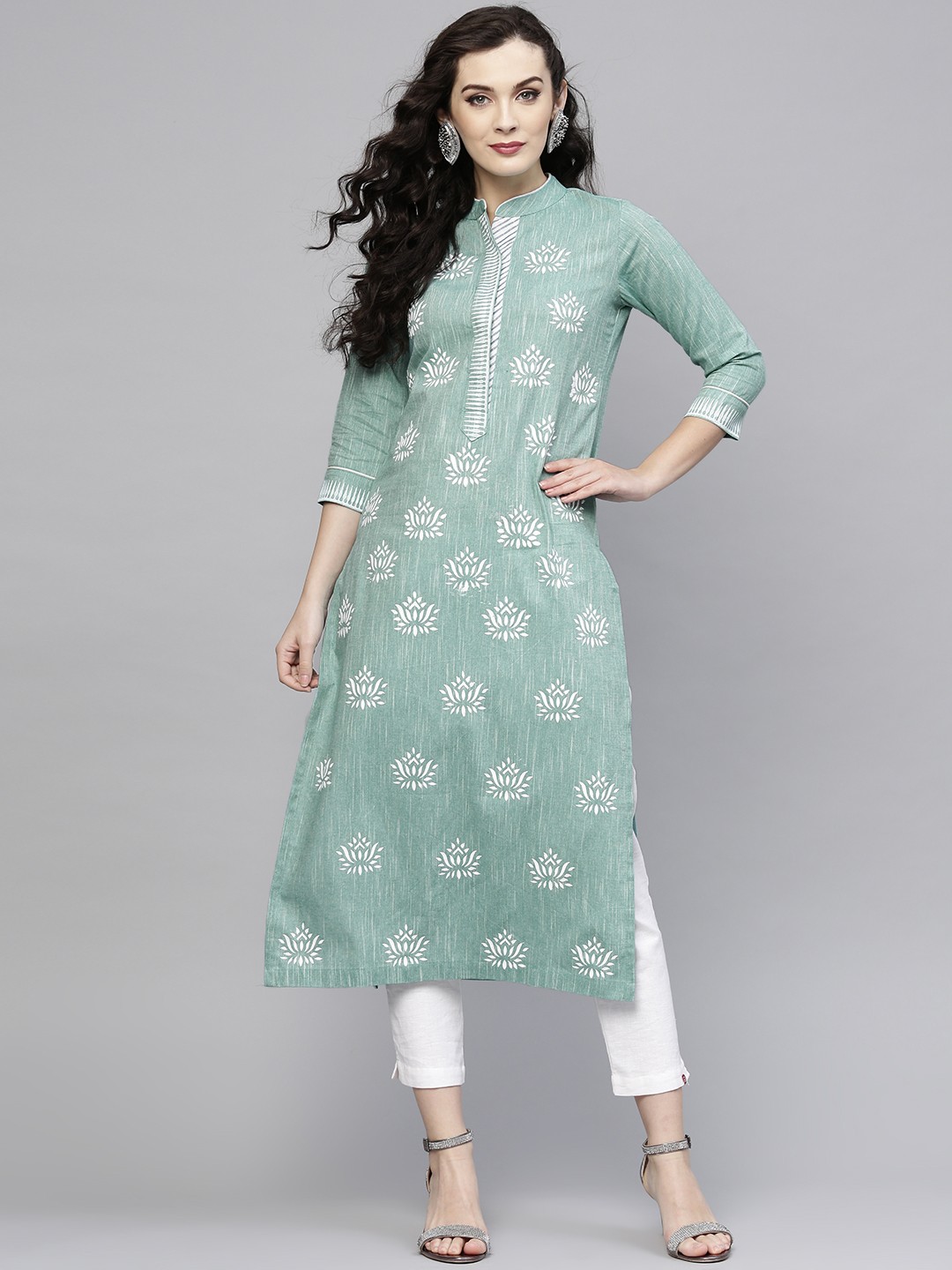 Denim came in trend within the 90s when Urmila and Aamir brought them into notice in their movie Rangila. The trend never went away. With the evergreen trend makes you look rugged and sporty was later fused with traditional wear and made into denim Kurtis.
The denim Kurtis are worn for casual events and settings due to the ruggedness. The slit version of the Kurti can be worn with a skirt, while the simple one goes with many bottom wears like jeggings, leggings, palazzos, treggings, jeans, and tights. A sling bag would add more edge to the look with minimal accessories like a scarf or watch, or a bunch of bangles or kadhas in one hand. One can wear the Kurti with white shoes, or flats, heels, and sandals, as per their choice.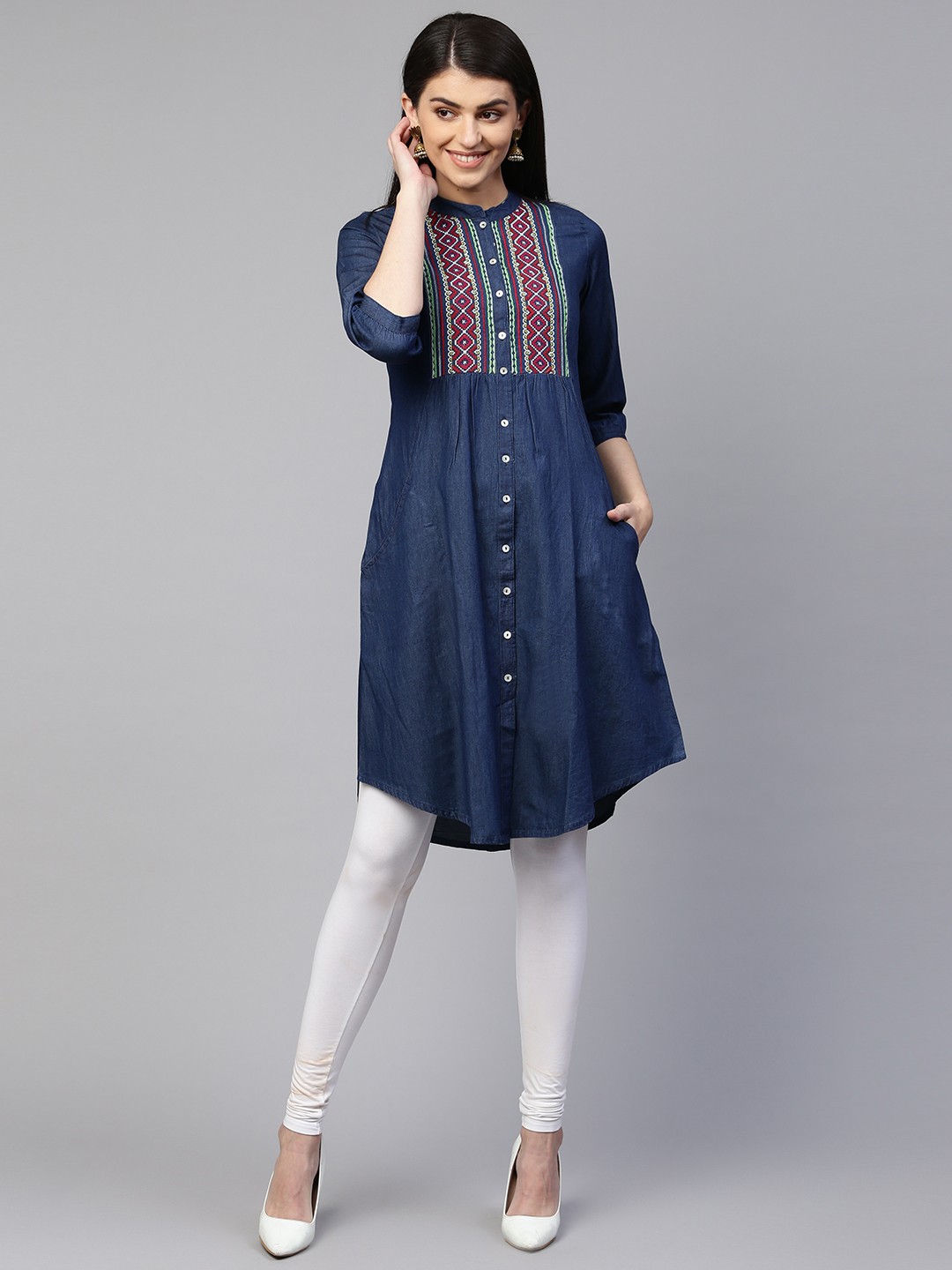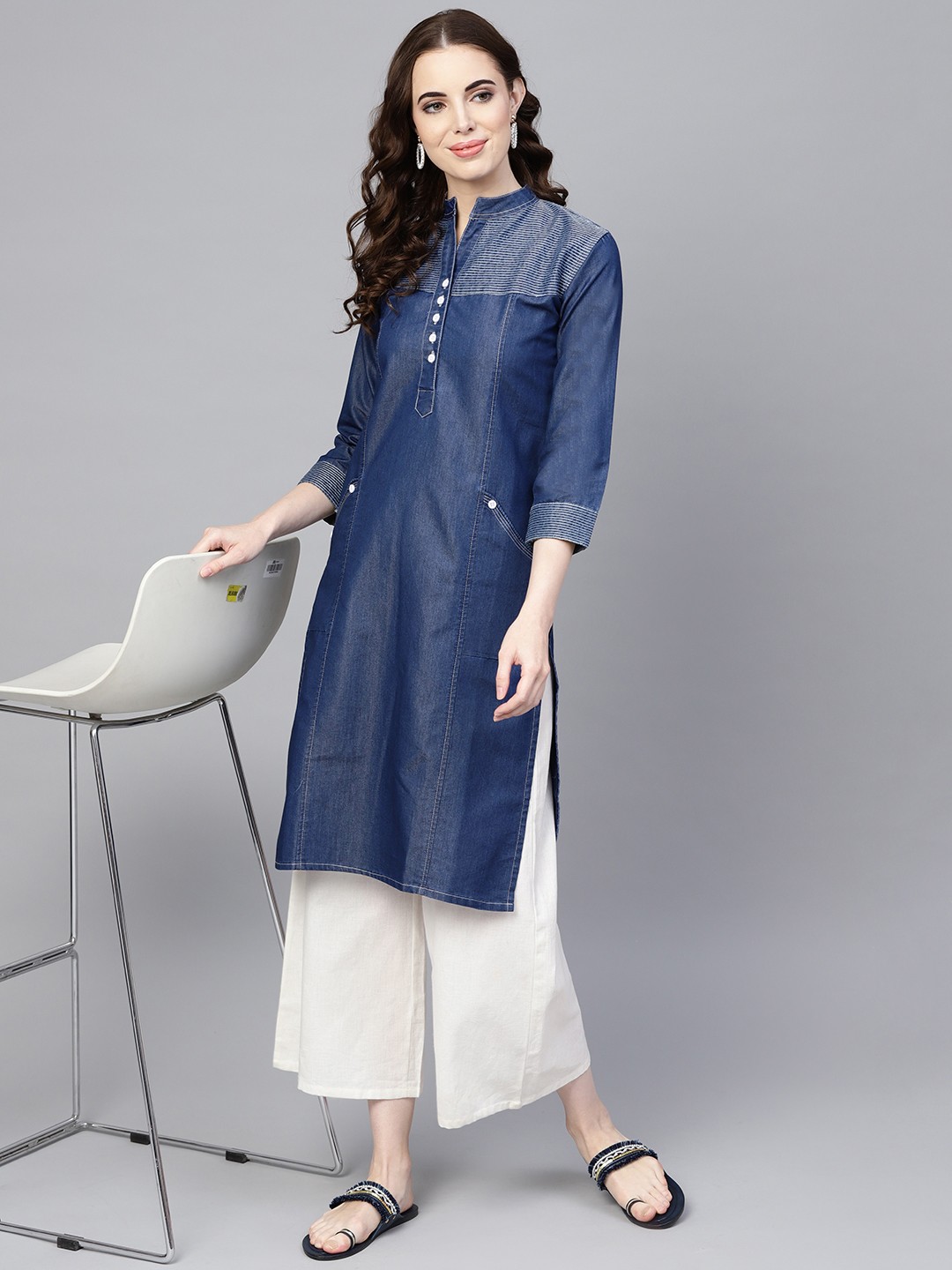 Remember Ishaqzaade? Parineeti's look in that movie had taken off and embraced by the girls rather quickly. A jacket over a Kurti which either breaks the monotony of the color with a contrasting jacket or with matching color prints adding a little more flare to the outfit.
For the bottom wear, it is generally paired with matching churidar, palazzos, straight pants, leggings, jeans, jeggings. The heavier version of the Kurtis was seen to be worn by girls at weddings and festivals as well. The Kurti comes in various fabrics, while the silk and raw silks are used as base for stitching the heavy wedding outfits, the georgette, Rayon, Crepe are used to make the casual and party wear Kurti.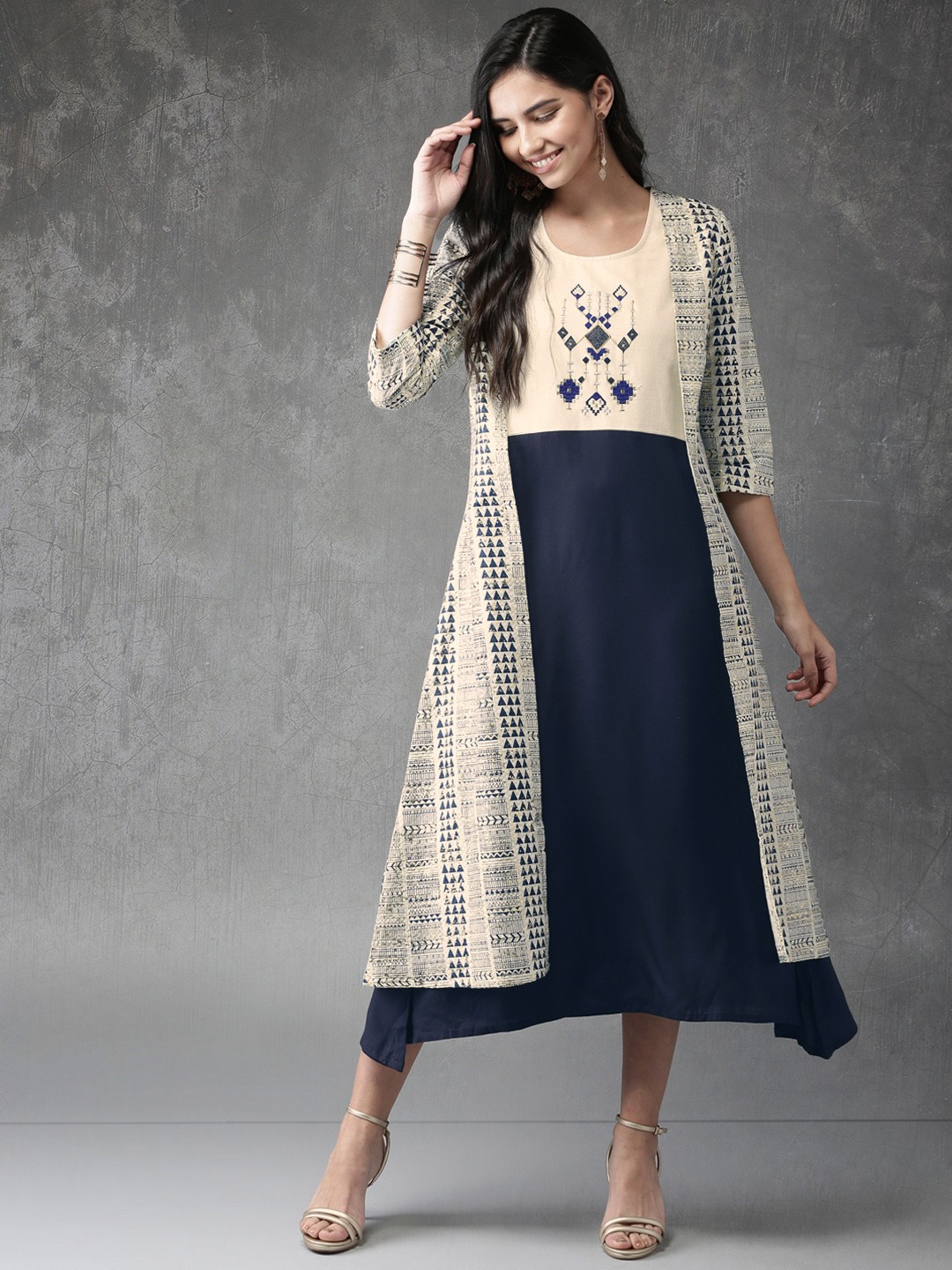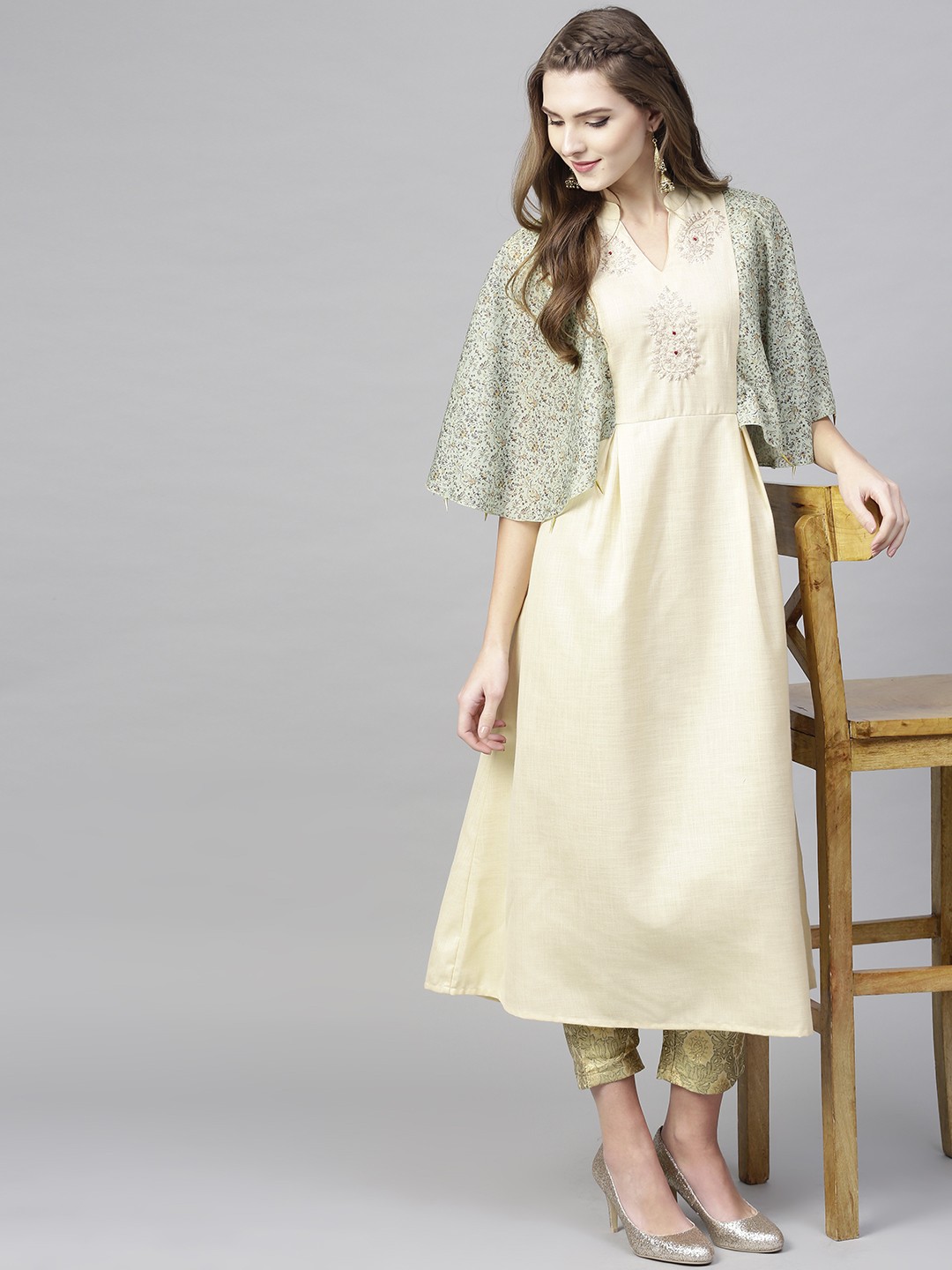 Must Read:-
They are modern-day Kurti, which has become essential in women's wardrobe. Kaftan Kurtis is trendy and sophisticated. Therefore they can be used on multiple occasions; however, they have a cool and casual vibe to it. The gorgeous summer wear is seen in a lot at parties, summer-beaches, outings, etc.
They are often worn as a dress and at the same time can be paired with Jeans, jeggings, tights, etc. Hoop earrings tend to go the best with them, or a wooden kadha can fill the missing pieces along with sunglasses and a sling bag. And according to the occasion you're wearing it for, you can wear shoes, heels, flats and more.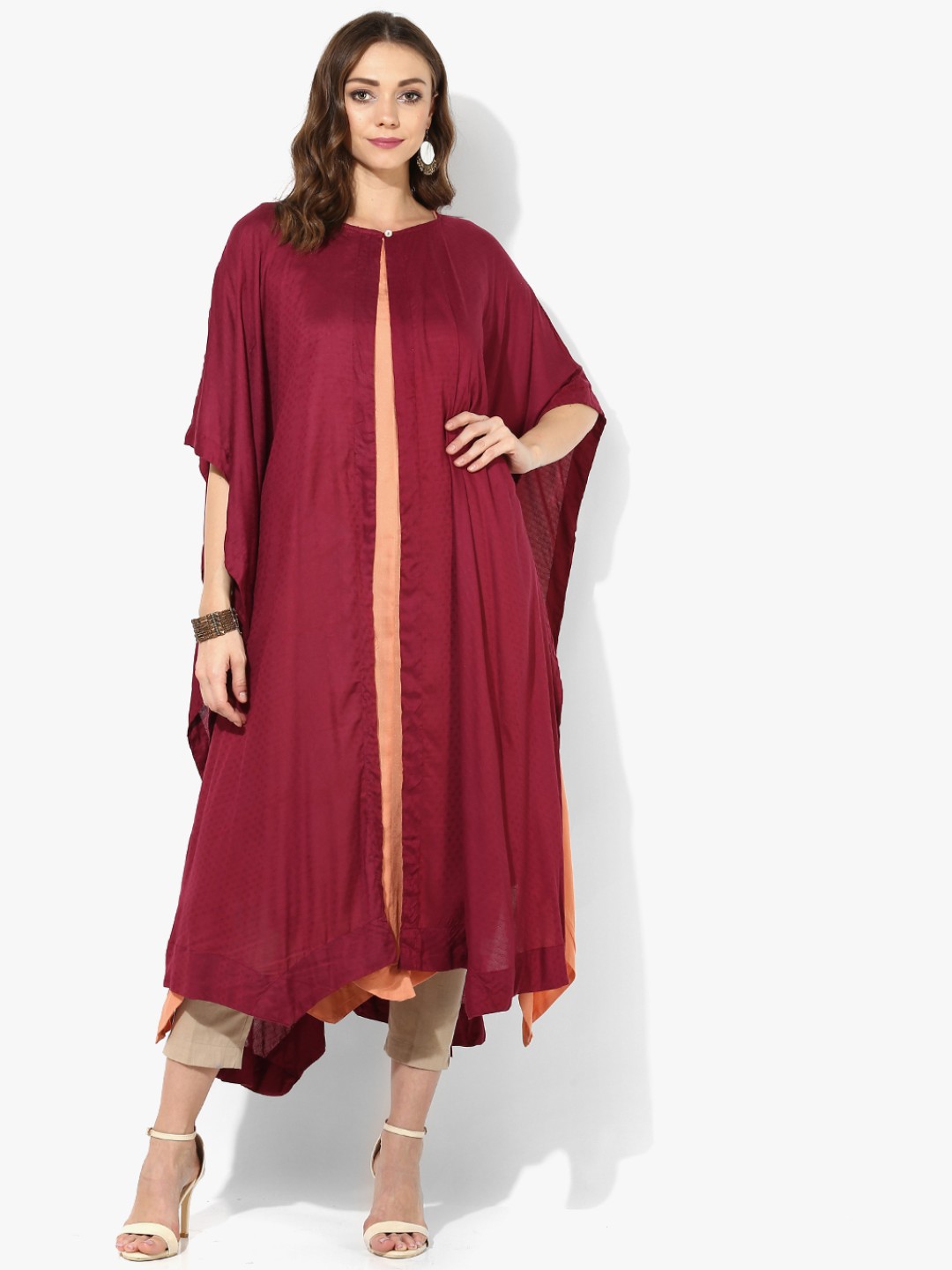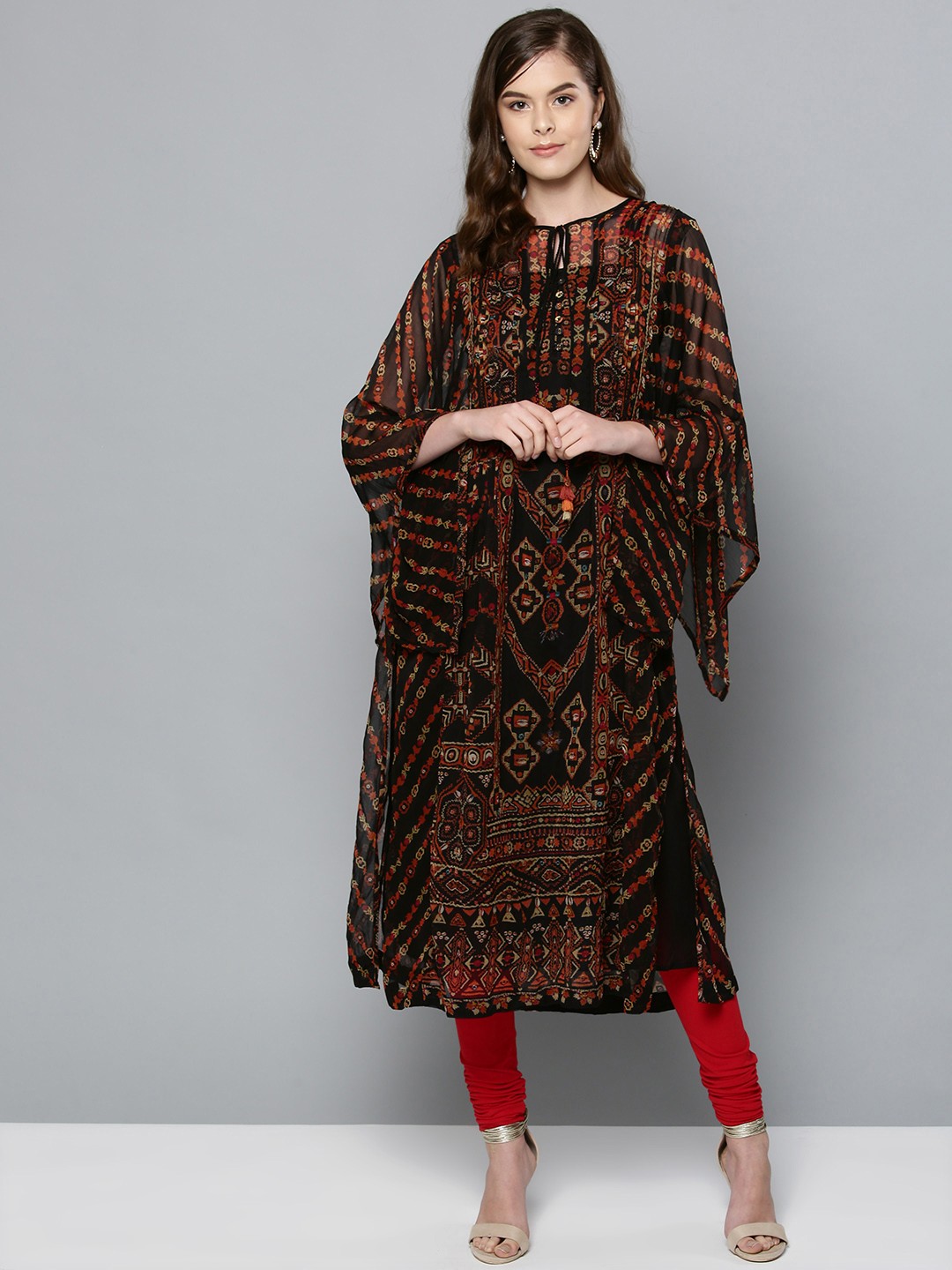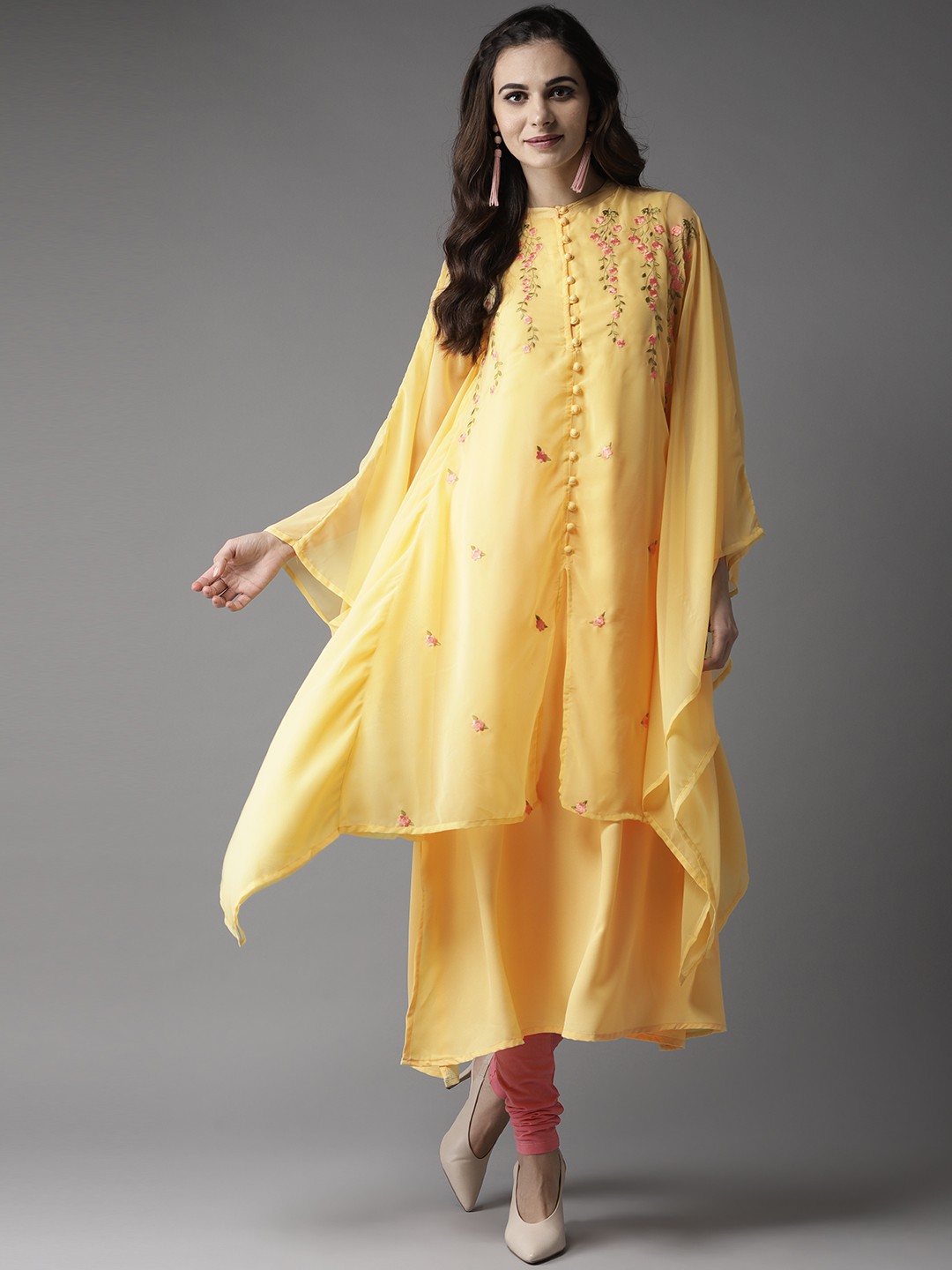 Another fusion of western and Indian culture, which has caught everyone's attention is Shirt Kurti. As the name suggests, it is a fusion of a shirt and a Kurti which can be worn both in casual and formal settings. Sometimes it is worn as a dress too without any bottom wear. But generally, they are worn with all sorts of bottom wears like treggings, jeggings, leggings, jeans, churidars. They make excellent office wear and leave a lasting impression at interviews too.
While the shirt Kurtis are mostly kept simple, they can be accessorized with chokers, earrings, ear cuffs, watches, etc. They come in different fabrics like Denim, Cotton, Georgette, Crepe, Viscose, Rayon, and Polyester. They are also available in various lengths, knee-length, ankle-length, or short, take a pick.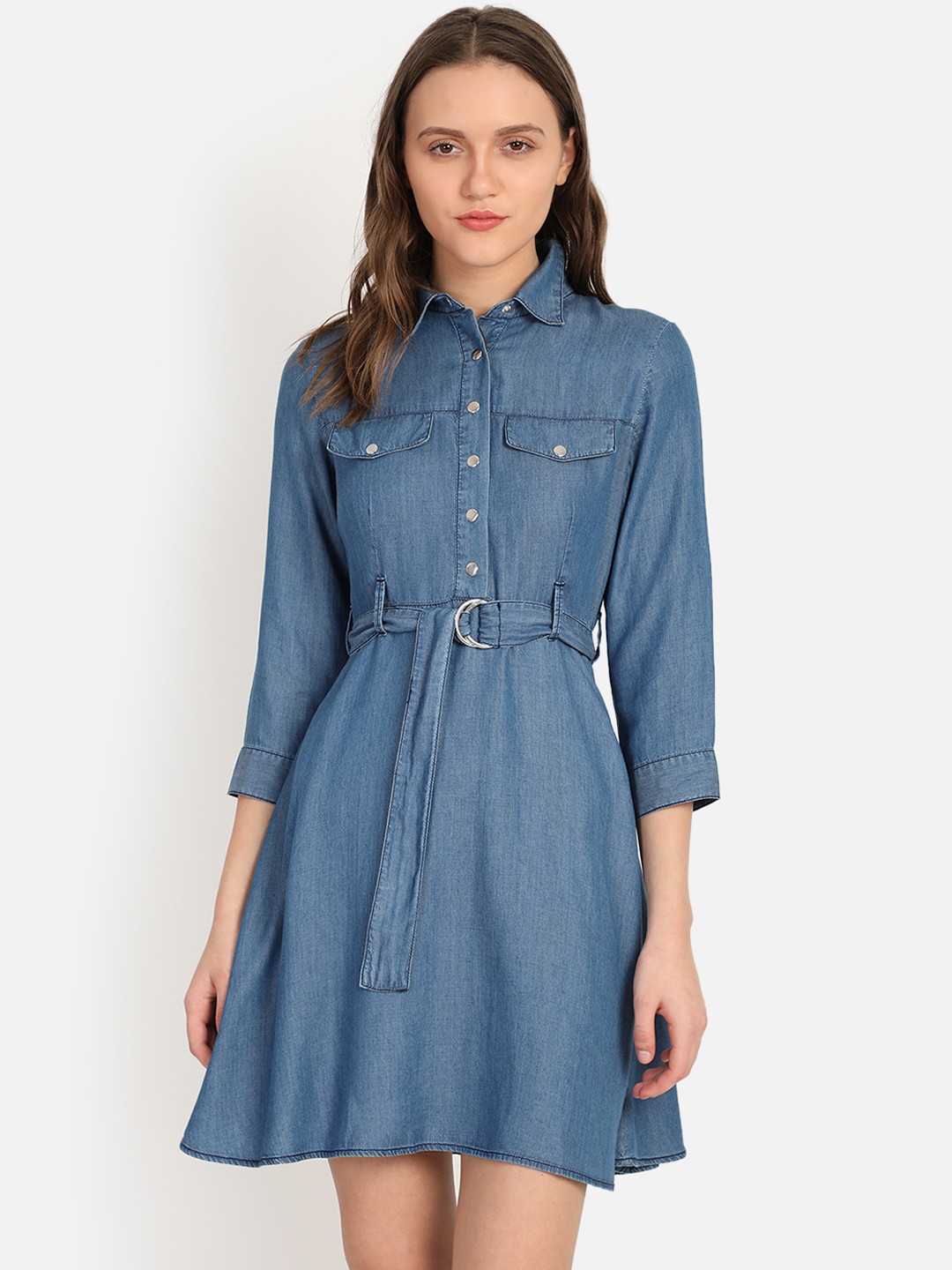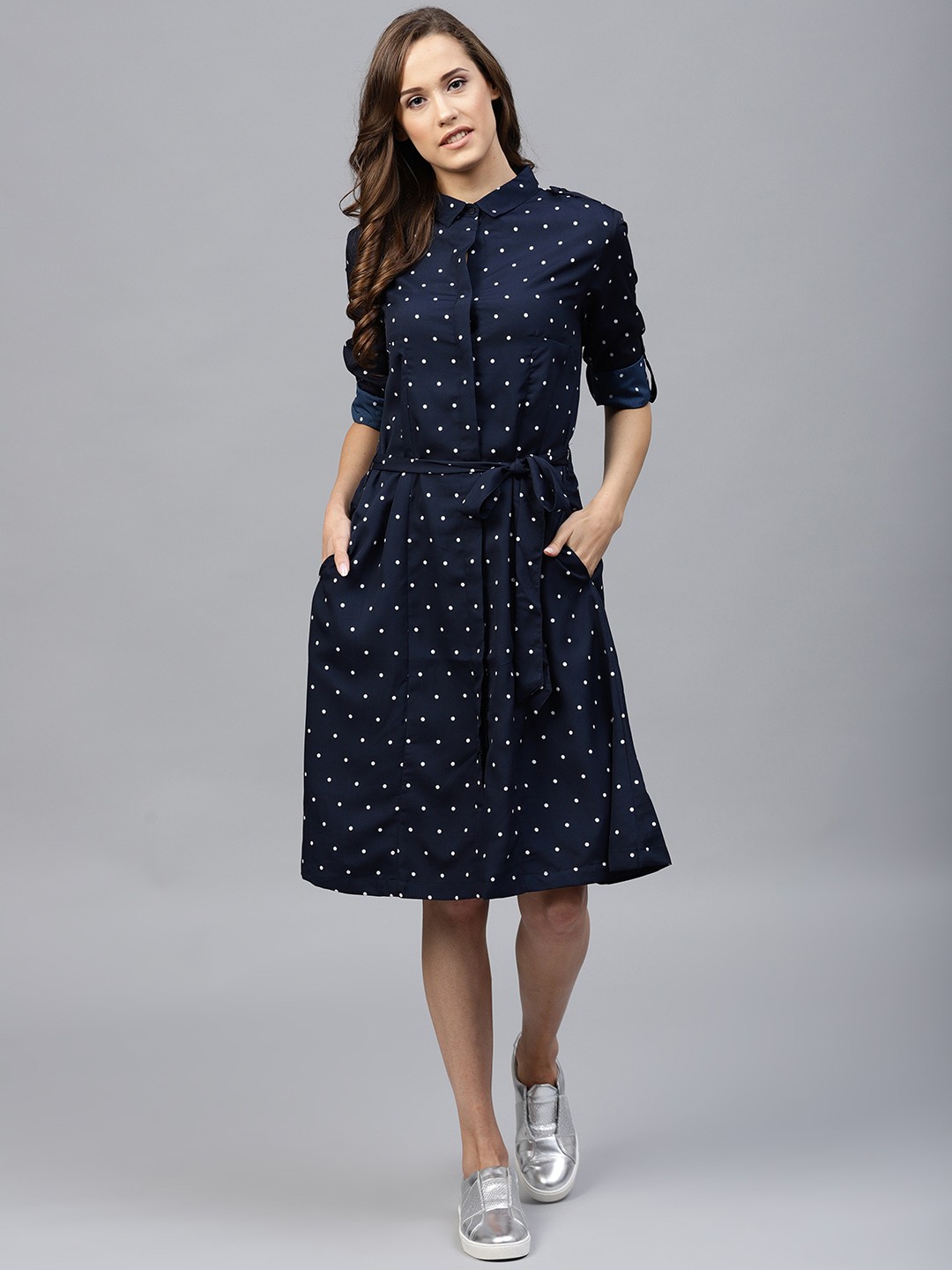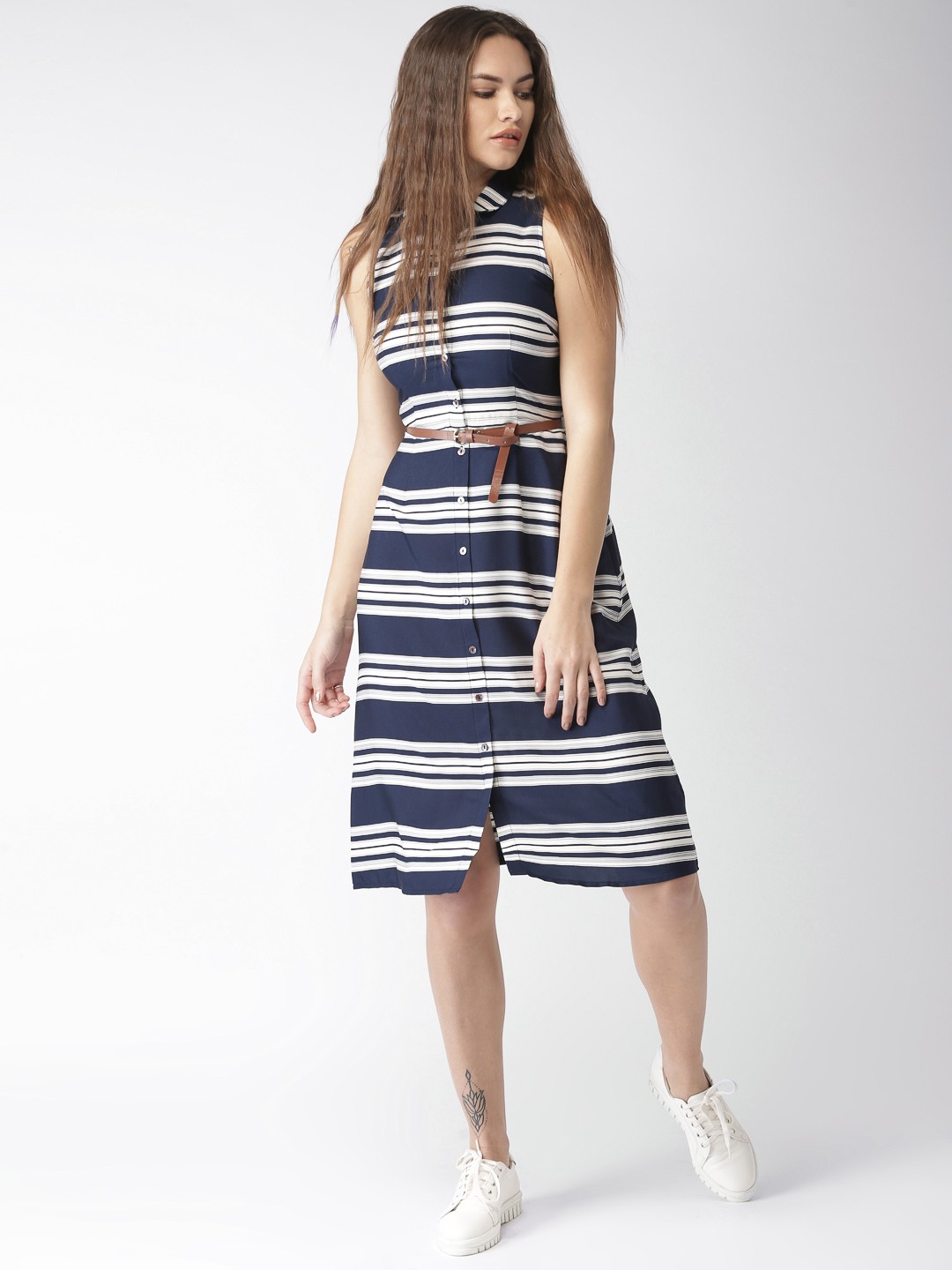 Our very own version of evening gowns and Bollywood's current favorite trend, the floor-length Kurtis give you a royal look. Kurtis like Angrakha, Anarkali, printed, etc can fall under the category and have made a mark on the audience. Often they are accessorized with Jhumkis, bangles, Chandbali earrings and everything ethnic. Further, they go with most footwears like heels, flats, wedges, and Kolhapuris as well.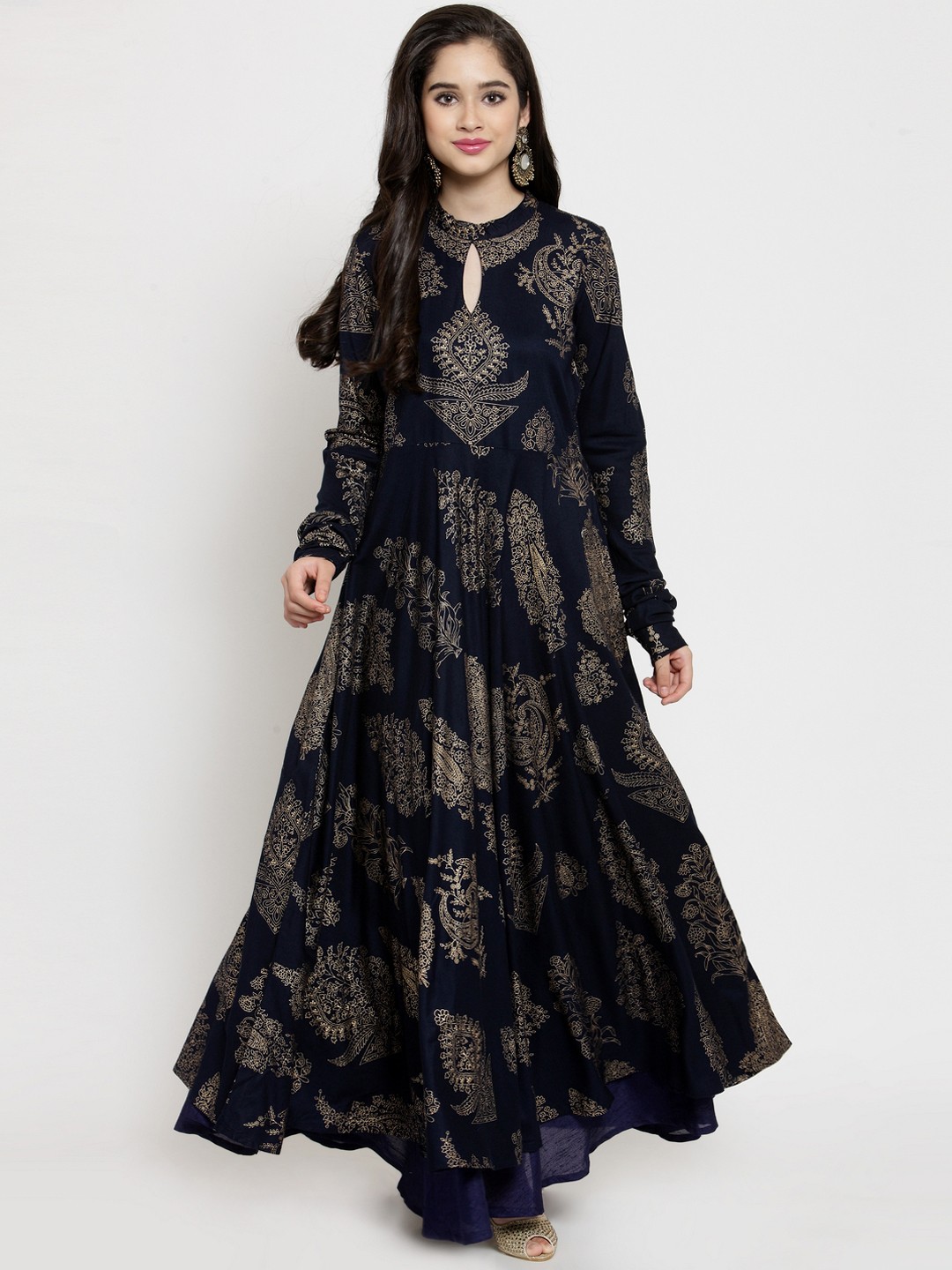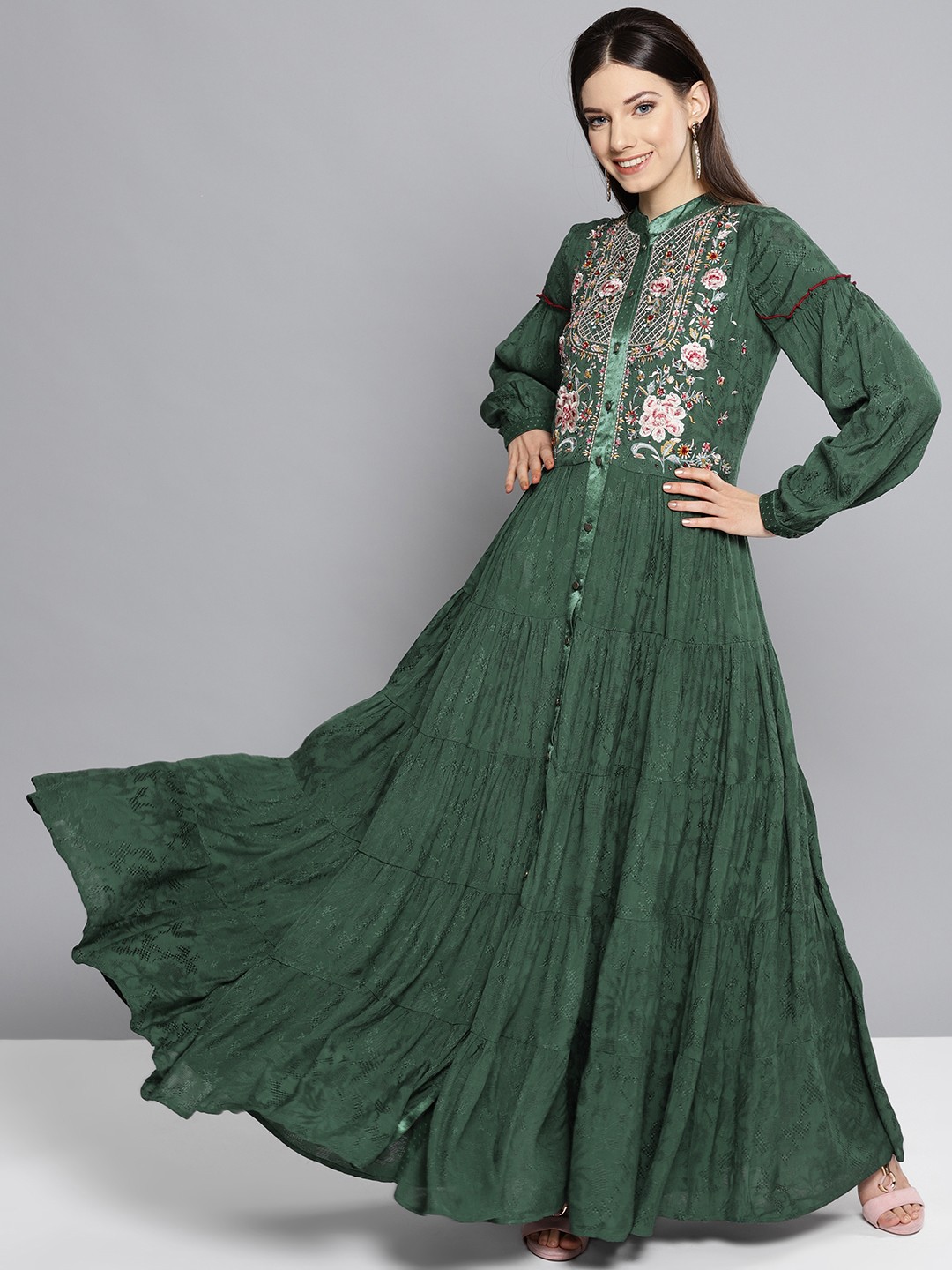 If you want to make a bold statement, this is the perfect Kurti for you. Color block Kurti is Kurtis that have contrasting and bright color blocks. they can be of any shape asymmetrical, A-line, Straight long, short, etc. It is the color combinations that make them stand out. The colors of the Kurti can be contrasting but should work together as well.
Mostly worn in summers, the Kurti can be worn under a jacket to look edgy and funky. It can be worn to occasions like casual outings, college fests, and casual parties. Generally, the Kurti is paired with straight pants, skirts, leggings, jeggings, jeans, and Palazzos. According to the event, one can pair the outfit with sandals, heels, flays, or bellies. To complete the outfit one can wear scarves, studs earrings, sunglasses, and different types of bags like wallet, slings or clutch.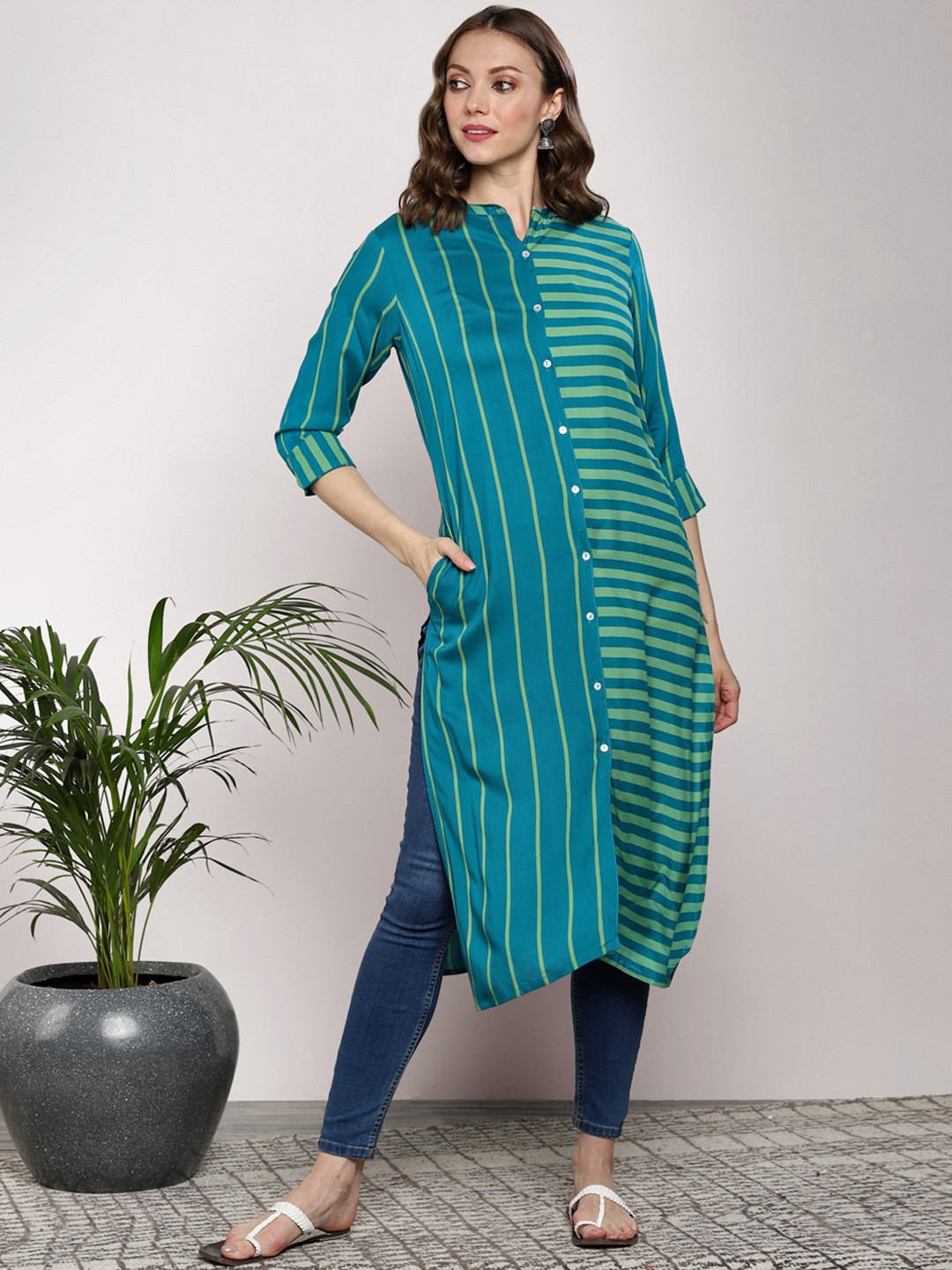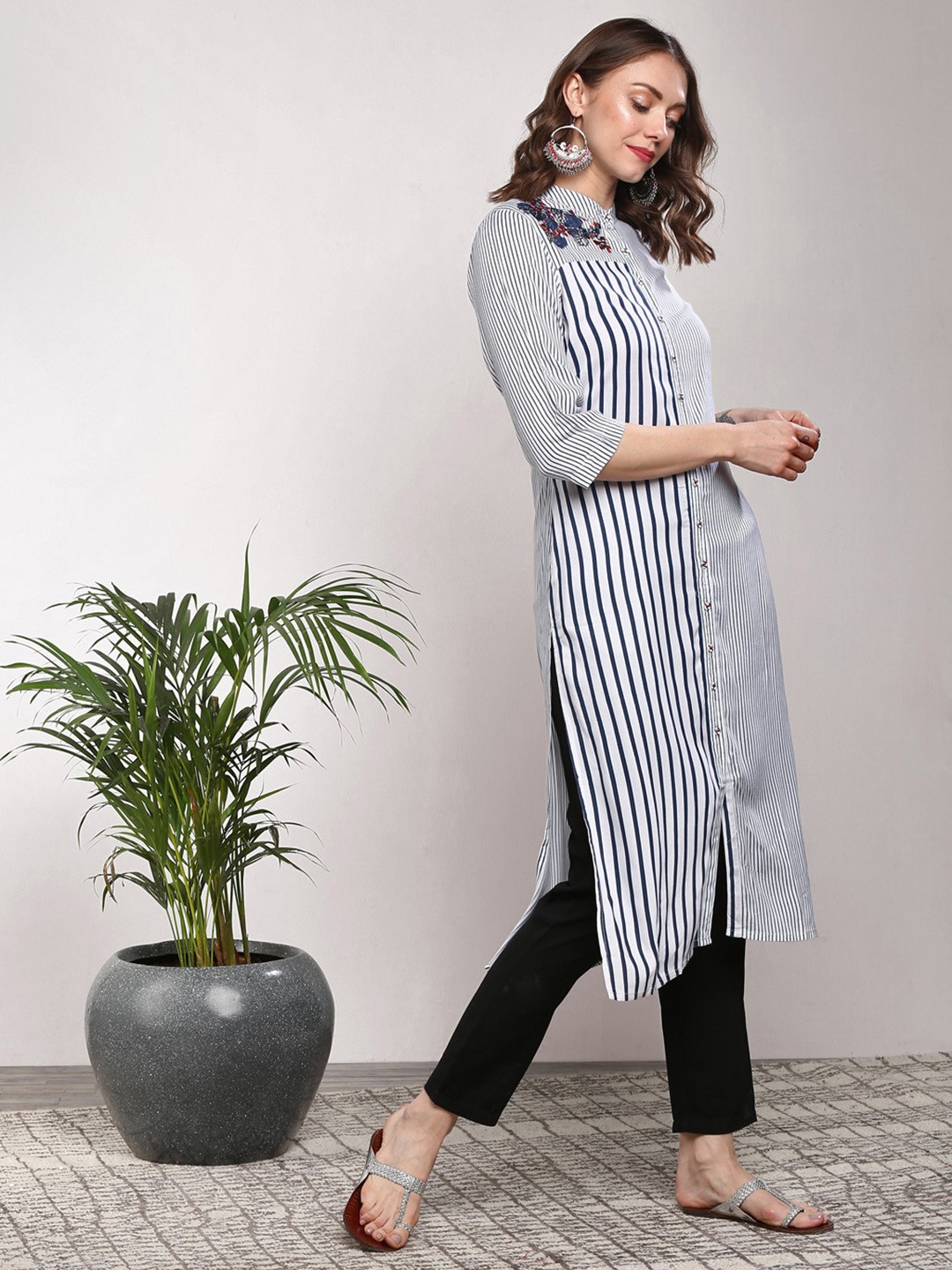 In this world of fusion, how can there not be a mix of the western and Indian styles in a Kurti? The traditional roots with a modern look, the indo-western with different necklines and sleeves, making the Kurti edgier. Or one can also induce asymmetrical cuts and slits according to their liking. These modern Kurtis can be worn with a pair of shot, pants, jeans, jeggings, leggings, stockings, etc. One can also wear a jacket with the outfit to add to the fusion.
Throw in accessories like chockers, junk jewelry, necklaces, multi-strand necklaces, watches, ear cuffs, belts, sunglasses, bags, wallets, slings, different colors of bracelets or bangles, just about anything that works. To complete the look, one can wear boots, bellies, peep toes, casual shoes, gladiators, pumps. The Indo-westerns Kurti can be worn at several events like college, daytime outing, casual parties, dates, and non-traditional events.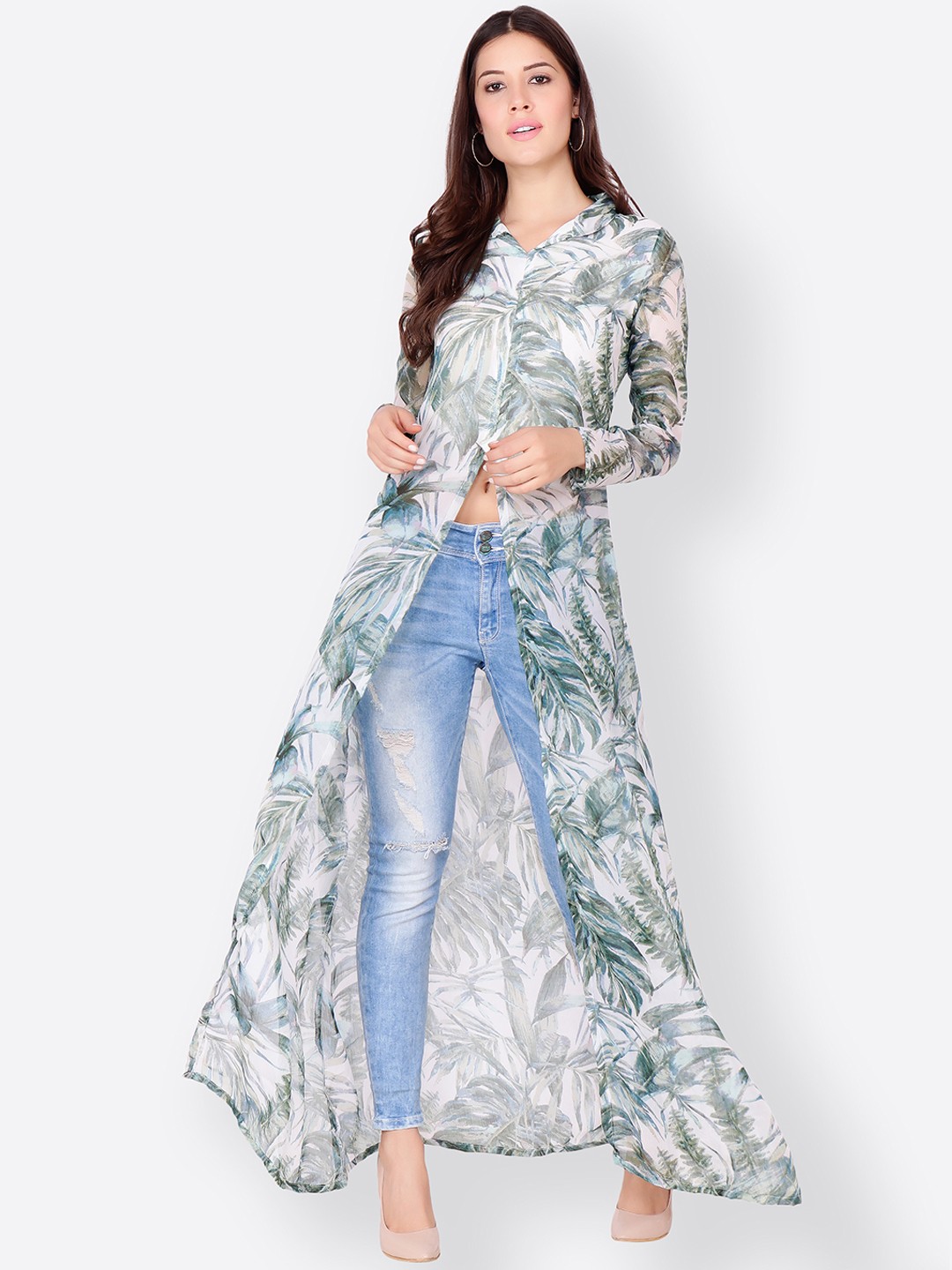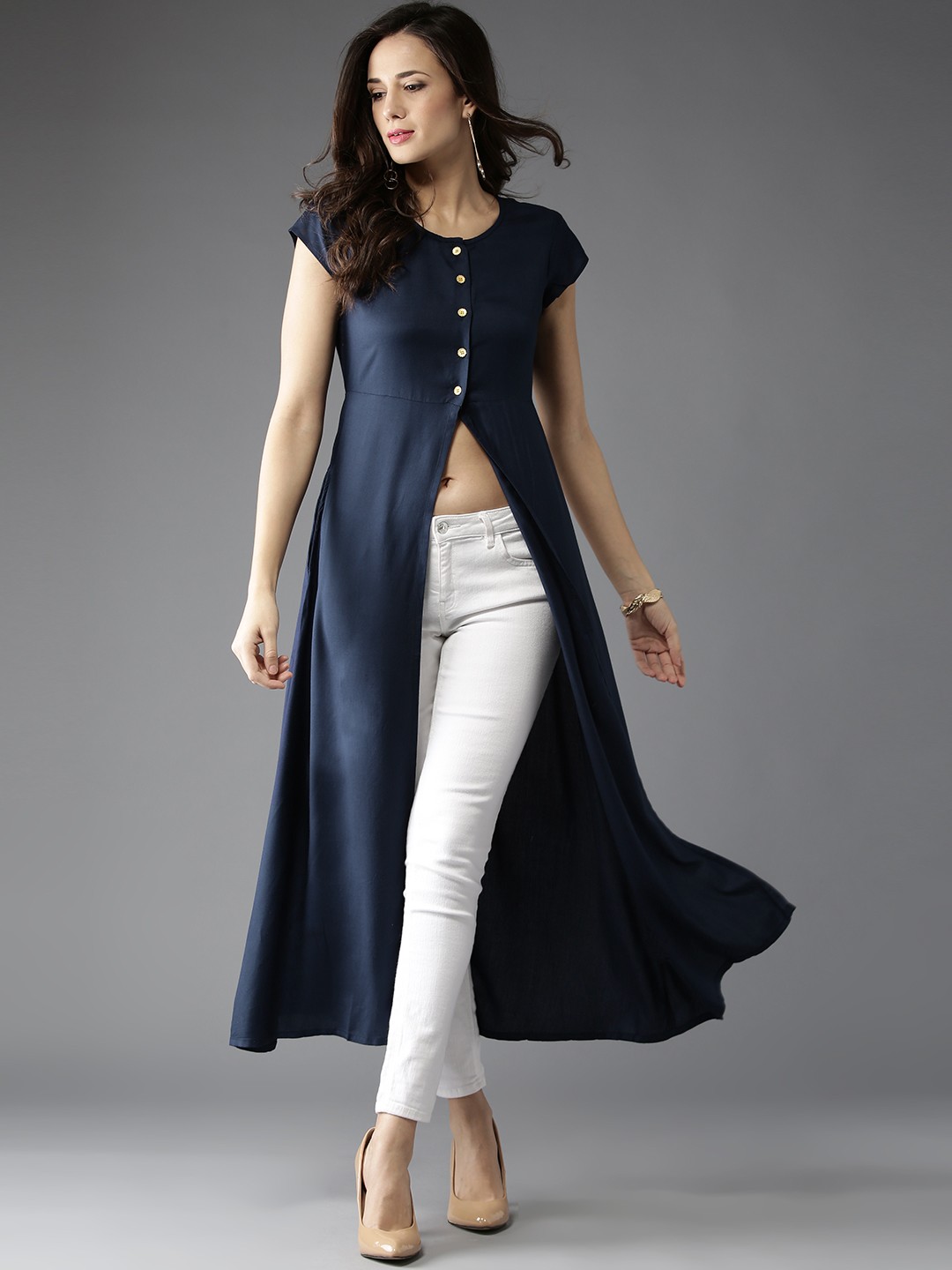 With so many talented designers in the industry, these contemporary designs of the Kurtis have definitely taken over. The Dhoti style is the new trend that has been making its mark. They are traditional and yet have that modern touch. The dhoti style Kurtis has an unusual drape style and is comfortable to wear.
The stylish looking Kurtis is body-hugging and loose from the waist down. The Kurti can be worn bottomless like a dress or be paired with stockings, leggings or tights with fancy prints. Usually, these kurtis are worn at weddings, parties or on festivals and often paired with double studs, ear jackets, or ear cuffs. And one can complete the look with a clutch.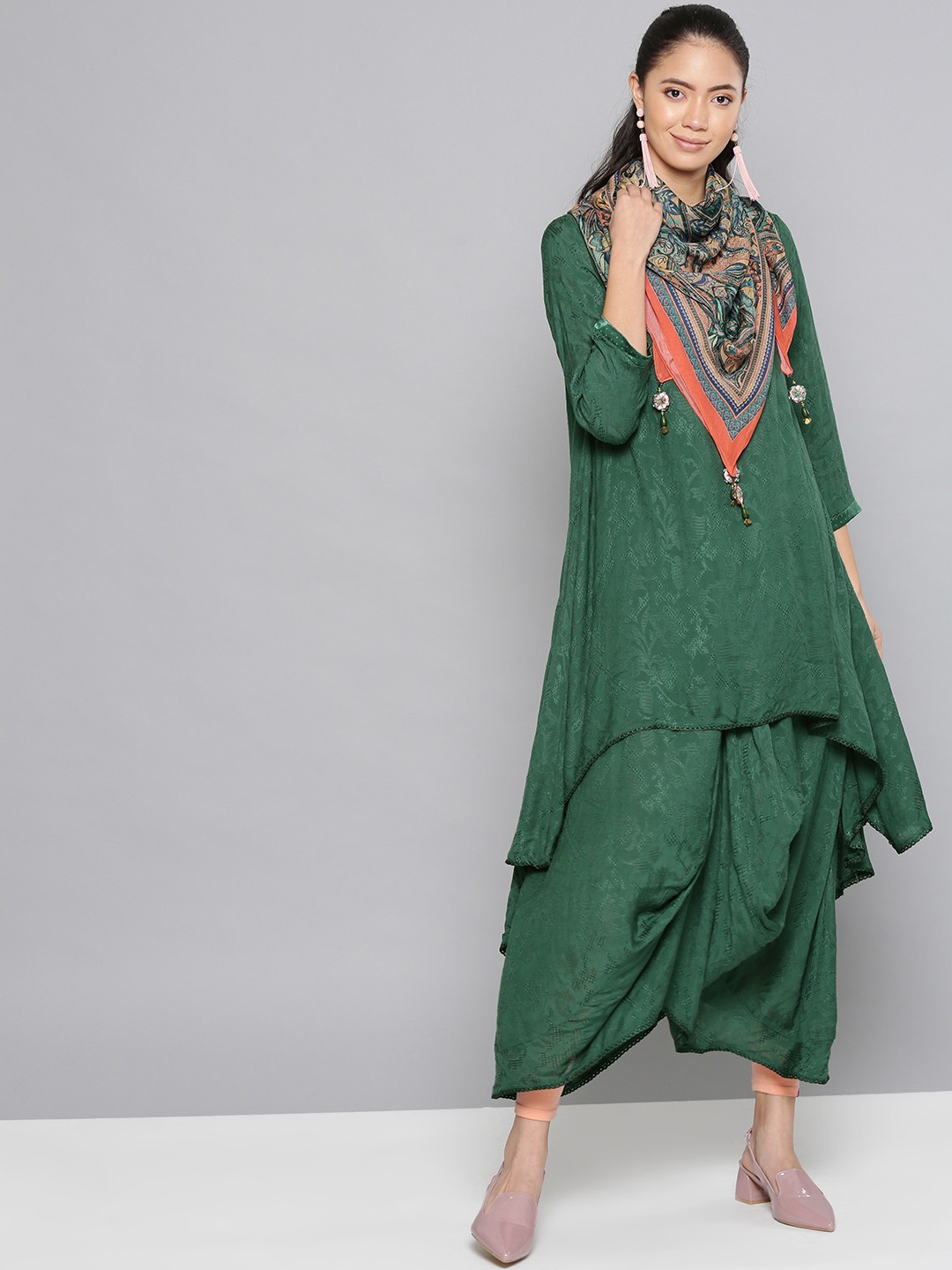 You can never go wrong with this one. A solid kurti is a game changer, as it can be styled in multiple ways. A pair of denims, palazzos, cigarette pants or a long skirt will complete your outfit.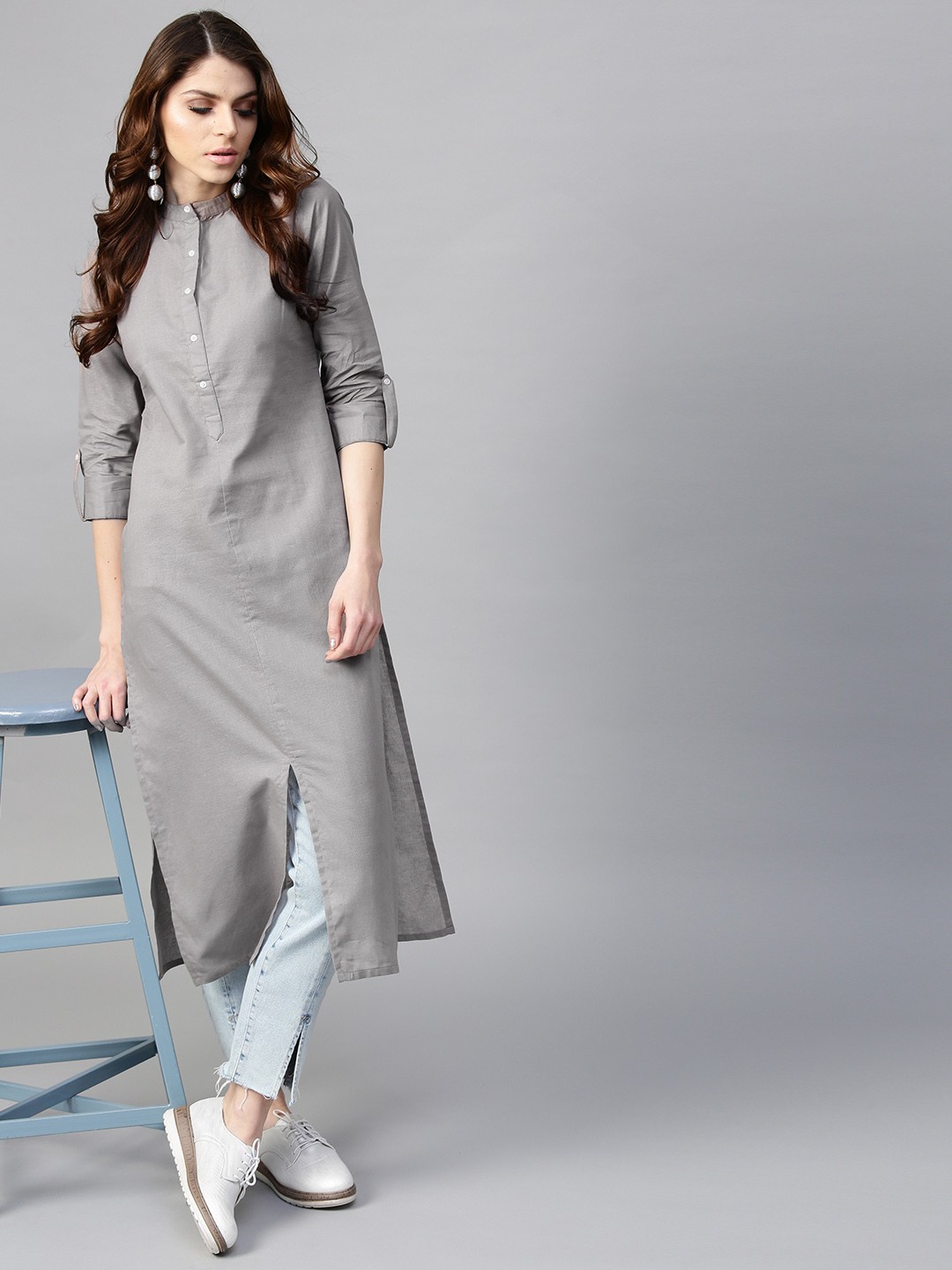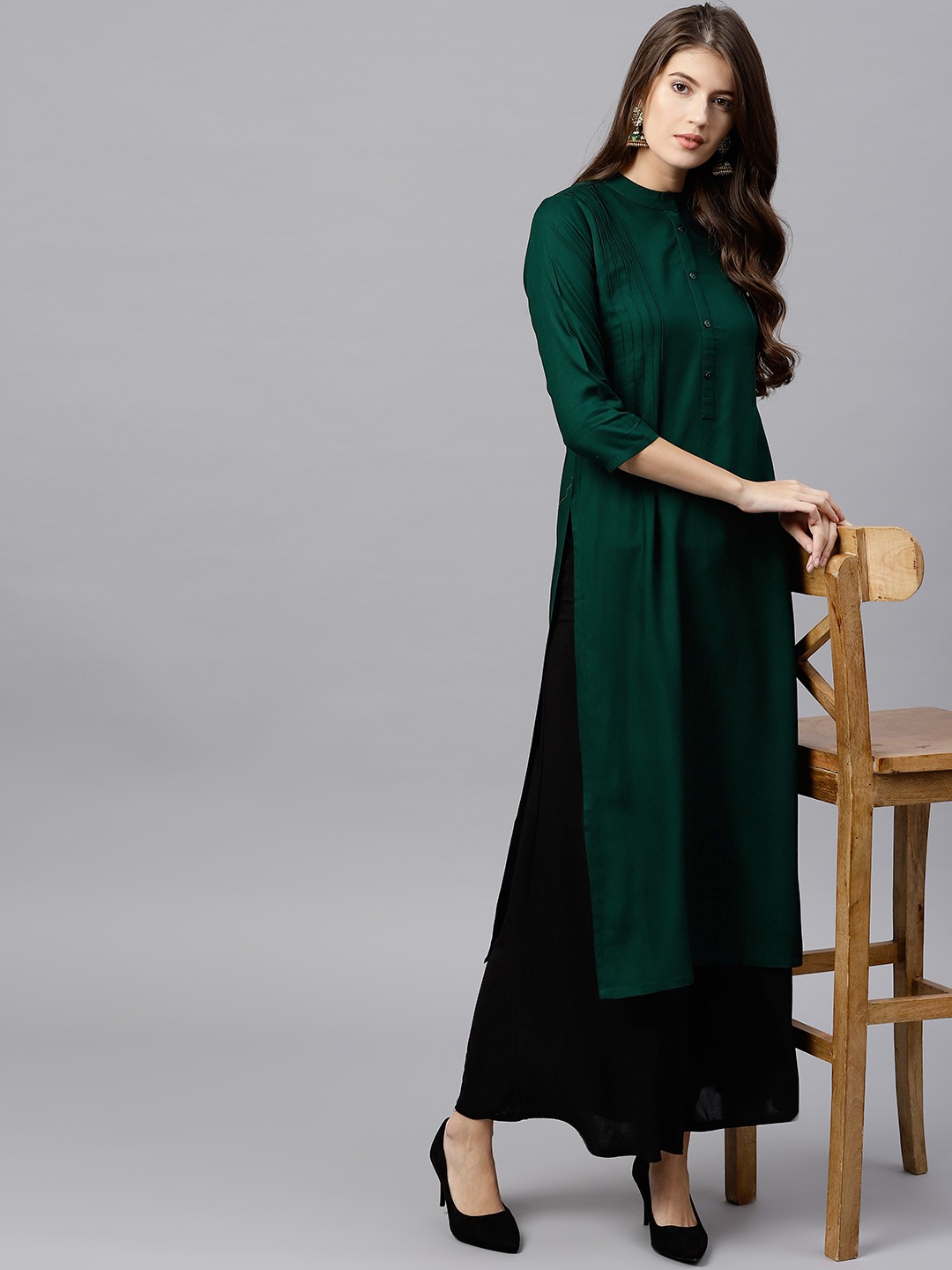 Conclusion
Indian wear is recognized and appreciated all over the world. The most comfortable wearable Indian attire would be a Kurti, which is why you can see a lot of foreign ladies wearing, embracing, respecting the Indian culture while visiting India. Often when they visit a temple or any religious place, they tend to wear traditional and visit these sacred places.
Even in Bollywood the trend of Kurtis has stayed as all the actresses are often seen wearing it on multiple occasions be it airport look, some festival or casually. The Kurtis have stayed in trend and looks like the trend is here to say. Kurtis are one of the best picks for college, office, parties, and formal wear if worn with apt jewelry and footwear.
If I missed something or if you have to share feedback and suggestions feel free to write in the comment section.
Enjoyed reading this article? To receive more articles like this, Subscribe our newsletter.
For purchasing best and reviewed products, visit our website "Ripplenfortunate"
LATEST ARTICLES