Keep those little fingers, toes and hair squeaky clean with these baby shampoo and body washes.
Are you a mother of a newborn?. Are you nervous about what products to use on your precious baby at bath time? Are you wondering how to keep their skin and hair clean, soft, and healthy?
There's nothing like the softness of a baby's skin and the peach fuzz on their head, but because it is so new and sensitive it also needs extra-special care. If you're looking for the best baby bath products to keep your little one clean without irritating their sensitive skin, read on.
Until a few years ago, the choices for baby shampoo and baby body wash were pretty limited. But with so many options these days—Scented! Unscented! Organic! Tear Free!—it's easy to get overwhelmed. Whether you're looking for the best baby shampoo or best baby body wash you're sure to find exactly what you need to keep your little one squeaky clean.
Must read:-
When you are looking for baby shampoos, you must look for the following:
Free of harsh chemicals like Sulphates, Parabens, and SLS
Free of artificial smell
Has a perfect blend of natural oils
This guide lists the best baby shampoos in the market and will help you select the best shampoo for your precious newborn.
Best Baby Shampoo's & Body Wash
Here's the buzz: Burt's Bees Baby Shampoo & Wash is a gentle, tear-free baby shampoo that can also be used as a baby body wash. It comes in three different scent options: original, lavender and fragrance free, and is available at most large drugstores—a major plus when you realize you're all out just as you're getting your little honey ready for tub time.

Features:-
BABY SHAMPOO: Make bath time easy with this natural, gentle shampoo and body wash that cleanses and softens baby's delicate, sensitive skin. The perfect addition to any baby shower gift or new baby gift set!
BABY BODY WASH: Mild baby wash and tear free baby shampoo come together in one non-irritating formula to cleanse hair and skin from head to toe
NATURAL BABY CARE: This baby shampoo and body wash has a natural plant based cleansing complex with Soy Proteins that naturally moisturizes skin
FRESH CLEAN SCENT: Burt's Bees Baby Original Shampoo & Wash has a fresh scent that leaves baby's skin soft, clean, and smelling delicious
PEDIATRICIAN TESTED: Clinically proven to be safe and effective for daily use, this 98.9% natural origin baby bath essential is formulated without phthalates, parabens, petrolatum, or SLS.
If you're seeing those telltale dry, scaly pink patches on baby's head—aka cradle cap—you'll want to try Mustela Foam Shampoo for Newborns. The super-gentle foaming shampoo is specifically formulated to clean baby's hair while also preventing the condition. It is also hypoallergenic and specially formulated to minimize the risk of allergic reactions.

Features:-
Mustela's Foam Shampoo for Newborns is made with 99% plant-based ingredients that gently cleanse and nourish delicate newborn skin while effectively treating cradle cap.
Gently bathe your sweet new baby while treating cradle cap with Mustela's plant-based Foam Shampoo for Newborns
Safe for use from birth on
For normal skin
Ultra-gentle foaming shampoo
Cleanse your baby's hair and scalp while preventing and treating cradle cap
Tear-free formula
99% plant-based ingredients
With Avocado Perseose, a patented natural ingredient that helps protect your baby's scalp
Paraben, and Phenoxyethanol free
Hypoallergenic and specially formulated to minimize the risk of allergic reactions
Tested under dermatological and pediatric control
5.07 fl. oz. bottle
Usage: Wet baby's hair with warm water. Hold the bottle vertically and press pump to obtain a dose of Foam Shampoo for Newborns. Apply to wet hair and gently massage scalp. Leave on for 1 to 2 minutes. Rinse carefully. Dry baby's hair very gently.
The OG organic all-in-one soap, Dr. Bronner's mops the floor with its competition. The Baby Unscented Pure-Castile Liquid Soap has 18 different uses, from cleaning dishes to laundering clothes, but we like it best for baby. Because it has double the olive oil than its original formulation, it's perfect for keeping baby's sensitive skin and scalp moisturized and protected.
And did we mention the ingredients are organic, certified fair trade and biodegradable? It's the best baby shampoo in its category, but there is one hitch: It's not tear-free, so you'll need to protect your little one's eyes before rinsing.

Features:-
Made with organic oils and certified fair trade ingredients: Dr. Bronner's Pure-Castile Liquid soaps are made with over 90% organic ingredients.
Good for your body and the planet: Dr. Bronner's Liquid soaps are fully biodegradable and use all-natural, vegan ingredients that pose no threat to the environment.
No synthetic preservatives, detergents, or foaming agents: our liquid soaps are made with plant-based ingredients you can pronounce—no synthetic preservatives,
3x more concentrated than most liquid soaps: dilute! Dilute! Multiple uses for just one product: laundry, mopping, hand-washing dishes, all-purpose cleaning, washing pets and more.
Packaged in 100% post-consumer recycled plastic bottles: Dr. Bronner's is diverting discarded plastic from landfills by using and increasing demand for recycled plastic bottles.
Must read:-
Cetaphil is a classic cleanser you may have used on your own face, so you know it's gotta be good for baby: Extra gentle and incredibly hydrating, Cetaphil Baby Eczema Calming Wash can be used on babies as young as 3 months who have dry, eczema-prone skin. Besides receiving a four-star rating from the National Eczema Association, it's also hypoallergenic. What more could you want in a wash?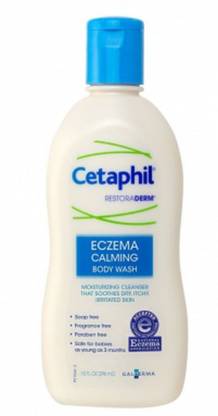 Features:-
Moisturizes baby's sensitive skin prone to atopic dermatitis and eczema
Extra gentle, designed for baby's sensitive skin.Patented Filaggrin technology helps strengthen baby's skin's moisture barrier
Soap free, fragrance free, paraben free, and hypoallergenic
Safe for babies as young as three months
Dermatologist tested; received the seal of acceptance from the National Eczema Association
Whether it's your newborn's first bath or her fiftieth, Aveeno Baby Wash and Shampoo is ideal for tender skin. The baby wash works up a nice lather, which is a mega-plus, since the no-tears formula can be used on both body and hair. It's soap- and paraben-free as well as hypoallergenic, but the baby wash does have a slight fragrance—nothing strong, just a mild, clean scent—so it might not be the best choice if baby is ultra-sensitive to smells.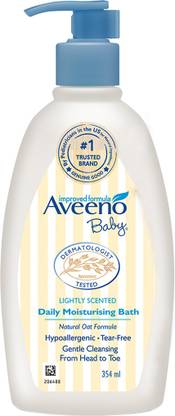 Features:-
18-fluid ounce bottle of gentle cleansing Aveeno baby wash and shampoo with natural oat extract
The rich lathering wash & shampoo formula rinses clean & leaves behind a light, fresh fragrance.
The formula is tear-free, soap-free, hypoallergenic, paraben-free, and phthalate-free. It rinses clean without drying
Baby shampoo & wash is from Aveeno, a pediatrician recommended brand for 60 years. It is specially formulated to be gentle enough for babies sensitive skin
Aveeno baby wash & shampoo can be used every day to help keep your baby's skin & hair feeling soft, smooth and feeling healthier
Best baby wash for baby acne: Mustela no-rinse cleansing micellar water
This ain't your average baby wash! Mustela No-Rinse Cleansing Water can be used for quick clean-ups on the go, and, as the name implies, no rinsing is necessary. Just apply to baby's skin with a soft cloth and pat dry. But we really like it because the micellar water—that's water with cleansing molecules—gently cleans skin without stripping it of its natural oils, making it ideal for treating baby acne, which is often exacerbated by traditional baby soaps. Formulated with mostly plant-based ingredients, Mustela Cleansing Water also contains aloe vera leaf extract to soften and soothe.

Features:-
DESCRIPTION: Gently and safely cleans, washes, and softens your baby's face, body, and diaper area without stripping skin of its natural oils.
Blended with 98% plant-based ingredients including Avocado Perseosea patented natural ingredient
Helps protect skin barrier & hydrate dry skin
Infused with Aloe Vera leaf extract for a soothing effect
Leaves skin soft & comfortable
Free of parabens,phthalate & phenoxyethanol
Hypoallergenic & dermatologist-tested
Helps gently yet thoroughly cleanse baby's facebody & diaper area
Perfect for quick cleanups.
Also helps treat baby acne. 98% natural ingredients. Newborn safe.
BENEFITS: Gentle baby micellar water cleanser ideal for quick and easy cleanups. Great for travel and in-between baths.
SUGGESTED USE: Apply to a cotton ball. Gently wipe on baby's face, body, or diaper area to cleanse and refresh. No rinse needed.
Original Sprout Hair & Body Babywash is an all-in-one wash that's 100 percent vegan and free of all the bad stuff (mineral oil, colors, dyes, parabens, etc.). Created by a professional hairstylist after she became a mom, Original Sprout baby wash is easy on skin, leaving it supple without a greasy residue. The moisturizing botanicals help relieve eczema and cradle cap, and, unlike most washes, the formula contains no lavender, tea tree, clove or musk scents.
But here's the best part: What It does contain is rosemary oil, which is a natural lice repellent!

Features:-
ORIGINAL SPROUT HAIR AND BODY BABYWASH. This extra moisturizing cleanser gently washes away dirt and oils from your skin. It helps prevent or alleviate dryness, cradle cap, eczema, psoriasis, baby acne, heat rash, diaper rash and skin irritation.
GENTLE ENOUGH FOR BABIES. With a pH level of 6.0-7.0, the Hair and Body Babywash leaves babies skin feeling smooth, soft, healthy, and smelling great. Using clean, non-toxic ingredients, every parent can trust using on their entire family.
SAFE, EFFECTIVE TESTED. Staying healthy and beautiful is easy with Original Sprout. The company is dedicated to using ingredients that are vegan, gluten free, and free of hormone disruptors. Each product is dermatologist tested, non-allergenic and hypoallergenic.
LOVED BY MOMS AND PROFESSIONALS ALIKE. Original Sprout founder and Master Hair Stylist, Inga Tritt, worked to create products safe enough for her daughter and everyone else in the family.
MADE IN THE USA. Since its launch in 2003, Original Sprout seamlessly blends safe, effective products and elegance. This business has the safest hair and bath products, making them a globally-trusted family brand.
The Babyganics product line is an all-around favorite, but the Night Time Shampoo + Body Wash is a standout. Here's why: The calming orange blossom scent helps wired little ones settle down. Seriously! Made with a blend of seed oils—including tomato, sunflower, black cumin and red raspberry—Babyganics Night Time Shampoo + Body Wash cleans, moisturizes and promises to help baby sleep like, well, a baby. So you will too!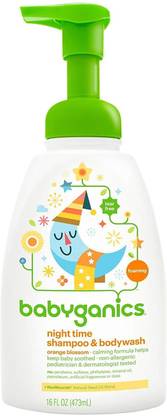 Features:-
Every parent needs a few Orange Blossoms in their bag of tricks. After a day of mad exploration your baby's still not ready to settle down? We can help the wind-down with the peace found in the blossom of an orange tree.
How about a soothing massage with our lotion made just for the wind-down? With calming, natural fragrances from ingredients like Orange Blossoms and our NeoNourish Seed Oil Blend. Perfect prep for a baby-safe sleep.
Made with natural clarifying tear-free foaming formula
Non-allergenic ingredients are extra gentle on skin
Pediatrician and Dermatologist tested
Exclusive 100% natural NeoNourish Seed Oil Blend to help nurture and support baby's skin
No: parabens, sulfates, phthalates, mineral oil, petrolatum, artificial fragrances or dyes
This is a bare-bones baby wash—even the packaging is pretty basic—but if you're passionate about using only organic products on your little one, Lafe's Baby Foaming Baby Shampoo & Wash is for you. As promised in the name, Lafe's provides a nice foam, and it's unscented, with just a clean, castile-soap smell. Free of dyes, colors and preservatives, the 100 percent organic wash is rich with a super-hydrating combo of sunflower seed, coconut, olive and palm oils.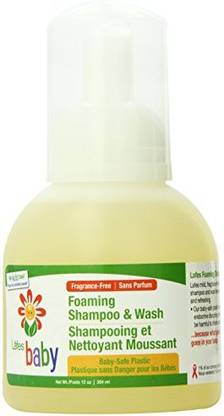 Features:-
Formulated without: Parabens, sulfates, phthalates, mineral oil, petrolatum, artificial fragrances or dyes
Formulated with: Plant derived ingredients
Foaming
Extra gentle
Non allergenic
Mild and fragrance-free foaming baby shampoo
Convenient dispensing pump
All natural, made with saponified oils
Cruelty-free, vegan and gluten free
Baby safe plastic packaging
Pediatrician and Dermatologist tested
Direction: Use several pumps of our soft, instant foam on a wet washcloth or your hand. Lather, giggle, rinse!
Must read:-
This doctor-developed formula—a Best of Baby award winner for best baby skincare line—uses coconut cleansers and nourishing vegetable moisturizers to hydrate and balance baby's sensitive skin. It's hypoallergenic, tear-free, toxin-free, all-vegan and fully biodegradable, making it environmentally friendly to boot. And you can forget about finding any sulfates, formaldehyde, parabens, phosphates, chlorine, dyes or caustics in this gentle-as-can-be shampoo and body wash.

Features:-
"Best Baby Skincare" – the BUMP (2018 Award Winner)
THIRD GENERATION FORMULA: Now with More Suds, More Moisturizers, Tested to be Tear-Free; Best EWG.org Ingredient Safety Scores (Green Category), #1 Amazon Customer Rated, No Sulfates, Only Natural Preservatives; DEVELOPED BY A TEAM OF DOCTORS: Clinically superior results using gentle, nourishing, pure natural ingredients
CITRUS GROVE: A light, subtle blend of pink grapefruit essential oils and 100% natural botanical extracts
NO ALLERGENS OR IRRITANTS: For all skin types, including those with eczema, cradle cap, and sensitive skin; pH-balanced formula provides mounds of tiny cleaning bubbles, sea salt purifies and balances, while vegetable-based moisturizers retain skin softness
NO HARSH CHEMICALS: No sulfates (SLS, SLES, SCS), triclosan, formaldehyde, salicylates, parabens, phosphates, SLS, SLES, MEA, DEA, TEA, petroleum-based ingredients, animal by-products, perfumes, dyes or caustics
100% SATISFACTION GUARANTEED: Natural, non-toxic, hypoallergenic, vegan, gluten-free, biodegradable; Certified Cruelty-Free – Never Tested on Animals; Made in the USA!
Choosing the best baby shampoo
Whether your baby is born bald or with a full head of hair, it's important to keep his scalp clean with a gentle, moisturizing shampoo. Your go-to shampoo might give you luscious locks, but the chemicals in it could be too harsh on your baby's skin.
Baby shampoos contain milder ingredients than those found in adult shampoos, so they won't irritate a baby's eyes and skin.
Ideally, you should look for formulas that contain natural, plant-based ingredients.
Fruit oils, such as raspberry and avocado oil
Chamomile extract
Sunflower seed oil
Steer clear of shampoos made with harsh chemicals that could irritate your baby's skin. These include:
Parabens, or chemicals that are used as preservatives in cosmetics
Phthalates, or chemicals found in plastic
Dyes
Sulfates, specifically sodium lauryl sulfate (SLS), which is commonly found in household cleansers
Added fragrances or perfumes, which can cause irritation or trigger an allergic reaction
Must read:-
You should also look for a product that's tear-free (meaning it won't irritate baby's eyes) and formulated for sensitive skin.
Keep in mind, however, that just because an ingredient is natural doesn't mean it can't cause a skin reaction in a baby. If you think that your baby may be allergic to a particular ingredient, call your pediatrician.
Choosing the best baby wash
You shouldn't use regular soaps on your baby's skin because many of them are too drying, and they can contain perfumes or other allergens which can irritate the skin.
When choosing baby wash, keep the following in mind:
Use a tear-free formula to avoid irritating your baby's eyes.
Hypoallergenic washes are best for babies with dry skin, eczema or allergies.
Ideally, you should stick with unscented baby washes because products with fragrance can cause allergic reactions, says Dr. Robinson. If you must have a scent, opt for a wash that is naturally scented and mild.
Avoid products that contain dyes or harsh chemicals like parabens, phthalates and sulfates. Alcohol (which may be listed as ethanol or isopropyl alcohol) is another ingredient to avoid. "It can cause dryness, irritation, rash and breakouts," says Dr. Robinson.
Many brands offer baby shampoos and washes, and others have multitasking formulas that do both jobs. Here are our favorite shampoos, washes and two-in-one products to keep baby fresh and clean.
Final Word
Our top pick for the baby bath product is the Burt's Bees Baby Shampoo. It is organic and vegan, and also formulated with clean, natural ingredients so it's hypoallergenic and won't irritate your baby's sensitive skin. It also comes in a handy pump so it's easy to operate one-handed, and is pH balanced to be used on your baby without drying out their skin.
How often do you bathe your baby? Tell us in the comments below, and share with a mother who might be searching for the perfect shampoo and body wash for her little one.
If I missed something or if you have to share feedback and suggestions feel free to write in the comment section.
For purchasing best and reviewed products, visit our website "Ripplenfortunate"
LATEST ARTICLES