Gone are the days when we use pressure cooker on gas stove.Now it's time to purchase an Electric Pressure Cooker for your beautiful home.
Some people like cooking some of them not but the main problem is to go again and again to check your stovegas pressure cooker.But as we know kitchen appliances for cooking are widespread. So, the new invention is occured that is an Electric Pressure Cooker.This handy kitchen tool is for complete hand-off cooking; it needs no monitoring like a stovetop pressure cooker. Just put the ingredients lock the lids, select one cooking program and you are done. You can go wherever you want to do whatever you do totally forgetting about it.
You would also love to have an electric pressure because they are so versatile and easy to use. They are so much more than just an ordinary pressure cooker and some other advantages of owning one at home are-
Set and Forget Cooking- temperature adjustment to pressure release everything is automatic
Multi-purpose cooking- newest models can slow cook, steam, sauté make rice, yoghurt and much more
Safe for young and old- built-in pressure release valve, auto shut-off makes them safe for those who forget to turn the gas off
Suits limited kitchens- these are complete kitchen tools and can save your kitchen space
Can delay cooking cycles- schedule a time and the cooking will be done before you reach home
Pre-set recipes– great for novice cookers
What is an Electric Pressure Cooker?
An electric pressure cooker is an electrically driven pressure cooker that makes use of electricity to generate high or low pressure inside the cooker. This type of cooker comprises of pressure cooking containers (alternatively known as cooking pot or inner pot), temperature/pressure sensors, and the electric heating element.
The user just needs to put all the necessary ingredients in the cooking pot and adjust the pressure cooking duration for the desired food recipe you want to cook. Once these tasks are done, the electric pressure cooker will do the rest.
Basic Components of an Electric Pressure Cooker
1. Housing
The exterior pot of the pressure cooker, or the outer portion is known as the housing of electric pressure cooker. It comes with the digital control panel, Temperature sensor, and the heating element.
The heating element is present at the base of the housing. This heating element is actually a ceramic disk where a heat sensor is there at the middle of the disk.
This heat sensor also known as temperature sensor helps in tracking out the cooking temperature of the pressure cooker. It acts as a safety system, means if there is too high temperature inside the cooker, it automatically shuts off the appliance.
Now, the programmable panel which comes with all the buttons, necessary for operating the electric pressure cooker.
2. Inner Pot
It is a removable cooking pot that fits well inside the housing. Here you keep all the ingredients for cooking. Different models have different types of inner pot. For exp. Some come with stainless steel pot with ceramic coating. Some are non-stick pot with no Teflon coating and some has non-stick pot with Teflon coating.
3. Lid
The lid locks the top of the housing of the unit. It comes with two types of pressure valve including:Floating Weight Valve that keeps the pressure in the cooker by having a weight to push the steam in.Spring Valve that is a calibrated metal spiral spring used to resist the push of the steam inside the pressure cooker.
4. Pressure Release Switch
In most of the models, the pressure release switch presents at the exterior of the lid. It is also known as pressure limit valve, pressure regulator knob, steam release handle, steam release reset button, and rapid release button.
This button controls the steam inside the pot to escape. You can easily switch it close to build pressure inside the cooking pot and open it to release the pressure.
5. Sealing Ring
The sealing ring, also known as sealing gasket is a removable ring that is made up of food-grade silicone material. You can easily attach it to the underside of the lid. While cooking, when you lock the lid, the sealing ring creates an airtight sealing inside the pot. Thus, it allows the cooker come to create the pressure.
6. Anti-Block Shield
Most of the models of electric pressure cooker comes with an anti-block shield. It is a metal shield over the opening of the pressure release switch that protects the foam and food from entering into the pressure release switch.
Different Functions and Controls of an Electric Pressure Cooker
Push Button Controls: To control settings, program, and temperature, etc.
LED display: To monitor the cooking process.
Pressure Indicator: That lights up when pressure reaches the desirable temperature and switches off when the pressure goes down.
Adjustable pressure: From low, medium, and high.
Thermostat Feature: That adjusts the temperature automatically as per the food type and quantity.
Auto Shut-off: Function keeps the appliance shut off automatically when cooking is done.
Keep Warm: Function maintains an appropriate temperature inside the cooker that retains the hotness of the food for 4-5 hours.
Delay Start Timer: Delays the cooking time by setting a timer.
Preset Menus: To cook the desired recipe automatically that are included with the pressure cooker.
Things You Need to Consider Before Buying
1. Get the Correct Size
Size matters a lot while choosing an electric pressure cooker. You need to consider the size of your family and how much you want to cook at a time. In simple terms, if you have a large family to cook for you will require a larger pressure cooker with more than 8 quarts.
A good rule of thumb of deciding the pressure cooker size is 1 quart/L per person, so 8 quarts would be sufficient for a family of 8 or lesser people, 6 quarts for 6 or less. There are also small-sized 2-3 quarts electric pressure cookers available out there. The size is pretty small and can suffice 2 or possibly 3 people at a time.
We don't recommend you to go less than 6 quarts- this way even if you have to prepare a meal for 2 people, you can prepare 2 meals at a time by stacking them in different trays horizontally. However, it's better to keep in mind that a bigger size pressure cooker can take more time in generating sufficient steam and pressure to start the cooking process, but once it starts you will have delicious meal food ready for your whole family.
2. Consider your Safety
Today's electric pressure cookers are a lot safer than a stovetop one. They are equipped with temperature and pressure sensors which are automatically adjusted. But like any pressure cooker, it also holds high temperature and superheated steam inside. So safety should be neglected at any chance. Look for safety features like a pressure release valve, pressure controller, pressure indicator, secure lid locks, tightly fitted lids than doesn't open by any chance when the cooking is processing.
3. Materials should be Durable
There are mainly two materials used in the making of an electric pressure cooker- stainless steel and aluminium. They have different qualities and affordability. Aluminium pressure cookers are the most affordable ones but they are not durable. They can conduct heat faster but are distorted easily in the cooling process.
On the other hand, stainless steel electric pressure cookers are expensive but they are the most durable types, distribute the heat evenly and never distort or bend. For electric pressure cookers, we recommend you to go for a stainless steel model as aluminium is reactive to acidic food ingredients which are greatly used in Indian dishes and can change the flavor of your food.
4. It should be easy to clean
The lid should be easily removable so that you can clean the valves, rims, and the silicone gasket. If you are using a Dishwasher better to choose a model that is dishwasher safe as all of them are not dishwasher compatible. Look for products which have "dishwasher safe" mentioned in the product description. If you don't use one you have to clean by scrubbing the inner parts after cooking. Note that, you can only wash the accessories like the lids, pots and other attachments and not the housing with the control panel and the electrical socket.
5. Try to avoid non-stick inner pots
The non-stick coating works great for pan-frying; in case of a pressure cooker, it's better to avoid non-stick pots. A non-stick coated pan should better not be exposed to too high temperatures. Since a pressure cooker always cooks on the high temperature the non-stick coating can simply wear off after a while and the product will lose its productivity. Another reason to avoid them is they are delicate and difficult to clean. After using the cooker for a while when hard layers of food and satins start to accumulate on the surface and you rub it hard and it ultimately peels off by any means.
6. It must have Cool-to-touch Handles
Though often neglected this is a must for every electric pressure cooker you choose. They become extremely hot that if you ever touch them accidentally or when you are in a hurry you will burn your hands. Some models still lack handles but it is advisable to look for models that have an easy gripping handle and they must be cool-to-touch.
7. Higher the Wattage faster will be the Heating
Wattage is everything for an electric pressure cooker. Higher the wattage sooner will be the cooking. Higher watts will consume more power and hotter the heating element will burn; this way a higher watts pressure cooker will reach the pressure point much sooner compared to a lesser watt cooker. You may not feel its importance right now but when you cook and you are in a hurry those minutes seem like hours. Usually, an 800 Watt pressure cooker takes 15-20 minutes where a 1000 Watts takes 10-13 minutes or less to reach the pressure.
8. Check Warranty and Replacement services
A good brand pressure cooker will have a warranty on the electronic housing and inner pot but may not cover the accessories such as gasket, valve, racks, and seals. Whether covered by warranty or not some parts will wear and tear and you will need to replace them once in every 2-3 years based on their conditions. This is why we recommend you not to buy something from a no-name brand.
They may not have any warranty. Additionally, in case of any replacement, you may have to track down the parts which either goes out of stock, out of business or the brand vanishes out of nowhere leaving you a cooker that is totally useless.
Electric pressure cookers can be expensive so investing money on a reliable brand which has a warranty (for at least 6 months) on the electrical parts and sells replacement parts easily available in the market should be your primary consideration.
Also Read:
List of best Electric Pressure Cooker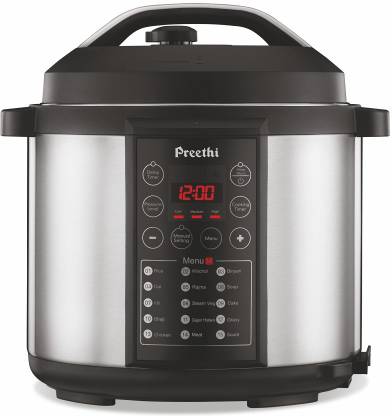 Preethi touch is an automatic electric pressure cooker that produces nutritious healthy food every time in a convenient manner.
It functions as a 5-in-1 multifunctional cooker-pressure cooker, rice cooker, steamer, saute pan and warmer. It has 15 built-in smart Indian recipes (rice, khichdi, biryani, dal, rajma, soup, idli, steam veg, cake, bhaji, gajar halwa, gravy, chicken, meat and saute). These recipe modes allow you to cook your favourite dishes with the press of a button while you can continue with your other work.
The nutri++ feature ensures increased nutrient bio-availability in the body by ensuring the food is cooked at the optimum temperature and pressure. A 30 min to 8 hours delay timer allows delayed cooking process. The keep warm function preserves the taste and aroma for up to 4 hours after completion of cooking.
There is absolutely no noise and steam leaks, unlike the traditional aluminum pressure cooker. Equipped with 9 safety levels that control the pressure, power and temperature, preethi touch guarantees maximum safety. The electric pressure cooker comes with the preethi advantages, a battery of endurance, durability and reliability tests that certifies the best-in-class quality of the product. The attractive steel exterior and design definitely makes preethi touch electric pressure cooker a beautiful addition to your kitchen.
Features:
5-in-1 multifunctional cooker-pressure cooker, rice cooker, steamer, saute pan and warmer
Built with latest nutri++ technology for healthier cooking for increased nutrient bioavailability in the Food
Ensures uniform cooking of ingredients every time, Has Water Level Indicator
Features 15 pre-programmed smart Indian recipes: Rice, khichdi, veg biryani, dal, rajma, soup, idli steam veg, cake pav bhaji, gajar halwa, veg curry, chicken, meat and saute
9 safety levels to control and limit temperature, pressure and power
Allows both open and closed mode cooking
Delay timer: 30min to 8hrs of pre-defined time to start the cooking process
Auto-warm function to keep food warm for 4 hours after cooking
Capacity: 6 liters
Warranty: 1 year warranty provided by the manufacturer from date of purchase
Power: 1000 watts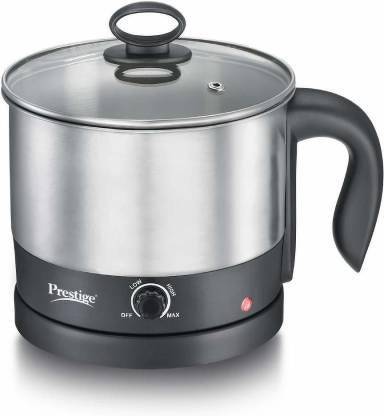 Prestige Multi-Cooker PMC 1.0 +
Prepare instant noodles, cook rice, boil eggs, brew soup, instant tea or coffee, with precise temperature settings in a matter of minutes. A great appliance if you need to cook smaller quantities of food. What more, because of its compact size, you can use it while travelling or during family outings. The Prestige Multi Cooker, with smart features like temperature control, Automatic cut-off for dry heating , ergonomic handle, stylish glass lid etc., is an amazing accessory for hassle free and quick cooking needs.
Stylish stainless steel body
1 Litre Capacity
Elegant glass lid
Trendy cool touch handle
Variable temperature control
600 Watts Power Consumption
Features:
ELEGANT HANDLE WITH SINGLE-TOUCH LID LOCKING: Prestige Multi-Cooker comes with elegant handle and lid locking mechanism. The single touch-lid locking mechanism ensures a quick seal to prevent steam from escaping and water to boil in no time. Thus making it energy saving.
ELEGANT GLASS LID WITH SS RIM: The Elegant Glass Lid allows you to see through the the cooking levels and achieve desired results.
CONCEALED ELEMENT: The concealed element makes it easy to clean as you can now spin your hands through the kettle while washing it with soapy water. Also it is safer than kettles with open element.
TEMPERATURE CONTROL: The Prestige Multi-Cooker PMC 1.0 comes with a temperature control knob for maintaining precise temperature while brewing.
POWER INDICATOR: This appliance has illuminated power indicator which glows while the kettle is in use and the power is on. This prevents from accidental burns when the kettle is hot.
360 DEGREE SWIVEL BASE: Swivel power base allows you to plug it in any direction with desired jug handle position. Contact point will source power, only when kettle is placed on it. The appliance is detachable from its power base for convenient usage and portability. Cord winder can be used to shorten the length of cord as per the required distance from the plug point.
Warranty: 1 year warranty provided by the manufacturer from date of purchase
One Appliance, Many Uses!
Prestige Multi-Cooker can be used to cook many dishes that include:
Instant Noodles, Boiled Potatoes
Rice Porridge, Boiled Rice
Boiled Vegetables
Soup, Pasta
Boiled Eggs
Tea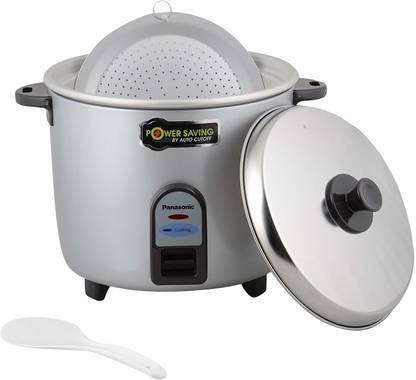 Panasonic SR-WA22-GE9 Electric Cooker
Panasonic's power-saving series is designed peculiarly to save power. The automatic cooker automatically switches off once the food is cooked. So every time you cook you contribute to power saving.
Multiple color choice available
Anodized coating pan
Power: 750 watts
Includes: Cooker with Scoop, Cooking Plate Operating Instruction Manual
Features:
AUTOMATIC COOKING: This clever rice cooker saves power as once the food is cooked, it switches off automatically. The rice cooker is hence Ideal to improve your cooking experience.
ANODIZED ALUMINIUM PAN: This wondrous rice cooker is made of anodized aluminium, which makes it sturdy and durable. The anodized aluminium is harder than steel and is non-reacting with food.
COOKING PLATE: This stylish and compact rice cooker carries a cooking plate and a useful streaming basket in the combo to simplify your cooking requirements.
POWER SAVER: This cooker saves power as once the food is cooked, it switches off automatically. Thus, it's reliable.
Warranty: 2 years on product and 5 years on Cast heater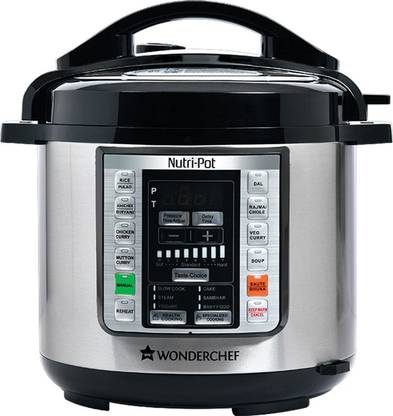 Wonderchef Nutri-Pot 6L
Nutri-pot enables you to cook healthy and tasty food every day. Automatically on top of that! Your own personal robot indeed in your kitchen.
The intelligent micro-computer inside Nutri-Pot keeps the pressure and temperature at an optimum level that prevents over-cooking or burning of food. The tight-fitting lid traps the steam rising from the food within the pot, retaining important nutrients within the food.
Features:
One touch cooking: Nutri-pot has a 18 pre set function curated specially for your need. It covers major Indian recipes so that you should worry & waste your time to decide the pressure & temprature. It will cook your desired recipe at a touch of a button.
Nutritious food every time: Unique locking system of the Nutri-pot lid locks all the nutrition inside the food. So, every time you cook, healthy meal will served to you & your loved once.
Pre- Programmed recipes: Nutri-pot has a 18 preset function specifically designed as per Indian recipes. This allows you to faster & perfect at every time.
7 in 1 Appliance: Fast or slow, Nutri-pot can replace 7 utensils in your kitchen. It acts as a Pressure cooker, Fry Pan, Slow Cooker, yogurt maker, Steamer, warmer & rice cooker. Enjoy delicious recipes at a touch of a button.
Alexa at your service: Now, no more worry of what to cook. Alexa is there to help you in integrated recipes of Nutri-pot curated by Chef Sanjeev Kapoor himself. Just ask Alexa about the recipe and she can give you amazing experience of cook along with Nutri-pot
Delay Timer: There is a magic in your Nutri-pot & we say it delay timer. You can order your Nutri-pot to start cooking at your own ease. You can set the timer anywhere between 30 min to 24 hours.
Micro-computer: Nutri-pot is equipped with intelligent microcomputer inside which controls the tempressure & pressure inside the vessel. This enables you to make healthy & perfect recipe every time.
Warranty: 2 year warranty provided by the manufacturer from date of purchase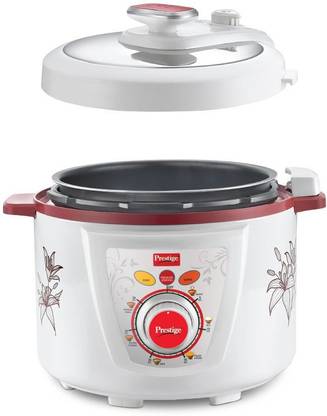 Prestige Electric Pressure Cooker – PEPC 1.0
Save time and make cooking easy in one go with the revolutionary prestige electric pressure cooker. Cook with convenience like never before with unique features like Pre-set menus and electromechanical timer that takes care of the cooking for you. The future of efficient pressure cooking has arrived.
The Prestige electric pressure cooker gives you the following benefit :
Retains flavor
Preserves nutrition value
Efficient in saving cooking time
Easy to clean and maintain
Reinforced outer body makes it durable
Maximum safety with auto pressure device
Can Pressure Cook, Boil, Saute',Steam and bake
Comes with a recipe book with 20 exciting recipes
Features:
Detachable Lid: The pressure cooker comes with a detachable lid that doesn't obstruct movement while enhancing ease of use and maintenance at the same time.
Electromechanical Timer: Set the appropriate time for the meal you are preparing and let the cooker take care of the rest. In case of power loss, the timer will stop and resume when the power is back, automatically.
Pre-Set Menus: Choose the right pre-set for the right preparation and get the best results with minimum supervision. The next generation way of pressure cooking.
Detachable Pan: The pan can easily be removed from the appliance making it easy to clean after cooking, and to serve at the table.
Reinforced Outer Body: For the first time ever in pressure cookers, the exterior of the body is reinforced with 0.5 mm thick material to add to its durability.
Auto – Pressure Device: Ensuring maximum safety in the kitchen, the new and improved auto – pressure device is put in place to release excess pressure when necessary.
Warranty: 1 year warranty provided by the manufacturer from date of purchase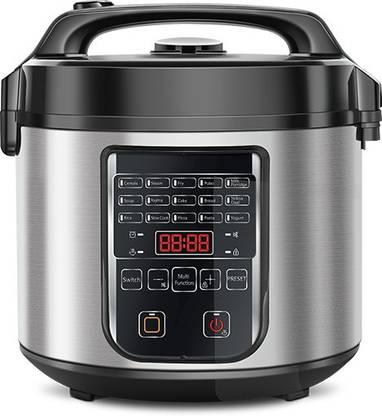 KENT Hot Pot Multi-Functional Instant Cooker
Now, you can make a variety of your favorite dishes using a single appliance- KENT Hot Pot Multi-Functional Instant Cooker. The multi-functional instant cooker comes with 15 pre-set functions that allow you to bake, steam, fry (with less oil), grill or roast at the touch of a button. The smart 24-hour 'delay start' and 12-hour 'keep warm' functions helps you multi-task when you are running short of time.
Features:
KENT Hot Pot Multi-Functional Instant Cooker's 15 pre-set functions help you make your favourite food items with a single touch.
Cereals | Steamed Food | Fried Food | Pulao | Milk & Porridge | Soup | Rajma | Cake | Bread | Dal | Slow Cook | Pizza | Pasta | Yogurt | Rice
12 hour Keep Warm Function: Reheating food make alters taste, which is why KENT Hot Pot Multi-Functional Instant Cooker comes with a 'Keep Warm' function to keep food warm for as long as 12 hours.
24- Hour Delay Start: A unique feature of KENT Hot Pot is the 24-hour delay start function, which makes it easy to cook food at the designated time. Just add the ingredients, choose the 'delay cooking' function and adjust the time. The food will be prepared at the designated time set by the user.
Stainless Steel Housing Body: To increase the durability of the product, KENT Hot Pot Multi-Functional Instant Cooker comes with a stainless-steel housing body.
Non-Stick Inner Pot: Oily food takes a toll on your health and well-being. This is the reason why KENT Hot Pot Multi-Functional Instant Cooker comes with a non-stick inner pot that helps you prepare healthy and oil-free food.
1 year Manufacturer Warranty
Specifications:
| | |
| --- | --- |
| Product Name | KENT HOT POT Multi-Functional Instant Cooker |
| Product Code | 16038 |
| Net Weight | 3.1 kg |
| Capacity | 5 L |
| Input Power Supply | Single Phase 220V AC, 50Hz |
| Power Consumption | 700 W |
Conclusion:
Electric Pressure Cookers invention are occured to make our life style easier.They are much more efficient, convenient to use, versatile, and the best of all –they are safe to use.
The information I have shared above will help you to buy the perfect Electric pressure cooker. You can also choose one of the above from the list I have shown.As they reviewed by many customers.
If I missed something or if you have to share feedback and suggestions feel free to write in the comment section.
For purchasing best and reviewed products, visit our website "Ripplenfortunate"