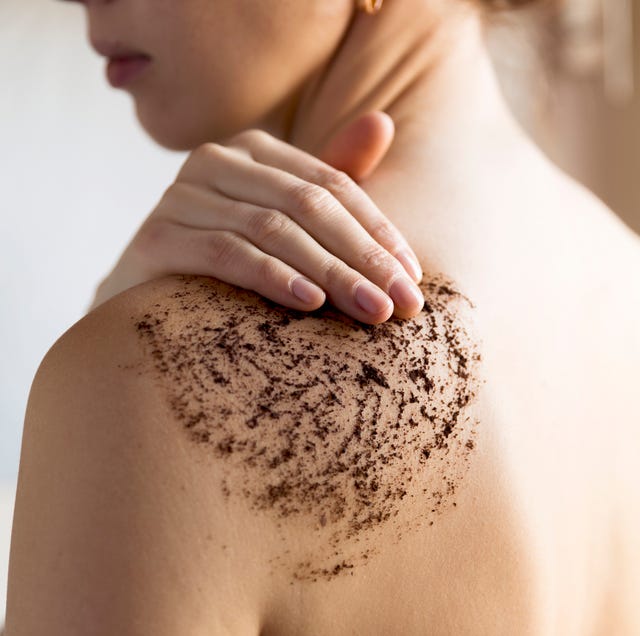 Many of us have the problem of having different body skin color from our face color.How many of you take care of your body skin as you do for your face skin?? I guess not many.But it is important to take care of your body too and give the nutrients as you give to your face.
How many of you use body scrub??
This blog will be profitable for both the audience who are using it or not.You will find the best body scrub and many information about it.
What Is A Body Scrub?
Body scrubs are physical exfoliants that mechanically slough away dead skin cells. The feel of a "scrub" typically comes from a combination of sugar and/or salt that is suspended in an oil base. While some scrubs (particularly of the DIY variety) contain coarse salt and sugar particles, higher-quality varieties are formulated with fine, premium particles that polish skin without being abrasive.
Types of Body Scrub
There are numerous types of body scrubs.
Sugar Scrubs
Sugar-based scrubs are formulated with sugar granules or brown sugar. It exfoliates dead-skin cell build-up. A sugar body scrub can help create the appearance of smoother, gleaming skin. Sugar-based scrubs are an excellent option- especially for those who prefer much less-abrasive scrub.
Salt Scrubs
These scrubs contain different grades of sea salts. It not only sheds lifeless cells, but it also increases circulation and encourages regeneration. This regeneration process tightens the skin and gives a firmer and younger-looking appearance.
Salt body scrubs are great for bringing toxins to your skin and useful for healing properties as well.
Moisturizing Scrubs
Many people suffer from a lack of moisture. Dry skin is an irritating problem; however, it can easily be treated with a moisturising body scrub. Ground almonds and oatmeal are common additives along with aloe vera, yoghurt, and other moisturising properties.
Herbal Scrubs
It is a popular body treatment that is made from organic elements from plants such as leaves, herbs, fruits, tree barks, cereals, beans, or flowers. They are useful to exfoliate the dead skin cells, moisturises, and leaves it smooth & soft.
Orange peel and lavender flower are two great examples of some very popular scrub additives.
Coffee Scrub
Coffee is quite popular used in scrubs for its unique agents. It is one of nature's stimulants and useful for cellulite-prone areas. It reduces the appearance of cellulite temporarily and gives a firmer appearance.
Coffee ground improves circulation and leaves you with smooth and youthful skin.

BENEFITS OF A BODY SCRUB
If you're not using a body scrub then you're missing out on a number of benefits that other skin care products don't provide. So just what are the benefits of a body scrub?
Makes Skin Look Fresh And Rejuvenated
Essentially the benefits of using a body scrub are the removal of dead skin cells from the body and impurities, leaving you feeling fresh and your skin looking rejuvenated and revitalized.
Makes Skin Look More Youthful
Exfoliating dead skin cells tends to remove the dull and lacklustre appearance of the skin. Humans shed skin cells daily (anywhere from 11,000-23,000 skin cells an hour) and it usually takes about 27 to 30 days before new skin cells reach the top layer of the skin (stratum corneum). Using a body scrub regularly will help make your skin look more vibrant and youthful.
Benefits of body scrubs through the removal of dead skin cells as a result of exfoliation with a mild body scrub extend to moisturizing as it allows for the easy absorption of a skin moisturizer into the healthy skin. Ideally, the best body scrub is one that not only acts as a gentle enfoliant but moisturizes at the same time! All of the Volcanic Earth body scrubs do both.
More and more people are using self tanners rather than increase their risk of skin cancer through exposure to the damaging effects of too much sun. The important thing to know here is that to achieve a realistic "fake" tan using a self tanner is to exfoliate with a gentle body scrub first.
If you don't do this to remove any dead skin cells then you run the risk of ending up with a blotchy look as the self tanner will darken areas where more dead skin cells acculate (such as the elbows and knees). If you want a natural looking tan and you use a self tanner then using a suitable body scrub before applying the tanning product is essential.
How To Use A Body Scrub
It's best to use a body scrub two to three times per week to keep your skin soft and smooth from head to toe. Here's how to add one to your body care routine:
Use lukewarm water; allow it to run for 5-10 minutes to soften the skin
Pause running water and apply the scrub in circular motions; start at your feet and move upwards towards your heart to enhance circulation
Maintain gentle pressure (don't scrub too hard!)
Rinse thoroughly
Apply your favorite body oil or lotion while your skin is still slightly damp.
How to Choose the Best Body Scrub?
Different skin varieties have different requirements. To make sure that these body essentials needs get fulfilled must look for ingredients that will work right for your skin type.
Sebum Controlling and Deep-Cleansing Ingredients – For Oily Skin
Body acne is the most common issues for those with oily skin as they generally have clogged pores due to excess sebum production.
There are certain ingredients such as lemon, neem, tulsi, grapefruit, etc. that'll go the extra mile and unclog the pores. They also control the amount of oil the skin produces to prevent breakouts.
Gently Exfoliating and Hydrating Ingredients – For Dry Skin
If you have dry skin type, pick the body scrub that does not strip away all moisture from your skin. Must examine the list of ingredients to make sure the scrub you are picking up contains herbals ingredients or natural oils like jojoba oil, coconut oil, olive oil, etc. Natural-oils help to replenish the moisture levels and keep it feeling smooth & hydrated.
Milder Ingredients with Calming Properties – For Sensitive Skin
People with sensitive skin can look for milder ingredients that have calming properties such as grape seed oil, sweet almond milk, sandalwood, rose water, apricot, etc. Avoid the elements that are known to irritate the skin such as parabens and sulphates.
Ingredients that improve and repair cells – For Mature, Ageing Skin
The older you get, the difficult it becomes for your body to keep up the appearance of good skin. Ageing or mature skin needs constituents that not only remove the dead skin cells but also help replenish the skin cells faster and nourish the skin.
Ingredients are rich in antioxidants, such as turmeric, green tea, grape seed oil, etc. effective on mature skin.
Choose Different Formulations for Different Seasons
Cream Based
Cream-based formulations are generally better for winter since in winters your body needs extra moisturization. Depending on your skin type, you can select lighter or heavier options with ingredients that match your skin's requirement.
Gel-Based
Gel-based formulas are suitable for summer. In summer's your skin needs a lighter method that not clog pores and keeps you feeling fresh. Just make sure that the ingredients match your skin type and help keep it healthy and glowing.
Packaging
The body scrubs come in the two most common type of containers, i.e., tub types and tube types. Tub type containers are perfect for at-home use. They are a more economical option even though they're not easy to carry or use.
Tube-type packaging is a bit expensive compared to the amount of product you get. However, it is easy to use and travel-friendly.

How Often Should I Use a Body Scrub?
Using a body scrub twice a week is enough to get a beautiful skin. However, it can vary based on the types and ingredients of products.
Also Read
List of best Body Scrub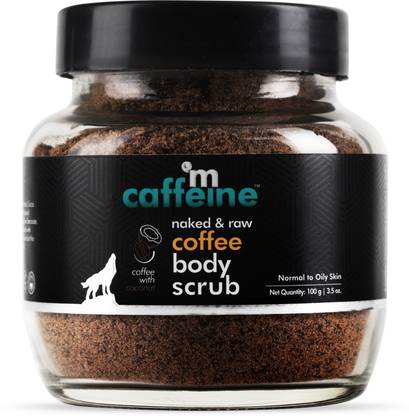 Give your skin the gift of MCaffeine Naked & Raw Coffee Body Scrub – a scrub crafted from Pure Arabica Coffee and Cold Pressed Coconut Oil. With the everyday hustle, your skin looks dull, feels suffocated by the pollution and dirt, and becomes rough. MCaffeine coffee bodyscrub exfoliates dead skin cells and helps get rid of blackheads, tan and impurities. It polishes the skin and deep cleanses your pores so that your skin is smooth, glowing and breathes free.
Features:
LUXURIOUS SKIN EXFOLIATION: An exfoliating scrub made exclusively to scrub away all the dead skin cells, blackheads, impurities, pollution, and unwanted tan | Perfectly sized pure coffee grains to work effectively on the softest as well as the roughest areas of skin
SMOOTH AND GLOWING SKIN: This Coffee Body scrub evenly polishes your skin to give you a smooth and irresistibly soft skin | Reveal a glowing, younger-looking healthy skin that is perfectly nourished | It unclogs your pores to let your skin breathe free
GOODNESS OF COFFEE & COCONUT: Coffee polishes the skin, stimulates blood flow and reduces cellulite | The caffeine in coffee even tones the skin and reduces puffiness | Coconut deep cleanses, hydrates, and reduces stretch marks and gives an overall nourishing touch
MADE WITH CARE: Ayush Certified | SLS Free | Clinically Tested | Cruelty-Free | Paraben Free | For Normal to Oily Skin | For Men & Women
To be used once a week after the shower | Let this be your last step in your weekly shower care routine to get that smooth, glowing skin
BioCare Natural Arabica Coffee Body Scrub and Polish by FABEYA
FABEYA BioCare Natural Arabica Coffee Body Scrub and Polish offers the customers a body scrub that removes the dead skin and wrinkles from the face and makes the person feel fresh and bright. It gives the user a glowing face and lightened face tone due to coffee extracts.
Features:
Paraben-free: This facial scrub contains no paraben. These parabens are usually used in cosmetic products and they cause damage to the skin in the long run. This product does not have paraben compounds, making them safe. FABEYA BioCare Natural Arabica Coffee Body Scrub and Polish offers the users a body scrub that removes the dead skin and wrinkles from the face and makes the person feel fresh and bright. It gives the user a glowing face and lightened face tone due to coffee extracts.
Contains Arabica coffee: This facial scrub contains Arabica coffee powder. The coffee powder extracts and powder help the user get a lighter skin tone and complexion after using the face scrub.
Sulphate-free: The face scrub is sulphate-free. It does not cause harm to the skin and exfoliates the skin giving it new life.
No artificial coloring: The colour of the face scrub is natural and it does not contain artificial colouring that harms the skin. The base is formed by the coffee powder.
Removes dead skin: This face scrub effectively removes dead skin cells and cellulite from the face. That, in turn, prevents the face from premature wrinkles and ageing.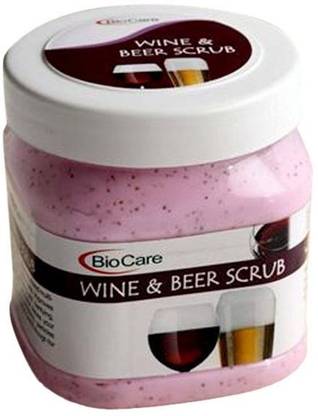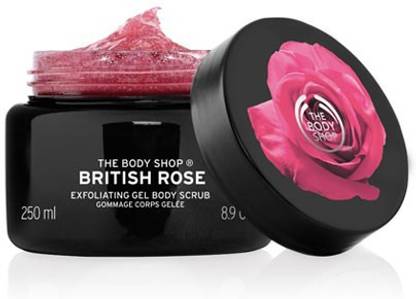 Infused with the essence of roses from Britain, this scrub gently exfoliates your skin, washing away sebum at the skin's surface to reveal a more radiant complexion. The fresh dewy gel texture with real rose petals feels smooth on your skin and effortlessly melts onto your skin.
Features:
Skin Type: All Skin Types
Applied For: Exfoliation
Organic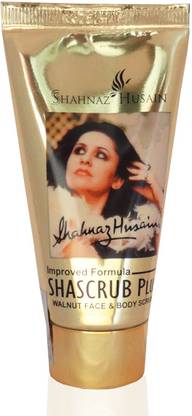 For all the busy bees out there who cannot make time to pamper their skin at the beauty salon, here is some good news. You can now get beautiful skin at home with the Shahnaz Husain Shascrub Face and Body Scrub.
Made from a powerful blend of organic ingredients such as Walnut, Date Extract, Coconut and Lemon Oil, this Shahnaz Husain Face and Body scrub wonderfully nourishes your skin while it also keeps your complexion clear and glowing. Acting as an excellent natural exfoliating agent, the Walnut extract contained in this Face and Body Scrub eliminates the dead epithelial layer formed on the skin to give your skin a smooth finish.
Also, Walnut has the capacity to go deep into your pores and dislodge the dirt particles, thus keeping your skin clean and clear.
Additionally, infused with antioxidants, the Date fruit extract in this Shahnaz scrub protects your skin from pollutants and free radicals, thereby keeping your skin free of acne, blemishes and pigmentation. Besides, Date has the ability to improve blood circulation and promote cell revival, making your skin healthy and radiant.
Along with exfoliation, the natural Shahnaz Husain Scrub also provides intensive deep cleansing action with the help of the Lemon oil found in it, as Lemon Oil penetrates all the layers of your skin to get rid of the grime and impurities settled on your skin, thus keeping your skin refreshed for a long time.
Moreover, the nutritious Coconut extract present in this Shascrub face and body scrub adds to the softness of your skin by delivering moisturizing action while it also makes your skin bright and smooth. Keep your skin happy with the Shahnaz Husain Shascrub Face and Body Scrub.
Directions for Use
Apply on wet skin.
Massage gently, in circular motions for about 5 to 10 minutes.
Rinse off.
Use regularly for desired results.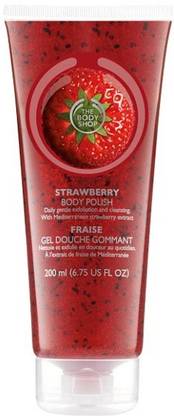 Envelop your senses in sweet strawberry paradise with this Strawberry Body Polish from The Body Shop that contains walnut shell powder to gently buff away dead skin cells and make your skin smooth.
Gently Exfoliates
The formula contains walnut shell powder that gently washes away dead skin cells and makes your skin feel silky smooth.
Foaming Gel-based Scrub
The delicious gel-based scrub foams up to gently wash away impurities and keep your skin clean and soft.
Leaves Skin Soft and Smooth
Enriched with honey and glycerine, this Body Shop Body Polish leaves your skin feeling irresistibly soft and smooth.
Has Sweet Strawberry Scent
Sweet strawberry juice gives this Strawberry Scrub a sumptuous strawberry scent that leaves your skin delicately scented after wash.
Features:
| | |
| --- | --- |
| Applied For | Exfoliation |
| Skin Type | All Skin Types |
| Application Area | Body |
| Composition | Honey, Strawberry |
| Container Type | Tube |
| Maximum Shelf Life | 24 Months |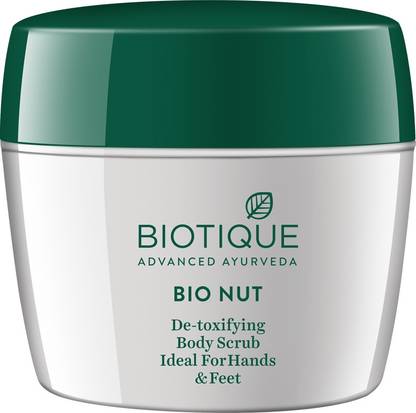 Biotique Bio Nut De-Toxifying Body Scrub
This exfoliating scrub is blended with walnut oil, rich in vitamin A and lecithin, extracts of neem, mint, fenugreek and red sandalwood to purify and polish skin texture. Sweeps away dry lines and leaves skin smooth, soft and spotlessly refreshed. Skin becomes more receptive to the benefits of future treatment.
Ingredients:
Akhrot chhal (juglans regia shell), neem (melia azadirachta), nagkeshar (mesua ferrea), pudina (mentha iperita), mom (bees wax), surajmukhi (helianthus annuus), himalayan water Q.S
How to use:
Massage on wet face and neck with fingertips. Avoid eye area. Rinse with water or damp washcloth. Use daily or as needed
Make your skin look naturally fair using the Lotus Herbals WhiteGlow Oatmeal and Yogurt Skin Whitening Scrub. It is specially designed to make your skin look clearer and fair.
Powerful Natural Ingredients
This skin whitening scrub is infused with oatmeal and yogurt enzymes that offer a gentle exfoliating action to remove dead skin cells. In addition, these enzymes help lift off dirt, impurities, oil, blackheads and whiteheads from the pores, leaving the skin clean, clear and spotless. They even out your skin tone, while preventing dull skin and discoloration.
Keeps your Skin Moisturised
Oatmeal also hydrates your skin and locks in the moisture. Yogurt helps prevent the skin from tanning and ageing. This Lotus Herbals skin whitening scrub is suitable for normal, dry, combination and oil prone skin. It brightens your skin tone and gives a healthy glow.
Directions for Use
This skin whitening scrub comes in a convenient 100g tube. Squeeze a pea-sized amount of the scrub, apply on wet face, scrub and wash off with clean water. Get this Lotus Herbals WhiteGlow oatmeal and yogurt skin whitening scrub at Amazon India.
Features:
Quantity: 100g; Item Form: Foam
Removes dirt, impurities, blackheads and whiteheads; Gives shine after use
Container Type: Tube
Target Audience: Men & Women
The Body Shop brings to you the Fuji Green Tea scrub that contains revitalizing green tea from Japan to bring out the best in your skin. Rejuvenate your skin with this scrub that cleanses out impurities to leave your skin feeling smooth as silk. Uplift your senses with the refreshing scent of green tea.
Features:
| | |
| --- | --- |
| Applied For | Exfoliation |
| Skin Type | All Skin Types |
| Application Area | Face |
| Sales Package | 1 Scrub |
| Maximum Shelf Life | 24 Months |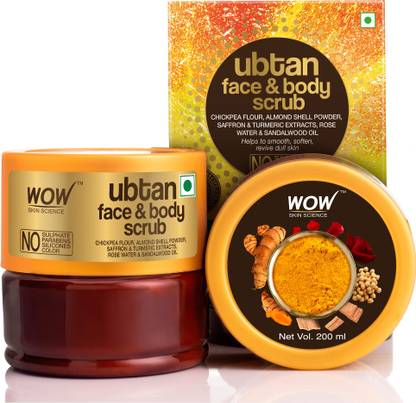 Reveal beautiful skin, bright and radiant complexion with WOW Skin Science Ubtan Face & Body Scrub.
This scrub is made from traditional natural ingredients known for their exfoliating and skin rejuvenating properties. The ubtan scrub assists in removing the layer of dead skin, deep-seated dirt, and tan, helps moisturize and soften skin leaving your skin velvety smooth and glowing.
The scrub has almond powder, which contains vitamin E and antioxidants that moisturize and prevent fine lines and dryness. Rosewater is a mineral-rich skin coolant and toner that firms up the skin.
This scrub helps to exfoliate dead skin layer and prevent fine lines and dryness, remove tan, even out complexion and calm irritated skin.
Contains no parabens, sulphate, color or silicones and helps to deliver maximum benefit.
When used on a continuous basis, it aids in enhancing skin's texture and the look and feel of the skin.
This scrub is made from traditional natural ingredients which aids in moisturizing skin and protects skin from environmental damage.
Key Ingredients:
Chickpea Flour: Rich in zinc; it helps remove dead skin layer and fine hair from face and body.
Almond Extract: Contains vitamin E and antioxidants; it helps exfoliate and prevent fine lines and dryness.
Turmeric & Saffron Extracts: Have anti-inflammatory, antiseptic properties; help remove tan, even out complexion and calm irritated skin.
Rose Water: Mineral rich skin coolant and toner, helps firm up the skin, even out complexion and give it a soft glow.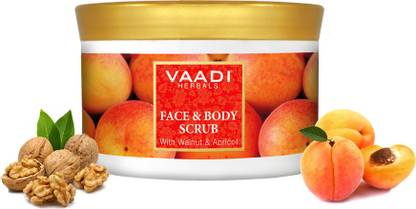 Benefits:
Walnut and apricot these scrubs remove dry dead skin cells, blackheads and impurities making the skin smooth and clear also helps improve skin complexion
Vitamin e protects skin from uv rays prevents skin ageing
Aloe vera moisturizes and nourishes the skin
Conclusion
At the end, I guess you people must have got many information about body scrub and the list of best body scrub.
Get one them as they are reviewed and used by many people.Get rid of your dead skin.
Enjoy your Glowing Skin!!