Castor Oil, Hair experts weigh in on the miracle ingredient.
Are you looking for a multipurpose oil that can solve most of your hair issues? Then, you are on the right page. Here's one of the most potent hair oils of all time – castor oil. It may be the solution you're looking for to round out your beauty routine. It is rich in omega-9, omega-6, and vitamin E which can help hydrate and nourish your skin and hair.
Must Read:-
Additionally, it has antibacterial and anti-inflammatory properties that can help acne-prone skin and soothe inflammation and redness. Known to soften cuticles. 
What Is Castor Oil?
Castor oil is a vegetable oil pressed from castor beans. It's a colorless to very pale yellow liquid with a sharp taste and odor. Contains ricinoleic acid, which is a primary fatty acid. Prepared by extracting oil from the seeds of the Ricinus communis plant.
Has several medicinal, industrial, cosmetic, and pharmaceutical uses. It has anti-inflammatory, antifungal, and wound healing properties.
Before getting to the list, here are some important factors you need to consider to buy authentic castor oil:
Certified label
Purity
Grade
Authorized seller
Hexane-free
Things To Consider Before Buying Authentic Castor Oil
1. Purity
Pure castor oil is free of artificial ingredients, chemical compounds, and harmful toxins. It shouldn't contain artificial ingredients, such as fragrances, alcohol, or other flavorants, as these ingredients may dry out or irritate your skin.
2. Certified Label
Look for products with the USDA Certified Organic label. Organic castor oil uses natural ingredients and doesn't contain synthetic ingredients. Organic castor oil comes from seeds grown in a natural environment without involving the use of pesticides, fertilizers, or growth enhancers.
3. Authorized Seller
Always make your purchase from authorized sellers. Look for the product in pharmacies, branded stores, and healthcare stores. If you are purchasing it online, make sure that you are buying it from reputable e-commerce or the official website.
4. Grade
It comes in two grades:
a. AA Standard or "Pale Pressed" : This type of castor oil is prepared from the first pressing of the seed, which is also known as 'virgin oil.' It is diluted and light, so make sure that it is cold-pressed for the highest refined quality.
Must Read:-
b. Imported: It refers to the process of mixing the first batch of seed pressing with the next batch of seeds. It is a continuous process, prepared multiple times.
5. Hexane-Free
Hexane is a solvent used to extract oil from seeds. There are high chances of it introducing impurities to the process that may affect the quality of the oil. Therefore, avoid buying castor oils that contain hexane.
How should castor oil be applied to your hair and scalp?
The importance of a patch test comes into play again before applying it to your scalp. Apply a small amount behind the ear or the inner upper arm for a week.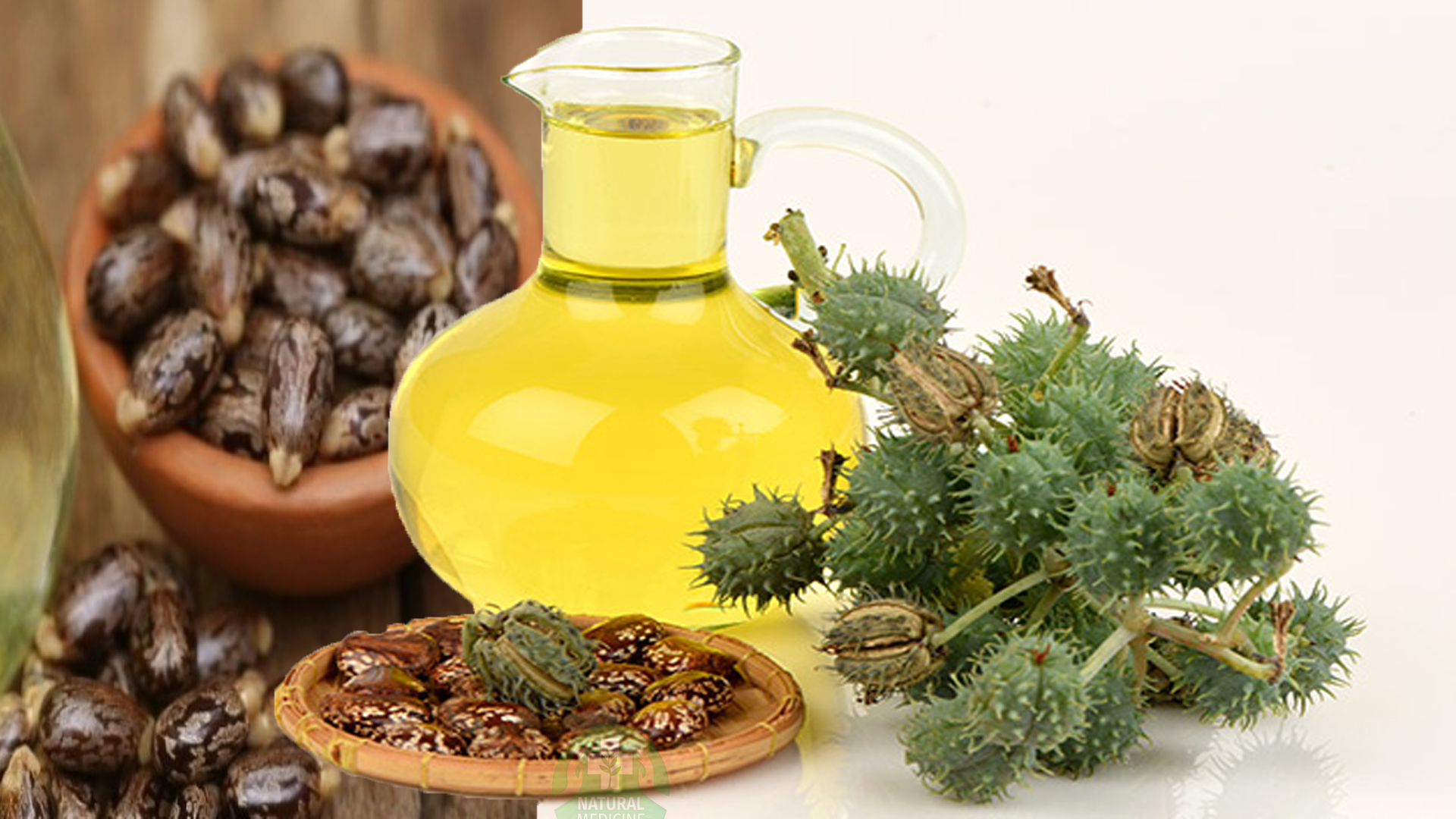 Once you determine that castor oil is compatible with your scalp, Try these:
Fine to medium straight hair: It can be used as a deep treatment to protect the very ends of your hair fiber, the last 2-3 inches of hair. Use it as a pre-shampoo treatment to help keep the tangles away. Be sure not to overuse. Shampoo out and style as desired.
Medium to thick straight/wavy hair: Apply throughout the entire head for an intense pre-shampoo treatment. Add heat or steam for deeper penetration into the hair cuticle.
Wavy to loose curls: Mix drops of castor oil into conditioners during these hot and humid summer months.
Curly to tightly coiled: we can use castor oil as needed throughout your regimen, [as a] pre-shampoo, added treatment, or as a weekly moisturizer. It is important to perform a proper monthly detox shampoo when you are using heavy oils like castor oil.
What is the best type of castor oil to use?
It is recommend to use cold-pressed castor oil.
Cold-pressed castor oil can be used on the hair shaft. Black castor oil should be applied only to the scalp. If black castor oil is applied to the hair, a cuticle-sealing technique should be used afterwards. Both forms will provide sufficient components of ricinoleic acid.
To find the right castor oil for your beauty routine, here is our review of Ten different castor oils.
This organic castor oil is cold-pressed from organically grown castor seeds from Kerala, India.
It is packed with anti-inflammatory properties and fatty acids that help nourish and treat the scalp to promote growth and strengthen hair at the roots, making it stronger and healthier.
Features:-
100% Pure and Cold-pressed: Sky Organics 100% pure, unrefined Castor Oil contains no added ingredients, fragrance, alcohols, or preservatives.
Conditioning Oil for All Hair Types: Organic Castor Oil is a natural source of fatty acids that nourish and moisturize the scalp and support healthy hair.
Conditions Lashes and Brows: Support beautiful, fuller looking lashes and brows by using Organic Castor Oil as a natural eyelash and eyebrow serum.
Responsibly Made: Our Organic Castor Oil is responsibly sourced, USDA certified Organic, and 100% vegan and cruelty-free.
Directions to Apply:
Eyelashes: Apply 1-2 drops of oil onto a clean cotton swab and wipe off excess before lightly brushing along the lash line. Apply nightly. Eyebrows: Apply 1-2 drops of oil onto a clean cotton swab or fingertip and wipe off excess before applying to brows. Apply nightly.
If you're looking for a natural and organic oil to grow your eyelashes and eyebrows, Kate Blanc's organic castor oil is a Godsent.
Kate Blanc's Castor Oil is organically grown and cold pressed with no added preservatives. Because it's 100% pure, it easily absorbs into your lashes and brows to boost hair growth. Castor Oil is also a key ingredient in dandruff shampoo, hair growth serums, and can be used as fingernail oil as well.
Besides hair growth, Castor Oil is also great to use as a natural moisturizer and for skin health. It help retain moistures so your skin doesn't get dry during the day.
It comes in an amber glass bottle to protect from harmful UV light and it also include a glass dropper. The bottle is 100% pure castor oil with no carrier oil added.
Features:-
USDA CERTIFIED ORGANIC CASTOR OIL – Kate Blanc's Organic Cold Pressed Castor Oil is certified by USDA and is guaranteed to be authentic, pure, natural, and hexane free. 100% Guaranteed Authentic or FULL REFUND.
GROW LUSH LONG EYELASHES AND BOLD EYEBROWS – The eyelash and eyebrow kit allow simple application to eye lashes and brow lines to promote eyelash growth and eyebrow growth. The glass droplet allow eye drops for eyelash and for nails. They are also handy for hair growth serum.
STIMULATE HAIR GROWTH – Grow longer and thicker hair in a quick, natural way, while also diminishing hair loss. Pure castor oil is a natural hair treatment pack for dry brittle hair, dry scalps, and dandruff.
SMOOTHER SKIN – Keep your face moisturized and reduce blemishes, acne, pimples, scars, and fine lines without leaving your skin dry. Pure castor oil is a great organic hair oil and acts as a oil free moisturizer to repair hair.
100% GUARANTEE AND ONE YEAR WARRANTY – We aim to offer the highest quality and most authentic products. We guarantee your satisfaction. If you are not satisfied with your purchase, please return it for a FULL REFUND within 365 days.
Home Health Castor Oil is an organic oil packed with all the essential nutrients for healthy hair growth. It deeply penetrates the scalp to moisturize and condition your hair, leaving it softer and more supple.
Features:-
No Castor Oil Works Better; Original Castor Oil from Home Health is a natural emollient oil that deeply penetrates the skin to moisturize and condition, leaving it softer and more supple; It's also great on cracked feet
Great For Hair; Castor Oil conditions hair leaving it soft and silky; It's also perfect for split ends, works as a de-frizzer, and can alleviate dry scalp; Promotes healthy hair
Great For DIY Personal Care; Use castor oil with wool flannel to create soothing castor oil packs for achy joints, sore muscles and more; Create a make up remover or brow serum
Cruelty-Free; Home Health products are never tested on animals, so you'll feel beautiful inside and out; Additionally, Home Health is free of known irritants such as parabens, gluten and mineral oil
Purely Better; Home Health is a line which includes award-winning personal care formulas specially developed with beneficial botanicals to make your skin soft, nourished and naturally beautiful
ArtNaturals Castor Oil is an old-fashioned-yet-super-modern way to nourish hair, encouraging growth and strength, to moisturize and soften skin with its Omega-10 fatty acids, or help clear up skin irritations with its antiviral, antifungal and anti-inflammatory abilities. A bathroom must-have!
ArtNaturals Castor oil is 100 percent pure, unrefined, and cold-pressed straight from the fields of Jamaica. It's the ideal solution for a host of common skin conditions, including dry scalp, dandruff, and psoriasis, all while promoting healthy and full hair growth.
Features:-
EYELASH AND HAIR GROWTH – Organic castor oil can be used on the scalp to help prevent and remedy hair loss. Its Ricinoleic acid content helps increase circulation to the scalp and improve hair growth. This can also be used to as an eyelash growth serum to get voluminous thick eyelashes.
PURE AND NATURAL – Our castor oil is premium cold-pressed castor oil. Our castor oil contains zero additives and is undiluted with zero fillers.
MASSAGE OIL – Castor oil can be used by all skin types making this carrier oil a perfect massage oil. Castor oil is filled with fatty acids which can be used to moisturize the skin. They also have impressive anti-inflammatory properties which can have a soothing effect on skin.
ANTI-BACTERIAL AND ANTI-INFLAMMATORY – Studies have shown that castor oil has both antifungal and antibacterial properties. Castor oil can be used as a natural treatment for ailments such as sunburn, athlete's foot, itchy and inflamed skin and various fungal infections.
SATISFACTION GAURANTEED – All artnaturals products are Vegan, Sulphate-Free, Gluten-Free, Cruelty-Free and Paraben-Free GMO-Free. Satisfaction guaranteed or 100 percent refund of purchase price.
Direction for use:
Just massage warm castor oil into your hair and scalp to improve blood circulation, reduce split ends, and moisturize damaged, dry hair.
Must Read:-
Aria Starr is formulated from hand-picked castor seeds and extracted by cold press to preserve the botanical actives. It is triple refined for the highest quality grade.
It includes only one ingredient: 100% pure cold-pressed castor oil. Our product is hexane-free, paraben-free, fragrance-free and preservative-free so you'll receive only the purest oil. Castor oil delivers a variety of health benefits for your skin, body, and hair.
Features:-
PREMIUM GRADE: 100% Pure Cold Pressed Castor Oil. Hexane-Free Extraction. Only the best Castor seeds hand-picked and extracted by cold press to preserve the botanical actives and Triple Refined for the Highest Quality Grade. HUGE 16 ounce Bottle. Comes with a dispenser pump for easy application.
ALL-IN-ONE SKIN CARE: Get ready for your skin and face to instantly fall in love with your new blemish free and healthy looking supple skin. For your face, remove dirt, grime, make-up, and dry skin leaving your face delicious.
It Helps to fight acne, reduce acne scars, body moisturizer, no more terribly flaky dry legs, smooth skin, even skin tone, reduces pigmentation, minimizes fine lines and wrinkles, reduces dark circles & eye bags, fades stretch marks, and helps minor skin infections.
ULTIMATE HAIR CARE: Enjoy having young healthy gorgeous thicker hair once again. Your kinky curly hair will feel softer than it has ever been. No more breakage when detangled or manipulated. Say goodbye to your hair falling out, shedding terribly, tangling, ends dry and brittle, thinning, dry scalp and dandruff. No more clumps of hair on your brush. Say hello to thicker eyebrows and eyelashes.
ONE YEAR SATISFACTION GUARANTEE: When you ORDER NOW, know that you're protected by our ONE YEAR no questions asked money back satisfaction guarantee. If you're not 100% satisfied with any of our products, simply notify us, and we'll issue you a full refund. Your Satisfaction Is Our #1 Priority
Tropic Isle Living Jamaican Black Castor Oil is specially formulated to promote healthy hair growth. It is made with 100% natural and effective ingredients that are high in omega fatty acids, vitamin E, and minerals, neem oil, aloe vera (rich in vitamins A and C), jojoba oil, and avocado oil that help promote rapid hair growth.
Features:-
Strengthens hair follicles for strong, healthy, beautiful hair
Adds sheen and luster to your hair with its natural reflective and moisturizing capabilities.
Creates a protective coating on the skin to seal in moisture.
Heals and repairs scar tissue.
Supports nail growth by protecting the nail bed with antifungal properties.
Usage
Hair Restorer & Strengthener
Hot Oil Treatment. Apply oil to scalp, cover with plastic cap, sit under hair dryer for 30 mins then shampoo hair thoroughly with the Tropic Isle Living Shampoo.
Deep Conditioner
Add seven of capfuls of oil to the Tropic Isle Conditioner, apply to scalp and hair, cover with heating cap for 30 – 60 mins. Rinse thoroughly then style as desired.
Eyelashes, Brow & Beard & Nail Growth
Weekly apply oil to lashes and brows using a Q-tip or Spoolie brush.Daily massage a half capful of oil into beard to promote growth.
Handcraft Blends 100% Pure Castor Oil is super versatile and has many benefits. It is 100% pure, natural, unfiltered, and undiluted castor oil without any preservatives or synthetic compounds. The formula is rich in vitamins and fatty acids that help improve the overall health of your hair and skin.
Features:-
100% PURE & NATURAL CASTOR OIL- It is unfiltered, undiluted without any additives or fillers. Rich in vitamins and fatty acids it is truly a wonder carrier oil. From skin care to hair care and way beyond this amazing oil has endless uses.
CASTOR OIL FOR HAIR – It can be used to enhance the natural color of your hair and make it look rich and thick. This oil is a humectant, locking in moisture. When applied on the hair, it preserves the moisture in the hair shaft and makes each strand thicker and darker. When applied to the scalp it help circulation and helps is used for hair growth.
HELPS GROW EYELASHES – castor oil is jammed packed with fantastic nutrients that promote natural lash growth. This thick oil is rich in fatty acids, antioxidants and proteins that help strengthen your lashes and create a naturally full lash line. Castor oil is found to be effective in growing and thickening eyelashes.
NATURAL SKIN MOISTURIZER – being highly viscous, the oil stays put, and penetrates deep into the skin tissue and nourishes it with fatty acids. Many pricey commercial moisturizers contain castor oil, but you can get all its benefits from direct application.
HELPS RELIEVE JOINT AND MUSCLE PAIN – Castor oil is considered a warm oil that promotes the circulation of fluids in the body. It is excellent as massage oil, and can relieve the soreness resulting from overworking the muscles. If you have aching calf and thigh muscles after vigorous exercise or active sports practice, apply a little castor oil on the sore area and rub it in.
Features:-
LUSCIOUS LASHES AND BOLD EYEBROWS – Promote eyelash, eyebrow and hair growth.
Castor oil is most commonly used as an eyebrow and eyelash growth serum, but is a remarkable multipurpose hair care product.
Soften and add shine to dull hair, prevent breakage, repair damage and split ends, dandruff treatment and dry scalp treatment with castor hair oil
GLOWING SKIN – Use castor oil as a natural moisturizer to reduce skin dryness and the appearance of scars, dark spots, fine lines, and wrinkles
NATURAL HEALING PROPERTIES – Rich in powerful nutrients and fatty acids such as oleic acid, and vitamin E oil, castor oil delivers skin repairing nourishment and lessens the visibility of the signs of aging
TOTAL BODY WELLNESS – Use cold pressed castor oil to reduce bodily inflammation, improve digestive health, moisturize brittle nails, cuticle treatment, and soothe skin irritations
DISCOVER BEAUTY THE NATURAL WAY – Natural and Organic Ingredients. Vegan. Cruelty-free. Made in USA. No Sulfates. Without Parabens. No Phthalates.
Directions
Apply 2-3 drops of Castor oil onto fingertips and gently massage into clean hair, eyebrows, eyelashes, scalp, or skin. May also be applied on dry cuticles and brittle nails as a conditioning treatment. Use regularly and daily for best results.
Must Read:-
Features:-
100% PURE AND ORGANIC: Manufactured with high quality cold pressed castor oil, this eyelash serum is entirely safe for men, women and kids. Rich in essential fatty acids, vitamins and minerals, our black castor oil will work wonders on your lashes, skin and hair.
NOT JUST FOR YOUR LASHES: Discover the multipurpose role of castor oil by using it not just on your lashes but also on your brows and nails or to moisturize cuticles and even eliminate dandruff.
ALL NATURAL AND ORGANIC: Containing zero chemicals, preservatives or additives, our organic old – pressed castor oil is rich in vitamin C and even has anti – fungal properties. Contrary to similar products on the market, our formula is hypoallergenic and does not come with any side effects that would compromise your health and well – being.
GREAT FOR THE SKIN AND HAIR: Rich in vitamins and fatty-acids, castor oil promotes better hair growth and helps nourish and hydrate the skin.
HASSLE – FREE APPLICATION
This organic eyelash serum comes in a generous 16 Oz bottle and you will find that it's extremely easy to apply and use. Add a few drops of cold – pressed cast or oil and apply like mascara serum.
Features:-
Grow Instagram-Worthy, Long Eyelashes & Brows: This 100% pure, USDA Certified Organic Castor Oil is the ticket to dramatically fuller, more voluminous looking eyelashes & eyebrows naturally! Included mascara brush & eyeliner brush for easy application!
THE DIFFERENCE in hair treated with RejuveNaturals Organic Castor Oil is striking.
Customers rave about it helping hair growth, to strengthen, thicken & repair damaged hair, fuller & longer looking lashes and eyebrows, youthful & radiant skin, soothing dry & irritated eyes, relieving eyelid bumps & more!
Radiant, Moisturized & Youthful Skin: An indispensable nutrient to help skin feel softer, fresher and hydrated our 100% Pure & USDA Organic Castor Oil is designed to deeply moisturize and help diminish age spots and fine lines while offering true antioxidant support to your skin as you age.
Skin & Haircare Superstar: Contains only 100% pure, hexane-free, USDA organic, cold pressed, Organic Castor Oil — no fillers or bases. Discover a classic, natural, all in one beauty remedy for both skin & hair!
Non-GMO & USA-Made (for Your Peace of Mind). You'll love the purity of our non-GMO, hexane-free Organic Castor Oil. It's free of additives, allergens and chemicals, it is cruelty-free and virtually odorless.
Must Read:-
Final Talk
This was our list of best cold pressed Castor Oils brands . Try them out and let us know which one worked best for your skin type. In case we missed any exemplary brand in our list, do let us know in the comments section and we will update the list.
Meanwhile, you can also check more amazing products, check this:
Enjoyed reading this article? To receive more articles like this, Subscribe our newsletter.
Editor's Recommendation:-