I feel lucky that I have curly hair and I just love them.But people who want curly hair it is not impossible as, we nothing is impossible.So, here is your angel, name as Curling Iron or we can also say Hair curler.
And I am here to give you the best and reviewed Curling Iron, so you can easily wear that curly hair.
Creating those voluminous waves effortlessly is exceedingly difficult, whether you are trying for soft curls or tousled hairdo. And this can massively go wrong when using the wrong hair tools and hairspray. For this, we are bringing to your notice a wide range of curling iron tools so you can decide which ones will give you the best results. These curling irons are simple to use, easy to heat up, creates the style you desire, and gives long-lasting results.
These tongs are also safe and convenient to use because of the big barrel size, and thus save you from burning your hand and ear. Hence, always remember to get a large barrel curling for safety and also to achieve larger and looser curls. These tongs have adjustable heat settings, to give you low, medium, and high option. For fine to medium hair, keep the heat between 180-190 degrees, and for thicker hair, keep it high as 210 degrees.
What Is A Hair Curler or Curling Iron?
Have you seen the beautiful, wavy and dense curls models and actors show off, well the secret behind is the work of a hair curler. Women have been obsessed with curly hair for as long as I can remember. No heat and heat curlers, also known as the curling irons, are most prevalent in the modern era.
When Was It Invented?
In the old days, royals and aristocrats would curl their hairs with heating rods or tongs. This was considered dangerous as you had no control over the heat and it might burn your scalp or your hair.
The invention of the modern-day curling iron is credited to more than one creator. Hiram Maxim in 1866 has the first patent for the curling iron, but Marcel Grateau is credited for the actual invention in 1890. He is considered a pioneer in hairstyling.
Types of Curling Irons
Straight Barrel – This is the most common type of curling iron you will find in the market. It is used for giving your curls a uniform shape, and you can have coils and ringlets as per your wish.
Flat Iron – Flat irons are tailor-made for both long and short hair. It works best when you already have a straightener at your possession. It comes with curved edges, and the curls will be smooth and look quite natural.
Multiple Barrels – There are double and triple barrel based curlers available, and they are popularly called wavers. They resemble very much like a finger, and you can get S-shaped waves rather than the traditional curls you get with others. It is best applicable to those having longer hair.
Spiral Barrel – From the name you can understand that these are designed for giving spiral curls. They have ribbon or raised spiral ridges and you can get the perfect helix curls to make your hairstyle stand out uniquely.
Pearl Barrel – This curling iron has small pearl-shaped balls with the barrel and the basic job is to make the curls look natural by not giving all of all curls perfect shape. It is suitable for hair of all lengths.
Cone Wands – A cone shaped wand has a wider base and smaller ends. However, the reverse model is also available. The curls with this one will be precise and perfect and you can make thinner as well as thicker curls as per your wish. Besides, you can get romantic and beach curls easily with this type of curling iron.
Features while purchasing Curling Iron
Curling Iron Vs Curling Wand
To get beautiful and lustrous curly hair, you can use a curling iron and curling wand devices. Both are very good at their respective functioning and the major difference is the heating mechanism which you don't find in curling wands.
There're some attachments and features like LCD display, temperature setting, ceramic coating that brings a huge difference in the functionality and performance.
Curling Iron or Heat Iron is a tool used to change the appearance of hair using heating mechanism. In this, the barrel gets heated up and gives the hair beautiful curls in just a couple of minutes. You cannot change the temperature settings as you can only turn the heating option on/off.
Whereas Curling Wand is a thin, lightweight rod made of plastic or metal for winding the hair. This wonderful device heats up quickly and you may experience the burn if you touch the rod without any protection (like gloves). It doesn't feature a clip to hold the hair like curl iron, yet makes the hair smooth and even.
Barrel Size- Wider the barrel size the bigger curls you have!
Size of the barrel is another important factor that you should look into while purchasing a curling iron. Though the barrels are available in different sizes, helps to match with the hair accordingly- short, medium and long. On a general classification, the barrels are available in 4-different sizes, namely-
Ultra-small (0.5-0.75inches)
If you've very short hair, then you must prefer curling iron with a barrel size of 0.5-0.75 inches and also helps to wind up the hair smoothly. It is pretty much suitable for vintage hairstyles.
Small (0.75-1inches)
If you have short or short-medium hair length, it's better to go with the barrel of size 0.75-1inch. It will be a great choice for those who wish to have wavy hair by achieving tight and ringlet like curls. But it will not soften your hair.
Medium (1-1.75inches)
Are you the one who wants to add beautiful curls to the medium-sized hair effortlessly, then its recommended to use a barrel of size 1-1.75inches. With this medium-sized barrel, your hair may look casual, pretty and polished waves as it does a great job in curling hair within less time.
Large (2+inches)
If you have long hair, then curling iron with 2inches barrel is for you. They make your hair look stylish by creating big, bouncy curls.
The curling irons come in multiple shapes, and different shapes produce different curling effects. It is important for a buyer to know about the different types so that they can get a specific look that can be achievable with these different types of curlers.
It's also important for a woman to choose the curl type she wants to attain using the curling iron. These're big, very thick and forms a loose curl with a definite S-patterns compared to other curly hair types. Knowing the curl type will easily help users to pick the appropriate model and benefits the most. Here we've mentioned some of the curl types that help you to select the best of the available.
Tight Curls: It is best suited for the people who are looking for the curling iron that creates tight ringlets, it comes with a barrel size of ½ to ¾.
Vintage Curls: This is best suited to create curls that are soft and slightly loose. It has a barrel size of ¾.
Beach Waves: It is for the people who want to have curls like their favorite celebrities since most of the celebrities sport this kind of curls. It has 1 to 1¼ barrel and it is ideal to sport loose beach waves.
Natural-Looking Curls: It is useful for creating natural looking curls. It has a barrel diameter of 1-11/2.
Wavy Hair: The texture of the wavy hair falls between the straight and curls. The hair is flat and straight at the roots and then the wavy loop continues. It is less shiny and more prone to frizz than straight hair. If you are interested to have big loose waves with brushed outlook, then you should definitely consider a barrel with the size of a 2-3 barrel.
All the curl irons aren't made with the same material. Because each specific material has different functionalities and the end results of hair curling also depend on the material you choose. So, it's up to an individual to choose the type of material depending on his preference and budget range.
Chrome and Gold are very good conductors of heat, but the problem with this type of material is that they are not good at heating up evenly, and cannot manage frizz.
Titanium is a popular and cost-effective material for curling irons. Though it comes in a lightweight, highly durable, and dissipates the heat very quickly, much suitable for thick hair but doesn't support curling.
Metal stream barrel is extremely suitable for the people whose hair is limp and thin since this type emits the heat and steam simultaneously that helps in curling of the hair.
Ceramic and Tourmaline – Ceramic is just like titanium material but is very good at providing fast and consistent heat. The latest curling irons do come with a combination of ceramic and tourmaline materials.
Heat or Temperature Settings
Most of the curling irons do come with 2 heat settings i.e. on and off. With the adjustment in temperature settings, helps to use for both fine and thick hair especially at homes. The ideal temperatures setting should be as low as 175◦ is good enough for curling fine hair and for thick hair set the temperature between 300◦ and 340◦.
In some of the branded models, you'll also find an LCD display on the curling iron to display the temperature settings.
Budget-Friendly Curling Iron
Another important factor that you should look into is the price of the curling iron. If you're on a limited budget, then go with the basic models of curling iron which offers the same functionality but slight difference in the performance and features.
Choosing the high budget curling iron do help in solving all sort of issues even though you don't know about the particular problem. If you're the one who doesn't care about price, then definitely you must try the top-notch models provided in this article.
Besides, you must check the warranty information as most of the brands do not specify at the time of buying. You must take initiative and ask the product representative about warranty details as it will help you save the repairing costs or damaged ones.
Automatic Switch Off – Another useful feature is the automatic switch-off feature which results in the turning off of the curling iron if not in use for 30 minutes. This prevents any fire accidents and conserves energy as well.
Long Cord – An important feature to look out for is a long, swiveling cord which will make it easy to use the curling iron.
Quick to Heat Up – Also, look out for a curling iron which is ready-to-use in just 30-60 seconds so that you don't waste a lot of time every day.
Additional Features of Curling Iron
LCD Display is the must-have feature in curling iron these days because it allows the consumer to know the temperature (heat) set on the device. It can be of a just 2-3 inch size and yes a great option for smart tech lovers.
Indicators on curl iron will blink the lights when the device attains maximum heat for hair curling and also when you forget to switch off.
Brush Attachments are mostly seen in the branded models that will help to curl your hair as per your desired hairstyle.
Timer is yet another important feature that will remind you to set the timing function for heating the strands to make a perfect curl type.
How to use a hair curler?
Make sure your hair is not wet or contains moisture: You need to completely make your hair dry. Before you begin to use hair tongs ensure you kept comb, hair spray, towel near you.
Heat up the curling iron: The hair curling machine works on heating mechanism. In case you have long lustrous hair, you will have to pre-heat it. You just need to switch on the curling machine and connect to a power plug.
Brush out any tangles while the iron heats up: Let your comb go smoothly through your hair. To have effortless curling of your hair you need to clear all the tangles. So while your curling iron heats up, you can make your hair tangle-free.
Apply a heat protection spray: There are always a certain degree of risk of damage while exposing your hair to heat. But you can always cover up the damage by applying a heat protection spray.
Split your hair into different parts: The best way to experience hassle free hair curling experience is to split your hair into sections. Dividing hair into smaller quantities will ease up your efforts to the smooth curls.
Hold the iron in place: Set the placement of the hair curler rod in a manner that the iron and the wire co operate with your placement of rod. It should be easily adjustable and have great flexibility to twist around.
Move on to the next curl: Complete each curl with a perfect finish. Do not let the loose ends of the hair curls affect other curls.
Twist your curls: For smaller ringlets, smaller barrels typically create spiral curls, and for longer hair curls, larger barrels are used to give shape and volume to a hairstyle.
Also Read:
List of best Curling Iron
Get beautiful, shiny curls with our Nano Tourmaline Ceramic Curling Iron. The technology fuses micro particles of tourmaline ceramic and silver to emit natural frizz-reducing ions for long-lasting curls and waves. Even with ultra-high heat levels up to 400 degrees F, the far-infrared technology generates hair-friendly heat that's gentle on hair, retains moisture and enhances shine.
Specifications:
Size: 1½-inch barrel
Technology: Nano Tourmaline Ceramic
High Heat Setting: 400°F
Warranty: Limited 5-year
Features:
1½-inch barrel for voluminous, looser curls and relaxed waves
Curl control, even in humidity
Nano technology eliminates hot spots and reduces static and frizz for healthy-looking hair
Natural ions for maximum shine
Extra-smooth tourmaline ceramic surface for superior performance
400°F highest heat setting for long-lasting curls and waves
30-second heat-up
Uniform heat recovery system maintains ultra-high heat levels
5 precision LED heat settings
Auto-off
BONUS protective heat shield included

Get playful with fun curls with Vega Ease Curl Hair Curler. Easy and hassle free to use, the curler has chrome plates with ceramic coating and 19mm barrel diameter. You can create free flowing curls by just wrapping your hair around the barrel and tightly holding it with the clamp. It also has 360° swivel cord that rotates conveniently and prevents unnecessary tangles.
Features:
BARREL – DIAMETER – 19MM, LENGTH -125MM
CHROME PLATES WITH CERAMIC COATING: Easy and hassle free to use, the curler has chrome plates with ceramic coating.
CLAMP: The hair curler comes with a clamp to hold the hair during usage for easy curling
MAXIMUM TEMPERATURE 200°C: The hair curler heats upto 200°C, this is the optimum styling temperature for most hair types.
SAFETY STAND: The hair culer comes with a safety stand to place the curler after use.
COOL TIP: The hair curler comes with a cool tip which helps you to hold the curler when curling your hair.
POWER INDICATOR LIGHT: Power Indicator Light will illuminate when the curler is switched on.
POWER CONSUMPTION: 220-240V, 35W, 50/60Hz
2 Years Manufacturer Warranty

All you Need for Bouncy Curls
Gorgeous curls have never been easier. Simply wrap and style to achieve the curly look you always wanted. The ceramic coating adds shine and gloss to the hair, leaving it bouncy, glamorous and full of life.
Features:
Vivid, Bouncy Curls: With the barrel diameter of 16 mm barrel you can create bouncy, full of life curls and ringlets for joyful and young look.
Ready to Use Indicator: The LED light stops blinking when the curler has heated up and is ready to use.
1.8 m Cord: Convenient to use thanks to the 1.8m power cord length.
Gentle on your Hair: Protective ceramic coating ensures even heat distribution and less hair damage for shiny and soft hair.
Cool Tip: The tip of the styler is made from a special heat insulating material to keep it cool; you can safely hold it while you're styling for optimal ease of use.
Swivel Cord: Useful swivel cord technology rotates the cord to prevent tangled wires.
200°C High Heat Temperature: 200°C high heat temperature guarantees optimal results, while minimizing hair damage.
Fast Heat Up Time: This styler has a fast heat up time, being ready to use in 60 seconds.
2 years guarantee: Philips offers a full 2 years warranty for this product to ensure you have long lifetime product to use every day.

Features:
7x10mm Rectangular Barrel: Extra skinny barrel for tight and corkscrew curls. Ensures quick curls with safety. Cool Tip made of heat-insulating material that protects your fingers while you style.
Safety Stand: Built-in safety stand to protect the surface.
Fast Heat up: With PTC heater hair curler heats up in 60 seconds.
High Performance: Top temperature of 190° C gives optimal results and gives you much desired elegant look.
LED Indicator: The LED display will illuminate red light once it is turned on.
360° Tangle Free Swivel Cord: Hair Curler comes with a handy swivel cord that rotates to prevent twisting and tangling of wire while using.
2 year guarantee

Bring Salon-like styling at home with the Syska HC750 Salon Finish Hair Curler. The curler is equipped with a gun metal coated tong which is resistant to heat and avoids hair damage while curling.
The curler heats up in 30 seconds and lets you curl your hair whenever you are in a rush. The cool tip gives you the freedom to hold the curler with both hands and provides you safety from the heated tong. The LED indicator on the curler shows the rising temperature of the tong. The safety stent provides support to your curler when you place it on a surface. The curler also has a 1.8 m long cord for easy use.
Features:
High temperature resistant ceramic coated tong
Clamp to hold the hair and get desired curls easily
Safety stent for easy use
360° swivel cord for a tangle-free experience
25mm tong for bouncy curls
Cool tip for safety
Led power indicator
2 Years Manufacturer Warranty

NOW BE ALL THAT YOU WANT TO BE WITH VEGA LONG CURL HAIR CURLER.
Get gorgeous, smooth curls with Vega Long Curl Hair Curler. Easy and hassle-free to use, the curler has ceramic coated plates along with 22mm barrel diameter and 210mm barrel length. The long barrel is ideal for faster styling as you can create free flowing curls by just wrapping longer strands of your hair around the barrel and tightly holding it with the clamp.
Adjustable temperature setting with LCD temperature display enables you to set the temperature from 80⁰C to 230⁰C as per your hair type. It also has 360⁰ swivel cord that rotates conveniently and prevents unnecessary tangles.
Features:
BARREL – DIAMETER – 22MM, LENGTH -210MM
CHROME PLATES WITH CERAMIC COATING: Easy and hassle free to use, the curler has chrome plates with ceramic coating.
CLAMP: The hair curler comes with a clamp to hold the hair during usage for easy curling
ADJUSTABLE TEMPERATURE SETTING 80°C – 230°C: The adjustable temperature setting allows you to set the temperature from 80°C to 230°C as per your hair type.
SAFETY STAND: The hair culer comes with a safety stand to place the curler after use.
COOL TIP: The hair curler comes with a cool tip which helps you to hold the curler when curling your hair.
LCD TEMPERATURE DISPLAY: LCD temperature display helps you to set the exact temperature you select, gives you better control and precise setting.
POWER CONSUMPTION: This appliance can be used in most of the countries as it is compatible with 110-240V. (110-240V, 50/60Hz, 50W).
2 Years Manufacturer Warranty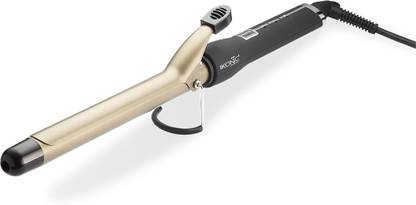 The unique ceramic barrel of the Curler ensures that the tong heats up fast and gives a smooth and shiny finish. The ceramic barrel distributes heat evenly and resultantly helps you create more natural curls. Features: Ceramic shine infused barrel. Heat ready indicator system. Comfort grip rubber handle. Integrated safety stand. Salon length swivel cord.
Features:
Ceramic shine infused barrel
Heat ready indicator system
Salon length swivel cord
Comfort grip rubber handle
Integrated safety stand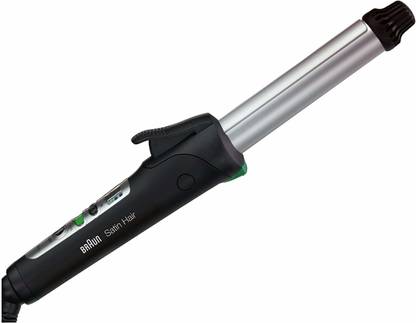 Satin Hair 7 Iontec Curler
Healthy curling for radiant shine. Braun Satin-Hair 7 curler with Iontec is specifically designed to restore the shine and health of your hair when styling.
You can see and feel the difference as your waves and curls become shiny, glossy, and healthy. Activate your style – Ultimate shine, maximum protection.
Features:
IONTEC Technology: Superior ionic performance to tame frizz for healthy smoothness and shine
Ceramic care barrel: Prevents dry out of sensitive tips.
Moisture level balance: Active ions restore the moisture balance of your hair.
Precise temperature regulation: For healthy styling from 135°C to 185°C
Slim barrel: For curl precision
2 Years Warranty
Final Few Words
Curling Iron have become a great tool getting curls, without going out to a salon, not only is creating curls easy, it is also fun and lets you have complete control over the look you want. It works great for all types of hair whether they be short, medium or long. Finally hair curls are a timeless trend that make you look classy and ready-to-go for every occasion be it party, office or a casual day out.
So, people what are you waiting for get your own curling iron today only. And enjoy your hair.
Please share your views about the products, I have listed and if I forget anyone please share with me.
For purchasing best and reviewed products, visit our website "Ripplenfortunate".