Blood Pressure Monitors:
We have all come across this saying, "Health is wealth", isn't it? It truly is the most accepted fact among people around the world.
Our first and foremost priority should always be our health. It the base on which all our activities, dreams, goals, and aspirations depend on. To protect our wealth we need health.
Must Read:-
With the advancement of medical technology, scientists and researchers have developed many new inventions to help measure different sicknesses like the thermometer to measure our body temperature, the glucometer to measure our blood sugar level similarly, the sphygmomanometer to measure our blood pressure.
It is very important to keep track of your blood pressure by checking it once a week or every day. There might be chances that your blood pressure increases and you may not even know about it. Rather than consulting a health professional every time, you can invest in Blood Pressure Monitors for your error-free readings with one touch. Through this, you'll save your time, money and attempt to approach a doctor.
So, now it is time for you to stop ignoring and start taking the matter in hands by observing and checking the progress regularly.
It is understandable that the more choices, the greater the confusion. In the current generation of Smartphone's, there are applications that can also count your heart rate.
Do not worry at all… In this article, we will help you in looking out for such machines which keep the data of previous readings for easy comparison and have a check on the health improvement. Isn't it an easy thing to do?
Must Read:-
What is BP Monitor?
The sphygmomanometer, also known as the blood pressure machine or the BP monitor is used to measure our blood pressure from time to time.
There are different types of this device, for example, there is a manual sphygmomanometer; a digital sphygmomanometer; a mercury sphygmomanometer and others.
Types of BP Monitors
There are different types of BP machines available for you to measure the blood pressure and the two types are digital and the aneroid one. Below is more information about both types of BP monitor
Digital BP Monitors – They are very easy to use as they are electronic ones. All you need is a couple of batteries and the BP machine. You can put on the armband and press the start button. The rest of the things are done by the BP monitor and you get the reading on the phone along with the pulse rate.
Aneroid BP Monitor – Aneroid BP Monitor is the analog ones and they can be a little tricky to use. You need to have a stethoscope to use the aneroid BP monitor. It takes a little time to understand how to use the BP monitor and for home use, we would recommend you opt for the digital BP monitor only.
Blood pressure monitor buying guide
I'll not go into details but would like to mention a few things that'll help common people like you and I can select the desired type of blood pressure monitor.
First of all you why do you need a bp monitoring device? Well, the answer is very simple to monitor the health of our heart & diagnose hypertension [in case of people who haven high b.p.].
These devices are categorized into 2 types based on the Cuffs:
Arm Cuff BP Machine
Wrist Cuff BP Machine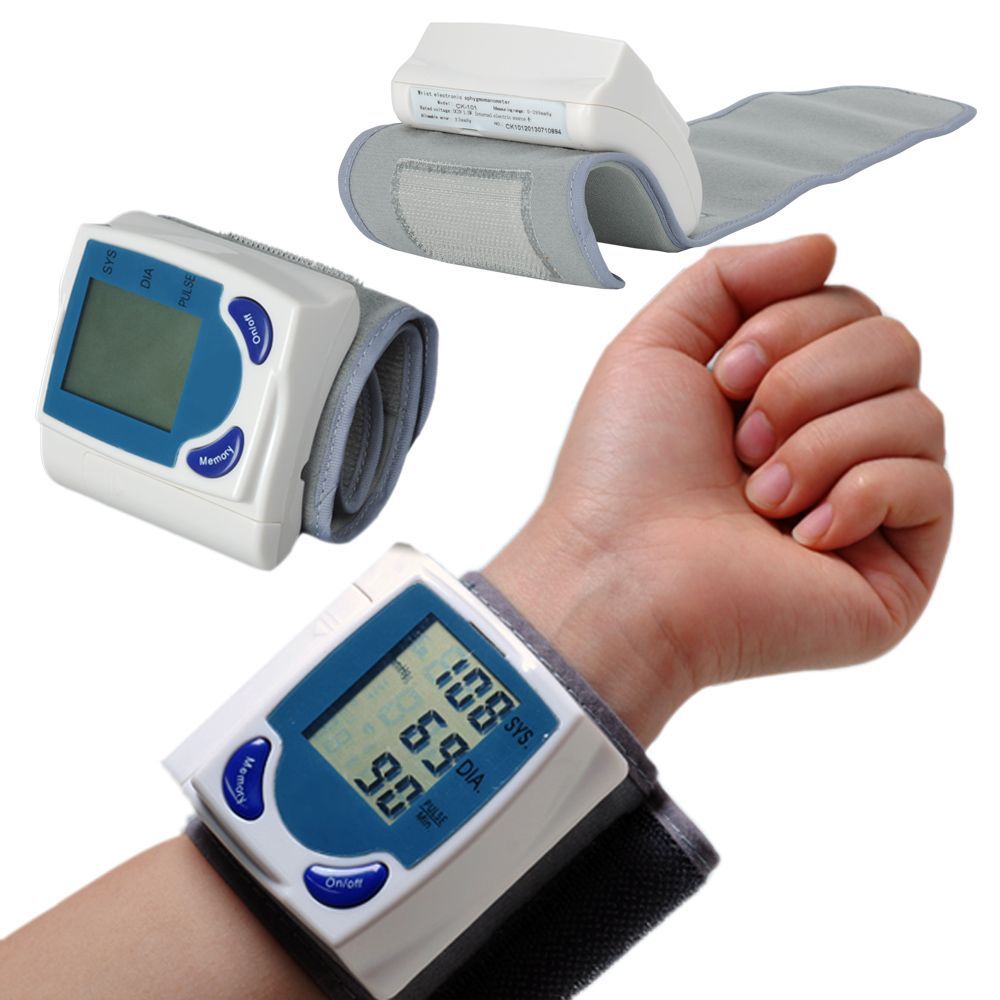 Intelli Wrap Cuff BP Machine
Both models work great. Get one as per your convenience. Easy to carry.
Omron healthcare has written a good depth article on Blood pressure monitor buying guide read here.
Best Buy blood pressure monitors Online
Must Read:-
We have seen different kinds of BP monitor now. So today we are going to discuss the top 10 blood pressure monitors. They come under categories like best digital, fully automatic & manual mercury BP monitors in India 2020.
Buying a blood pressure monitor or sphygmomanometer is essential and recommended for people who are elderly, patients of hypertension or diabetes. Having a BP monitor at home enables one to take multiple readings every day and take immediate necessary action should an anomaly be detected. To help you purchase the best blood pressure monitor for your home use, we have prepared a list of top 10 BP monitors that you can choose.
Omron HEM-7120 Automatic Blood Pressure Monitor is one of India's most widely used BP monitor at home.
It has a good display and can show systolic, diastolic, and pulse rate at one go.
It is especially preferred by the elderly because it has just one button to start and stop and one can easily take the reading.
Though it is one of the bestselling BP monitors, it can only store the last reading, and that is the only con of Omron HEM-7120 BP monitor.
This digital BP monitor comes with 5 Years Warranty and lifetime support provided by Omron.
Irregular pulse and heartbeat detection
Error when detects a movement in body, hence prevents from displaying wrong results
Warranty: 5 Years
Cuff Size: 22-32Cm
Pros:
Easy to use
Value for money
Easy to operate
5 Years Warranty
Cons:
Few people had problem with the warranty as they need to send the machine to service center which costed them money
Few also complained about cuff size
A few people also raised concerns about the accuracyof the reading
Dr Morepen BP One BP09 BP monitor comes with WHO blood pressure classification indication on the machine.
It displays systolic, diastolic, and pulse rate together for easy readability.
The blood pressure monitor has 4 users interface and it also indicates the instance of low battery.
It stores 120 records and averages last 3 readings.
Can also detect irregular heartbeats
MRP of Dr Morepen BP One BP09 Fully Automatic Blood Pressure Monitor is Rs. 2610
Warranty: 5 Years
Power: 4 A batteries
Dr. Trust Silverline is one of the most advanced BP monitors in India.
You can use the AF (Atrial Fibrillation) mode of Dr. Trust BP monitor which takes two measurements in succession and displays results after analysing both the measurements.
If AF mode is switched off, it works like a standard BP monitor.
The measured systolic, diastolic and pulse values are displayed on the screen.
It has a large size easy-to-read display with three colour-coded backlight indicators that allow you to measure BP according to WHO guidelines.
Priced at MRP of Rs. 4500, it can be bought for just Rs. 1599 with attractive discounts on Amazon.in.
Warranty: 5 Years
Another simple to use one button function BP monitor is the Citizen CH-650 BP Monitor.
It can detect Irregular heartbeat and also indicate body movement.
The measured systolic, diastolic and pulse values are displayed on monitor which is easy to read.
Loaded with 60 memory functions, it is easily India's best digital bp machine
For accuracy, it displays average of last 3 readings
Carry it anywhere with ease, thanks to the plastic case provided with the machine.
MRP of the product is Rs. 2999.
Warranty: 5 Years
Another dependable product from the house of Omron
Omron HEM-7130-L comes with a large LCD display, a large cuff, and has a memory of 60 measurements with date and time
It averages the last 3 measurements to show accurate results
This blood pressure monitor can indicate hypertension and irregular body movement.
This BP device is featured with Intellisense technology, it delivers accurate measurement with comfort and ease of use.
It displays the irregular heartbeat while measuring the systolic and diastolic blood pressure.
Because of the features it offers, it is priced at Rs. 4010 at MRP.
Warranty: 5 Years
HealthSense Classic BP100 Talking Blood Pressure Monitor is another efficient and accurate digital BP monitor
It boasts of a highly useful function – talking function that delivers instructions, reads out blood pressure measurements with WHO compliance in English
It uses body movement indicator and BP Level Voice Command to make your experience much accurate and easier.
Also comes with latest and improved oscillometric technology
RossmaxCh155 BP monitor is an expert circulatory strain screen.
It is a profoundly solid and helpful testing gadget to monitor the BP levels. Hence, it falls under the rundown of the Best Blood Pressure Monitors.
Hypertension risk indicator
One touch automatic operation
Average of the last three readings with 90 memories
By simply squeezing the siphon, you can begin estimating circulatory strain levels.
A blare sign will advise when the BP is high or low.
On the off chance that you lean toward a Digital BP Monitor which you can wear on your wrist rather than your upper arm, you should need to consider this one from Rossman.
It is very small for simple stockpiling,
Furthermore, it has extraordinary highlights for convenience and precision.
It is a high-exactness and elite gadget to follow the pulse levels day by day. It is perfect for specialists, just as, for home use.
Dr. Trust carries another programmed BP screen with astonishing highlights. It gives programmed usefulness to gauge BP and heartbeat rate.
Consistent with its name, the Dr. Trust BP Machine can converse with you so as to manage through the procedure of estimation, read out the readings and tells you when the perusing is ideal as well.
It is a-one max Bluetooth associate double talking pulse screen. It has Bluetooth innovation and miniaturized scale USB good component. It is equipped for distinguishing an inconsistency in the heartbeat. It is a convenient and minimal gadget with a smaller scale US good port.
On the off chance that the screen estimates your BP to be inside the range, the whole screen will turn green while showing the outcome.
In the event that the pulse is somewhat out of range, the screen will turn yellow along these lines, and red on the off chance that the readings are amazingly high.
It utilizes 4 AA batteries to work and it is anything but difficult to supplant when the battery runs out.
The best part would be the machine's capacity to talk in both English and Hindi relying upon your comfort. A hushing catch gives you a chance to control this element and put it to quiet too.
5 Years producer's guarantee
Dr.Morepen's BP02 is a genuinely new and has ordinary circulatory strain screen. It is rapidly picking up ubiquity with its humble highlights and moderate cost.
This BP estimating gadget from Dr.Morepen will be an advantage for you. It quantifies systolic and diastolic BP alongside pulse utilizing the Oscillometric Method.
It can likewise disclose to you when the battery is low with its discovery framework.
It requires four batteries to work. It joins a computerized heartbeat locator and an auto shut-off capacity for power sparing. It shows the readings on an unmistakable LCD show.
It gives you a chance to store the last couple of readings with the goal that you can keep a mind the pattern of your BP.
This showcase, as referenced, is convenient because of its size. One can undoubtedly peruse up the perusing without the need for glasses.
The 2 UI setting empowers for two entirely unexpected clients to draw in and utilize the gadget in a steady progression.
It uses Oscillometric measuring technology for improved pressure detection and accuracy
Comes with a bright LCD display that displays readings clearly
Boasts of two user memory capacity of 120 readings each
It comes seated on four skid proof silicon feet for added grip
Displays systolic, diastolic, pulse, date & time of measurement on LCD
Buying guide for blood pressure monitors
Key considerations:-
Comfort vs. accuracy
This should be one of the first things you should think about before buying a blood pressure monitor. Generally speaking, the more comfortable a blood pressure monitor is, the less accurate it becomes. The most precise type of blood pressure monitor is the kind that measures from your upper arm. The problem is that some people are sensitive to the way that blood pressure monitors apply pressure there. Blood pressure monitors that measure from the wrist are easier to use, smaller and more comfortable, but can be inaccurate if you don't use them correctly.
Digital vs. analog
The main benefit of manual blood pressure monitors is that they don't require an external power source. Since they don't have any electronic parts, they tend to last longer and are handy in emergency situations. However, if you have bad eyesight or are hard of hearing, they can be difficult to use. People with arthritis may struggle to use a manual blood pressure monitor's hand pump, which inflates the cuff.
Do you plan to share your blood pressure device with a loved one?
If you and your spouse are both interested in keeping track of blood pressure, you may want to consider buying a digital blood pressure monitor that can store readings for two different people. Otherwise, you'll probably need to buy two separate devices.
Do you need to be connected to the internet to use it?
All the electronic blood pressure monitors mentioned above have built-in internal storage. This feature is handy because it lets you use your device when you're not connected to the internet. Some digital blood pressure monitors won't work without an internet connection.
Must Read:-
Portability and storage
How much space do you have to store your device? If your answer was "not much," you may want to go with a wrist blood pressure monitor. These tend to be much smaller than blood pressure monitors that are designed to take measurements from the upper arm area.
Arm size
If you lift weights or just happen to have big arms, you may need an extra large blood pressure monitor cuff. Measure your arms with measuring tape before you buy. If your arm is more than 16 inches around, you probably won't be able to fit into a standard size blood pressure cuff.
Ease of use
Electronic blood pressure monitors are easy to use compared to manual ones. All you have to do is press a button, and the machine takes care of the rest. If you've never checked your blood pressure before, you may want to get a device that has a color-coded indicator on the interface. This feature is useful for learning how to interpret your results.
Must Read:-
How a blood pressure is calculated?
The blood pressure is usually calculated in millimeters of mercury (mm Hg). It first calculates the systolic pressure and then followed by diastole. If blood pressure of a person is normal i.e. 120/80 mm Hg, 120 represent the systolic pressure and 80 is the diastolic pressure.
Given below is the table that differentiates the systolic and diastolic pressure along with the patient's condition. Check it out!
| | | |
| --- | --- | --- |
| Health Condition | Systolic Pressure | Diastolic Pressure |
| Normal | <120 | <80 |
| Pre-hypertension | 120-140 | 80-90 |
| High BP Stage-1 | 140-160 | 90-100 |
| High BP Stage-2 | >160 | >100 |
Conclusion
Unhealthy food and lifestyle are the causes for increasing blood pressure levels. Now the time has changed, millions of people are self-monitoring their BP levels with the availability of BP Monitoring System to stay strong and healthy.
Choosing the best out of the best is also a very difficult decision to make and that's what you need to do right now.
But to lessen the suggestions, I would like to say that if one wants the best since it's about health after all on should go for Omron 7120 or Dr. Trust Silverline Atrial Fibrillation
That definitely would be a choice you won't regret. And also one needs to be extra careful about checking the product once it comes home.
Please make sure that you make the product work and check its accuracy to stay out of any inconvenience caused later. Good Luck in choosing the best product.
Please share your experience in the comment section!!
For purchasing best and reviewed products, visit our website 'Ripplenfortunate'
Editors' Recommendation:-