Behind every mask there is a face, and behind that face, a story.
Basically this is a saying, but for this blog I will change this little bit.
Behind every mask there is a face, and behind that face, a glowing skin which you get quickly by applying in some minutes.
If you are in hurry and you want your skin to be glow amongst other than you should buy a face mask.
Face masks have become the foundation of any luxurious skin care routine.No matter how tired, stressed, broken-out, or parched your skin may be, a face mask is out there to help.Exposure to dust and pollution makes your skin rough, dry and itchy. Hence, you should deep clean your face with face masks that make your skin healthy and free of skin irritants.
Different types of face masks
Clay Masks
Clay Mask Weekly Skin Detox!
Basics: Face masks that contain clay or mud are essentially purifying and deeply cleansing in nature.
Best for: oil control, acne combat (true for clay masks with acne-fighting ingredients), deep cleansing and exfoliation, cooling skin and helping repair sun damage.
Not great for: dry skin, very dry skin.
Benefits:
The clay in the face mask controls excess sebum secretion in the skin and cleanses the pores of any impurities.Clay masks work well for skin concerns like blackheads or whiteheads.They give skin a squeaky clean feel and a matte, healthy look
Note: Because clay masks can be drying for some, it is best to use them no more than once a week, when you're looking for a skin detox. If you have dry or dehydrated skin, use clay masks with caution.
Peel-off Masks
Peel-off mask Instant, Smooth, Fun!
Basics: Peel-off masks gently remove impurities and dead cells from the uppermost layer of the skin and also impart nutrients to it.
Best for: quick and easy use, mild exfoliation, nutrient benefits.
Not great for: deep cleansing, effective action against sun tan, acne scars and other skin issues.
Benefits:
Peel-off masks instantly revive and rejuvenate skin, and are the simplest to use.They are typically infused with skin-brightening and hydrating properties that smooth and soften your skin while making it look more radiant.Many even contain antioxidants and other nutrients that can benefit skin.
Hydrating Masks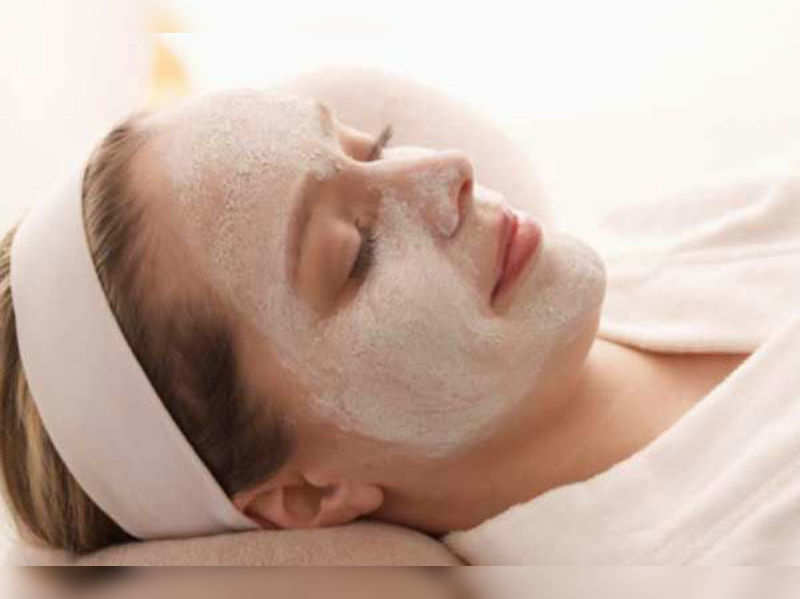 Hydrating mask Let Your Skin Drink 'em In!
Basics: These masks are typically of a gel or cream consistency and they're designed to replenish very dry or dehydrated skin.
Best for: giving a moisture boost to dry and dehydrated skin, removing dryness
Not great for: using on oily skin, cleansing skin, removing impurities
Benefits:
A hydrating mask can give a quick, extra boost of moisture apart from what your hydrating cream is providing. But it cannot replace hydrating creams or moisturizers.Some overnight masks can even be kept on while you sleep!If you're dealing with dry patches or if you find that your makeup doesn't sit well on your skin, you might want to give a hydrating mask a shot.
Sheet Masks
On-the Go Facials!
Basics: Sheet masks have originated in South East Asia. They are face-shaped fabrics soaked in a nutrition-packed solution called serum. The serum allows nutrients to seep into the skin. The masks need not be washed off or wiped off, they only need to be allowed to sit on the skin and taken off after 20-30 minutes.
Best for: on-the go refreshment, using on already cleansed skin (cleansed by a face wash or cleanser); occasional use.
Not great for: using on skin that is not already clean, deep cleansing and exfoliation, regular use, benefiting from freshness and naturalness of ingredients (since the ingredients are present in a processed form in sheet masks and not their natural form, like in clay masks).
Benefits:
These are ideal for when you want a fuss-free mask for specific skincare needs.
In general, sheet masks brighten, soften, moisturize and cleanse your skin.A huge variety of sheet masks are available in the market.Opt for a sheet mask with hydrating and rejuvenating ingredients and you can get a facial-like experience on the go.
Also read –
Face Mask Rules
Always have clean skin before you mask
Never use a clay or exfoliation mask if you plan on going out in public (you're just asking for a breakout)
Whatever you take out, you must put back in (very much a shampoo and conditioner arrangement)
Timing is everything
Follow the instructions
I know you got confused which one to use.But don't worry I have done that homework for you.
List of best Face Mask
The Deep skin cleansing charcoal mask by UrbanGabru is a remedy for deep cleansing your skin and leaving it naturally glowing. It helps in cleaning accumulated dirt in the pores and exfoliates dead skins. The mask is also a great remedy for effectively removing blackheads, acne and tightening skin pores. It leaves your skin brighter, lighter and detoxed Besides, the charcoal mask is suitable for all skin types.
How to apply – Apply the mask on your face, leaving the area around your lips, eyes and eyebrows. Leave for 20 – 25 minutes for it to dry. Pull from the bottom towards the top and wash your face with cold water.
Features-
Removes black heads – Clogged and oily pores are what develops blackheads. This anti-blackhead suction hair mask is very effective in pulling out blackheads, cleansing the skin pores.
Deep cleanses – This charcoal mask from UrbanGabru helps in deep cleansing of your skin by removing dead skin and blackheads. This leaves you with a naturally glowing skin that will be ready to fast absorb all skin products.
Natural ingredients – Made from natural ingredients, this charcoal face mask has been formulated for all skin types but mainly ideal for oily skin.
Tightens pores – Large skin pores do not look very pleasant. Moreover, large pores are a major reason for acne and blackheads. This charcoal deep skin cleansing mask works effectively towards tightening your skin pores.
Nourishes from deep within – The active cooling effect accompanied by the peel off mask whitens the skin. It leaves skin silky and smooth everyday.
Skin Profit –
BEST QUALITY – made from safe ingredients, this is 100% safe to use and a top quality product that'll give you the BEST results!
SKIN PURIFYING and ANTI – POLLUTION – contains powerful Charcoal that can easily remove pore-clogging dirt and extra oils, effectively preventing blackheads!
NOURISHING – With Active cooling effect, it whitens & leaves skin silky and smooth everyday!
GLOW LOOK – by cleansing and nourishing skin and controlling the oil-water balance, it gives your skin an energetic glow from inside out!
The changing face of the beauty industry has managed to equalize men and women beauty industry and the unisex charcoal peel off mask taps on that to focus on some of the common skin problems faced by both the sexes alike. It's activated charcoal works to naturally detox skin by unclogging pores, improving blood circulation in the skin leaving It smooth, soft and succulent. A healthier younger looking skin is not a far off dream as essential oils and bamboo in the mask work together with charcoal to remove extra dirt, oil and those ever so clingy blackheads.
Ingredients –
Bamboo Charcoal –Activated bamboo charcoal acts like a magnet to draw out the most deeply-rooted impurities while naturally-derived ingredients gently, Which makes it a perfect face mask for both Men and Women.
Rosemary Oil – Benefits of rosemary oil for skin detoxification & Instant glow, also it helps to remove pore-clogging dirt and extra oils, effectively preventing blackheads.
Vitamin B9 – Vitamin B9 works like an antioxidant to promote cell turnover and fight free radical damage.It fights signs of sun damage and aging, leading to firmer looking skin.
Safe To Use – Beardhood Charcoal Peel-Off mask does not contain any harmful chemicals or ingredients. This blackhead remover mask can prompt your skin blood circulation, generally contributes to younger, healthier skin, gently helps to shrink pores and calm red and inflamed skin
Steps to Use –
Place a hot towel on face focusing on areas with larger pores and blackheads for several minutes.
Evenly apply appropriate amount of the mask to T-zone or nose.
wait for 10-15 minutes and gently peel off the mask when the mask is dry and rinse with water.
Features-
Quantity: 100g; Beardhood charcoal peel off face mask helps remove impurities, blackheads and blemishes for toned, radiant skin, the ingenious formula is packed with nutrients essential to your skin health
Skin purifying and anti aging – contains powerful bamboo extracts that removes pore-clogging dirt and extra oils, effectively preventing blackheads and tightens skin for youthful appearance
Efficient blackheads removal- the main component of our peel off face mask is activated bamboo charcoal, featuring delicate and porous molecules and strong adsorption capacity
Quality you can trust – made from safe and natural ingredients such as natural activated charcoal and bamboo extracts, our facial mask is 100 percent safe to use to achieve glowing and clear skin
Target Audience: Men & Women
Consist of:
Saffron – It contains many vitamins and antioxidants that are beneficial for the skin. It not only adds to the natural radiance & glow of the skin, but also soothes the skin.
Turmeric – Traditionally, turmeric is used in Ubtan to give an instant glow. It is also a great ingredient that reduces signs of aging and slows down the aging process.
Cucumber – The ever cooling cucumber helps soothe tanned or sunburnt skin. Cucumber's mild astringent property is effective in reducing tan and irritation.
Features-
Gives Skin a Glow – Turmeric and saffron in this face mask fight tan to give your face a fresh and glowing look.
Brightens Skin – It lightens skin tone by removing sun-tan and damage caused due to sun and pollution.
Retains Moisture Balance – Cucumber in this face mask keeps your skin hydrated, soft and supple.
With Bioactives – Our Ubtan Face Mask is rich in Bioactives as it is made with natural ingredients and does not contain harmful chemicals.
Dermatologically Tested – All Mamaearth products go through strict testing to ensure they are absolutely safe for use.
Silicone & Paraben Free – All our products are completely free of Parabens and Silicones that may cause hormonal changes in the body.
What you will get by using this face pack:
SKIN LIGHTENING – Saffron is anti-bacterial in nature and it has skin enhancing properties. It naturally removes tan from the upper layer of skin and gives you a fairer, spot free look. Free radicals present in turmeric also aid lightened skin tone.
SKIN BRIGHTENING – Cucumber gives your skin a bright and rejuvenated look. In combination with papaya extract, these ingredients reverse the effects of sunburn and tanning. It makes you look more radiant with every use.
REDUCED SIGNS OF AGEING – Powerful ingredients such as Apricot oil & Mulberry extract helps in reducing visible signs of ageing & slows down the skin ageing process.
RETAINS MOISTURE BALANCE – Ingredients such as kokum butter & olive oil extract are known to provide the moisturizing needed for your skin & keeps it soft & supple.
NATURAL & CERTIFIED TOXIN FREE – Dermatologically Tested Hypoallergenic Free from Sulfates, Paraben, SLS, Mineral Oil, Petroleum, Artificial Preservatives, Colors & Fragrances.
Directions For Use:
Wash face with a sulfate-free face wash.
Dab the face dry and apply a generous layer of face mask on a clean skin.
Keep it for 15 minutes, scrub and wash off with lukewarm water.
For best results, use twice a week.
Garnier introduces a new generation of face masks for women that infuses skin with 1 week of serum with 1 mask. Use Garnier Hydra Bomb Green Tea Sheet Mask if you have oily and dry skin. It is enriched with detoxifying Green Tea extracts and will instantly hydrate and purify your skin in just 15 mins. The mask will also help in mattifying the skin and reducing the pores. The tissue mask has been dermatologically tested.
How to use – Unfold the mask. Apply on clean face with blue protective film facing outwards. Remove the blue film. Adjust the mask to the contours of your face. Leave it on for 15mins. Remove mask and gently massage your face with the excess serum
Features-
Garnier tissue face masks provide your skin with deep hydration
Hydra Bomb Sheet Mask is enriched with green tea extracts
Perfect for oily skin
Instantly hydrates the skin and also purifies it
Suitable for all skin types, including sensitive skin
Lotus Herbals WhiteGlow Yogurt Skin Whitening and Brightening Masque revitalizes and brightens your skin. The yoghurt extracts moisturize your skin naturally, restore any cells that have been damaged due to excessive heat or extreme weather conditions, and help regularise blood circulation of the face.
It is composed using a rich formula that helps lighten the skin by gradually removing any dark spots or blemishes, leaving a glow on the skin. With regular use of this brightening mask, your skin can look nourished and smooth, without any unwanted marks. This product is also effective against ageing since blackberry extract is one of its key ingredients. This helps restore youthful skin, removes wrinkles, and fine lines eventually. Its yoghurt enzymes help in regenerating skin cells by going deeper into the skin layers, cleaning the pores and enhancing your skin's texture.
This cream-like face mask needs to be applied on the entire surface of your face, except the area around eyes, and should be left for 30 minutes to dry. After bring washed off with cold water, this Lotus Herbals WhiteGlow Yogurt Skin Whitening and Brightening Masque leaves your skin soft and smooth immediately after use. This product not just helps whiten the face gradually, along with enrichening the skin, but also can be used as a daily cleanser. This mask doesn't lead to any pore-clogging, and leaves sufficient moisture to help the skin stay springy by eliminating any dead flakes.
Product Features –
Quantity: 80g
Item Form: Cream
Provides complete nourishment for your skin
Skin Type: Suitable for all skin types
Target Audience: Men and women
It gives you brighter, younger and radiant skin.
Enriched with yogurt and bearberry extracts.
The creamy masque is hydrating and helps skin regain moisture.
Effective at cleansing and disinfecting pores, preventing acne and eliminating dead flakes to reveal fresh glowing skin.
Specially Designed for Oily, Acne-Prone Skin
Acne-prone skin needs multi-dimensional care – to cleanse, care, control acne, prevent recurrence, and to do all of this gently – phew! No mean mask, this.
A creamy, delightfully fragranced mask that spreads easily, and leaves skin feeling smooth and refreshed – instantly! Removes excess oiliness and contains proven hand-picked ingredients that fight acne and keep skin renewed.
Award-Winning Clay Mask – Bestselling mask that suits all skin types. Winner of Nykaa Femina Beauty Awards 2017 in the 'best face mask' category.
How to Use – Gently apply a thick layer over all areas of the face. Wait for about 20 minutes or until the mask dries completely, and wash off with plain water. Gently pat dry. Use once a week.
Ingredients-
Kaolin and Bentonite – Naturally occurring clays, known to be effective for absorbing excess oil, exfoliating, cleansing and refreshing the skin. Some things are best left natural.
Green Tea Extracts – Concentrated source of polyphenols and other antioxidants, to stop the acne formation cycle in its tracks. Oxidation of skin-produced sebum is a key step in acne formation – something we are looking to stop here.
Only Safe Ingredients – No nasties policy! Plum says no to parabens, phthalates, SLS, propylene glycol, DEA & PABA. We never lie about everything being 100% natural, and secondly, we are 100% sure of the safety of the ingredients we use – both natural & synthetic.
Features-
Quantity: 60g
Item Form: Cream
Instant Glow & Clarity – Get instantly brighter, healthier-looking skin. Unclogged pores, visibly clearer & softer, fresh skin!
Oil Control – This clay-based mask gently exfoliates & pulls out oil & dead cells without drying out skin. It also helps control acne with regular use.
Suitable For: Specially Designed For Acne-Prone Skin. Suitable For Combination And Oily Skin. Plum products are PETA-certified vegan & cruelty-free. No parabens, phthalates, SLS & no harmful ingredients. We love nature's goodness and give away 1% of every sale to environmental causes.
Target Audience: Women
Proud to be Vegan – Plum is proud to be 100% vegan- which means we never us any animal-derived ingredients in our products. Plum products are never tested on animals! 100% cruelty-free. The only thing we want to spread is goodness!
Friends of the Planet – We give back! As a member of 1% for the planet, we give away 1% of every sale to organizations working towards sustainability.
Ingredients:
Pure Arabica Coffee deep cleanses, increases collagen production for youthful skin and helps reduce cellulite.
The Caffeine present in Coffee even tones the skin and reduces puffiness.
Koalin removes access oil.
Cocoa and Caffeine are rich in antioxidants that fight free radicals and sun damage.
Pure Argan Oil helps lock the hydration and helps prevent acne.
Vitamin E is essential for skin health. Gently exfoliates dead skin cells and say goodbye to wrinkles
HOW TO USE:
Make it a part of weekly skincare regime or use it for any special occasion.
Apply a generous amount of the mask with the spatula. Spread it into an even layer.
Avoid the area around the eyes, brows and lips. Leave the mask on for 15 to 20 minutes.
Rinse it off with lukewarm water in a scrubbing circular motion
Features-
OIL BALANCE: Perfect oil balance is what you want when you have oily or combination skin type. mCaffeine coffee face mask has been designed for this delicate purpose. A clay based mask that removes excess oil from your skin with a blend of acne preventing pure natural argan oil to balance it and lock the moisture. Get rid of that unwanted tan and dark circles and get ready to face the world with a clean, hydrated soft skin
SMOOTH AND GLOWING SKIN: mCaffeine coffee clay face pack will get you ready for that special occasion or a party. Make it a part of a weekly regime or use it before that special day. Formulated with skin-loving ingredients like pure Arabica coffee, this face mask helps get rid of dead cells, sucks our dirt and impurities giving you a hydrated youthful and glowing skin. Caffeine tones the skin and Vitamin E gives you a healthy glow
MADE WITH CARE FDA Approved | Mineral Oil Free | Dermatologically Tested | Cruelty-Free | Paraben Free | For Normal to Oily Skin | For Men & Women
A nourishing Facial Masque made with pure Sandalwood, Rosewater, Black Himalayan Clay and Potent Ayurvedic Herbs. This masque neutralises excess oil production, minimises enlarged open pores and rejuvenates the skin.
How to Use
Use after Cleansing. Open pores with steaming or hot towel for a few minutes. Smooth on face and neck avoiding the eye area and allow to dry. Rinse off well. Splash with cold water. Moisturise as usual.
Ingredients-
Sandalwood – Antiseptic, retains moisture levels, toning, purifying, cooling and soothing.
Turmeric – Turmeric is considered a remarkable remedy for skin pigmentation. One of the main benefits of Turmeric is that it is a natural cleanser to get clear skin free from pigmentation and blackheads.
Arnica Flower – It has anti-bacterial, antiseptic and anti-inflammatory properties. It can effectively heal acne and helps in lightening pigmentation. It reduces the appearance of stretch marks.
Nagkesar Root Extract – Nagkesar has skin retexturising, toning and firming properties.
Features-
Ayurvedic – We use age-old Ayurvedic formulations prescribed and researched by Ayurvedic Vaids-scholars who practice an austere code and devotion to their incredible fount of knowledge in Ayurveda. Their expertise in ingredients, formulations, and Vedic treatments is then interspersed with the understanding of a modern biochemist to create in harmony, products that have their foundation in India's oldest science presented in an easy-to-use, luxurious manner.
Handmade Using Traditional Method – From our organically grown and cold pressed Oils, to our steam distilled pure Essential Oils, everything is made in the traditionally old fashioned way, according to Ayurvedic tenets, and wherever possible, by hand.
Organic Cold-Press Oil – Cold-pressed oil is obtained from the first press of the ingredient, without external application of heat. This process allows the potent nutrients present in the oil to remain intact. We source pure, fresh and organic fruits and seeds, to which the traditional form of cold-pressing by hand is used to extract their oils. The result is oils that are far superior in quality and efficacy, to their hot-pressed counterparts.
Rare Plant Extracts – Painstaking research goes into the making of our products. We delve into the depths of ancient texts to arrive at rare ingredients, which when blended together create potent, harmonious infusions and ultimately exquisite products.
Made in India – Forest Essentials celebrates the rich knowledge and heritage of India through its products. We source rare and precious ingredients with care from various parts of the country.
Himalaya Tan Removal Orange Peel-Off Mask is an effective blend of the natural skin lightening extracts of Orange Peel and Honey which help reduce skin tan from the very first use.
How to Use – Apply Himalaya Tan Removal Orange Peel-Off Mask evenly over cleansed face and neck, avoiding the area around the eyes. Allow the mask to dry for 10-15 minutes. Gently remove the peel from the side of the face. Use once or twice a week, based on skin type. Do not apply on broken or inflamed skin.
Features-
Quantity – 100g
Removes tan, leaving you with visibly tan-free skin
Lightens skin tone
Soothes and moisturizes skin
"Concern – Anti-oxidizing, whitening, peel off mask Skin Type – Normal to dry
Pigmented skin
It helps in providing shiny glow to the skin
How to Use: Simply mix the gel with powder, stir it for 2 minutes and apply appropriate amount of peel off mask onto the face and neck.
Suitable for all types of skin, Vitamin C Mask helps in curing pigmentation, blemishes and freckles while giving an anti-oxidant and whitening effect. Its unique botanical formula helps to improve blood circulation in skin for easy absorbent of vitamins, proteins and minerals through the layer of healthy cells. This mask gel readily absorbs dirt, excess oil and toxins from the skin to refresh it completely.
Conclusion
As you all have seen above the list of best face masks.I hope this will help you to choose your new favorite face mask.
If I missed some of them than please share with me.I will glad to know that and your opinion too.And please share your response regarding the new face mask you used.
For purchasing best and reviewed product visit our website 'Ripplenfortunate' – "https://www.ripplenfortunate.com/blog/"