Father's Day is dedicated to all the proud daddies, father figures and whoever influenced your life like a father. This day honours and respects such figures. The dates of celebration may differ across the globe as in Catholic countries of Europe, it is marked on March 19 coinciding with Saint Joseph's Day. However, many others follow the more common date which the US celebrates i.e. the third Sunday of June.
Much like other special days where we express our love and care for family members like Mother's Day, Grandparents Day and Siblings Day.
Today is Father's Day and I'd like to dedicate this post to all the wonderful fathers, father figures, and male mentors out there who have touched the lives of people out there: be it your own kids, others' kids, your family, people you've mentored, people you've coached, and the world at large. Thank you for all that you do. Thank you for being you. We appreciate your existence and the often times silent but impactful role you have played in our lives.
Usually, kids plan a surprise for their daddies on this day by showering them with gifts, favourite food or a house party.
10 best Father's Day gift that your dad can use during quarantine
It's been almost three months since the entire country was first placed under the COVID-19 lockdown. Only recently, the Centre allowed online retail services like Amazon and Flipkart to operate in certain zones.
The coronavirus pandemic has changed the way we used to celebrate special days. Now we cannot go out for dinner at a restaurant or watch a movie on the big screen. While the way we celebrate things may have become different, but the intentions are all the same. Father's day is around the corner and we all know it's very tough to find something meaningful for someone who says he doesn't need anything.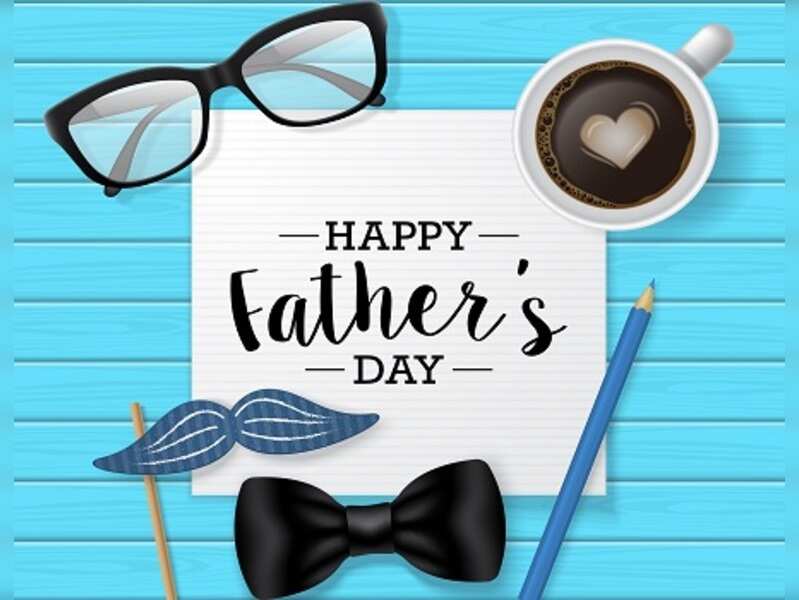 We are sure you have heard this as a response from your father whenever you asked him what he wants for a gift. But before buying a gift this time, keep a few things in mind like what your father would need at this time. Here is a list of 10 gift items that you can gift your dad this quarantine Father's Day.
Due to the spread of the coronavirus, we all are staying at home and trying to do most of the things ourselves. This also includes cutting your hair and shaving. Gifting your dad a fully equipped shaving kit could be a really useful gift right now.
Features :-
PERFECT GIFT- Make any man extremely happy with our complete wet shave kit. Great gift for fathers, husbands, sons or any man for that matter.
MOST COMPLETE KIT- This kit contains everything one will need to keep their face silky smooth or just to trim up that beard nice and tight
TOP QUALITY- Our kit contains the highest rated product on the market, giving you complete confidence in your purchase along with our Satisfaction Guarantee
CONTENTS- This kit contains our Safety Razor with 10 Razor Blades, Safety Razor Stand, Shaving Brush, Shaving Bowl, Shaving Soap, Preshave Oil and Aftershave Balm.
BUY WITH CONFIDENCE- We are so sure that you will love your new shaving kit that if for any reason, you are not completely satisfied, simply contact us and we'll take care of it right away
No doubt, we all are spending more time on our phones than ever. And more than us, it's our parents who are glued to the phone all the time. If your father also has a habit of listening videos in full volume and talking on speaker phone, it's best to give him a nice pair of noise-cancelling headphones. This will not just enrich his experience but also help in attending his online office meetings.
Features:–
Professional Active Noise Cancelling Technology. Significant noise reduction for travel, work and anywhere in between.
Advanced active noise reduction technology quells airplane cabin noise, city traffic or a busy office, makes you focus on what you want to hear,enjoy your music, movies and videos.
The noise cancellation function can work well both in wire and wireless mode.
Proprietary 40mm Large-aperture Drivers. Deep, accurate bass response.
The Active Noise Cancelling around-ear headphones from COWIN give you crisp, powerful sound and quiet that helps you enjoy your music better.
The goal that provide Customers with better sound quality, is our constant pursuit.
High-quality Built-in Microphone and NFC Technology. COWIN E7 provides high-quality built-in microphone for hands-free calls, Which is convenient for you to free yourself from wires. NFC pairing aided by voice prompts, promises quick and stable connection with your Bluetooth enabled devices, Powerful Bluetooth Function.
The Professional Protein Earpad and 90° Swiveling Earcups. More durability and comfort, Enjoy high-quality, Long-listen comfort. Skin texture, lightweight comfortable around-ear fit you can wear all day long.
Gentle Reminder: please take off the headphone every 2-3 hrs to get your ears relax, in order to get better hearing enjoyment, and keep the head comfortable.
30 Hours Playtime Per Charge at Bluetooth Mode. A built-in 600mAh battery won't allow your headphones power off, you can enjoy your world without noise for 30 hours' long time.
Don't need to worry the power shortage problem on the long travel.
18-month warranty and quick response & friendly customer service. Note: The exclusive authorized seller is COWIN.
If your dad loves reading, you must gift him a set of books this Father's Day. The pandemic has given all of us the much needed time to do things we like.
#1 NEW YORK TIMES BESTSELLING PHENOMENON
More than 6 million copies sold worldwide
A Reese Witherspoon x Hello Sunshine Book Club Pick
A Business Insider Defining Book of the Decade

"I can't even express how much I love this book! I didn't want this story to end!"
Since we all are spending more time at home, we all are binge eating all the time. To make sure your dad doesn't indulge in unhealthy binging, gift him a nice mix of healthy snacks. Some healthy snack options are foxnuts, whole wheat nachos, peanuts, almonds, cashew, walnuts and sugar-free biscuits.
Features :-
Rubbermaid Modular Food Storage Containers can hold pasta, baking ingredients, or other pantry staples; save space and keep pantry organized
Great for pet food; easy to clean and scoop food from, and tight lids keep out moisture and humidity
Lids snap tight to help keep food fresh
Containers stack for compact storage
Thick, durable container walls for everyday use
Freezer-safe, top-rack dishwasher-safe, and BPA-free
Set of 10 food storage containers includes one 19.9-cup, one 16-cup, one 12-cup, one 8.1-cup, one 7.8-cup, one 6.6-cup, one 3.2-cup, one 1.3-cup, and two 0.5 cup mini containers, plus lids, for a total of 20 pieces
Nothing can beat the boost that a fresh glass of juice provides. Because now when we can't go out and get a fresh glass of juice, why not make it at home? Invest in a juicer and enjoy a fresh glass of it with your parents every day. This best part about this gift is that it can be enjoyed by all family members.
Features :-
Compact design and BPA free: great for home, office and travel with on the go portability
Blend and go: blend and drink from the 14 ounce jar and lid which are both dishwasher safe
One touch blending: makes great smoothies, shakes, baby formula, marinades, salad dressing and more. To remove stubborn spots, use a mild, non-abrasive cleanser
Stainless steel blades: ice crushing power for smooth results
Efficient 175 watt motor provides all the power you need for fast, reliable performance
Physical activity has taken a backseat due to the pandemic. Thus, it's even more important to keep a track of the calories we eat and burn. Because eating more than what you can burn, will only lead to weight gain, you have to be cautious. Gift you dad the latest version of a fitness watch, which will help him keep a track of his physical activity and calorie intake.
Features :-
Use amazon Alexa built in to get quick news and information, check the weather, set timers and alarms, control your smart home devices and more all through the sound of your voice (third party app may be required; amazon Alexa not available in all countries)
Based on your heart rate, time asleep and restlessness, sleep score helps you better understand your sleep quality each night; also track your time in light, deep and rem sleep stages and get personal insights
Control your Spotify app, download Pandora stations and add deezer playlists plus store and play 300+ songs on your wrist (subscription required; Pandora is us only)
With a larger display and an always on option, your information's always a quick glance away (always on display requires more frequent charging)
Track heart rate 24/ 7, steps, distance, calories burned, hourly activity, active minutes and floors climbed. Syncing range – up to 6.1 meters
Works around the clock with 6 plus day battery life (varies with use and other factors)
Get call, text, calendar and smartphone app notifications when your phone is nearby; plus send quick replies and voice replies on android only
Who doesn't like to be pampered? All of us love that nice foot massage and what can be better than getting it done at home and that too anytime you want. Gift your dad an automatic foot massager to make him feel relaxed.
Features :-
Massage the feet, relax the whole body. RENPHO foot massager machine, equipped with rotation ball, rolling stick, heating and offers a deep kneading Shiatsu foot massage.
Like a professional foot massage. The ergonomic design provides a comprehensive and comfortable massage. 3 kneading and 3 squeeze intensities can be adjusted to personal preference. The soothing heat function can be controlled independently.
Simple, hygienic, healthy. The touch panel of this foot massager machine is easy to control using your foot. Removable washable cloth in the foot chambers helps keep a clean and healthy environment.
Fits most people. Fathers Day Gifts for Dad. With its enlarged foot rooms, RENPHO foot massager can accommodate most foot sizes, up to men size 12.
A great gift. Everybody needs a daily foot massage. Get it for yourself or your friend using the foot massager 30 minutes daily improves the health of the body.
The weather is really hot and humid and we all need to be careful that we stay hydrated. Gift your dad a nice bottle with markings, which can tell if he is having enough water in a day.
We all know our parents never lagged behind when it comes to taking care of us. But when it comes to them, they hardly care. This fathers day, gift your dad a medical equipment such as Thermometer, BP machine, Weighing Machine etc.
Features :-
USB Charging: The blood pressure monitor uses the battery that can be recharged with a USB Type-C cable, so you don't have to rummage through your drawers for extra batteries
LED Display & Voice Broadcast: Read your blood pressure results with the large LED display that give you clear results that are easy to read; Use the speaker function to hear your blood pressure results read out loud
Convenient Functions: The blood pressure monitor has an irregular heartbeat indicator and a WHO indicator. It also allows 2 different users to store up to 90 results each
Universal Size: Use the conveniently sized cuff (8.6-16.5 in / 22-42 cm) that is capable of fitting any arm
New Version: This model is a 2020 updated version for more comfortable and accurate measurement.
You can also gift him the essential vitamins along with protein powder. Vitamins will help keep his immunity up and tight, while protein powder will help build them build muscles, which will be good for their overall health.
Features :-
Packaging may vary – New look, with the same trusted Quality!
GOLD STANDARD 100% WHEY BLEND – 24g blended protein consisting of whey protein isolate, whey protein concentrate, and whey peptides to support lean muscle mass – they don't call it the GOLD STANDARD of quality for nothing
OVER 5G OF BCAAS – help build lean and strong muscles with BCAAs
3-4G CARBS, 1-3G SUGAR, AND 1-1.5G FAT, GLUTEN FREE, No Sucralose in Double Rich Chocolate Flavor
INSTANTIZED – improves mixability to prevent lumps and clumps
BANNED SUBSTANCE TESTED – highest quality control measures so you feel comfortable and safe consuming the product
4 SIZES TO CHOOSE FROM – 1, 2, 5, and 10-pound options available
OVER 20 DECADENT FLAVORS TO CHOOSE FROM
ANY-TIME FORMULA – great before or after exercise, between meals, with a meal, or any time of day where you need extra protein in your nutrition
Features :-
The Amazon Kindle is one of the best e-readers on the market. With the entire country sheltered inside, an e-reader would help your dad venture into the world of fiction.
The Amazon Kindle 10th Gen starts at Rs 8,000 and a single charge of battery can last for weeks, not hours.
Amazon Prime members can read free with unlimited access to hundreds of books, comics and magazines.
Features :-
SUPERIOR SOUND QUALITY- Experience music, movies, podcasts, calls, and more in a whole new way. Bluetooth 5.0 technology gives you high quality sound for listening and conversations. Provides superior connectivity and the ability to enjoy your earbuds happily. [IMPORTANT: Remember to experiment with the 3 different earcap sizes (S, M, L) to find a snug and secure fit.]
QUICK PAIRING- Stress-free pairing right out of the charging case. Purity earbuds will give flashing light and voice indications when done synching so you can pair to your smartphone easily. (Please remove protective film from earbuds before use).
PORTABLE CHARGING CASE- A portable charging case gives you the opportunity to recharge your earbuds when on-the-go. Four bright white LED lights will illuminate to indicate charging percentage of your earbuds. Play time up to 4 hrs. And up to 10 hrs with charging case.
IPX5 SWEAT RESISTANT – Never worry about damaging your earbuds during an intense workout in the gym or on a trail. IPX5 sweat resistant design allows you to remain focused on your music or calls and not external sources like dirt or sweat.
WARRANTY- Purity is proud to offer a 1 year warranty.
13. Donation
If your father has made it clear that he really does not want anything for Father's Day, you can still surprise him by making a donation in his name towards a cause, especially towards frontline workers during the coronavirus pandemic.
If you would like your donation to help during the current coronavirus pandemic, you can contribute to the World Health Organisation COVID-19 Solidarity Response Fund. or you can sponsor a child's education to helping women fight against domestic violence
'Why I Love My Father': This Father's Day #showyourlove
As you read the beautiful, beautiful Lines below, know that these can well be the very things that your children (if you have any) and the people you have touched have to say about you; just that they don't actively articulate these thoughts all the time.
I present to you, "Why I Love My Father", by the readers of RNF:
From Meemansa Khare: –
"He always made sure .. m happy .. he leaves no stone unturned to make me smile. He says less but understands me completely. He is the support system . M blessed enough to have you ! Papa❤️"
"He has always told .. not to give up things you really wanted in your life .. life can be tough .. however trust yourself the most .. at the very tender age i understand the meaning of standing for yourself. Once he narrated me a story wherein he mentioned if you decide to standup for yourself every thing will start falling into place organically .. Papa n maa are the only ones who made me understood the meaning of standing up for yourself as no one else gonna stand for you ..
He Made me realise if you see something bad happening , stand against for it as the one sees the wrong and still don't do anything is equally a wrong .. now I certainly realise I get all these perspectives and thoughts through him as he brought me up by providing me wings and yet standing with me to catch me if I fall .."
From Nikhil Prashant Xalxo:-
"My father didn't do anything unusual. He only did what dads are supposed to do, be there no matter what. He always put his needs after ours, the sacrifices he made just to make us smile,
he will never say that but I know, that's how great he is. His guiding hand on my shoulder will remain with me forever. His slaps and scoldings which have led me to grow as a person will also be there. The love and care he gave me, I will never be able to repay him."
From Nomal Rane:-
He is the person with whom I can fight, I can tease him by calling different names. He is the person who never says "No" to me.He is the person who face every difficult situations to make me and my brother happy.
I love you Papa😘
From Vaishali Shukla: –
Father is a person who

Lets you experiment life in your own way and pulls you up when you fall.

Lets you get angry on him and loves you more after that.

Lets you see things your own way and then gives his view point.

Is with you always,

Specially when you need him !!!
From Anshuman Bhalla: –
My father gave two most precious things for my whole life. One was love with sacrifice; the second was education with spirituality.
From Harshit Batra: –
My father carried a laminated quote in his wallet for years. Whenever I got stressed, he would take it out and tell me to read it. It said, "Don't sweat the small stuff. And it's all small stuff. If you can't fight, and you can't flee, flow."
Final Word
You can actually make the most of this lockdown. Get some snacks in place at home, play music and dance. Let this home party be only for your fam jam and not anyone else. Make your Dad feel special by playing her favourite music and let her groove too. When bored, the family can play in-house games together like Monopoly, Carrom, Uno or the very famous Ludo!
Any which way, find some time for your parents, let them know how much you love them.
Here's wishing our readers a very Happy Father's Day!
For purchasing best and reviewed product visit our website 'Ripplenfortunate' – "https://www.ripplenfortunate.com/blog/"