Searching for the best reliable Table Fan?
Search No More!!
Summers in India is getting hotter with each passing year. To beat the scorching heat during the summer, you cannot only rely on air conditioners. You will need something more than that. But the high electricity bills can add extra pain to your pocket.
The only simple solution is getting a high power fan that will serve you direct air. A ceiling fan won't give you that extra cooling sensation at it distributes the air evenly. In that case, a table fan will come handy to you.
However, it can get really difficult to choose a table fan with so many variations available in the market.
No worries! As we are here to help you out with our table fan review and buyer's guide. This will surely help you out in choosing one from the list of best table fans in India that matches your requirement.
Our Top 3 Pick
Best Buy Table Fan Online In India
Enjoy the best world class experience with Usha Maxx Air 400mm 55 Watt-Table Fan which throws air at a very high speed, concentrated in a single direction. The air delivery is very dynamic as well as the customization available in the product is highly beneficial. The flexibility in terms of the operation of the product is highly beneficial as it comes with life long warrant of the motor that make the table fan durable.
Features
The overheating of the motor doesn't result in burnout of the motor.
The head of the table fan easily tilts in the right angle due to its pivot arrangement.
The oscillation of the head of the fan is seamless, without any hurdles.
Pros
Design of the blades of the fan are aerodynamically designed, thus making it more efficient.
Thermal overload due to over consumption is strictly taken care of.
Consumes very less energy, thus sustainable in nature.
Cons
According to some users, the warranty claim procedure is not smooth.
Due to excessive use, few users have reported slowdown of the motor.
Air throw distance can be increased, as the maximum air throw distance is 6 feet.
Havells Crescent 250mm Table Fan is one of the cutest looking table fans which is available in the market. Featuring the wonderful revolving head, the fan throws air across all the directions, without any fail. The fan comes in quirky yellow colour, thus helping you to decorate your room. The shape of the fan is in the form of a crescent moon or eclipsed sun, thus it derives its name as Havells Crescent 250mm Table Fan.
Features
The fan can be used as a mounting fan or table fan too.
The speed of the fan is 1350 rotations per minute.
Product comes with a warranty of 2 years; hence you need not worry about mechanical damage.
Total levels of speed are three.
Pros
If your fan falls accidentally, the fan shuts down automatically. Auto-cut feature.
The fan can be operated across three different speeds and has a timer of couple of hours.
Wonderful and quirky shape of the fan makes it look excellent decoration for home.
The fan doesn't make any noise during its operation.
Cons
There is no option for battery-based operation of the fan.
The rotation of the fan is restricted due to mechanical shortcomings.
Table fans have a certain advantage over the ceiling fans. One of the biggest advantage is the easy control and customization that different table fans offer to customers, which helps in customer retention Table fans have a focussed distribution of air, unlike the ceiling fans in which the air spreads across the entire room.
As the volume of area captured increases, the intensity of the air reduces, thus making it less effective. During summer, the temperature is very high and the air around get circulated using the ceiling fan. But, table fans help in pulling in warm air from its rear and turning it into cooler air. Orient Electric Wind Pro Desk is a state-of-the-art, highly customizable table fan, which helps in increasing the efficiency of the air throughput.
Features
Noiseless functioning of the table fan due to the its innovative windings.
Power is consumed in very less quantity as well as the air drive is very high
Protection against over heating of the coil due to inert arrangement.
Pros
The power with which the air is thrown out is increased as the number of blades are five.
Durability of the product is augmented due to the increased motor life.
Design of the product enables it for easy portability.
Cons
The table fan doesn't get recharged by any battery, hence requires electricity for operation
Noise level in some specimens were reported.
The fan which can work both as a table fan as well as a wall fan, Varshine Happy Home Junior Air Wall Cum Table Fan is customized to be used for at indoors as well as in the outdoors. The fan helps in giving a cool breeze to your customers in the shop or to a wonderful air flow to you in your house. The available colour is black, and the fan lasts long since it has a mechanism to protect the motor during over-heating.
Features
Rotations per minute of the blades are 2800 rpm.
The motor is protected against any over heating due to the presence of heat protector.
Lubrication is provided for smooth operation of the table fan.
Pros
Compact and flexible design which helps in portability of the table fan as per requirement.
Product warranty of 1 year that keeps it safe from unnecessary expense due to failure.
Power consumption of only 60W thus making it one of the environmentally friendly table fans.
Cons
Operation inefficiency by few of the customers have been reported.
Metal pieces of the fans rust quickly on exposure to environment for long time.
Noisy and reportedly non-functional speed controlling, making it less customizable.
Have you ever wondered if the fan could rotate backward to give surround-air just like surround-sound? V Guard Multiutility fan is one such product that enhances the air throw direction by spreading air to all the area across it, by making the entire room filled with air. The table fan can be mounted on the wall or can be mounted on your table as required. The fan can be positioned once in 360 degree and once in 180 degree position. The motor is having high strength, thus helping you to keep your room well ventilated and conditioned.
Features
The air throughput or the air delivery is 40m3/min, it spreads air to a volume of 40 m3 per minute.
The speed of rotation is no less than 2600 RPM.
No need for any installation manual as it just needs to be plugged in, instantly.
Product comes with a warranty of 1 year.
Pros
Vibrant colour of the product make your room lively.
Easy to use, lacks complications of installations
Very long power cord, thus can be used without an extension cable
Cons
The product doesn't have a feature of auto-swing in it
The product doesn't come with a feature of wall mounting.
Creates noise during its operation, as reported by users.
The Bajaj Ultima PT01 200mm Table Fan is definitely the best buy as a table fan if you are looking for a low budget product. This 14-inch table fan may look like a tad bit small and compact, but the performance will definitely outshine your thoughts. This magnificent table fan has 2300 RPM speed which makes it even more special.
Features
The super smooth air blow is definitely a huge plus point.
But since it is a compact sized fan and the RPM is high, we could hear a humming noise from the motor.
There is definitely nothing to worry about. Infact, the higher air delivery is just perfect for any hall or large room.
The Bajaj Ultima PT01 200mm Table Fan may heat up if you are using it constantly for a long duration.
But this will never affect the performance.
Only the minimal sound is the factor you need to deal with.
We definitely recommend you to purchase the Bajaj Ultima PT01 200mm Table Fan for the best budget buy.
Pros
An elegant high-speed fan with modern looks
Compact design with powder coated guards
Powerful motor for higher air delivery
Cons
The 55 Watt Maharaja Whiteline Opal Table fan comes with a 55 watt powered motor and is suitable for wired, table use. It has an operating voltage of 230 volts and has adjustable speed settings according to your usage and convenience. It also comes with a 2-year warranty from the manufacturer.
Features
This particular product line from Maharaja has proven to be extremely popular among the customers, thanks to its superior feature set and modern design language.
It has its outer body painted in grey and white that are non-intrusive colours and should go with all kinds of décor in your room.
Plus you can rest assured that the air delivery will be made across the opposite corner of the room.
This table fan from Maharaja consumes just 55 watts of power which is better than other similar products of this size.
The base of the fan is large enough to adequately balance the fan and it also includes a handful of buttons to control the fan speeds, etc.
Maharaja offers a standard warranty of 2 years with this product for your peace of mind.
Pros
55-watt power motor
3 different adjustable speed settings
Suitable for use in home as well as offices
Comes with a 2-year warranty from the manufacturer
1400 rpm speed of the fan.
Cons
Tilt and air spread is less.
Not portable.
Table fans have been highly efficient in providing relief during the sultry weather conditions. Bajaj Esteem 400 mm Table Fan, which is only available in white colour, is highly efficient in making the summer cool and comfortable. The fan doesn't create any unnecessary sound of the air cutting through the blades. With an increased efficiency and durability, the table fan offers the best air delivery during the summer. Best fit for operation during any climate.
Features
Oscillation of the head of the fan takes place from one direction to another.
The fan works solely on the electricity and it doesn't use any battery for operation.
The table fan comes with a warranty of 1 year.
Pros
Eco-friendly, hence it doesn't cause any pollution in the environment.
Doesn't consume large amount of electricity in its operation
High quality of the product
Cons
Assembly of the product can become difficult at times.
In some cases, air speed is said to have been less than expected.
Lock of the cage of the fan is said to be not functioning properly.
If you are looking for the best table fan which concentrates the air delivery and focuses it to proportionately, Luminous Multipurpose Buddy 230mm Cabin Fan is the perfect choice. It has a sleek design and wonderful features which makes it one of the most attractive table fans. Available in blue colour, it enhances and uplifts the mood of a person during the sultry summers. The air guards are built with enhanced protection to prevent your fingers from getting injured by the blades. The entire set consists of a motor, blade and fan which can be assembled as well as disassembled during washing and cleaning purposes.
Features
Multipurpose fan, which can be used as wall mounted fan as well as table fan
Can be placed at any corner of the room.
Air throw is more than the other products in the same range, so is air delivery.
Pros
The speed of the fan is very high, thus the air delivery is very high.
Size is conventional, thus is easily portable.
Arrangement is made for hanging the fan from the wall
Cons
Speed of the fan cannot be controlled.
Fan cannot be mounted on the wall.
The fan cannot be ported from one place to another, during electricity supply.
Crompton High Flo Eva 16 inch table fan is the last in our list of 10 Best Table Fans In India 2020, yet it has similar features compared to the rest nine of table fans. Being one of the most customizable and decorative fan, it helps in enriching the experience of the user. The product is the perfect example of value for money. It provides a very unique value proposition as it can be easily ported from one place to another. Running on electricity, the fan can only be used when the power is on, which is a demerit of this fan.
Features
Small in size, thus can be ported easily to anywhere with you.
The fan works without making any noise, hence it has silent operation
Pros
Easy connection and easy to use fan.
Portability of the fan, hence it can be moved to any place without much hassle.
Quality of the fan is very promising.
Cons
Poor servicing of the product has been recorded by few customers.
Buying Guide: What Are The Features To Look For In The Best Table Fans In India?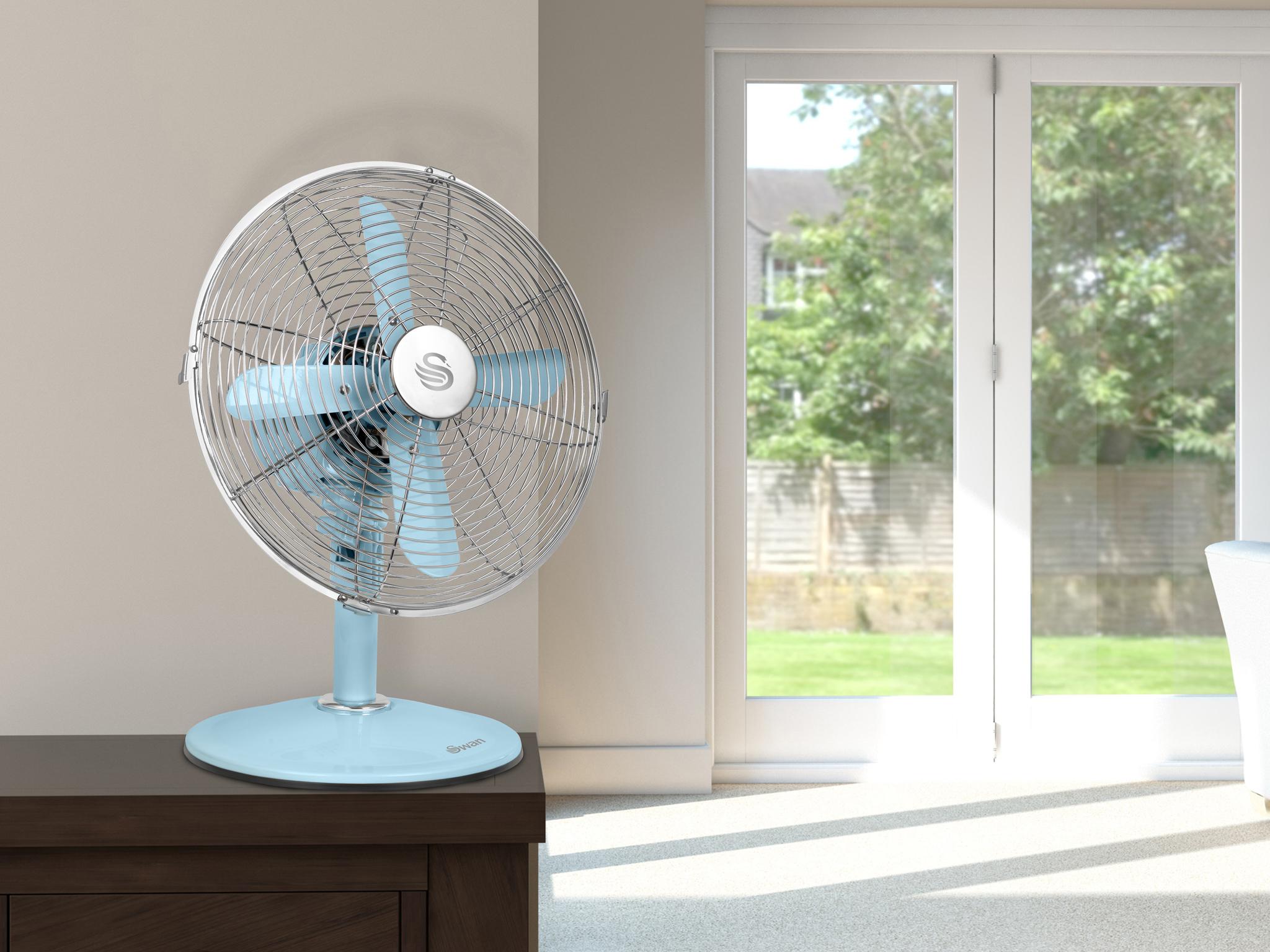 When warm weather knocks on your door, your main aim is to have equipment that offers good air circulation to ensure that your home or office is fresh and comfortable. As much as you may already have a budget for the best table fan, it is also important to focus on the product quality among other features.
This is the only way you can be guaranteed value for your money. Some of the important things to consider when shopping for a table fan online include:
Size
It is always important to choose the right fan size. When it comes to table fans, the larger the product, the quieter it is. The best table fans are available in 12, 16 and 20 diameter inches.
Noise
Table fans that make less noise are more preferred. These tables fans can come in handy if you want to stay in a quiet environment.
Material
Table fans are also available in different types of materials. These include plastic, stainless steel and brass. Each of these materials has its own benefits. For instance, plastic fans are usually more affordable, metal fans can work well outdoors since they are more powerful and can work best in an open environment.
Removable grill
After a few months of use, table fans tend to collect dust. Purchasing a table fan that has an easy to remove grill can be a perfect choice. There are fans that need to be unscrewed and disassembled to access the blades. There are also others that never open.
Fan design
Window fans, also referred to as box fans are slim in nature, and can easily be placed on the window to bring fresh air. There are also classic desktop fans that function equally well. They are however bulky in nature. Floor models can also be placed on a table and they are also stable, making them a good option when you have kids and pets around.
Safety precautions for table fans
Just like any other electronic product, safety precautions are always important when using a table fan. This is because the fans can easily fall off, causing bodily harm or damage.
Ensure that the fan is placed on a flat surface
The wires and cables should not tangle anywhere
Fan blades are always risky when rotating. Children should avoid putting fingers on the high-speed blades
Do not stand too close to the table fan if you have loose clothes on
Never dry hair in front of the fan
Final Talk
The above is the list of best table fans in India available in the market. So you can choose a table fan according to your own requirements such as budget, fan size, material quality, and overall performance. If you are by any chance confused about how to choose one for yourself, then you can navigate to our buying guide. You will find all the details regarding how you can choose a table fan for yourself.
However, you can opt for any one of the models from our list of best table fans in India. We assure you will get a great quality product that fits within your budget as well.
Recommended Article:-